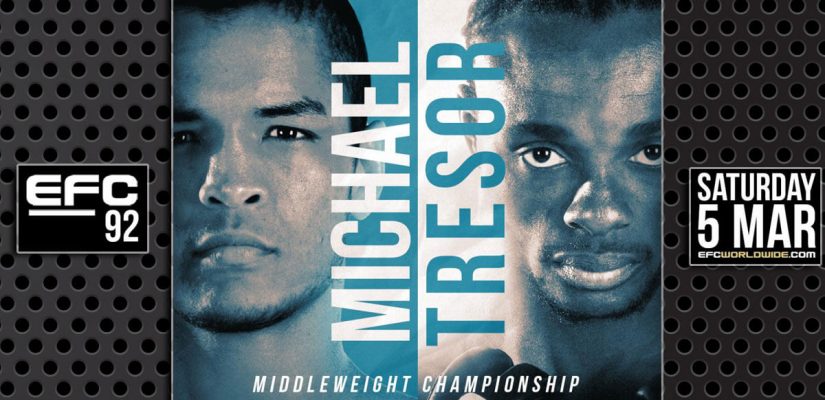 Our betting preview for EFC 92 covers all seven of the fights which have betting odds, starting with the main event and working down to the early prelims. You'll see a quick stats table for each fighter and an expert MMA breakdown alongside our top money line. There are no prop bets for EFC 92. 
Place your bets before the fight airs on Saturday, March 5th, 2022 at 8:00AM ET, fights take place in Johannesburg, South Africa and can be viewed on EFCworldwide.com. Click our Place bet Now button to build your top EFC ticket alongside bets for UFC 272 this weekend. 
Hey, @dragonenergyint WE FEEL YOU! Henning may have been working in Dragon-time! #EFC92 https://t.co/uduVASisiW

— EFC Worldwide (@EFCworldwide) February 17, 2022
EFC is putting five of their top knockout artists on this card, including two fighters with the fastest knockouts in EFC history,
EFC 92 Main Event: Tale of the Tape for Tresor vs Michael
| | | |
| --- | --- | --- |
| Fighter | Pupanga 'Fireboy' Tresor | Luke Michael |
| Money Line | +195 | -245 |
| Age | NA | NA |
| Height | 6'0'' | 5'11'' |
| Reach/Stance | 75'' | NA  |
| Record | 4-4 | 5-4 |
| Submissions/TKO   | 0/2 | 4/1 |
| Losses via Sub/TKO | 2/2 | 1/3 |
This fight is for the EFC Middleweight Title. Michael is the favorite, despite three knockout losses. It's clear that oddsmakers believe he's the better grappler, and with four submission finishes were likely to see some groundwork attempts. Tresor was submitted by Mauricio Rocha in his last loss in 2017,  and Gordon Roodman in 2014. 
Michael has one three of his last four fights, with all three wins via submission. 
Pupanga Tresor vs Luke Michael Betting Pick 
We took a quick look at the fight tape to assess the state of Tresor's grappling. Basically, if you can survive Michael's opening takedown attempts, you beat him. Most of these fights are short and exciting. 
Gorimbo vs Michael, Other Opponents
Gorimbo is eating him up on the feet. Michael secures the takedown but falls off Gorimbo's back to eat a stream of a dozen or so elbows. Gorimbo was clearly the weaker grappler, but one mistake crumpled Michael, who is very resistant to taking punishment. 
Against other middleweights, Luke looks to have a conditioning advantage. His wins have been over smaller middleweights, like Dino Bagattin, a 40 year old fighter that could easily make welterweight.
Rocha vs Tresor
Tresor is physically imposing. Despite Rocha winning three takedowns, Tresor keeps using the cage to stand up. Tresor didn't know how to defend the Anaconda Choke, even on a fundamental level. 
It's a scary bet, but I don't think Michael has the athleticism to beat Tresor. 
Our betting pick is Pupanga Tresor at +195. He has knockout power and the athletic prowess to keep Tresor on the floor. Expect some grappling exchanges that lead to an early TKO or stoppage. 
EFC 92 Main Card: Tale of the Tape for Lokolo vs Kruger 
| | | |
| --- | --- | --- |
| Fighter | Roy 'Humble' Lokolo | JP 'Tinkerbell' Kruger  |
| Money Line | +200 | -260 |
| Age | NA | NA |
| Height | 6'3'' | 6'3'' |
| Reach/Stance | 81'' | NA |
| Record | 2-1 | 6-3 |
| Submissions/TKO   | 0/1 | 4/0 |
| Losses via Sub/TKO | 1/0 | 2/0 |
EFC has set up yet another grappler vs striker bout in Lokolo vs Kruger. They're both similar sizes, but Krugar is yet to face a decent knockout artist. The closest he's faced is his split decision win over Liam Cleland, a fighter with two knockout finishes. 
Lokolo had a round one finish in his last fight over a fighter with a losing record, but it's unclear if he has any BJJ or grappling experience at all. 
Roy Lokolo vs JP Kruger Betting Pick 
Kruger is a bit of a cult favorite in South Africa, and his first round submission wins send the crowd into a frenzy. 
Kruger vs Maphutha
Maphutha was putting a beating on Kruger and knocked him down with a leg kick. In a flurry that could have easily ended the fight, Kruger collected an armbar finish in a flash. Maphutha appeared to have little BJJ awareness if any. 
Roy Lokolo Stats
Roy doesn't have any MMA background. I could find no evidence of his fight tapes or training camps. Bet lightly, but our betting pick is JP Kruger at -260. He's going to have better submission work, but doesn't have the striking defense to survive every athletic brawler the EFC sends his way. 
EFC 92 Main Card: Tale of the Tape for Roodman Henderson vs Seabi
| | | |
| --- | --- | --- |
| Fighter | Wade Henderson | Conrad Seabi |
| Money Line | NA | -260 |
| Age | 40 | NA |
| Height | 6'1'' | 5'10'' |
| Reach/Stance | 73'' | 73'' |
| Record | 11-19 | 7-5 |
| Submissions/TKO   | 3/0 | 0/4 |
| Losses via Sub/TKO | 3/4 | 1/2 |
Sportsbooks appear to have yet to catch up to this last minute replacement of Roodman by Wade Henderson. Don't bet until Roodman is replaced and the sportsbooks are up to speed. 
Seabi is a shoe in for this bout. Henderson is a sucker for the knockout, and he's lost nine of his last ten fights. 
Wade Henderson vs Conrad Seabi Betting Pick 
Henderson hasn't fought since 2019, and jumping in on short notice doesn't bode well. Seabi is a quality striker who's too small to be a competitive welterweight, but against the 40 year old Henderson, I'm sure he'll rock Wade early and bring home an easy decision or TKO win. 
Our betting pick is Conrad Seabi at -260, a $0.38 return per dollar wager. 
EFC 92 Main Card: Tale of the Tape for Mbuyi vs Cunningham
| | | |
| --- | --- | --- |
| Fighter | Vandam Mbuyi  | Rob Cunningham |
| Money Line | -150 | +120 |
| Age | NA | 32 |
| Height | 6'3'' | 6'4'' |
| Reach/Stance | NA | 80'' |
| Record | 4-4 | 1-0 |
| Submissions/TKO   | 0/2 | 0/1 |
| Losses via Sub/TKO | 1/3 | 0/0 |
Cunningham was on a five fight amatuer losing streak before turning pro, this included two TKO stoppages. Mbuyi has been active much longer, taking his first pro fight in 2013. 
Cunningham should have the reach advantage, but his striking in his last few bouts show that he doesn't know how to use it. 
Vandam Mbuyi vs Rob Cunningham Betting Pick 
We dug deep on the fight tape for both fighters. 
The penultimate fight on the prelim card promises a knockout as @vandammbuyi12 welcomes Scotland's @RobCMMA to the hex at #EFC92 this Saturday, March 5th! pic.twitter.com/NQuP2KsJSH

— EFC Worldwide (@EFCworldwide) March 3, 2022
Cunningham vs Mohammed, pro boxing
Cunningham's 2018 loss to Mohammed is a kickboxing clinic. Cunningham doesn't display good fight IQ or head movement of any kind. 
Nine months ago, we found Cunningham's bare knuckle boxing debut for BKB Lockdown. Cunningham fought a much smaller man and was consistently outboxed. He lost to Carl Hobley, a fighter with no history of combat sports experience. 
Mbuyi Fight Tape, Training
We were also able to find Mbuyi training footage, and we can say with confidence he's the more seasoned striker. Vandam is a much older man, but he still carries plenty of power. Even in losses, like his fight with Van Zyl, we see Vandam throwing straight punches and winning exchanges. Mbuyi lands several hard shots that glance off the gloves, many that Cunningham has shown no ability to block. 
Our betting pick is the favorite, Vandam Mbuyi money line at -150, a $0.67 payout per dollar wagered. 
EFC 92 Main Prelim: Tale of the Tape for Dwama vs Plaatjies
| | | |
| --- | --- | --- |
| Fighter | Fafa 'Kila Ya Mombele' Dwama | Julio Plaatjies |
| Money Line | +180 | -220 |
| Age | 29 | NA |
| Height | 5'7'' | NA |
| Reach/Stance | 71'' | NA |
| Record | 4-2 | 2-0 |
| Submissions/TKO   | 0/0 (1 DQ) | 1/1 |
| Losses via Sub/TKO | 1/0 | 0/0 |
Julio is the favorite, sporting two finishes in his professional wins. He's been fighting since 2017 as an amatuer, amassing an 11-3 amatuer record. Fafa has never finished a fight and went 2-2 as an amatuer, ranging back to 2014. 
This flyweight bout is a launching pad for Juilo. He's the better fighter, and should be expected to finish. 
Julio trains out of Valhalla MMA SA, a team that popped up in 2017 and has eight active fighters and a handful of coaches, but no BJJ coach on the team. Fafa is from Top Primate Academy, where he is one of five fighters. Only two men on the team had a 2021/2022 win. 
Fafa Dwama vs Julio Plaatjies Betting Pick 
Dwama is coming off his loss to ZuluBoy, one that interrupted his four fight winning streak. 
Dwama vs Zulu, Others
Zulu was pushed to the cage early in the first round, but didn't finish until the second round. Dwama was reversed during his takedown attempt at the two minute mark, and Zulu was able to find the triangle choke off the back mount early in the second round. 
Dwama smothers opponents that can't grapple. He has quality wrestling pressure, and the majority of South African fighters aren't up to speed. 
Julio's Pro Appearances
Julio's last fight was the fastest knockout in EFC history at 24 seconds. It was from the clinch, a dirty boxing uppercut. I think Dwama is going to have trouble on the way in. 
Julio has a total of six submission victories across all bouts amatuer and pro. I see him as a fighter with better coaching and better finishing mechanics. 
Our betting pick is Julio Plaatjies at -220, a $0.45 payout per dollar wagered. 
EFC 92 Prelim: Tale of the Tape for Bandu vs Hlongwa
| | | |
| --- | --- | --- |
| Fighter | Diego Bandu | Mzwandile 'Shakebone' Hlongwa |
| Money Line | +190 | -240 |
| Age | NA | NA |
| Height | NA | 5'11'' |
| Reach/Stance | NA | 75''  |
| Record | 2-0 | 6-1 |
| Submissions/TKO   | 0/1 | 0/5 |
| Losses via Sub/TKO | 0/0 | 1/0 |
Hlongwa's only professional loss is to UFC phenom Khamzat Chimaev at Brave 27 in 2019. He's a finisher, who has another four finishes in his amatuer career. Hlongwa has given up amatuer and exhibition losses, including a knockout, submission, and exhibition decision loss. 
Dandu is undefeated in his amatuer and professional career, a five fight winning streak in total that contains four knockouts. He's mostly untested, as all of the fighters he's beaten to this point have losing records or were debuting. 
Diego Bandu vs Mzwandile Hlongwa Betting Pick 
Hlongwa has defeated two undefeated fighters in his career, and demonstrates a high level of striking accuracy. 
Hlongwa vs Smith, Madsen and Schober
The first thing you'll notice about Hlongwa is his speed. He looked twice as fast as Jeremy Smith, who took him to a unanimous decision win. Smith attempted to box in and grapple, but Hlongwa continued to land kicks at range and spinning elbows. 
The KO over Madsen was a spinning back forearm that shut the lights out in an instant. The loss to Shcober showed that Hlongwa needed to work on his grappling, and he's taken a year and a half off to do just that. Chimaev made the fight with Hlongwa look easy, but he does that to everyone. Still, Hlongwa did a surprising job at fending off Chimaev, defending shots from the bottom position and playing a safe fight until he was choked to sleep.  
Bandu's Fight Tape
In his last fight versus Stefan Pretorius, Diego looked patient. He has a wide stance and a very lanky reach. He was nearly submitted by Stefan, but escaped a standing guillotine. At the very end of the round Bandu lands a check hook that sleeps Pretorius in an instant. Diego believes in his power, but Hlongwa is an experienced kickboxer and Bandu should need more than one strike to end the fight. 
I see a Hlongwa decision win over an inexperienced but powerful striker, our betting pick is Mzwandile 'Shakebone' Hlongwa at -240. 
EFC 92 Wrap Up
EFC 92 is filled with tough fights to call. Outside of the late replacements, many of these bouts are more competitive than Cage Warriors or any of the other shows taking place through the weekend. It makes the money lines tough to pick and underdog wins more common. If you need a little more help with MMA betting, start here.