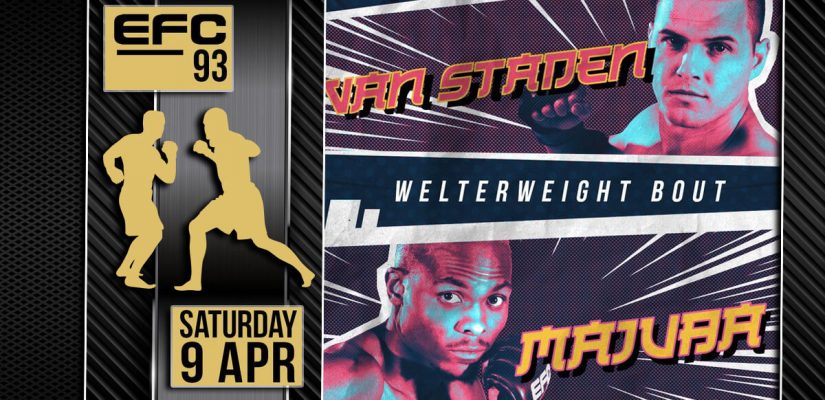 We've gathered stats and odds for all ten fights at EFC Worldwide 93, April 9th, 2022. The fights air at 8:00AM ET, so get your bets in early. We've built a short MMA breakdown for each bout, but if you'd rather not scroll, you can find each pick up top. 
Top Betting Picks for EFC Worldwide 93
Ziko Magengele -105
Igeu Kabesa at -700
HP Staden at -300
Peach Mguphane -165
Boule Godogo at -450
Vince Bembe -300
Katiso Matime +350
Kevin Pretorious -240
Johannes Rudolph +210
Tumelo Manyamala +120
PLACE YOUR BETS NOW!
Scroll for a more detailed look at each bout. We've made tables that include the odds, and explain the relevant stats alongside each bet. 
EFC 93 Predictions, Odds and Full Fight Card
| | |
| --- | --- |
| Fighter Money Line | Odds |
| Martin van Staden | -125 |
| Ziko Magengele  | -105 |
This bout is a five round welterweight main event between two of South Africa's best. 
Standen has 19 pro fights, but has lost five of his last seven. He's been active since 2009, and took an eight year hiatus from 2013 to 2022. We're presuming that the 37 year old is looking to test his newly developed skills, but he's picked the wrong test. 
Ziko Magengele is undefeated with three knockout wins. He's a solid wrestler and Judo black belt. He's also massive at Middleweight. Staden retired at lightweight, and is moving up two weight classes against an accomplished grappler. 
Our betting pick is Magengele -105. He has the momentum, and looks better today than Staden did in his prime. 
PLACE YOUR BETS NOW!
Top EFC 93 Betting Pick
| | |
| --- | --- |
| Fighter Money Line | Odds |
| Ashley Calvert | +450 |
| Igeu Kabesa | -700 |
Calvert is 2-6. He won his last two fights against losing record fighters, and is taking a big step up in Kabesa. Calvert is yet another fighter who retired and returned, stopping in 2015 after losing six straight, and coming back in 2021 with new skills. 
Kabesa Lost his last fight via submission, but has a number of knockout victories, including three amatuer finishes ranging back to 2013. 
Fight tape shows Calvert has made massive improvements, but still isn't on the level of Kabesa. Kabesa has been practicing BJJ since 2011, and Calvert appears to still be learning the fundamentals. Kabesa should win this fight via finish. 
Our betting pick is Igeu Kabesa at -700. 
| | |
| --- | --- |
| Fighter Money Line | Odds |
| Given Majuba  | +240 |
| HP Van Staden  | -300 |
Majuba is 1-2, and has only one win via knockout. He trains at a kickboxing academy, and his plan for the ground game starts and ends at 'just get back up.' Staden has an extensive amatuer MMA career with multiple submissions, but he has been knocked out before as a pro. He trains at Guts and Glory MMA, a fight camp with a wrestling coach and a BJJ coach, rare in South Africa. 
Our betting pick is HP Staden at -300, an easy choice when only one fighter knows how to grappler. 
PLACE YOUR BETS NOW!
| | |
| --- | --- |
| Fighter Money Line | Odds |
| Bruno Mukulu | +135 |
| Peace Mguphane | -165 |
Bruno is an athlete, but has struggled against decent kickboxers in his last six fights. He's 2-4 since 2016. He's lost to Dricus Du Plessis three times since 2012, so some of his record can be attributed to a lack of South African competition. 
Mguphane has one three of his last four. 2021 was a very good year for Peace. He won three fights via finish, and only lost via DQ. Fight tape shows Mguphane has a grappling and kickboxing technique advantage.
Peach Mguphane is our EFC 93 Betting pick at -165.
PLACE YOUR BETS NOW!
EFC 93 Parlay Pick
| | |
| --- | --- |
| Fighter Money Line | Odds |
| Robert Simbowe | +350 |
| Boule Godogo | -450 |
Simbowe lost his last two fights, but he's a long time BJJ practitioner that brings some intersting tools to the ring, primarily leg lock attempts that can fool debuting and losing record fighters. Godogo is 2-0 as a pro and 5-1-1 as an amatuer since 2019. This kid can grapple, and his intensity ran through his amatuer opponents, and his lanky welterweight build is difficult to train for. 
Bet Boule Godogo at -450. This is our parlay pick of the evening, and a fight we think will end quickly. 
| | |
| --- | --- |
| Fighter Money Line | Odds |
| Trezeguet Kanyinda | +240 |
| Vince Bembe | -300 |
Kanyinda is 41 years old and has lost four of his last six. Bembe struggles with BJJ fighters, but has two finishes in 2021. Should be an easy fight for Bembe. 
PLACE YOUR BETS NOW!
| | |
| --- | --- |
| Fighter Money Line | Odds |
| Katiso Matime | +350 |
| Martin Gcinumkhondo | -450 |
Matime has defeated Martin as an amatuer, and Matime has very few amatuer wins. Oddsmakers think it's just a fluke, but I think Katiso has Martin's number. 
Bet lightly, but our pick on these two debuting fighters is Katiso Matime at +350. He won the first fight by guillotine in 2017, and should be able to do it again. 
PLACE YOUR BETS NOW!
| | |
| --- | --- |
| Fighter Money Line | Odds |
| Tshepo Majuba | +190 |
| Kevin Pretorious | -240 |
Pretorious is a debuting pro with only one amatuer win. Majuba is a fighter who's lost his last five straight, including his first two MMA outings. He also trains primarily as a kickboxer, and Kevin is at a full time wrestling and BJJ school. 
PLACE YOUR BETS NOW!
EFC 93 Upset of the Night
| | |
| --- | --- |
| Fighter Money Line | Odds |
| Johannes Rudolph | +210 |
| Lukhmaan Jhazbhay | -270 |
Jhazbhay was an undefeated amatuer that lost his pro debut. He faces Rudolph, a fighter with a 4-4 amatuer career, but solid BJJ. I see an upset. Rudolph has solid BJJ, and if Jhazbhay is looking for a grappling match, he'll come up short. 
Bet Johannes Rudolph at +210
PLACE YOUR BETS NOW!
| | |
| --- | --- |
| Fighter Money Line | Odds |
| Teboho Ntene | -150 |
| Tumelo Manyamala | +120 |
Ntene has lost his last three, winning only two fights via decision in his career. Our underdog has never fought before. Ntene has lost to debuting fighters before, and training footage of Manyamala makes it look competitive. We're betting on the debuting fighter, Manyamala at +120.
PLACE YOUR BETS NOW!
EFC 93 Full Card Wrap Up
There are some fantastic fights to parlay with UFC 273 this weekend, so don't miss out on adding to your MMA betting ticket.