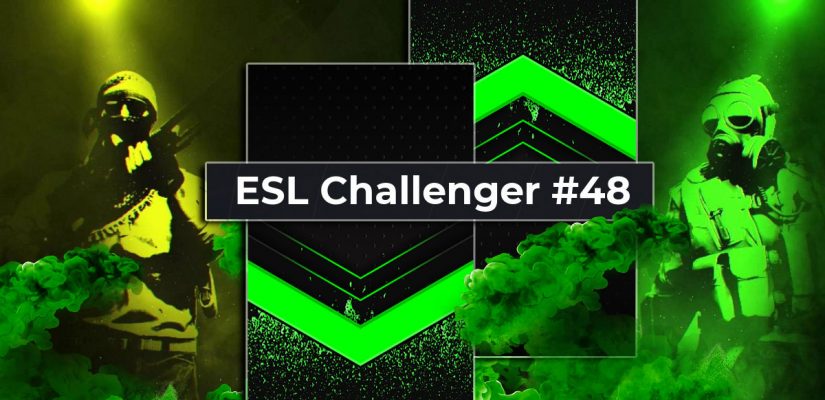 Even though BLAST Premier Spring Group Stage is still in full flow, another important CSGO event is set to start soon.
We're referring to ESL Challenger #48, a $100,000 competition that's going to feature eight teams. We're not looking at an AAA event, though four of the eight participants do have a long history of international CSGO. They'll surely make this event a lot more interesting and further spice up our ESL Challenger #48 betting predictions!
But, before we venture into predictions' territory, let's check out the key facts about the event:
Where to Bet on ESL Challenger #48 | Best CSGO Betting Sites
With $100,000 in prize money, ESL Challenger #48 isn't the biggest event out there. However, it's not a small event either. It's a tier B event, but one that packs quite the punch as far as competition quality is concerned.
With that in mind, you won't have any trouble finding ESL Challenger #48 betting lines. If you do, you can always refer to our in-depth guide for finding good esports betting websites!
Tournament Format
The format is straightforward.
ESL Challenger #48 consists of two stages, groups and playoffs. The group stage will feature two double-elimination groups with bo1 and bo3 clashes.
Openers and winners' rounds are bo1, whereas eliminations and deciders are bo3. As you'd expect, the top two teams from each group will go through to the playoffs.
The playoffs will ramp up the stakes even further, featuring a single-elimination bracket and all three matches set for best-of-three matchups.
Outright Betting on ESL Challenger #48
Unfortunately, you won't find outrights for this event on all major online sportsbooks. Those that do have it, though, tend to have pretty sweet odds. It's quite surprising, actually, especially considering this isn't a tier A event.
Here's a look at the odds:
| Team | Odds to Win |
| --- | --- |
| Virtus.pro | +100 |
| FURIA | +175 |
| HEET | +700 |
| Movistar Riders | +1100 |
| Complexity | +1400 |
| Dignitas | +1600 |
| 9z | +10000 |
| ORDER | +10000 |
Yep, Virtus.pro are the dominant team here. They should cruise to the title here, with the only realistic (on paper) contender being FURIlA. However, these tier B events are never straightforward. There are always major upsets, and it's our job to find the best one (read the most valuable betting option).
ESL Challenger /#48 Betting Preview | Team Storylines
Let's closely inspect the five key contestants with the best chances of doing something notable.
FURIA
Let's start off with FURIA! A lot has changed in FURIA's lineup since their glorious run of form in the summer of 2020. Back then, they had a formidable roster that managed to clinch the top of NA and contest with some of Europe's finest. Unfortunately, they were forced to change things later on which ultimately led to their downfall and outright disastrous results throughout the final months of 2020 and the entire 2021.
On the bright side, FURIA still has an exceptional core consisting of yuurih, arT, and KSCERATO. The newest arrival saffee joined last month while drop joined last August and has already played in several tournaments.
To be fair, FURIA had a superb outing on IEM XVI Fall North America. A quick recap, they went all the way, winning the title in the end with a dominant 3:0 performance against GODSENT. That's probably why they're labeled as the second-best team according to outright winner betting odds.
Well, that and the fact they reached the PGL Major playoffs too.
But, they don't have VINI anymore. Saffee is a big unknown coming into this one, and I for one don't think you should invest in an unknown here.
Let's see should you invest in the favorite team on the whole event, Virtus.pro!
Virtus.pro
And while one of VP's legendary players, PashaBiceps, is soon to test his strength in MMA, the org's CSGO team is heading into their first real test in 2022. Yes, even though the competition isn't on the highest level, ESL Challenger #48 will be a true test for the CIS side.
Well, it's simple – they have immense pressure on their shoulders because everyone expects them to win. Anything but a title here would be a disappointing result, to say the least. These guys have to do all in their power to make this the first of many titles this year… but the question is, are they ready for this?
? Whoa, February promises to be a lot of fun!#GOGOVP pic.twitter.com/c64tAXEu9H

— Virtus.pro (@virtuspro) February 1, 2022

While Virtus.pro does seem like the likeliest ESL Challenger winter, the outright winner odds for them just aren't worth it. AT +100, you can surely get a better deal by picking another team… right? Well yeah! Like I've said earlier, FURIA is not the next best team here. Instead, perhaps try your luck with one of the following three:
Complexity
I'm sure you've heard that Complexity acquired Extra Salt base last month, following a weird turn of events right before Funspark ULTI kickoff. They combined it with Grim and junior, ex-Liquid and FURIA players.
On paper, this new Complexity team looks quite good.
But, in practice, they just couldn't get anything going their way on the two events they've played on this year. Yep, they're oh and four thus far, which tells you a lot about their in-game issues.
But, not everything is bleak for Complexity.
The season has just started and with such a formidable roster, they could turn things around… all they need is a few good campaigns on smaller events, just like this one.
If they can get the show going on ESL Challenger #48, and their players are definitely capable of doing so, Complexity could complicate things for some of the big boys out there.
Movistar Riders
Movistar Riders were one of the biggest surprises of the PGL Major. Let me rephrase that, the sole fact they reached the Major was an absolute screamer! They were one match away from securing a spot on the New Legends Stage, but Heroic stood in their way with a dominant 2:0 win. But, we have to give credit where it's due and Movistar Riders' wins over Renegades and TYLOO were fantastic.
Since then, Movistar Riders won ESL Masters Espana S10 and clinched a spot on the upcoming ESL Pro League Season 15. They're making their presence known and taking (slowly but surely) steps in the right direction. CSGO Is not that big in Spain, but these guys are acting as ambassadors and giving Spanish fans something to cheer for.
Roster-wise, they didn't touch anything. The same exact roster that played on the Major will be playing on this tournament too. Knowing the way they played against the likes of Virtus.pro and Heroic, the Spaniard will definitely be a potent team here. That said, if you're looking for valuable ESL Challenger #48 betting predictions, betting on Movistar Riders might be worth your while.
Dignitas
Let's not forget about Dignitas!
Even though CSGO bookies aren't giving them big chances in terms of ESL Challenger #48 betting lines, their roster is definitely worth mentioning. If you aren't in the know, DIgnitas' roster consists of f0rest, friberg, hallzerk, Lekr0, and HEAP. Basically, these guys are household names for veteran CSGO esports enthusiasts.
These are some of the biggest names in the history of Scandinavian CSGO, we just can't finish this betting preview without saying a few words about them.
Obviously, years have done their part. Though not too old, these guys are definitely past their peak. They rarely clinch international events, they haven't played on last year's Major, and the quality of teams they typically play against is nothing to write home about.
Not only are Dignitas playing against weaker teams, but they're also not that dominant against them. Yes, they did win both BLAST Nordic Masters events last year, but that's about it as far as their titles are concerned.
That said, we can't really expect much from these guys. They are legends of the game, that can't be forgotten, but their time has passed and investing your money on them to win this tournament makes zero sense!
Wrapping Things Up
There you have it, boys and girls. That's it from our ESL Challenger #48 betting preview. We've examined the key teams, we've gone through the key facts and outright winner odds.
There's nothing left for us to do but to wrap this piece up and call it a day.
As always, thanks for reading the whole piece! Until next time and may the odds be in your favor!