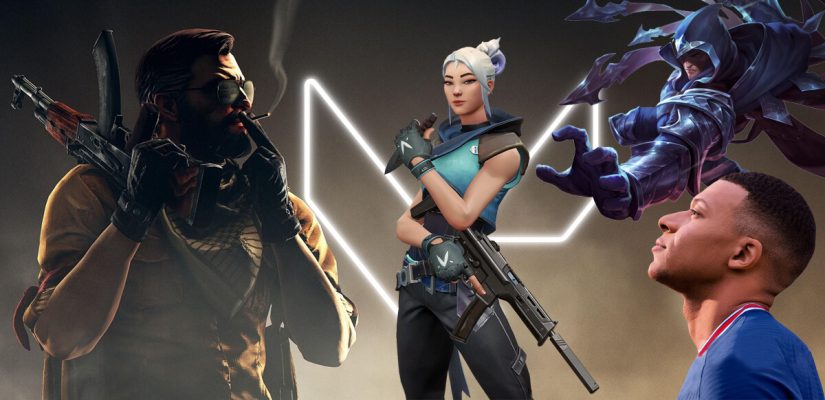 The year 2021 is almost all wrapped up! The Holiday season is just around the corner with everyone and their grandmother looking to wrap up their job shenanigans and get back home for the best time of the whole year! As for esports athletes, the top-tier ones are already enjoying their off time. All major esports circuits are over, meaning there's technically nothing you can bet on at the moment. But, that's not to say esports betting in 2022 won't have stuff for you.
With COVID measures hindering the esports industry's development over the last two years, chances are 2022 will help get it back on track. There's a handful of events that already have concrete dates. Others are bound to be announced soon, so your esports betting adventures in 2022 won't suffer one bit!
What Awaits Esports Betting Enthusiasts in 2022?
Here are the biggest esports tournaments you will be able to bet on in 2022:
Second Season of Valorant Champions Tour
Yessir, roughly two weeks ago we got the first official confirmation of the second season of the Valorant Champions Tour! The 2022 VCT iteration was announced in a blog post on December 10th but was deleted shortly after. Why? We have no idea.
Champions has come and gone, but the 2022 VCT season is just around the corner!

Check out all of the events in this next year:

— VALORANT Champions Tour NA (@valesports_na) December 13, 2021
On the bright side, we now know the North American VCT 2022 action starts in late January. Other regions are bound to follow in the same footsteps, meaning there's less than a month separating us from the next big Valorant clashes!
Stage One Challengers kick off on January 27th with open qualifiers; the main event starts on February 11th with VCT S1 Masters scheduled for April. Stage Two Challengers' Open Qualifiers start on May 5th, with the Stage 2 Masters event scheduled for July.
League of Legends Esports Will be Business as Usual
Next up, another highly popular esports title developed and organized by Riot Games. Of course, I am referring to the game that started the whole esports era, League of Legends. The 2022 LoL esports season will have certain structural changes.
As for the biggest LoL event:
The World Championship, we still don't know the exact date. What we do know is that it will take place across several cities in North America, and that's pretty much it! The cities are as follows: Toronto, San Francisco, New York City, Mexico City. The finals are set for San Francisco, California, promising roughly a month of nothing but the crème de la crème of professional League of Legends!
As for the regional championships, the 2022 LoL esports start is not that far away. LCS Lock-In event starts on January 14th, the same as LEC Spring Split. We still don't have concrete dates for the likes of LPL and LCK, but they won't lag behind too much.
One or Two CSGO Majors, Among Many Other Lucrative Events
Finally, in 20221, after two whole years of wait, CSGO Major was held. The PGL Major in Stockholm, it's safe to say, exceeded everyone's expectations and has presented us with impressive production quality and top-notch CSGO action. The latter was never in question – every Major has nothing but the best of what the scene has to offer at that specific time.
?️We are proud that a @CSGO event is nominated for the 'best esports event' category: PGL Major Stockholm 2021.

?You broke the viewership record. You can do it again.

Vote here: https://t.co/HPJywjqegH#PGLMAJOR

— PGL (@pglesports) November 16, 2021
As for 2022, we expect not one but two CSGO Majors. That's had been the tradition prior to Major-less 2020 and one-Major 2021. The "summer Major" ought to happen sometime in May or June, with the "winter Major" probably set up just in time to wrap the competitive season up.
This year, many prominent figures from the industry complained because all post-PGL-Major events had major absentees with teams mixing things up and testing new rosters out. If 2022 goes back to the two Majors set up, we're likely to see the second Major as the final event of the year.
Other Notable Events
As you probably know, the Majors are only a part of the CSGO esports story. CSGO, being the most decentralized esports title out there, has a ton of other noteworthy competitions too. Some of them have already been scheduled; heck, we already know all participants for some of the biggest events this year. It's safe to say esports betting in 2022 will be rather straightforward for CSGO betting enthusiasts!
Here are the main events we're referring to:
IEM XVI Katowice
ESL Pro League S15 & S16
IEM XVII Dallas & Cologne
These are just some of many CSGO events that await us in 2022! If you're interested in betting on everyone's favorite FPS esports, then there's nothing to be worried about!
Another Dota 2 The International and Pro Circuit
2021/22 Dota Pro Circuit is in full flow. The first tour (both first and second divisions) started in late November and early December, with the final matches scheduled for late January. The structure of the 2021/22 season has remained roughly the same, with the only tangible difference being an additional tour. As for the Majors, they're going to be played following the end of each tour.
Unfortunately, we still don't know much about The International 2022. We know that, after the end of all three tours, the top twelve teams according to DPC point will go straight through to the TI, with the remaining spots decided via final chances qualifiers.
These will be of regional nature, but we don't know anything about their structure and dates.
FIFA 22 Global Series Bound to Provide Top-Tier FIFA 22 Action
Another year, another set of FIFA Global Series. Ever since the event's inception, the viewers just couldn't get enough of top-tier FIFA action. Esports betting in 2022 will definitely profit from FGS events, seeing as betting on FIFA is one of the most popular esports categories out there.
The first FGS event in 2022 was supposed to start on January 21st and feature $500,000 in prize money. However, it had to be canceled, just like the likes of FIFAe Nations and FIFAe World Cups in 2021.
However, FIFA fans' cravings for esports betting in 2022 will be soothed by FGS Team of the Season Cup scheduled for April 29th. It's going to be held in London and feature half a million in prize pool – not too shabby.
Other than FGS, 2022 will feature lots of smaller FIFA events we've gotten used to. Knowing the trends that have been set over the last year or so, even these smaller events will have proper betting coverage. So, if you're interested in betting on FIFA, there's nothing to worry about!
This is Just the Tip of the Iceberg
Believe it or not, boys and girls, this is just the tip of the iceberg of the fantastic things that await in 2022! The esports industry is going to continue its rapid development following two years of COVID-related stagnation. Esports betting in 2022 is bound to shatter records of previous years, not just in terms of betting value but bet availability and event coverage too.
What are your thoughts on the biggest esports events in 2022? What is your 2022 esports betting campaign going to look like? Tell us more in the comments section down below!