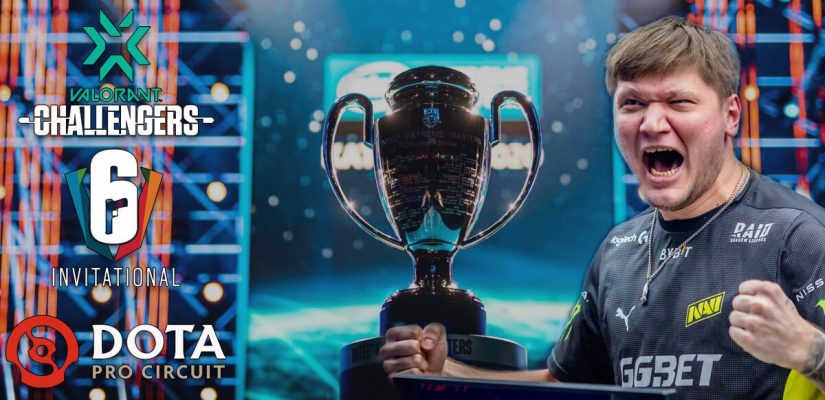 January is almost all wrapped up, boys and girls. With it, so is the esports drought. Granted, there was some esports action this month, but it's nowhere near the stuff that's about to start in February. Esports betting in February 2022 is coming in strong with massive events across the esports spectrum. CSGO, League of Legends, Dota 2, Valorant – all top-tier esports titles have big events scheduled for the shortest month of the year.
With that in mind, let's head into the action and see which events you should bet on next month!
Esports Betting in February 2022 | What to Bet on?
There are six big events you need to keep tabs on if you're interested in placing esports bets next month. They are as follows:
BLAST Premier Spring Groups
January 28th marks the start of the next season of BLAST Premier. The Spring competition kicks off with the group stage that'll last through February 6th. It's set to feature high-profile teams like NaVi, G2, Vitality, and NiP, with the only notable absentees being Gambit and Virtus.pro.
Even though there's not that much money involved in this one, just $177,500, these twelve teams are fighting for spots in the much more lucrative Spring Finals. That's where the real money is at; that's what these teams are here for!
This year's group stage offers a slightly more complex environment for the participants.
This time around, we have the standard double-elimination group stage packed with bo1s. All teams advance to the second group stage, the so-called Play-In stage where they'll battle for Spring Finals spots. Group winners go straight through to the Play-In finals, where they need just one more win to cement a Spring Finals spot.
The Play-In stage will feature bo3s from start to finish. Second and third-place teams from each Play-In group advance to the Last Chance Stage, with bottom-placed teams falling down to the Showdown.
The LCS will also feature bo3s, six teams, and just three matches. Winners advance to the Spring Finals; losers fall down to the Spring Showdown.
It seems a bit complex but once the tournament starts you'll quickly get a hang of things.
Let's take a look at the groups, and our betting picks for the Group A first-round matchups:
IEM XVI Katowice
You can think of BLAST Premier Spring Finals as a competitive introduction to the biggest CSGO event this month, Intel Extreme Masters Season XVI in Katowice. Yep, the Polish capital of esports is going to host the first proper LAN event this year. We all know the history behind this event, we all know it's one of the biggest CSGO occasions year in and year out. It really needs no special introduction, does it?
Hello Monday ☕

Did you know we're 30 days away from #IEM Katowice? pic.twitter.com/8gmApf5M1H

— ESL StarCraft 2 (@ESLSC2) January 24, 2022
With $1 million in prize money, IEM Katowice's 24 contestants won't go home empty-handed, that's for sure! The biggest share of the cake will go to the winning team, $400,000 to be more precise. Circuit points are not to be taken for granted either!
There's a lot to fight for here, with all top-tier teams eagerly waiting for this one to start.
IEM Katowice will feature three separate stages: Play-In, Group Stage, and Playoffs. The first two will be played in a double-elimination format with a mix of bo1 and bo3 matches (group stage will only have bo3s).
The playoffs will feature a single-elimination bracket and will be played in the mesmerizing Spodek Arena in Katowice. Group stage winners will start from the semifinals, while second and third-place teams will start from the quarterfinals.
February 15th is the magical date! If you're interested in CSGO betting this month, use BLAST Premier Spring as the appetizer and IEM XVI Katowice as the main course. You can thank us later!
If you're interested in betting on this event, check out our 2022 IEM Katowice early bets.
Valorant Champions Tour 2022 Stage 1 Challengers
Yessir, Valorant esports action is back! February 11th/12th are the starting dates of all major Stage 1 Challengers – Korea, Brazil, EMEA, and North America.
The Stage 1 Challengers action will run through March 27th and feature all the best Valorant teams across the globe. These competitions aren't that lucrative, though. They are just the first step of the 2022 Valorant Champions Tour. Following the end of the Challengers stages, the VCT show will turn to Masters events in April and July.
The last season of VCT had many surprises. With recent transfers mixing things up for some of the best teams out there, the 2022 VCT season is bound to follow in a similar path. As far as esports betting in February 2022 goes, the VCT Stage 1 action is definitely worth your time!
Six Invitational 2022
Next up, Six Invitational! The biggest Rainbow Six esports event this year starts on February 8th. The event had to be moved last minute from Montreal Canada to Stockholm Sweden due to COVID measures in Quebec, Canada.
The #SixInvitational 2022 Groups!

? Group Stage: February 8-12
? Playoffs: February 14-16 and 18-19
? Grand Final: February 20 pic.twitter.com/DsyAAZchUI

— Rainbow Six Esports (@R6esports) January 27, 2022
But, that shouldn't endanger the integrity of the competition. The show will go on as planned, with a massive fan base and 20 top-tier teams across the globe fighting for prestige, bragging rights, and hefty prizes.
When it comes to title contenders, the situation is as chaotic as they come. Six teams have somewhat equal chances of lifting the trophy. Brazilian teams are leading the charge, as they always have, but challengers from other regions aren't lacking. Faze Clan and NiP stand as the main favorites, though the likes of BDS, Liquid, oNe, and NaVi aren't too far behind either.
If you want more information about this event, make sure you check out our Six Invitational 2022 betting preview.
DPC Tour 1 Regional Finals
Dota Pro Circuit Regional Finals start on February 11th for the SA, WEU, and SEA regions, and February 18th for NA, CN, and EEU. Each regional final will have $100,000 in prize money and 380 DPC points up for grabs.
Unfortunately, the Winter Major had to be canceled due to travel restrictions. This will mess up the original 2022 DPC schedule, but shouldn't mean much to the teams since points will be redistributed to the next two Majors.
Fingers crossed there won't be any additional cancelations later on.
Dota 2 has always been among the most popular esports betting titles. That said, if you're a Dota 2 and you want to test your luck in esports betting in February 2022, DPC Regional Finals ought to be right up your alley!
League of Legends Regional Championships
Finally, the last event(s) worth mentioning as far as esports betting in February goes – LoL regional championships! All major Spring Splits start early February, meaning the drought is finally over for all LoL betting fans.
True, the LCS Lock-in event brought forth some valuable encounters, but it's nothing compared to what's about to start next month.
Granted, regional championships are fun to bet on, but the real fun starts with the playoffs and MSI. But, then again, it's all child's play until the grandest of all occasions, the League of Legends World Championship in October (most likely).
We have a ton of content for this season of League of Legends esports. If you're interested in European storylines, check out our 2022 LEC betting predictions. If you're interested in other regions like LCS, LPL, or LCK, skim through our blog section and you'll find what you're looking for!
Plenty of Bets to Explore
As you can see, there are plenty of opportunities for esports betting in February 2022. You don't have to worry about not having stuff to bet on.
Whether you're into FPS titles like Valorant and CSGO, or MOBAs like Dota 2 and League of Legends – you're bound to be happy with what February has in store for you.
Make sure you do plenty of research before investing, though, as half-baked bets are the quickest way of splurging your betting bankroll.