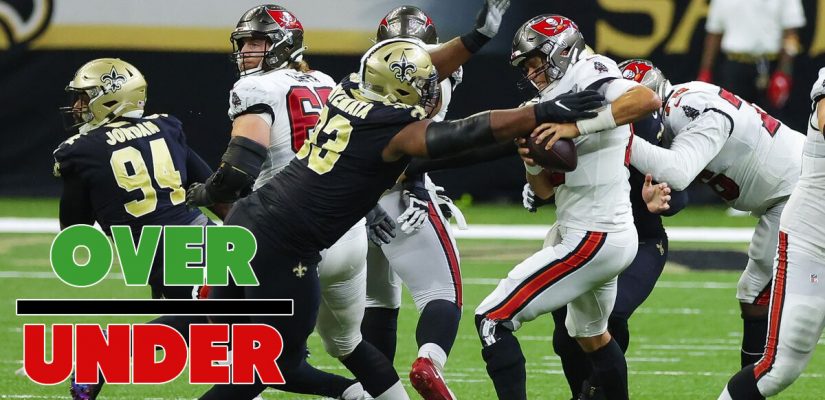 Points needed as Titans march into Pittsburgh
Kyler Murray takes on role of a Lion tamer
WFT-Eagles matchup changes numbers with Heinicke out
Seahawks' Wilson can push up numbers with big game vs. the Rams
Buccaneers have several advantages in matchup with Saints
Find all of the lines for Sunday's NFL offerings at our top NFL sportsbooks in 2021.
Tennessee Titans (9-4) at Pittsburgh Steelers (6-6-1)
Time: 10:00AM PST – 12:00PM CST – 1:00PM EST
Place: Heinz Field, Pittsburgh, PA
TV: CBS
The Series:
The Steelers lead the series, 44-31, dating back to the days when the Titans were known as the Houston Oilers. A win would give the Titans an 8-0 record against teams that made the playoffs last season as they would tie the 2007 New England Patriots as the only teams to do so since the NFL-AFL merger in 1970. The Steelers are 6-2 over the last eight games in the series including a 27-24 win over Tennessee at Nissan Stadium last season.
Last Time Out:
Tennessee picked up its first home shut out since 2000 in toying with the lowly Jacksonville Jaguars, 20-0, in what turned out to be Urban Meyer's last game as coach in Jacksonville. The defense held Jacksonville to only 192 total yards and picked off Jags QB Trevor Lawrence four times. D'Onta Foreman and Ryan Tannehill each scored a touchdown on the ground to pace the Titans.
The Pittsburgh Steelers were on the brink of history as they trailed the Minnesota Vikings, 29-0, and roared back, but lost, 36-28, in Minnesota. Pittsburgh's Ahkello Witherspoon intercepted Vikings quarterback Kirk Cousins twice to fuel the rally and Harrison Smith defended a pass in the end zone on the last play of the game as the Steelers had moved from their own four-yard line to the Vikings' 12. Ben Roethlisberger found Najee Harris, James Washington, and Pat Freiermuth for second-half touchdowns as the latter two came via the Counsin's interceptions which set the Steelers up on the Vikings' 42 and 21-yard line.
MUUUUUUTH!#ProBowlVote | @_BigBen7 | @pat_fry5 | ?: NFLN/FOX/PRIME VIDEO pic.twitter.com/HJkC9O7EgV

— Pittsburgh Steelers (@steelers) December 10, 2021
| Teams | Spread | Money Line | Total Points |
| --- | --- | --- | --- |
| Tennessee Titans | PK (-110) | – | O 43 (-110) |
| Pittsburgh Steelers | PK (-110) | – | U 43 (-110) |
When the Titans Have the Ball:

Tennessee took care of the football last week in the 20-0 win over Jacksonville after turning it over nine combined times in losses to the Texans and Patriots in Weeks 11 and 12. Tennessee was a (-9) in turnover ratio those two weeks and will need to alleviate the turnovers to win this game. The Titans will look at the running back by committee approach with D'Onta Foreman joining Ryan Tannehill and Jeremy Nichols against a Pittsburgh rush defense that gives up 139.5 rushing yards per game (31st/NFL).
When the Steelers have the Ball:

Roethlisberger can potentially have a big day vs. the Titans pass defense which has allowed 250.7 yards per game (22nd/NFL) but has held Houston and Jacksonville under 200 yards in two of the last three games. Diontae Johnson leads the receivers with 990 yards on 81 catches as he looks for his sixth game in a row with 750-plus receiving yards. Tight end Pat Freiremuth leads the Steelers in touchdown catches with seven as he has three in his last four games.
Why Bet the UNDER 43:
This is not a day for the passing game and if Roethlisberger can't get anything going in the pass game, it's likely to be a quiet afternoon for the Steelers on offense. It's the same for the Titans in trying to establish the run without Derrick Henry. Points will be at a premium in this game, so take the Titans (even), 16-13, in an easy call off the UNDER.
Arizona Cardinals (10-3) at Detroit Lions (1-11-1)
Time: 10:00AM PST – 12:00PM CST – 1:00PM EST
Place: Ford Field, Detroit, MI
TV: FOX
The Series:
Detroit leads this series 34-28-6 as the Lions are 3-0-1 of late, including a 26-23 win in Arizona last season. The Cardinals had won seven in a row which culminated with a 42-17 win in 2015. Arizona is 7-0-0 on the road this season and if the Cardinals can put up a 'W' in this won by at least 10 points, it will be the second time in the history of the NFL that a road team had at least eight wins by 10 or more points (Chicago, 1941).
Last Time Out:
Arizona fell to the Rams on Monday Night football, 30-23, after Kyler Murray posted a long run, but a holding penalty wiped out the play and the Cards fell at home. They also fell into a first-place tie with the Buccaneers and Packers but would pick up the No. 3 seed based on conference tie-breakers. Murray threw for a scintillating 383 yards but had no touchdown passes with two picks.
Teams
Spread
Money Line
Total Points
Arizona Cardinals
-13 (EV)
-700
O 47.5 (-110)
Detroit Lions
+13 (-120)
U 47.5 (-110)
When the Cardinals have the Ball:

The Lions are 28th in the NFL against the run in allowing 135.3 yards rushing per game. That's the perfect scenario for the Cardinals' ground game behind James Conner, who leads Arizona with only 667 yards, but he has the second-most rushing touchdowns in the league with 14, which is two behind the Colts' Jonathan Taylor.
The Lions had given up a pair of 300-yards passing games until last week when they held the Broncos to 174. Murray ripped the Rams for 383, but he loses DeAndre Hopkins to injury for the season, so no A.J. Green and tight end Zach Ertz look to step up even further.
When the Lions have the Ball:

The Cardinals' No. 5 pass defense could be a major issue for Lions QB Jared Goff who has been sacked 32 times and sees an aggressive Cardinals defensive front which has 35 QB drops on the season and is led by 10 from linebacker Marcus Golden and 9.5 from defensive end Chandler Jones. Detroit wonders where its rush offense will come from as starting RB D'Andre Swift did not practice on Thursday and hasn't played since Nov. 25 due to injury.
Why Bet the UNDER 47.5:
This has the earmarks of a game that the Arizona Cardinals could blow out early as the Lions' offense continues to limp and against the Cardinals' defense, the limp becomes more painful. The Cards allow only 321.6 yards per game (5th/NFL) and Goff could be a marked man right away. Laying (-12.5) is a lot on the road, but these are the Lions and this feels like a backdoor cover regarding the OVER in a 34-17 road win for the Birds.
Washington Football Team (6-7) at Philadelphia Eagles (6-7)
Time: 10:00AM PST – 12:00PM CST – 1:00PM EST
Place: Lincoln Financial Field, Philadelphia, PA
TV: FOX
The Series:
Washington holds an 87-79-5 advantage in one of the oldest rivalries in the NFL. Both of these teams come in looking for a wildcard spot as WFT holds the last wild card spot and the No. 7 seed as of this week. The Eagles have won six of the last eight-game and three of the last four at "The Link." Since 1994 when Jeffrey Lurie bought the team, the Eagles are 33-21 vs. Washington which is the best vs. any of the other three NFC East teams. Washington is 43-41-2 vs. the Eagles in Philly and 8-10 at Lincoln Financial Field.
Last Time Out:
Washington got off to a horrific start in spotting the Dallas Cowboys 18 first-quarter points before scoring 20 in the second half and falling short in a 27-20 loss. A Taylor Heinicke interception resulted in a 7-yard TD pass from Dak Prescott to Amari Cooper before Dorrance Armstrong gave the Cowboys that 18-0 lead late in the first quarter. Heinicke was abysmal in passing for only 122 yards as WFT had only 224 on the day.
Philadelphia comes off the bye week and the Eagles should be in a positive mindset after exploding on the Jets, 33-18, two weeks ago. Miles Sanders carried 24 times for 120 yards and Gardiner Minshew was 20-of-25 for 242 yards and two touchdowns.
Game Moved to Tuesday, December 21st Amid COVID Outbreak
When Washington Has the Ball:

Washington's running game has been good all season behind Antonio Gibson's 836 yards while Taylor Heinicke has given it a push in averaging 5.4 yards per carry on 54 totes. Heinicke is unavailable due to COVID-19 protocols, so Garrett Gilbert gets the call for WFT. Philadelphia's run-stop has been solid in allowing only 109.4 yards per game (12th/NFL) while five of the last six opponents have failed to register 100 rushing yards.
Washington will have trouble scoring without Heinicke. Wide receiver Terry McLaurin has been solid on the road as he has at least five catches for at least 100 yards in three of his last five roadies.
When the Eagles have the Ball:

As Jalen Hurts continues to nurse an ankle injury, Gardiner Minshew is not a bad option to have as a backup quarterback as he stepped in last week and finished with a QB rating of 130.8.
WFT's defense is 30th in the NFL against the pass and Minshew can have a big game with DeVonta Smith posting 701 receiving yards while tight end Dallas Goedert had six catches for a career-high 105 yards last week. Miles Sanders is the second leading rusher behind Hurts and comes off his first 100-plus yards game of the season vs. the Jets two weeks ago.
Why Bet the UNDER 42.5:
Whether it's Minshew or Hurts, the Eagles will be able to pass on Washington with consistency, so points should come via the air. Washington also will look for a fast start after last week's first-quarter debacle for the Cowboys. Heinicke can put points up on the board, but he also usually makes a costly mistake that results in a short field for the opponents or an opposing touchdown, so with Gilbert as the emergency starter, that notion goes away… Eagles 24, Washington 10, as the UNDER looks like a solid notion without Heinicke starting for WFT.
Seattle Seahawks (5-8) at Los Angeles Rams (9-4)
Time: 1:25PM PST – 3:25PM CST – 4:25PM EST
Place: Sofi Stadium, Los Angeles, CA
TV: FOX
The Series:
Seattle leads this series, 25-21, but the Rams have posted wins in three of the last four meetings. The Rams took a 26-17 win over Seattle on Oct. 7. The Seahawks have won two in a row and a late-season winning streak could push them into contention for a wildcard. Pete Carroll became the 20th coach to 150 wins in NFL history with last week's win over Houston. He has now tied Bill Cowher for wins at 161, 19th in the league's history. Rams head coach Sean McVay is 7-3 vs. Carroll. The Rams are generally looking for a win and a Saints and Vikings loss or tie to nail down a playoff spot.
Last Time Out:
Russell Wilson passed for 260 yards and two touchdowns and Rashad Penny gave the running game some pop with 16 carries for 137 yards and the Seahawks cruised past Houston, 33-13. Penny had a pair of touchdowns as he scored on a 32-yard run to end the first quarter and a 47-yard run late in the fourth quarter to put the game away.
The Rams took a 30-23 thriller over the Cardinals on Monday Night Football as Aaron Donald sacked Kyler Murray three times, including the first and last plays of the game and Matt Stafford passed for 287 yards and three touchdowns. Cooper Kupp had another stellar afternoon with 13 catches for 123 yards and one score.
Game Moved to Tuesday, December 21st Due to COVID Issues
When the Seahawks Have the Ball:

The offense has finally started to click again as the 'Hawks have averaged 31.5 points in their last two games and they have piled up 780 total yards as well.
Russell Wilson has been efficient in the last three games with six touchdown passes vs. only one interception in 96 attempts. He will be without leading receiver Tyler Lockett, who is in COVID-19 protocols, so DK Metcalf, who had five catches for 98 yards and five TDs in Week 5 should be a major entity. Rams defensive end Aaron Donald has 14 sacks on Russell Wilson, the most vs. any quarterback in his career.
When the Rams have the Ball:

Seattle is still last in the NFL in total defense (394.9 ypg) as well as against the pass (278.9) and while the overall numbers have improved, seeing Cooper Kupp and Odell Beckham, Jr., is a huge challenge for a pair of young and overall inexperienced cornerbacks in D.J. Reed and Sydney Jones, IV.
Kupp now has 1,489 receiving yards on 113 receptions with 14 touchdowns. OBJ is looking for his fourth consecutive game with a TD catch and his third straight with 100 plus receiving yards.
Why Bet the OVER 45:
As the Seahawks are showing signs on offense in the last two weeks, Wilson could be up for challenging the Rams defense with Metcalf and Gerald Everett. On the flip side, the Rams can put up points, especially at home in front of a sold-out Sofi, with their offensive weaponry vs. the Seahawks' porous defense…. I think this OVER 45 is an easy pick as the Rams cover (-4) in a 30-24 win.
New Orleans Saints (6-7) at Tampa Bay Buccaneers (10-3)
Time: 5:20PM PST – 7:20PM CST – 8:20PM EST
Place: Raymond James Stadium, Tampa, FL
TV: NBC
The Series:
New Orleans is the Buccaneers' biggest nemesis as the Saints have won the last six in a row and they have dominated this series, 38-21. Saints coach Sean Payton is 19-10 vs. Tampa Bay and with a win, the total of 20 would be the second team he has scored 20 wins against as the other is the Falcons.
The Buccaneers are looking to exact revenge for a 36-27 loss to New Orleans on Dec. 31 as although the Saints took the win, quarterback Jameis Winston injured his knee and is out for the season. New Orleans has struggled since as it had lost five in a row until last week's win over the Jets. The Bucs have won four in a row and seem to be peaking at the right time.
Last Time Out:
Alvin Kamara was back as he ran for 120 yards and a touchdown on 27 carries and the Saints defeated the struggling New York Jets, 30-9, at Metlife Stadium. Kamara missed four games with a sprained knee and also caught four passes for 25 yards. He scored on a 16-yard run with 3:42 remaining before halftime as New Orleans took a 10-3 lead and never trailed again.
Tampa Bay blew a 24-3 halftime lead before Tom Brady hit Breshad Perriman on a 58-yard TD pass in overtime to give the Buccaneers a 33-27 win over the Buffalo Bills. Leonard Fournette's opening scoring with a 47-yard touchdown run in the first quarter before Brady hit Mike Evans from 13 yards out and the venerable 21-year quarterback scored on his own 1-yard run before halftime. Brady threw for 363 yards while Fournette had a season-high 113 yards on the ground which is only the season 100-yard rushing game for Fournette and the Bucs on the season.
BRADY TO BRESHAD PERRIMAN FOR THE WIN. #GoBucs #BUFvsTB pic.twitter.com/RCk7taOkiW

— NFL (@NFL) December 13, 2021
| Teams | Spread | Money Line | Total Points |
| --- | --- | --- | --- |
| New Orleans Saints | +11.5 (-110) | +420 | O 45.5 (-110) |
| Tampa Bay Buccaneers | -11.5 (-110) | -520 | U 45.5 (-110) |
When the Saints Have the Ball:

Mounting a running game from even a healthy Kamara and a running quarterback like Taysom Hill will be an issue vs. a Tampa Bay run-stop that is third in the NFL in giving up 91.2 yards per game. The Bucs know Hill is not going to get downfield with any consistency so they can play the run even tougher.
They have to play Kamara in the short passing game because yards after the catch could be an issue now that he is healthy. He has 362 career catches and needs 15 yards to eclipse 1,000 yards from scrimmage for the fifth consecutive year. Buccaneers linebacker Devin White had 10 tackles and 1.5 sacks last week and he is looking for his fifth game in a row where he amasses 10 or more tackles vs. New Orleans.
When the Buccaneers have the Ball:

The Saints have been strong against the run all season, so Brady and his arsenal of wide receivers will be looking to threaten this defense deep as he had 375 yards passing and four TDs int he first meeting, but a pair of untimely interceptions. After having 10 catches for 105 yards last week vs. the Bills, Chris Godwin is looking for his third in a row with 10 or more catches and 100 or more receiving yards. Mike Evans had six catches for 81 yards and a score last week as he is second in the NFL in receiving touchdowns with 11.
Why Bet the OVER 45.5:
Kamara can at least get the Saints in position to score even though they are challenged right now with Hill as the QB as it leaves them with no downfield passing attack. Brady and Company could take care of this game in the first half and then the challenge would be to come out of halftime and take care of business (which they didn't do vs. Buffalo) and that would add points to the home side of the scoreboard.
The 46.5 looks like an easy cover as a blow out could equate to the Saints scoring more than they would unless the game was on the line…. Carry the Buccaneers (-11) 34, New Orleans 16 which covers the 46.5.