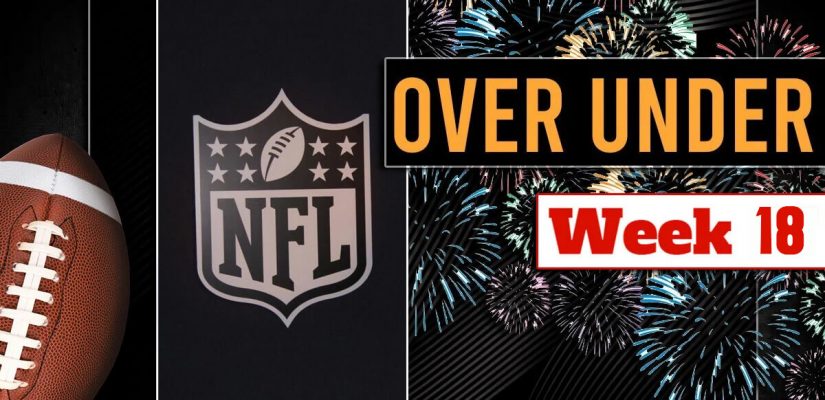 Steelers, Ravens slogging toward season's end
Buccaneers hope to secure No. 2 seed with a win vs. Carolina
49ers looking for a repeat of earlier domination of Rams
Cardinals hoping to get on a roll for the playoffs with a win over Seattle
Raiders vs. Chargers is generally a win-or-go-home scenario
Check out our top NFL sportsbooks to find all of the lines for this NFL week 18 offerings.
Pittsburgh Steelers (8-7-1) at Baltimore Ravens (8-8)
Time: 10:00AM PST – 12:00PM CST – 1:00PM EST
Place: M&T Bank Stadium, Baltimore, MD
TV: CBS
The Series:
Pittsburgh has a 28-23 lead in this series and the Steelers have won the last three matchups as well. Pittsburgh defeated Baltimore, 20-19, on Dec. 5, as this and a litany of injuries started this Ravens' five-game losing streak. Both teams are playoffs long shots, but it all starts with wins here.
Last Time Out:
The Pittsburgh defense sacked Cleveland QB Baker Mayfield nine times and Najee Harris scored on a 37-yard TD run with under a minute to play as the Steelers stopped the woeful Browns, 26-14. In what was probably Ben Roethlisberger's last game at Heinz Field, he completed 24-of-48 passes for only 123 yards with a touchdown and an interception.
Close but no cigar once again for the Baltimore Ravens as they lost, 20-19, to the Los Angeles Rams. It was their fifth loss in a row and the third in that stretch by one point. Odell Beckham, Jr., snatched the victory from Baltimore with an 8-yard TD catch from Matt Stafford with 57 seconds remaining. The Ravens were once again without Lamar Jackson, who is still nursing an injured ankle.
Breaking FREE❗️❗️

Tune in on FOX! pic.twitter.com/guGeBw6vns

— Baltimore Ravens (@Ravens) January 2, 2022
| Teams | Spread | Money Line | Total Points |
| --- | --- | --- | --- |
| Pittsburgh Steelers | +3.5 (-110) | +165 | O 41 (-110) |
| Baltimore Ravens | -3.5 (-110) | -190 | U 41 (-110) |
When the Steelers have the Ball:

In likely what is now the last game of Ben Roethlisberger's storied career, he faces a Ravens pass defense that is still on the bottom of the NFL in allowing 281.7 passing yards per game. The rushing defense is the opposite as it sits at a league-leading 84.8 yards per game. He has averaged only 143.3 yards passing per game in his last three, but the Steelers have won two of those. It's up to Najee Harris to pull the Steelers through with the run after his 188 yards on 28 carries last week.
When the Ravens have the Ball:

Lamar Jackson hasn't practiced all week and as the Ravens need losses from the Chargers, Colts and Dolphins coupled with a win, it's almost a given that his season is finished. Mark Andrews will be the key cog on offense with an improving Tyler Huntley as the backup. The Ravens' tight end looks for his fifth game in a row with six catches and 85 yards. Huntley has completed 70 percent of his passes in two of his three starts and has rushed for at least 50 yards in two of those three.
Why Bet the UNDER 41:
The offensive attacks of these two teams have been diminished mightily and as the season draws to a close, both coaches hope the rivalry supersedes the lack of playoffs chances. Huntley's mobility will negate T.J. Watt and a Pittsburgh pass rush that has posted 52 quarterback drops on the season. Ravens 17, Steelers (+6.5) 13.
Carolina Panthers (4-12) at Tampa Bay Buccaneers (12-4)
Time: 1:25PM PST – 3:25PM CST – 4:25PM EST
Place: Raymond James Stadium, Tampa, FL
TV: CBS
The Series:
Carolina maintains a 24-18 lead in this series, but the Buccaneers have won the past three games. Tom Brady threw for 232 yards two weeks ago in Charlotte as the Buccaneers routed the Panthers, 32-6. Tampa Bay is looking for a win to lock up second place in the NFC where it could host at least the first two rounds of the playoffs.
Last Time Out:
The Panthers fell in New Orleans, 18-10, as Sam Darnold was back under center, but passed for only 132 yards. Carolina took the lead early in the second quarter on a 21-yard touchdown run by Chuba Hubbard before the Saints' defense kicked in and stonewalled a Panthers offense that picked up only `78 yards on 59 plays with two turnovers.
Tampa Bay trailed the New York Jets for 59:45, but Tom Brady found Cyril Grayson on a 33-yard TD pass with 15 seconds remaining, and with the subsequent two-point conversion, the Bucs stopped the Jets, 28-24. Brady passed for 410 yards and three touchdowns as he found Rob Gronkowski seven times for 115 yards.
| Teams | Spread | Money Line | Total Points |
| --- | --- | --- | --- |
| Carolina Panthers | +9.5 (-120) | +300 | O 41.5 (-110) |
| Tampa Bay Buccaneers | -9.5 (EV) | -360 | U 41.5 (-110) |
When the Panthers have the Ball:

Embattled Panthers coach Matt Ruhle will use Sam Darnold once again to see what he can prove behind an offensive line that has allowed Carolina quarterbacks to be sacked 50 times. Coach Bruce Arians looks for Shaq Barrett, Lavonte David, and Jason Pierre-Paul to at least be back for round one of the playoffs.
The Panthers offense is 30th in the NFL with 297.8 yards per game while the Buccaneers will turn Carolina into a team that has to pass, which should allow for them to allow to their total of 16 interceptions.
When the Buccaneers have the Ball:

Tom Brady continues to pull wins out of the fire as we saw last week and his accuracy plus a student of the game in Cyril Grayson is giving Arians another high-level passing target in this deep offense. Brady needs 10 yards for the second 5,000-yard season of his career and Mike Evans is looking for 44 receiving yards to go over 1,000 for the eighth straight time. There's been nothing but kudos for a Panthers pass defense that is second in the NFL in allowing only 183.9 yards per contest while their 299.5 yielded per game is also second in the league.
Why Bet the OVER 41.5:
The home field is going to give the Buccaneers offense a big energy rush after their last appearance at the RayJay was the 9-0 Sunday Night debacle against the New Orleans Saints. Carolina is likely to be able to get a turnover and a short field as well which can yield a TD. Brady at home is a solid move on the OVER as the Buccaneers (-8) should pick up a solid 31-12 win over the Panthers.
San Francisco 49ers (8-7) at Los Angeles Rams (12-4)
Time: 1:00PM PST – 3:00PM CST – 4:00PM EST
Place: Sofi Stadium, Los Angeles, CA
TV: FOX
The Series:
It's always great when one of the great all-time rivalries comes down to the last game of the season and there is a playoff berth and/or positioning on the line. The 49ers need this win or a New Orleans loss to Atlanta or a tie. Meanwhile, the Rams clinch the NFC West with a win or an Arizona loss or tie. San Francisco has a 73-67-3 advantage in this series and the Niners have won the last five, including a 31-10 victory in Week 10.
Last Time Out:
Trey Lance was behind center for San Francisco in place of the injured Jimmy Garoppolo. Lance threw a pair of touchdown passes and netted 249 yards through the air as the 49ers took down the Houston Texans, 23-7, at Levi's Stadium. Lance hit Elijah Mitchell with an 8-yard TD pass and then Deebo Samuel reeled in a 45-yard scoring toss and the 49ers posted 416 total yards.
Odell Beckham, Jr., has come to the show in Los Angeles in a big way with a touchdown catch in five of six games as he scored on a 7-yard toss from Matt Stafford with 57 seconds remaining. The Rams shaded the Ravens, 20-19, for their fifth consecutive win. Cooper Kupp had six receptions for 95 yards and a TD.
WHO'S READY FOR SUNDAY?!

Make sure to rock your royal at the #RamsHouse! ? » https://t.co/nm32uQG2Db pic.twitter.com/DUpFETezft

— x – Los Angeles Rams (@RamsNFL) January 7, 2022
| Teams | Spread | Money Line | Total Points |
| --- | --- | --- | --- |
| San Francisco 49ers | +4.5 (-110) | +180 | O 44.5 (-110) |
| Los Angeles Rams | -4.5 (-110) | -220 | U 44.5 (-110) |
When 49ers Has the Ball:

Jimmy G returned to practice yesterday as he should be a go with his injured thumb. The Niners' balance on offense was stellar in the first meeting as San Francisco had 179 passing yards and 156 on the ground in controlling the clock for nearly 40 minutes. This is a perfect scenario again as the defense forced Stafford into two interceptions on the first two possessions as they both resulted in touchdowns. The second was a 27-yard pick-six for Jimmie Ward.
When the Rams have the Ball:

Matt Stafford is giving coach Sean McVay and the Rams a roller coaster ride. Consider that he has thrown only five touchdown passes and six interceptions in his last three games. In the three before that, he had nine TD passes and only one pick. The Rams have won five in a row and are 5-1 in those six games. Sony Michel has come in and has done a solid job as the lead running back for the Rams, who will have Cam Aker back from injury on Sunday.
Why Bet the OVER 44.5:
The Rams are on a roll with the five wins although coach Kyle Shanahan seems to have had their number in San Francisco winning the last four. The Rams' defense has to step up against Deebo Samuel, who had five catches for 97 yards in the first meeting. Cooper Kupp had 11 catches for 122 yards. Los Angeles could be in a position to nail down the No. 2 seed with a win while the 49ers are clearly in a must-win scenario as the Saints are a (-3.5) favorite in Atlanta. Rams (-4.5) 27, 49ers 20.
Seattle Seahawks (6-10) at Arizona Cardinals (11-5)
Time: 5:15PM PST – 7:15PM CST – 8:15PM EST
Place: State Farm Stadium, Glendale, AZ
TV: ESPN
The Series:
The two teams are deadlocked at 22-22-1, but Arizona has won three of the past four outings, including a 23-13 decision in Seattle this season. The Cardinals are already in the playoffs but could win the AFC West if they win here and the Rams lose to the 49ers. It's been coach Pete Carroll's most trying season in Seattle as the Seahawks have struggled with injuries and fell into the cellar in the division once QB Russell Wilson was out for an extended period.
Last Time Out:
Rashaad Penny rushed for a career-high 170 yards and then Russell Wilson connected with DK Metcalf on three touchdown passes as the Seahawks blasted the Detroit Lions, 51-29, in the home finale for the 'Hawks at Lumen Field. Wilson hit Tyler Lockett and Metcalf late in the first half with two of his four touchdown passes as Seattle opened up a 31-7 lead at the half.
Kyler Murray passed for 263 yards and two touchdowns and Arizona had to hold off a late Dallas rally to douse the Cowboys, 25-22, at AT&T Stadium. The Cardinals led 22-7 at the end of the third quarter and then dropped back into a softer defense and allowed the Cowboys to rally. The Arizona defense caged the Cowboys' running game as Dallas managed only 45 yards rushing on 17 carries.
| Teams | Spread | Money Line | Total Points |
| --- | --- | --- | --- |
| Seattle Seahawks | +7 (-110) | +240 | O 48 (-110) |
| Arizona Cardinals | -7 (-110) | -290 | U 48 (-110) |
When the Seahawks Have the Ball:

Once Rashaad Penny became healthy, the Seahawks started to perk. Penny rushed for 481 yards in the last four weeks as Seattle is 3-2 in its last five games. Penny will see a Cardinals rush defense that has given up only 96.3 yards rushing in its last four games.
The Cardinals have been steady against the pass and run on defense, but they are looking to turn the ball over more as they only have two turnovers in their last four games. DK Metcalf has four touchdowns in his last two games after going six in a row without a TD catch.
When the Cardinals have the Ball:

Kyler Murray looks like his ankle is getting better each week, so the Cardinals' offense can get into a position where it is as efficient as it has ever been. The key is his threat to run and then getting AJ Green into the game early with Christian Kirk and Zach Ertz keying the passing game. Seattle's pass defense has given up 270.4 yards per game and will be left scrambling here against the Cards' passing attack.
Why Bet the UNDER 48:
Without DeAndre Hopkins, Murray can still get into a rhythm and find his receivers to fortify the passing attack which has been steady over the last four games, despite a 1-3 mark therein. On the flip side, it will be interesting to see how Penny operates vs. Arizona's rush defense as linebacker Chandler Jones continues to be a key anchor after he had two tackles-for-loss and a forced fumble last week.
Los Angeles Chargers (9-7) at Las Vegas Raiders (9-7)
Time: 5:15PM PST – 7:15PM CST – 8:15PM EST
Place: Allegiant Stadium, Las Vegas, NV
TV: NBC
The Series:
Once again, an old divisional rivalry where the season is potentially on the line for both teams as it's a win-you're-in scenario. The Raiders have a 65-56-2 margin in the series as the Chargers have won the last two. Earlier this season, the Chargers handed the Raiders their first loss of the season, a 28-14 decision in Week 4. The Chargers raced to a 21-0 halftime lead behind three touchdown passes from quarterback Justin Herbert. Las Vegas challenged in the third quarter when Derek Carr tossed TD passes of 10 yards to Hunter Renfrow and three yards to Darren Waller.
Last Time Out:
Herbert threw for 237 yards and two touchdowns last week as the Chargers vanquished the Broncos, 34-13. Andre Roberts had a 101-yard kickoff return before Herbert found a retuned Mike Williams on a 45-yard touchdown pass as LA opened up a 34-6 lead early in the fourth quarter.
Daniel Carlson kicked three field goals as the third was a walk-off to render the Colts, 23-20. Derek Carr threw for 255 yards while Zay Jones has stepped his game up immeasurably in catching eight balls for 120 yards. Las Vegas carried a 13-3 lead at one point in the second quarter before the Colts opened up a 17-13 lead after three. Derek Carr then drove Las Vegas 62 yards in six plays and found Renfrow on an 11-yard TD pass to retake the lead at 20-17 with 11:14 to play.
Our time. ?#RaiderNation | #LACvsLV pic.twitter.com/jpXzfryKJy

— Las Vegas Raiders (@Raiders) January 6, 2022
| Teams | Spread | Money Line | Total Points |
| --- | --- | --- | --- |
| Los Angeles Chargers | -3 (-115) | -160 | O 50 (-110) |
| Las Vegas Raiders | +3 (-105) | +140 | U 50 (-110) |
When the Chargers Have the Ball:

Justin Herbert needs running back Austin Eckler in the game as he balances this attack and makes Herbert and this passing game even better. Eckler only has one 100-yard rushing game this season, but keeping him healthy and a part of the passing attack is a must. He has nine touchdowns (6-rush/3-receiving) in his last seven games. Las Vegas has improved defensively and is 13th in the NFL in total yardage on defense at 330.8.
When the Raiders have the Ball:

Derek Carr is trying to finally get into the playoffs and help the Raiders make a difference. He has ZERO interceptions in five of his last six starts against the Chargers. He hopes to get tight end, Darren Waller, back as Waller hasn't played since Thanksgiving due to injury and he has also been in the health and safety protocols with COVID-19. Hunter Renfrow now has his first 1,000-yards receiving season of his career and Zay Jones has stepped up big as well as he has 20 catches for 237 yards in his last three games.
Why Bet the UNDER 50:
This is can turn into a shootout early as the two defenses are much better than they get credit for. The levels of competition on both ends should be solid and the Raiders have the incentive to make the second season in what is their literal second season in Las Vegas at Allegiant Stadium. This game was flexed into prime time on NBC where Justin Herbert has been solid this season in crafting a 109.5 QB rating with 14 touchdown throws vs. only two interceptions in five games in prime time.
Carr looks like he has a fuse to move the Raiders, who have played with a solid defensive effort and Carr's precision in the last three weeks. He has had five interceptions in his last four games. The O/U looks close, but take the UNDER as sometimes both teams will tend to play it closer to the vest in these types of contests. Raiders (+3) 24, Chargers 21.