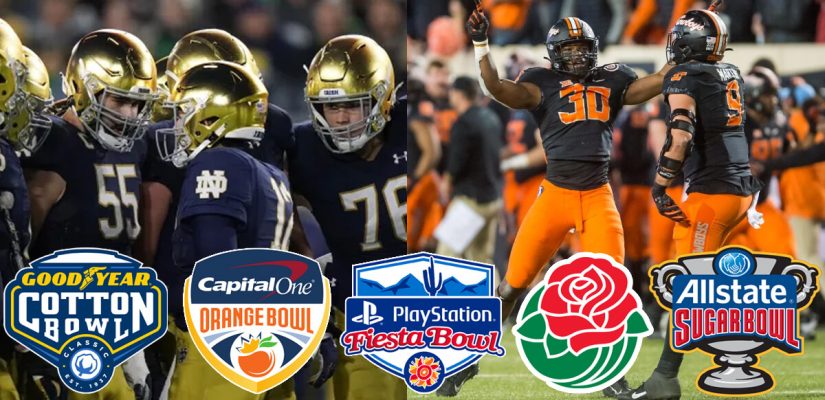 Bearcats are ready for Group of Five venture into the national title hunt
The UNDER is too good to ignore when Georgia battles Michigan
Oklahoma State is on the plate for Notre Dame coach Marcus Freeman's debut
Can Utes' physical defense handle Ohio State's CJ Stroud?
Ole Miss, Baylor sport contrasting styles in Sugar Bowl
Choose from our favorite college football sportsbooks to bet on this week's bowl games.
Cotton Bowl
No. 1 Alabama (12-1) vs. No. 4 Cincinnati (13-0)
Time and Date: Friday, Dec. 31 | 12:30PM PST – 2:30PM CST – 3:30PM EST
Place: AT&T Stadium, Dallas, TX
TV: ESPN
Entering the Game:
Cincinnati finally gets some kudos from the stodgy CFP selection committee as the Bearcats become the first non-Group of 5 teams to make it to what hopefully is the last college football final four with talk of this becoming a 12-team extravaganza soon. The Bearcats feature the nation's top cornerback tandem in Coby Bryant and Ahmad "Sauce" Gardner. Bryant won the Jim Thorpe Award which acknowledges the nation's top defensive back. Bearcats head coach Luke Fickell was Ohio State's defensive coordinator when the Buckeyes defeated Alabama, 42-35, in 2014, on their way to the National Championship.
Alabama won its 29th SEC Championship, 41-24, over Georgia earlier this month. The Crimson Tide is 96-50-4 all-time at 150 different neutral sites. Alabama's Heisman Trophy-winning quarterback Bryce Young put up stellar numbers all season as he completed 68 percent of his passes for 4,322 yards with 43 touchdown passes vs. for interceptions.
Rolling into @ATTStadium for the @CFBPlayoff.

#LikeNoOther #RollTide pic.twitter.com/xg7cvwnmtf

— Goodyear Cotton Bowl Classic (@CottonBowlGame) December 28, 2021
Bearcats's Season Sketch:
The Bearcats led nearly all the way in last season's 24-21 loss in the Peach Bowl to Georgia. These two teams are the only two in the nation in the top ten in both scoring offense and scoring defense as UC averages 39.2 points (8th/CFB) and 16.1 points on defense (4th/CFB).
Crimson Tide' Season Sketch:
Alabama's lone hiccup came in a 41-38 loss at Texas A&M in October. The Crimson Tide has won seven in a row since as they hung their 16th SEC West banner. The Tide also finished with at least 11 wins for the 25th time in team history when they beat Auburn 24-22 in four overtimes.
| Teams | Spread | Money Line | Total Points |
| --- | --- | --- | --- |
| Cincinnati Bearcats | +13.5 (-110) | +400 | O 57.5 (-110) |
| Alabama Crimson Tide | -13.5 (-110) | -500 | U 57.5 (-110) |
When the Bearcats Have the Ball:

The Bearcats average 429.6 yards (44th/CFB) as quarterback Desmond Ridder presided over one of college football's most balanced offenses. He passed for 3,190 yards and 30 touchdowns and he ran for 361 and six TDs. Running back Jerome Ford transferred from Alabama and scored 20 touchdowns, 19 on the ground while rushing for 1,242 yards.
Alec Pierce, Tyler Scott, and Tre Tucker give Ridder a variety of wide receivers as Pierce and Scott average 17.3 and 18.3 yards per catch. Alabama is eighth in the nation in total defense in allowing 306.1 yards per game as the matchup on Ford with its rush defense is maybe the biggest matchup in the game.
When the Crimson Tide Have the Ball:

Cincinnati has forced 33 turnovers this season, best in the game while Alabama has committed only nine turnovers. The ability for the Bearcats to make Bryce Young thrown picks in his matchup with Koby Bryant and "Sauce" Gardner is key.
The Tide rolls for 495.5 yards per game as the pass offense with Jameson Williams and John Metchie, III, as a pair of 1,000 yards-plus receivers. Metchie has an injured ACL and is out of the Cotton Bowl, so Slade Bolden could step up as the Bearcats are second in the nation at passing yards allowed at 168.3.
Why Bet the OVER 57.5:
There's too much firepower on the field in both offenses for this to be too much of a low-scoring battle. We haven't even mentioned Alabama running back Brian Robinson, Jr., who is a breakaway threat and scored 14 touchdowns while amassing 1,071 yards. Ridder should have big plays in the passing game, but Bryce Young is the difference maker and with his level of play permeating scores this team, Alabama takes a 38-27 win as Cincinnati covers the (+13.5).
Orange Bowl
No. 2 Georgia (12-1) vs. No. 3 Michigan (12-1)
Time: Friday, Dec. 30 | 4:30PM PST – 6:30PM CST – 7:30PM EST
Place: Camping World Stadium, Orlando, FL
TV: ESPN
Entering the Game:
This is the first Georgia team to go 12-0 since 1980 and this is the Bulldogs' first trip to the Orange Bowl since 1960. Tackle Jordan Taylor won the Outland Trophy and outside linebacker Nakobe Dean won the Butkus Award. The Bulldogs are averaging 39.4 points per game and are outscoring their opponents, 512-214.
Michigan faces an SEC team for the 17th time in a bowl game as the Wolverines have an 8-8 record vs. the SEC. It's the Wolverines' 49th bowl appearance and 19th in the state of Florida where they are 9-9 in bowl appearance. Michigan has lost five of its last six games in bowls in the Sunshine State.
Bulldogs' Season Sketch:
Georgia won its first 12 games this season before getting dominated, 41-24, in the SEC championship game by Alabama. The Bulldogs have allowed just 9.5 points per game and up until the game against the Crimson Tide, no team had scored more than two touchdowns vs. their unit. Georgia has 57 bowl appearances and 24 consecutive with a postseason appearance. 
Wolverines' Season Sketch:
The 42-27 domination of Ohio State will go down in the annals of Michigan history. The Wolverines won their 43rd Big Ten championship when they dominated offense-less Iowa, 42-3, in the Big Ten Championship game. The connectivity on this team is stellar as 16 Wolverines have started all 13 games.
| Teams | Spread | Money Line | Total Points |
| --- | --- | --- | --- |
| Michigan Wolverines | -7.5 (-105) | -290 | O 45.5 (-110) |
| Georgia Bulldogs | +8.5 (-115) | +240 | U 45.5 (-110) |
When the Bulldogs Have the Ball:

Georgia's Stetson Bennett has had a strong season, but he is still limited in how effective he can be in creating as he is an in-the-pocket passer. Coach Kirby Smart is a defensive guru and many times in big games, he rolls the offense up and tried to win with a conservative offense and the stingy defense.
This cost them twice vs. Alabama in the 2018 national championship game and later that year in the SEC Championship game. Bennett was not the starter at the beginning of the season as JT Daniels won the job, but was hampered by a late injury for the entire year. Tight end Brock Bowers is the leading receiver with 47 catches for 791 yards and 12 TDs. Zamir White and James Cook shared the carries out of the backfield.
Michigan's defense is led by defensive end Aidan Hutchinson, who came on the scene as a Heisman Trophy candidate in November. The unit only allows 3.5 yards per carry this season, so their hope is to turn Georgia into a passing team where Hutchinson and his teammates can tee off. Hutchinson accounted for 14.5 sacks this season and linebacker David Ojabo finished with 11 sacks.
When the Michigan Wolverines Have the Ball:

Running back Hassan Haskins can be an issue for the Bulldogs after he ran for 1,294 yards and 20 touchdowns. Coach Jim Harbaugh has a change-up in Blake Corum, who scored 11 TDs as well. Cade McNamara only threw for 190 yards per game, but he has a plethora of wideouts as Cornelius Johnson led Michigan with 602 yards on 37 catches.
The defensive superlatives of the Bulldogs' unit could take up one entire blog; however, as we have highlighted, this could be one of the best overall defenses in the history of college football – especially given the era of offense we play in now. Georgia's defense allowed an FBS low 11 touchdowns as the unit did not allow six teams to score on it this season.
Why Bet the UNDER 45.5:
This will turn into a defensive struggle early and barring turnovers, it's how this will play out. Michigan has more offensive weaponry, but the Wolverines haven't faced this type of unit in the Big Ten as Georgia's defense will rule the day. Bulldogs take out the Wolverines, 23-16 to accentuate the UNDER as Michigan covers (+7.5).
The Fiesta Bowl
No. 9 Oklahoma State (11-2) vs. No. 5 Notre Dame (11-1)
Time: Saturday, Jan. 1 | 11:00AM PST – 1:00PM CST – 2:00PM EST
Place: State Farm Stadium, Phoenix, AZ
TV: ESPN
Entering the Game:
The Cowboys play in their 16th bowl game as this is their fifth New Year's Six bowl game since 2010. It is their third appearance in the Fiesta Bowl as the last was in 2012 when they defeated Stanford, 41-38, on a walk-off field goal. Notre Dame makes the third consecutive Top 10 team that the Cowboys have faced (Oklahoma, Baylor) as the only other time this has happened was in 1976.
Defensive coordinator Marcus Freeman takes over as the head coach at Notre Dame as Brian Kelly is off to LSU. Freeman's defense created 40 sacks this season which was the most since 41 in 1996. The Fighting Irish are 1-4 in the Fiesta Bowl as the last matchup came in 2016 when they lost to Ohio State, 44-28.
Whistle while you work.#LetsRide I @BCBSOK pic.twitter.com/6ERY5kkRnN

— OSU Cowboy Football (@CowboyFB) December 30, 2021
Cowboys' Season Sketch:
Oklahoma State finished atop the Big 12 but fell to Baylor in the Big 12 Championship game as they were held on the goal line to end the game. The Cowboys joined Baylor, Alabama, and Georgia as the only teams in the nation to win four games over teams in the AP Top 25 at the time of the game. The Cowboys have just finished their 16th consecutive winning season as these have occurred in coach Mike Gundy's 17 seasons at the helm of the program.
Fighting Irish's Season Sketch:
Notre Dame enters the game on a seven-game winning streak as its lone loss was a major one. Cincinnati dominated Notre Dame in South Bend, 24-13, on Oct. 2. The Irish join Alabama as the only two teams in the nation to average over 30 points on offense and give up less than 20 points on defense for the last four seasons. Running back Kyren Williams went over 1,000 yards for the second consecutive season as he is just the fifth running back in Notre Dame history to accomplish that feat.
| Teams | Spread | Money Line | Total Points |
| --- | --- | --- | --- |
| Notre Dame Fighting Irish | +2 (-110) | +110 | O 45.5 (-110) |
| Oklahoma State Cowboys | -2 (-110) | -130 | U 45.5 (-110) |
When the Cowboys Have the Ball:

The Pokes must have Jaylen Warren in the backfield as he finished with 1,134 yards on 237 carries with 11 touchdowns. Probably the biggest reason they lost to Baylor in the Big 12 title game was Warren's injuries which range from an ankle to a shoulder.
The Cowboys rush for 181.8 yards per game and face a Notre Dame run-stop that gave up 127.1 yards per outing (30th/CFB). Quarterback Spencer Sanders finished with 16 touchdown passes and 12 interceptions as he was only sacked 13 times as he is a playmaker out of the pocket.
When the Fighting Irish Have the Ball:

Mike Gundy's teams at OSU have always been known for high-flying high-scoring offense, but this is the best defensive team in his 17 seasons. Gundy has a pass defense that only allowed 187.2 yards passing per game (5th/CFB) in a Big 12 that is known for its passing games and points on the board.
In addition, the rushing defense allowed only 91.2 rushing yards per game (5th/CFB). The Irish are going to try to get Kyren Williams touches, but the Irish have an immobile quarterback in Jack Coen, who was dropped 30 times this season. OSU logged 55 sacks on the season, including 11.5 for Collin Wallace.
Why Bet the UNDER 45.5:
Warren's availability may affect this number and the guess is he will be back and playing. Both teams have excellent pass rushes, but Coan will be a sitting duck in the backfield with Pokes coming from all directions. Take the Cowboys (+2.5) 23-20.
Rose Bowl
No. 11 Utah (10-3) vs. No. 6 Ohio State (10-2)
Time: Saturday, Jan. 1 | 2:00PM PST – 4:00PM CST – 5:00PM EST
Place: Rose Bowl, Pasadena, CA
TV: ESPN
Entering the Game:
Ohio State comes into the game with a 25-27 mark in Bowl competition while 8-7 at the Rose Bowl and sporting a three-game bowl winning streak. The Buckeyes have played in at least a New Year's 6 game since the College Football Playoff came about. This is Ohio State's third Rose Bowl in the last 11 years.
Utah is 17-6 all-time in bowl games as the Utes are 2-0 in New Year's Six bowls and 5-2 in bowl games since becoming a member of the Pac-12. If the Utes can pull off a win, it would be their third season of 11-plus wins in the Kyle Whittingham era as the Utes are 11-3 in bowl games over his 17 seasons. Utah is one of only six FBS programs that is ranked in the Top 30 in both scoring and scoring defense.
Buckeyes' Season Sketch:
Ohio State has won 11 consecutive games after a loss as they were pummeled by Michigan in the season finale, 42-27. The Buckeyes are averaging 551.4 yards per game as they outgained every opponent except Michigan. High-flying wide receiver tandem Chris Olave and Garrett Wilson are among four Buckeyes opting out to prepare for the NFL Draft.
Utes' Season Sketch:
The Utes blew away Oregon, 38-10 in the Pac-12 championship game. This is one of the nation's top defenses as it has held seven opponents under 100 yards rushing this season and four of the last five. The Utes rank 11th in the nation in team sacks at 3.23 per game and they are 3-0 against AP Top 25 opponents this season.
| Teams | Spread | Money Line | Total Points |
| --- | --- | --- | --- |
| Utah Utes | +4.5 (-110) | +165 | O 64 (-110) |
| Ohio State Buckeyes | -4.5 (-110) | -190 | U 64 (-110) |
When the Buckeyes Have the Ball:

As Ohio State is No. 1 in the nation in total offense, quarterback CJ Stroud presides over a pass offense that flies for 361.4 yards per game (4th/CFB). Utah allows 195.2 yards passing (24th/CFB) and with Wilson and Olave out of the game, the Utes' aggression in the secondary could be an even bigger key.
Jaxson Smith-Ngigba led the Buckeyes with 80 receptions this season and will be a huge factor in the matchup. Running back TreVeyon Henderson, who went for 1,165 yards and 15 touchdowns will be a challenge for a Utes rushing defense that allowed 120.1 yards (20th/CFB).
When the Utes Have the Ball:

Utah gets this done with a physical running attack which averages 216.1 yards per game (13th/CFB) behind three threats in Tavion Thomas, who led with 1,041 yards and 20 touchdowns as well as TJ Pledger (6.9 ypc) and Micah Bernard. The Buckeyes' rushing defense only allowed 118.5 yards (19th/CFB). The Utes need to run the ball effectively because they can't afford to get into a position where QB Britain Covey has to try to Match CJ Stroud.
Why Bet the OVER 64:
Kyle Whittingham is tough to bet against in bowls, but Ohio State's Ryan Day is 33-4 as the head coach with the Buckeyes, who outman most of their Big Ten opponents. That will not be the case with Utah, who is a physical relentless force with the football in both sides of the line. However, Stroud has too much firepower with the run and pass and will be the difference in an entertaining game. Take the OVER and Ohio State (-4), 38-31.
Sugar Bowl
Baylor (11-2) vs. Ole Miss (10-2)
Time: Saturday, Jan. 1 | 5:45PM PST – 7:45PM CST – 8:45PM EST
Place: Caesar's Superdome, New Orleans, LA
TV: ESPN
Entering the Game:
Ole Miss is 12-2 in its last 14 bowl games which dates back to the 1992 Liberty Bowl and they hold a 25-13 record in all-time bowl competition. The Rebels are one of four SEC schools and 16 teams who have made it to at least three Group of 6 bowls since 2015.
Baylor is 13-12 all-time in bowl games as the Bears lost to Georgia, 26-14, in the Sugar Bowl two years ago. The Bears rank seventh nationally with 16 interceptions and eighth in the fewest interceptions thrown with eight. The Baylor defense has forced a turnover in 21 straight games and sixth nationally in turnover margin with a (+0.85) offering.
???? ????#SicEm | #BUncommon pic.twitter.com/9S5WGy0WBC

— Baylor Football (@BUFootball) December 28, 2021
Rebels' Season Sketch:
The Rebels have won four in a row since their loss at Auburn and seven of eight since their first loss to Alabama back in early October. Quarterback Matt Corral has paced the Rebels this season as he is 10th nationally and No. 3 in the SEC in total offense and he is in the Top 10 nationally in eight different offensive categories. The defense checks in with 39 quarterback sacks, which is second in program history as the 3.3 average per game is sixth nationally.
Bears' Season Sketch:
Baylor won the Big 12 Championship as the Bears took out Oklahoma State, 21-16, as a goal-line stand by the Bears preserved the title. Baylor comes into this game looking for the first 12-win season in the history of the program. The Bears' lone losses came at Oklahoma State, 24-14, on Oct. 2 and inexplicably at TCU, 30-28, as they have won four in a row and seven of their last eight as well.
| Teams | Spread | Money Line | Total Points |
| --- | --- | --- | --- |
| Ole Miss Rebels | +1.5 (-110) | +105 | O 55.5 (-110) |
| Baylor Bears | -1.5 (-110) | -125 | U 55.5 (-110) |
When the Rebels Have the Ball:

Matt Corral threw 20 touchdown passes with only four interceptions in 378 attempts as he engineered a passing attack that put up 281.9 yards per game. He also rushed for 597 yards and 11 TDs at 4.1 yards per carry. The Bears defense was known for its run-stop at 116.9 yards per contest, but teams in the Big 12 throw the football as Baylor gave up 230.8 yards through the air (70th/CFB).
Ontario Drummond can be a huge problem on the outside for the Baylor pass defense as he was No. 5 in the SEC with 84 receiving yards per game. Lane Kiffin can turn it over to the run as well with Jerrion Early, who led with 705 rushing yards, and Snoop Conner, who rushed for 13 TDs.
When the Bears Have the Ball:

Gerry Bohanon starts at QB for the Bears as Blake Shapen, who led Baylor to the win over Oklahoma State in the Big 12 championship game, is out with a shoulder injury. Bohanon was 9-2 in 11 starts and does give the Bears the best chance to win with his dual-threat ability. He threw for 2,165 yards and 17 TDs while rushing for 3033 and nine scores.
Tyquan Thornton (61-946-9) and R.J. Snead (44-563-2) will be a tough cover for an Ole Miss pass defense that gave up 245.8 yards (96th/CFB) and they gave up 182.1 (101st/CFB) yards rushing. Abram Smith is a load as a running back in rolling up 1,429 yards and 12 TDs.
Why Bet the UNDER 55.5:
Ole Miss has to worry about the Bears finding the ground game behind Smith and controlling the clock to keep Corral off the field. On the flip side, Corral can dictate this game if he gets Ole Miss off to a quick lead, say, 14-0 after the first two possessions. This game will be close to the number as Ole Miss (-1) gets the Dub, 31-27, in placating the UNDER.