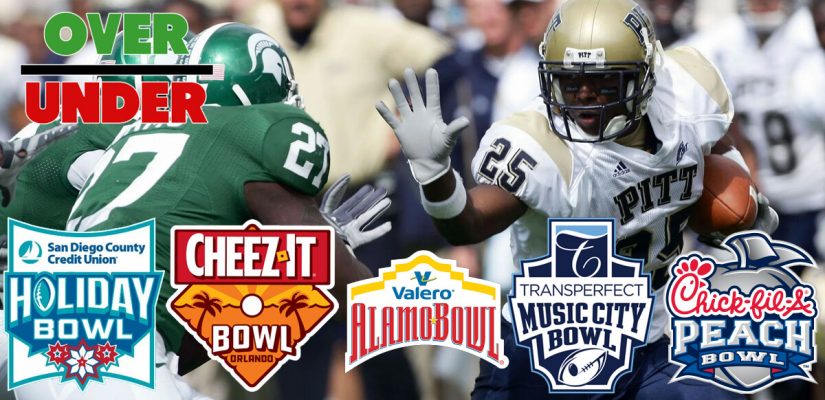 Virginia-SMU to be settled with thoroughbreds in the passing game
The Under is probable in the Clemson-Iowa State matchup
Oregon, Oklahoma can obliterate the over
Losses of Pitt's Pickett, Spartans' Walker cloud matchup
Choose from our favorite college football sportsbooks to bet on this week's bowl games.
Holiday Bowl
UCLA Bruins (8-4) vs. NC State Wolfpack (9-3)
Time and Date: Tuesday, Dec. 28 | 5:00PM PST – 7:00PM CST – 8:00PM EST
Place: Petco Park, San Diego, CA
TV: Fox
Entering the Game:
The brief series between these two teams is ancient as UCLA and NC State met in 1959 and 1960, with the Bruins winning both games. UCLA's last bowl game came in 2017 where the Bruins lost in the Cactus Bowl to Kansas State. The Bruins come into the game with a 19-13 record against current members of the ACC as 22 of the 32 games have come against Pitt and Syracuse.
NC State is in its seventh bowl in nine years under head coach David Doeren. The Wolfpack has finished 13-5 in the ACC in the past two seasons as they only fall behind Clemson, 14-3. The Wolfpack ranked ninth in the nation with 15 interceptions, as ten players checked in with a pick.
San Diego's Biggest Holiday Party is official! No. 18 @PackFootball will take on @UCLAFootball in this year's @sdccu Holiday Bowl @PetcoPark on December 28th. Get your tickets now! #HolidayBowl #1Pack1Goal #GoBruins #ACC #Pac12 pic.twitter.com/QNt1hZIpB6

— SDCCU Holiday Bowl (@HolidayBowl) December 5, 2021
Bruins' Season Sketch:
UCLA finished second in the Pac-12 South behind Utah as this was the Bruins' highest finish since 2014. The Bruins punctuated the season with a 62-33 win over USC in the Crosstown Rivalry as the Bruins ended the season scoring 40 or more points in the last three games, the first time that has happened since 2015. UCLA announced its entrance back onto being a competitor on the college football stage when the Bruins defeated LSU, 38-27, in Week 2.
Wolfpack's Season Sketch:
NC State took down Clemson, 27-21, on Sept. 25. A one-point loss to Miami and a three-point loss to Wake Forest were all that kept NCSU from going undefeated in the ACC and probably proliferating a different conversation right now. Special teams can be an area to watch for the 'Pack as they scored four times – a muffed punt recovery, a blocked punt return, and two kickoff returns.
| Teams | Spread | Money Line | Total Points |
| --- | --- | --- | --- |
| NC State Wolfpack | -2 (-110) | -130 | O 60 (-110) |
| UCLA Bruins | +2 (-110) | +110 | U 60 (-110) |
When the Bruins Have the Ball:
In just four years, Coach Chip Kelly was able to rebuild the Bruins into a Top 25 team and a contender in the Pac-12 South. Before he and UCLA take the next step in the rebuild, quarterback Dorian Thompson-Robinson leads the Bruins into the Holiday vs. a solid NC State defense. DTR proliferates a Bruins rushing offense that elevates itself to 215 yards rushing per game (15th/CFB) as he rushed for 611 yards on 130 carries beside running back Zach Charbonnet's 1,137 yards on 202 totes.
The duo combined for 22 touchdowns on the ground, they face an NCSU run-stop that 124 yards rushing per game (24th/CFB). Charbonnet's seven 100-yards plus games left the Pac-12 this season.
When the Wolfpack Have the Ball:

UCLA had a tough time with passing teams this season as the Bruins allowed 260 passing yards per game (111th/CFB). Now comes Devin Leary, who orchestrated a Wolfpack pass offense that put up 288 yards per game (19th/CFB) as he teamed with wide receiver Emeka Emezie for 60 catches for 802 yards and six TDs while Devin Carter averaged 17.9 yards per catch. NC State was 24-of-25 in the red zone on offense over the last eight games.
Why Bet the OVER 60:
The explosiveness of the UCLA offense will allow for scores from scrimmage with Charbonnet/DTR in the running game. Don't sell Thompson-Robinson short as a passer either as he has had a good rapport with Kyle Philips and tight end Greg Dulcich in the passing attack. With the threats that NC State poses with Leary as a passer, UCLA will try to turn this into a possession game with the rush offense. There are enough points to go around in a 37-35 UCLA (+1) win.
Cheez-It Bowl
Clemson Tigers (9-3) vs. Iowa State Cyclones (7-5)
Time: Wednesday, Dec. 29 | 2:45PM PST – 4:45PM CST – 5:45PM EST
Place: Camping World Stadium, Orlando, FL
TV: ESPN
Entering the Game:
As Iowa State plays in its fifth consecutive bowl game, this is the first meeting between the Cyclones and Tigers. In their bowl history, the Cyclones are 5-11, and ISU is 2-5-1 lifetime vs. the ACC. Clemson loses both coordinators heading into this game as offensive coordinator Tony Elliott left for Virginia, and defensive coordinator Brent Venables returned to Oklahoma as the Sooners head coach. The Tigers are looking to win ten games for the 11th straight season. Clemson is 6-7 against teams currently in the Big 12.
Tigers' Season Sketch:
Iowa State's four conference losses are by one score or less and went down to the final possession. Only two teams – West Virginia and Texas Tech – tallied 350 or more yards against this Iowa State defense. The Cyclones' record-setting running back Breece Hall will skip this game as he is a potential first-round pick in the NFL Draft, and frankly, the risk in what is a game where there is nothing on the line is simply too much for a talent like Hall. 
Cyclones' Season Sketch:
Clemson was on the ropes in wins over Georgia Tech, Boston College, and Syracuse as the opponents destroyed upsets with their turnovers and mistakes in the red zone late in the fourth quarter. Head coach Dabo Swinney is looking for his 150the win in 14 seasons as the Tigers head coach.
| Teams | Spread | Money Line | Total Points |
| --- | --- | --- | --- |
| Iowa State Cyclones | +1.5 (-110) | +110 | O 44 (-110) |
| Clemson Tigers | -1.5 (-110) | -130 | U 44 (-110) |
When the Tigers Have the Ball:

Breece Hall came into the season as a Heisman Trophy candidate, and he didn't disappoint in rushing for 20 touchdowns and 1,472 yards while finishing his career with a 242-yards effort and four touchdowns in a 48-14.
The Cyclones' backfield is an unknown as QB Brock Purdy is now the leading rusher on the roster (80-224-1), and Jirehl Brock is probably the starter at running back, but he had only 23 carriers and 132 yards in a backup role. Purdy has to throw the football accurately for Iowa State to win as Clemson only allows 98.8 yards rushing per game (8th/CFB). The Tigers are second in the nation, allowing only 15.8 points per game, while it has a total defensive effort of 308.4 yards per game (9th/CFB). 
When the Cyclones Have the Ball:

 Offensively, Clemson has not been close to the force that was expected as the Tigers were overrated coming into the season. Clemson finished with only 191.5 passing yards per game (103rd/CFB) as QB D.J. Uiagalelei only completed 54.7 percent of his passes and had nine TD tosses with eight picks. The running game behind Will Shipley and Kobe Pace turned into the most efficient part of the offense, although the Tigers found 171.3 yards per game (57th/CFB).
The Cyclones defense is right there with Clemson as ISU allowed only 309.2 yards per game (10th/CFB). The rushing defense vs. Shipley/Pace will be the key as it allowed only 121.8 yards on average (22nd/CFB). Will McDonald, IV, had 11.5 sacks this season and 22 in the last two years as he is seventh nationally. Iowa State's defense is the reason why Clemson is only a (-1) favorite.
Why Bet the UNDER 44:
The two defenses will get the tone in this game as Breece Hall would have probably been the difference in this game as he understandably takes a mulligan to move on to the NFL. How Iowa State plans to attack will be interesting because Purdy has been a quiet contributor as a run-pass threat, and Xavier Hutchinson (82-953) is a big-time downfield threat. With the two defenses, the under looks like a solid winner with the Tigers (-1) taking a 20-14 win.
Alamo Bowl
Oregon Ducks (10-3) vs. Oklahoma Sooners (10-2)
Time: Wednesday, Dec. 29 | 6:15PM PST – 8:15PM CST – 9:15PM EST
Place: Alamodome, San Antonio, TX
TV: ESPN
Entering the Game:
Both Oregon and Oklahoma come into this game with interim coaches as Bryan McClendon steps up for Mario Cristobal (Miami) at Oregon, and the Sooners get a blast from the past with Bob Stoops checking in for Lincoln Riley (USC).
The Ducks are looking for the eighth 11-win season in program history as they are 1-1 in two past visits to the Alamo Bowl. Oregon won the Pac-12 North but fell to Utah in the Pac-12 championship in a resounding 38-10 loss. The Sooners enter their 55th bowl and a nation-leading 23rd straight bowl appearance but have never played in the Alamo Bowl.
Ducks' Season Sketch:
Oregon defeated Ohio State, 35-28, in Week 2, but the Ducks were upset at Stanford, and then they were hammered twice by Utah, which took them out of any possible national championship opportunities as they were ranked as high as No. 2 at one point. Linebacker Kayvon Thibodeaux became the third unanimous all-American in program history.
A little Sunday morning work with @oregonfootball ? #GoDucks #ValeroAlamoBowl pic.twitter.com/r8Rq3QXnBf

— ?????? ????? ???? (@valeroalamobowl) December 26, 2021
Sooners' Season Sketch:
The Sooners were similar to Oregon in that they were in the mix all season for a Top 4 seed and a mythical CFP berth. They lost at Baylor and at Oklahoma State in two of the last three games of the season, which left them home from the Big 12 title game. Since 2012, the Sooners are 46-10 away from Norman, and they have scored 30 or more points in 48 of those 56 games.
| Teams | Spread | Money Line | Total Points |
| --- | --- | --- | --- |
| Oklahoma Sooners | +4.5 (-105) | +165 | O 60 (-110) |
| Oregon Ducks | -4.5 (-115) | +190 | U 60 (-110) |
When the Ducks Have the Ball:

Anthony Brown could have a huge passing day against a Sooners pass defense that gives up 258.1 yards per game. Brown completed 62.8 percent of his passes with 16 touchdowns and six interceptions.
However, this has been a run-heavy Oregon attack behind running back Travis Dye, who rushed 193 times for 1,118 yards and 15 TDs; he also led UO in receptions with 41. The Sooners' rushing defense game up 140 or more yards in four of the last six games. Oregon is fifth in college football with a 51.5 percent conversion rate on third down.
When the Sooners Have the Ball:

Spencer Rattler started the season as the favorite to win the Heisman Trophy, but that disintegrated with the play of QB Caleb Williams, who came on and rallied the Sooners past Texas, 55-48, as they trailed by 21 at points in that game. Oregon allowed 241.4 through the air (87th/CFB).
The Sooners are a tough matchup in the passing game because five receivers have 30 or more receptions, led by Jadon Hazelwood's 39 as he led OU with six TD receptions. First team consensus all-American safety Verone McKinney, III, leads the nation with six interceptions for the Ducks.
Why Bet the OVER 60:
Like so many bowls, this game comes down to who wants to be here the most. The Ducks are without Thibodeaux, and Oklahoma is without its leading tackler and top three sack leaders. There are too many big-play threats on the field to ignore what can be done, especially without key defensive players…. Ducks (+4.5) 36, Sooners 35.
Music City Bowl
Tennessee Vols (7-5) vs. Purdue Boilermakers (8-4)
Time: Thursday, Dec. 30 | 12:00PM PST – 2:00PM CST – 3:00PM EST
Place: Nissan Stadium, Nashville, TN
TV: ESPN
Entering the Game:
Tennessee may have finally gotten a football coaching hire right as Josh Heupel led the Volunteers to a 7-5 record which was four games better than last season. The Volunteers finished in sole possession of the third place in the SEC East standing which is a huge upgrade from recent history. The Volunteers are 29-24 in their bowl history and have benefitted greatly from Heupel's fast tempo approach as they average 2.94 plays per minute to lead the nation which was an improvement from 2.36 last season, 58th in the nation.
Purdue comes off its best football season in 15 years and it is the 20th bowl game in Boilermakers history (10-9). The Boilers last won eight games in 2007 as they finished 6-3 for the first time in the Big Ten since 2003. The Purdue defense has held four opponents to 10 or fewer points this season for the first time since 1978.
Volunteers' Season Sketch:
Tennessee's offense is like UCF with Heupel as it is one of the most fun to watch in college football with its diversity and playmaking. The Volunteers are averaging 38.8 points per game which is the second most behind 42.8 in 1993. Quarterback Hendon Hooker has come into his own this season as he has a QB rating of 182.15. Velus Jones, Jr. led the nation with 16.0 yards per punt return and was the SEC Co-Special Teams Player of the Year.
Boilermakers' Season Sketch:
Purdue, led by QB Aiden O'Connell, had 381 total completions on the year which set a school record and the Boilermakers are 123 yards away from surpassing the school record of 4,208 passing yards, set in 1998, The Boilers won four out of their last five games and had two Top 5 wins (Iowa, Michigan State) for the first time since 1960.
| Teams | Spread | Money Line | Total Points |
| --- | --- | --- | --- |
| Purdue Boilermakers | +5 (-110) | +165 | O 63.5 (-110) |
| Tennessee Volunteers | -5 (-110) | -190 | U 63.5 (-110) |
When the Volunteers Have the Ball:

Hooker completed 69 percent of his passes with 26 TD tosses and only three picks as he amassed 2,567 yards in 261 attempts. The Volunteers' Cedric Tillman led all receivers with 57 catches for 931 yards and nine receiving TDs. Jones (52-722-6) lines up with Tillman and gives the Volunteers matchup advantages as Heupel builds in variables to his passing attack. Hooker led Tennessee with 148 attempts while Jabari Small piled up 611 yards and eight rushing touchdowns.
The Boilers were best vs the pass as they allowed only 194.1 yards per game (21st/CFB). The fact that they held four opponents below 10 points clears when it was against UConn, Illinois, Iowa, and Indiana – four of the worst offenses in the game.
When the Boilermakers Have the Ball:

O'Connell is a big-time talent in coach Jeff Brohm's offense as he completed 73.5 percent of his passes which included 26.3 completions per game, good for third in the nation.
David Bell (93-1286-6) and Milton Wright (57-732-7) could have a huge afternoon against a Tennessee pass defense that allows 251.4 yards per game (103rd). Bell led the Big Ten in catches with 8.5 and receiving yards at 116.9, which was second and fourth, nationally. Linebacker Jeremy Banks will be hunting O'Connell for the Vols as he led UT with 108 tackles and 9.0 QB sacks.
Why Bet the OVER 63.5:
Both of these quarterbacks are capable of putting up a plethora of offense as this can turn into a shootout in a hurry. Tennessee's pass defense is going to allow O'Connell his usual mode of operation unless Purdue has a tough day pass blocking a speedier front-7 than it normally sees. Hooker will have a big day on the ground as well as through the air and the Vols cover the (-4.5) with a 44-38 win which obliterates OVER 64.
Peach Bowl
Pitt Panthers (11-2) vs. Michigan State Spartans (10-2)
Time: Thursday, Dec. 30 | 4:00PM PST – 6:00PM CST – 7:00PM EST
Place: Mercedes-Benz Stadium, Atlanta, GA
TV: ESPN
Entering the Game:
Pittsburgh quarterback Kenny Pickett and Spartans running back Kenneth Walker, III, will skip the game as both are probably Top 10 picks in the first round of April's NFL Draft and have nothing really to gain except risking a major injury if they play in this game. Pitt cornerback Dammari Mathis also opts out as he is a likely first-round pick as well. 
Michigan State has a 6-0-1 advantage in the series as the two teams haven't met since 2007. The Panthers are appearing in their 35th bowl (14-21) game as they look to win 12 games in a season for only the second time in history (1976). The ACC champion Panthers were seven points away from a 13-0 campaign with a three-point loss to Western Michigan and a four-point loss to Miami.
Panthers' Season Sketch:
Pittsburgh's two losses were at home and avoidable as turnovers did the Panthers in. Pickett had a stellar season and was among the four Heisman Trophy finalists as he threw for 4,319 yards while completing 67.2 percent of his passes with 42 touchdown passes and seven interceptions. This year's ACC championship is Pitt's first outright in program history.
First practice in ATL. Let's keep stacking good days and FINISH. ????‼️ #H2P #WEnotME pic.twitter.com/uHWkooi4tG

— Pat Narduzzi (@CoachDuzzPittFB) December 26, 2021
Spartans' Season Sketch:
Kenneth Walker, III, rushed for 1,646 yards and 18 touchdowns as he was also a figure in the Spartans' passing game with 13 receptions. Michigan State is 13-16 as the Spartans have appeared in 29 bowl games. They were 8-0 to start the season after a 37-33 win at Michigan, but fell 40-29 at Purdue and were destroyed, 56-7, at Ohio State as they went 2-2 over their last four games.
| Teams | Spread | Money Line | Total Points |
| --- | --- | --- | --- |
| Michigan State Spartans | +2.5 (-105) | +115 | O 56 (-110) |
| Pittsburgh Panthers | -2.5 (-115) | -135 | U 56 (-110) |
When the Panthers Have the Ball:

 Without Pickett, the Panthers' offense will be questionable as Nick Patti checks in for the job as he has thrown only 14 passes in five sport appearances this season. Jordan Addison is an amazing talent at wideout, and for the Panthers, you hope Patti can invoke some type of connection with the Biletnikoff Award winner.
Addison caught 93 balls for 1,479 yards and 17 TDs as Jared Wayne and Lucas Krull joined him as threats in the pass offense. Michigan State is last in colleges football (130th) in passing yards allowed at 337.3. Patti must lock-in because opportunity beckons with USC transfer Kedon Slovis headed for the Steel City and the Panthers.
When the Spartans Have the Ball:

 Pitt's run-stop was sixth in the nation at 91.8; however, like the Spartans, the Panthers gave up a multitude of yards at 257.4 (105th/CFB). Payton Thorne will look to take advantage of this with Jayden Redd, who had team-highs with 53 catches and 946 yards, and eight touchdowns.
Thorne completed 60.8 percent of his passes with 24 touchdowns and nine interceptions. Behind Walker is Jordon Simmons, who rushed for 121 yards on 16 carries vs. Youngstown State and never figured into the equation all season.
Why Bet the UNDER 56:
 There's no way a team can lose a quarterback as consistent and as talented as Kenny Pickett and thrive at the level they did, so coach Pat Narduzzi is going to need something out of his running game of Vincent Davis (130-550-4) and Israel Abanikanda (118-635-7).
Thorne getting the ball downfield will be a challenge against a Panthers pass rush that tallied 46.5 sacks all season as Habakkuk Baldonado led with 9.0. This is a tough call, but go with the team that still has its QB but take the under… Spartans (-2.5) 31, Panthers 23.