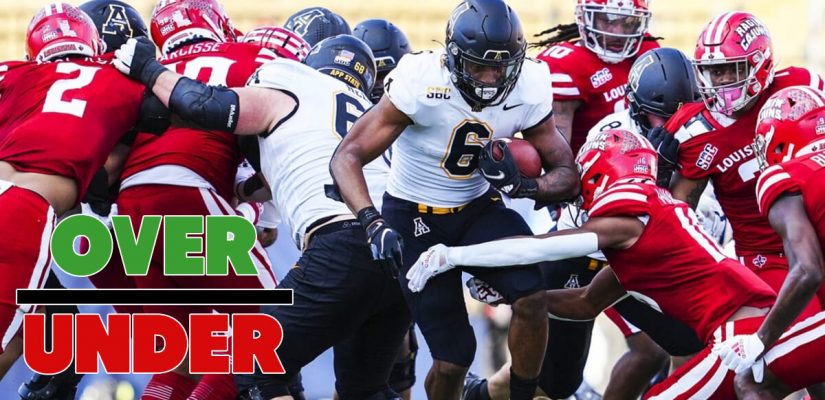 Zappe looking at history in WKU-ASU matchup
BYU's offense is too much for UAB
Utah State continues momentous season with a win over Beavers
Roadrunners-Aztecs showdown one of bowl season's best
Gators-Knights battle for Sunshine State supremacy
Check out our favorite college football betting sites to wager on your favorite teams during bowl season.
Boca Raton Bowl
Appalachian State (10-3) vs. Western Kentucky (8-5)
Time: 8:00AM PST – 10:00AM CST – 11:00AM EST
Place: FAU Stadium, Boca Raton, Fl
TV: ESPN
The Series:
The Mountaineers and Hilltoppers matchup in a game that boasts two division champions who each won their divisions in the Sun Belt and CUSA, respectively. Appalachian State has earned a bowl berth in each of its first six seasons as a BCS member and the Mountaineers boast a perfect 6-0 record in those games. These two teams have met five times as ASU holds a 4-1 lead with the last meeting coming in 2000.
Last Time Out:
The Mountaineers lost the Sun Belt Championship to Louisiana, 24-16, as the Ragin' Cajuns took a 14-0 lead early the second quarter. The Louisiana defense held App State to only 290 total yards as QB Chase Brice only completed 12 of 30 passes for 119 yards.
Bailey Zappe passed for 577 yards and four touchdowns, but it wasn't enough as the UTSA Roadrunners defeated Western Kentucky, 49-41 in the CUSA Championship game. Western Kentucky trailed 14-13 early in the second quarter before UTSA ran off 28 points to take a 42-13 lead when the Roadrunners' Sincere McCormick scored on a 17-yard run.
| Teams | Spread | Money Line | Total Points |
| --- | --- | --- | --- |
| Appalachian State Mountaineers | -3 (-105) | -150 | O 66.5 (-110) |
| Western Kentucky Hilltoppers | +3 (-115) | +130 | U 66.5 (-110) |
When the Mountaineers Have the Ball:

Obviously, the Mountaineers do not want to have to try to match Western Kentucky's record-setting Bailey Zappe, so ball control offense featuring the running game is going to be the plan.
Nate Noel and Cameron Peoples supply a two-pronged attack on the ground as the Mountaineers averaged 187.7 rushing yards per game (39th/FBS). Noel led with 1,078 yards while Peoples scored 14 rushing touchdowns. WKU is 81st in the nation against the run, allowing 161.3 yards per game.
When the Hilltoppers Have the Ball:

Bailey Zappe passed for 5,545 yards and 56 touchdowns on the season and sees like he may soon be the next quarterback who is an NFL phenom. He has two amazing receivers in Jerreth, who has 1,718 receiving yards, and Mitchell Tinsley, who has 1,299. The duo has combined for 26 receiving TDS, 14 and 12, respectively.
Appalachian State allows only 206.6 yards through the air per game (31st/FBS) as App has only posted 13 interceptions on the season. Steven Jones has five of those and returned three for touchdowns. Zappe will need 264 passing yards to break the NCAA's single-season passing record.
Why Bet the OVER 66.5:
Zappe's numbers in the passing game permeate anything that might be thrown up here. It's highly likely ASU can break off big runs for scores as well. WKU has two more receivers in Daewood Davis and Malachi Corley, who could be issues as ASU has to account for all of these wide receivers….
The total has gone OVER in four of WKU's last five games while the UNDER has been the call in four of ASU's last five….WKU (+3) 45, Appalachian State 35 in what should be one of the more interesting and entertaining bowl games.
Independence Bowl
UAB (8-4) vs No. 13 BYU (10-2)
Time: 12:30PM PST – 2:30PM CST – 3:30PM EST
Place: Independence Stadium, Shreveport, LA
TV: ABC
The Series:
BYU and UAB have never met on the football field, but the Cougars have a 39-12-1 record vs. CUSA opposition. This is BYU's 16th bowl game in 17 seasons and the fifth in six seasons under coach Kelani Sitake and they are 4-1 in those contests. It's UAB's fifth bowl game as the Blazers capitalized on their first bowl win in 2018 when they took down Northern Illinois, 37-13, in the Boca Raton Bowl.
Last Time Out:
Jermaine Brown, Jr., ran for three touchdowns and quarterback Dylan Hopkins threw two touchdown passes as UAB ran over UTEP, 42-25, on Nov. 26. The Blazers trailed, 17-14, at halftime, but scored touchdowns on four straight possessions in the second half. Dwayne McBride rushed right times for 99 yards in leading the UAB attack.
BYU posted its fifth win in a row as the Cougars held off USC, 35-31, in the LA Coliseum, on Nov. 27. The Cougs used a pair of touchdown runs from Tyler Allgeier to take and a pair of touchdown passes from Jaren Allen to take a 28-13 lead early in the third quarter. The Trojans rallied and took a 31-28 lead early in the fourth before Jackson McChesney scored on a 7-yard run with 3:57 to play to record the win.
Blake Freeland and Masen Wake usher Allgeier through the gap for an excellent touchdown on 4th ?#BYUAFR | #BYUFOOTBALL pic.twitter.com/BjVfg6k6tD

— BYUtv Sports (@byutvsports) December 1, 2021
| Teams | Spread | Money Line | Total Points |
| --- | --- | --- | --- |
| UAB Blazers | +7 (-120) | +225 | O 55 (-110) |
| BYU Cougars | -7 (EV) | -265 | U 55 (-110) |
When the Blazers Have the Ball:

UAB feels like it should be able to run the football behind DeWayne McBride, who rushed for 1,188 yards and 12 touchdowns. The Blazers will see a Cougars rush defense that gives up 151.3 yards per game (67th/FBS). He had three 100-plus games at the end of the season and would have had the fourth had he not gone down to an injury vs, UTEP. Trea Shropshire averages 27.3 yards on 25 catches in what is an average UAB offensive attack.
When the Cougars Have the Ball:

The Cougars' Tyler Allgeier rushed for 1,414 yards and then caught 26 passes out of the backfield as he has been the focal point of the BYU offense this season. Allgeier also scored 20 rushing touchdowns and will be a challenge for a UAB rushing defense that gave up only 104.2 yards per game (11th/FBS). Look for Jaren Hall to get after UAB's pass defense as Hall has had a solid season with 2,583 passing yards and 20 TD passes with only five interceptions in 296 attempts.
Why Bet the OVER 55:
Hall had 308.8 passing yards per game in his last four outings, so he comes in on a roll as Allgeier went over 100 yards rushing in four of his last five. This is a strong duo for UAB to have to face although the Blazers are battle-tested with so many wide-open offenses in Conference USA. The athletic ability of the Blazers skill people will probably be able to put points on the board here as well….Take the Cougars (-7) in an easy cover, 41-24, which will define the OVER.
Jimmy Kimmel LA Bowl
Oregon State (7-5) vs. Utah State (10-3)
Time: 4:30PM PST – 6:30PM CST – 7:30PM EST
Place: Sofi Stadium, Los Angeles, CA
TV: ABC
The Series:
The Beavers posted a 3-0 lead in the series as they have met the Aggies in 1997, 1998, and … 1904. This is Oregon State's first bowl game since 2013 when the Beavers beat Boise State in the Hawaii Bowl. Oregon State also posts an 11-6 mark in its bowl history. This is the Aggies' 15th bowl game and its ninth in the last 11 years as Utah State is 5-9 in its bowl appearances. The Aggies went 7-0 on the road this season and they were the first FBS team in eight years to post a 7-0 road mark.
Last Time Out:
The Beavers lost to rival Oregon, 38-29, to end the season although they finished the game strong after trailing 24-3 at halftime. Quarterback Chance Nolan threw one TD pass and ran for a score while BJ Baylor scored from four yards out in the fourth quarter. Nolan threw for 308 yards in the loss.
Utah State blasted San Diego State, 46-13, in the Mountain West championship game as the Aggies jumped to a 14-0 lead on defense-heavy SDSU and made the Aztecs have to play catch up. That's not a good recipe for San Diego State though as Utah State used three Logan Bonner touchdown passes, two to Brandon Bowling, to post a 29-6 halftime lead en route to the win. Bonner ended the day by completing 29-of-42 passes for 318 yards and four touchdowns.
| Teams | Spread | Money Line | Total Points |
| --- | --- | --- | --- |
| Oregon State Beavers | -7 (-120) | -275 | O 67 (-110) |
| Utah State Aggies | +7 (EV) | +235 | U 67 (-110) |
When the Beavers Have the Ball:

The Beavers are a run-heavy outfit behind BJ Baylor, an all-Pac-12 first-teamer, who rushed for 1,259 yards and 13 touchdowns on the season. He had a streak of four 100-plus yards games at mid-season before tailing off down the stretch with an injury. The Aggies give up 162.6 yards rushing (85th/FBS) so Boston and his backup Deshawn Fenwick can potentially have big days.
Linebacker Justin Rice accounted for 13.5 tackles for loss and will be a factor if USU is to pull off the win. Chance Nolan had a solid season at QB for OSU as he completed 63.5 percent of his passes for 2,414 yards with 19 TDs and nine picks.
When the Aggies Have the Ball:

The Aggies' passing offense behind Logan Bonner has been productive all season as it has averaged 305.8 yards (15th/BCS). He threw for 36 touchdowns and 11 interceptions as Devin Thompkins caught 96 balls for 1,589 yards. He and Brandon Bowling (52-784) caught nine TD passes each while Derek Wright (45-756) hauled in 11. Oregon State allows 241.1 passing yards per game, which is 87th in the nation although the last three opponents only averaged 178.3 yards through the air.
Why Bet the UNDER 67:
Bonner and the Aggies have a solid offense that has posted numbers on generally everyone, including a stout San Diego State defense in the title game. The Beavers' rush defense has gotten in a bad place as the season has rolled on as three of the last four opponents rushed for 200 or more yards. Calvin Tyler, Jr. can play a key role in this game as the Aggies featured back.
It feels like Utah State will be able to use the running game more, so let's go with the Aggies (+3) in a 34-27 thriller with both teams controlling the line of scrimmage with the run.
Tropical Smoothie Café Frisco Bowl
UTSA (12-1) vs. San Diego State (11-2)
Time: 4:30PM PST – 6:30PM CST – 7:30PM EST
Place: Toyota Stadium, Frisco, TX
TV: ESPN
The Series:
This is the first meeting between the Roadrunners and Aztecs. UTSA is 0-2 in bowl appearance as it is their second Tropical Smoothie Bowl. The Roadrunners have won 15 of their last 17 games, dating back to last season, and they are looking for a culmination to the season with their first bowl as a supplement to their CUSA Championship.
The Aztecs are appearing in their 19th bowl game and their 11th in the last 12 seasons. The combined record of these two teams (23-3) is only behind the Cincinnati-Alabama (25-1) and Georgia-Michigan (24-2) in combined wins of the season.
Last Time Out:
The Roadrunners ran away from Western Kentucky in the CUSA Championship game, 49-41. Sincere McCormick ran for three touchdowns and Frank Harris threw two touchdown passes to accentuate the win. UTSA took a 42-13 lead midway through the third quarter on a 17-yard run by McCormick. The Roadrunners picked off record-setting WKU quarterback Bailey Zappe twice although he threw for 577 yards in the win.
Harris ▶️ Clark#BirdsUp ? pic.twitter.com/dsaMY0IXoh

— UTSA Football ? (@UTSAFTBL) December 4, 2021
San Diego State was bombed, 46-13, in the CUSA Championship game as Logan Bonner threw for 318 yards in proving how to best the Aztecs. USU got out in front 14-0 at the end go the first quarter and never trailed. The Aztecs only totaled 318 yards and were 1-of-14 on third down.
| Teams | Spread | Money Line | Total Points |
| --- | --- | --- | --- |
| UTSA Roadrunners | -1.5 (-110) | -125 | O 49 (-110) |
| San Diego State Aztecs | +1.5 (-110) | +105 | U 49 (-110) |
When the Roadrunners Have the Ball:

UTSA has a balanced offense that is capable of big plays in both the run and the pass as the Roadrunners have rolled up 442.9 yards (26th/FBS) with 188.6 (36th) on the ground and 254.3 (46th) through the air. Sincere McCormick rushed for 1,479 yards and 15 touchdowns on the season and will provide an interesting matchup for an Aztecs run defense that only gives up 77.7 yards per game, second in the nation.
On the flip side, quarterback Frank Harris completed 66.4 percent of his throws with 25 TDs and five picks. He sees an Aztecs pass defense that is 90th in the country in allowing 242 yards per game. Zachary Franklin (73-938) and Joshua Cephus (69-793) could have big nights. Franklin had 11 TD catches and went over 100 yards receiving four times.
When the Aztecs Have the Ball:

San Diego State has very little of a passing game as it equates to 155.2 total yards (121st/CFB) as coach Brady Hoke has tried to find a mix to use between Lucas Johnson and Jordan Brookshire. Getting Greg Bell going in the running game is SDSU's best chance as he finished with 997 yards and eight TDs on the season.
UTSA was 14th in total defense against the run in allowing 111 yards per game. The guess is the Roadrunners well sell out to stop Bell although they give up 252.5 yards (105th/CUSA) through the air in a pass-oriented CUSA.
Why Bet the OVER 49:
The balanced UTSA attack will cause San Diego State problems as the Roadrunners will come out throwing the football and then they will mix in McCormick as they can vs. the tough Aztecs rushing defense. SDSU may get some plays in the passing game as well with the ineffective pass defense.
Clarence Hicks has 10 quarterback sacks and 16 tackles for loss for UTSA…The Roadrunners (-2.5) seems like the pick, 33-24, with the OVER actually the play as UTSA has the same abilities as Utah State and could put lots of points on the board.
Union Home Mortgage Gasparilla Bowl
UCF (8-4) vs. Florida (6-6)
Time: 4:00PM PST – 6:00PM CST – 7:00PM EST
Place: Raymond James Stadium, Tampa, FL
TV: ESPN
The Series:
Florida won the only two meetings as the last one took place in 1999. The Gators bring a 24-22 bowl record as they stand at 8-3 in bowl games since 2009. The Gators are 3-5 in their last eight games as lackluster losses cost coach Dan Mullen his job after a 24-23 overtime loss to Missouri on Nov. 20.
Meanwhile, UCF lost nine players who were starters for a major amount of time, including QB Dillon Gabriel, who recently went into the transfer portal. This is the ninth bowl appearance in the last ten seasons for the Knights and the 13th in the last 17 years.
Last Time Out:
Emory Jones and Anthony Richardson both threw a touchdown pass and Dameon Pierce scored on a 3-yard TD run as Florida held off Florida State, 24-21. The Gators staved off a losing season and became bowl eligible with the win.
The Knights took a 17-13 victory over the USF Bulls as USF had the ball on the UCF 5-yard line but a quarterback sack Tre'Mon Morris-Brash ended the game. Mikey Keene threw a 7-yard touchdown pass to Brandon Johnson in the second quarter which gave the Knights a 14-7 lead which proved to be the difference in what turned into a sloppy defensive battle.
| Teams | Spread | Money Line | Total Points |
| --- | --- | --- | --- |
| UCF Knights | +6.5 (-105) | +200 | O 55.5 (-110) |
| Florida Gators | -6.5 (-115) | -240 | U 55.5 (-110) |
When the Knights Have the Ball:

Emory Jones is in the transfer portal, but he will stay around to play in this game as it is the culmination of his Gators' career. Florida finished with the 11th best offense in the nation as it rolled up 470.1 yards per game. With two quarterbacks as mobile as Jones and Anthony Richardson, the Knights may have trouble containing both of these guys when they get out of the pocket. UCF finished by allowing 155.4 yards rushing per game (72nd/FBS).
The turnover game may be a key here as the Gators turned the ball over 21 times while UCF obtained 20 and was a (+6), 29th in the country, in turnover margin while the Gators were a (-9), 121st in the nation.
When the Gators Have the Ball:

Mikey Keene came on for Dillon Gabriel and held his own with 11 touchdown passes vs. one interception in his last five games. He had a tough outing vs. South Florida, but he completed 63.6 percent of his passes for 158.6 yards per game. Right now, he's a game manager, but in Gus Malzahn's offense, he will get to feature his passing skills as his career grows.
Keene will use Ryan O'Keefe (77-727) and Brandon Johnson (38-565) in the passing game as they were the top two wide receivers and Johnson led the team with 11 touchdown passes. The Gators defense gave up 398.5 yards per game over the last four and even though that Mullen pulled the plug on coordinator Todd Grantham, after the 49-42 loss to LSU.
Why Bet the UNDER 55.5:
The Gators and Knights have firepower at the skill positions and with that this could turn into a game where the most dominant quarterback will win. The Gators are in a flux as coach Greg Knox has taken the team to the bowl, but gives way to Billy Napier as the new Florida head coach afterward.
The Knights hope that Isaiah Bowser will be healthy enough to play as he and Johnny Richardson could be enough to control the ball and thwart Florida…. Gators get the DUB, 27-24, but UCF (+6.5) covers as does the UNDER.