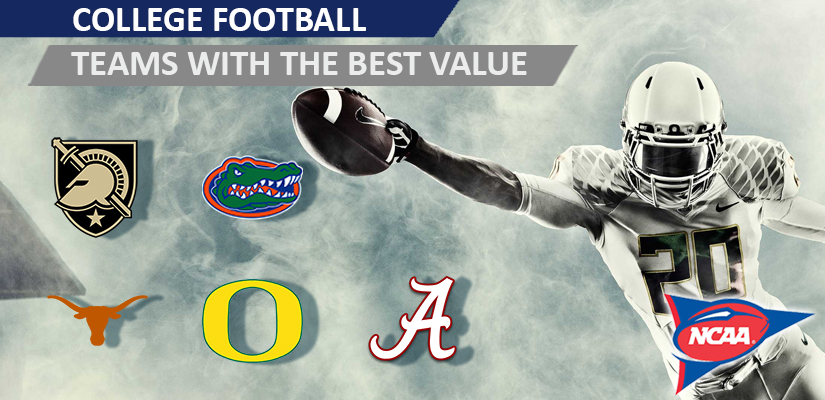 The 2018 college football season brushed by us like the wind but left us with some incredibly dramatic moments as always.
When all was said and done though, Clemson left no doubt they were the greatest team in college football. They dominated Alabama tape-to-tape and will be the national championship favorites for next year, according to most major sportsbooks.
Several sportsbooks have already released their odds for next year's potential title winners. While I won't be looking exclusively into value picks to win it all, I expect all the following schools to ride their momentum into an excellent 2019 season.
A late-season surge, the number of returners, schedule difficulty, and recent recruiting classes all factored into these picks. Some will take the college football world by storm in 2018 while others will be pleasant surprises that sneak up on you.
If there are national title odds for these teams, they'll be posted beside the respective team. The site with the best value for them will be listed on the side.
They won't all be playoff teams. But expect these schools to make a lot of noise next season.
Florida Gators

The Florida Gators went from a four-win disaster to a 10-win behemoth in a single season under new coach Dan Mullen.
While the talent was always there, the construction and development of said talent was not. And with their old offensive coordinator at the helm, they improved drastically on that side of the ball.
And that continued production and growth in combination with a consistently valuable defense will put Florida in contention next season.
They lose a few stars on defense in edge-rusher Jachai Polite, linebacker Vosean Joseph, and safety/slot corner Chauncey Garner-Johnson early to the draft.
But they're going to have a lot more help in the secondary where depth was a problem this year. And with DE Jabari Zuniga (6.5 sacks) and LB David Reese (81 tackles) leading the way, the front-seven looks to still be a strength to go along with their DBU back end.
As for the offense, they've matured and recruited well on the line. That's a huge key for their success next season. And despite losing Jordan Scarlett early as well, they still have Lamical Perine, who could easily break 1,000 yards next season.
If not, it'll be because breakout freshman Dameon Pierce is taking away carries. Both these bruisers put up 6.2 yards a carry, which could make Florida's backfield one of the SEC's best again in 2019.
And their receiving unit returns its seven leading players. This includes a great route-runner in Van Jefferson and a speed demon in Kadarius Toney. That will be a huge difference-maker for QB Feleipe Franks. That is if Franks is the starter next season.
Redshirt freshman-to-be Emory Jones is the future at the position. But Franks showed down the stretch he is at least capable of commanding an SEC offense. Still, Jones' crazy upside gives the Gators a good problem to have going into fall camp this year.
Please Note:
Florida's schedule will be a challenge. They'll open against Miami in Orlando. They'll have Kentucky, LSU, South Carolina, and Missouri on the road. And that's on top of playing Georgia, Auburn, and FSU.
But there's no reason to think they can't beat most of those teams. LSU in Death Valley and Georgia should be their make-or-break contests. But I see a minimum of 10 wins in their future given all that they have coming back.
Texas Longhorns

Bring on the inevitable Texas Longhorns hype machine. And I only say that half-jokingly.
I think this team is in a great position because of what they have coming back. It's also because Kyler Murray (Oklahoma) and Will Grier (West Virginia) are moving on.
The Longhorns will have a Heisman candidate at QB with Sam Ehlinger. And I believe he'll have Lil'Jordan Humphrey and Colin Johnson, his top two receivers, returning. Their draft stock could use a little boost with another year in college.
But those two did combine for over 2,000 yards receiving and will have No. 3 receiver Devin Duvernay beside them as well.
Besides TE Andrew Beck and RB Tre Watson, there won't be many playmakers to replace on that side of the ball. And RB Keontay Ingram, only a freshman this year, will fill the second spot just fine.
On defense, Texas will lose their top three tacklers. Those are always big shoes to fill. But between Cade Sterns (four INTs) and Brandon Jones, they'll still have some stability in the secondary.
Charles Omenihu and his 9.5 sacks will be the hardest to replace. He and fellow grad Gary Johnson were the 1-2 punch that brought pressure for the Longhorns. But they didn't get as far as they did because of their defense. Not many Big 12 teams do aside from maybe TCU.
As far as the conference landscape goes, they'll be in an even better position to take over the Big 12 from Oklahoma. Austin Kendall (or Jalen Hurts via a transfer) could end up being close to Kyler Murray, but it'll be tough to duplicate his success. Although, I said the same thing after Baker Mayfield left.
Still, I think Texas is better equipped to match them offensively. And with West Virginia in a transition phase, it may only be the Longhorns and Sooners at the top of the conference again.
The Longhorns will have to play at West Virginia and Iowa State, but they have a pretty favorable Big 12 slate otherwise. Their big matchup will be in week 2 when they host LSU. That will be a great benchmark early in the season.
Oregon Ducks

Sure, I have some concerns for Oregon after their 7-6 Redbox Bowl win over Michigan State. But I also think they're going to be the best team in the PAC-12 next season.
Washington is losing a lot next year. Their starting quarterback, 1,200-yard RB, lead-tackler, lead-sacker, and secondary stars Byron Murphy and Taylor Rapp. That's a lot, even for a team excited to put new QB Jacob Eason on the field.
And with the way Oregon is recruiting on top of getting the bowl win and returning Justin Herbert at QB, this seems like a team with a spark.
They have the best class in the PAC-12 and could get instant impact at defensive end from 2nd overall recruit Kayvon Thibodeaux. He's one of five blue-chip prospects joining the Oregon defense.
And the offense will already be loaded, and not only because of the top NFL prospect Herbert. He'll be joined by RB CJ Verdell, who had over 1,000 yards as just a freshman.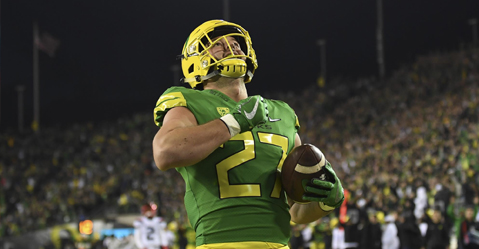 Dillon Mitchell was the heart and soul of the passing game and is going to the NFL. But the Ducks still have a next-level talent in TE Jacob Breeland and have four other guys that impacted the passing game this year coming back.
The PAC-12 is down right now. USC has a lot to figure out before becoming a major threat again. While that could happen sooner than later, 2019 is a big window left wide-open for Oregon.
They have more talent than Washington State and better leadership all around than Washington considering what the Huskies are losing. And head coach Mario Cristobal is really getting this defense into gear.
They're a much more physical team than they used to be and still supply enough of that Nike-induced swag and flash.
Going on the road to Washington and USC will be big tests. So will playing Auburn and a desperate coach like Gus Malzahn right out of the gate. But they're slowly starting to separate themselves again in this conference.
If they get by Washington, I give them a chance for a playoff spot.
Army Black Knights

This, for at least a couple of months, could be the story of college football. And it will also be sort of a sham if it is.
I could easily see Army—yes, Army—going undefeated in 2019. It's a long-shot, but not nearly as outlandish as one would think.
They have a very tough game in Ann Arbor against Michigan. That's not likely to end well for them. But this is a team that won 11 games this year and took Oklahoma to the brink on the road, so you never know.
Michigan, in terms of play-style, would actually be more likely to lose to the Black Knights. And if they were to pull off that upset, they might just be smooth-sailing.
The rest of their schedule is this:
Rice, UTSA, Morgan State, Tulane, Western Kentucky, Georgia State, San Jose State, Air Force, UMass, VMI, Hawaii, and Navy. Those teams had a combined 43-104 record this year. Two of them are FCS teams and only two of them (Hawaii and Tulane) made bowl games.
That is one of the poorer schedules any FBS team could have. Perhaps it is the worst if you took out the Michigan game. But imagine if they beat the Wolverines? They'd be the talk of college football until their run ended. That might be a beating in a New Year's Six bowl game, but it'd be a great storyline.
Army had six rushers go over 300 yards this year. Four of those guys will be returning, including leading rusher and quarterback Kelvin Hopkins Jr. (17 rushing TDs). The line creating lanes for them should be as strong as it was in 2018 under head coach Jeff Monken.
And on the other side of the ball, Army still looks intact at all three levels. Cole Christiansen (12 tackles-for-loss) is a great leader for the linebacker corp., being handed that role from graduate James Nachtiqal.
The secondary will have the duo of Jaylon McClinton and Elijah Riley, two of the team's top five tacklers.
The defensive front will be a little raw and perhaps their only concern on this side of things. But Edriece Patterson showed off his pass-rushing skills on a few occasions as only a sophomore. He should step into a bigger role this season.
But as always, Army has a way of bringing in new guys out of thin air who have maturity at their respective positions. Look for them to take another step forward under Monken in 2019.
Alabama Crimson Tide

Yes, I'm cheating. But if someone were to have bet on Alabama to win the national championship every year for the past decade, they'd have a nice profit on their hands.
And who's to say anything will be different next year, even with Clemson crushing them this round?
For as many people who are sick of this team winning championships, this is a win-win situation if you bet on them to win the Natty in 2019. They're likely as low as they'll ever be under Nick Saban. Now is the best time to strike. Five-to-one odds is an incredible rarity for this team.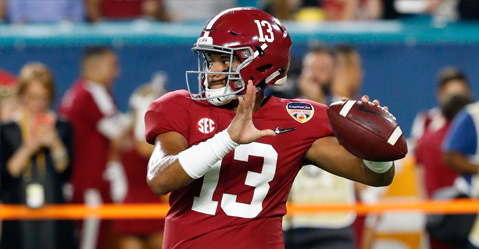 Tua Tagovailoa will be one of the top two Heisman favorites. Najee Harris and Josh Jacobs will create a great change of pace in the backfield. And this is probably going to be college football's best receiver's group (although Clemson's isn't too shabby either).
Dylan Moses led them in tackling this year and will be back as a junior. The DBs will be more mature. Even with the loss of their three-best pass-rushers, they've always reloaded at that position and there's nothing saying they won't do the same this year.
They have the top recruiting class this time around and were barely bested by Georgia last season.
In terms of the schedule, they'll have all the usual suspects. LSU, Auburn, and Miss State could all create problems. But none of them did this year, as the Tide stomped them to a combined tune of 105-21.
Texas A&M in College Station won't be easy either. But it's not like the Tide won't at least be touchdown-favorites. And Duke is not a very strong out-of-conference team either.
I won't pencil them into a playoff spot just yet. But it's kind of hard to see them losing two games unless the second is to Georgia. But then again, even that proposition sounds like a stretch when they're on a revenge tour.