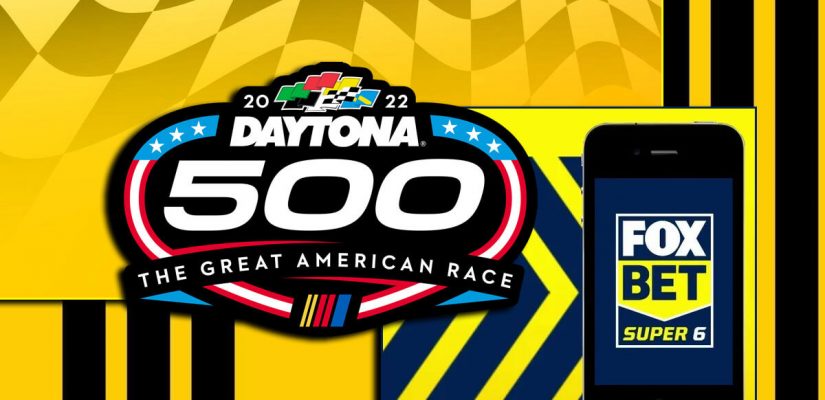 The Great American Race has arrived in Daytona Beach, Florida for the 64th Daytona 500 on Sunday. If you're a football and NASCAR fan, it doesn't get much better than the Super Bowl and then the biggest race in NASCAR only a week later.
NASCAR betting is a weekly betting event that you can prepare for if you miss handicapping NFL football. There are people that prefer having the week to do their research and then make their picks.
The NFL is done until next season, but NASCAR is a perfect alternative. Even if you aren't the biggest auto racing fan, betting on the sport can be exciting and a good reason to watch a race. It turns the excitement up several notches.
The field is set.

All that's left to do is race.#DAYTONA500 pic.twitter.com/KtNraSLF04

— NASCAR (@NASCAR) February 18, 2022
This is a Stage 2 Super 6 contest on FOX Bet on Sunday. FOX Bet has a fun way to get involved without having to put a dollar on the Daytona 500. It's a good way and potentially very profitable way to watch Daytona.
Find our official picks and predictions at TheSportsGeek for the Daytona 500.
The FOX Bet Super 6 app will have free NASCAR contests all season. If you played the NFL Fox Bet Super 6, you are familiar that it is essentially a prop bet multiple-choice contest. You can also bet at the best online sportsbooks for picking the winner and matchup wagers.
There is a total of $25,000 in prize money available to be won for the Daytona 500 on the FOX Bet Super 6. It's for fun with an opportunity to win real cash. Pick all six questions correctly and you will have a good Daytona 500 Day.
The #Daytona500 is this Sunday, and you could win $25K of @ClintBowyer's cash! ?

Enter the @NASCARONFOX contest here: https://t.co/CKURlvoAEUpic.twitter.com/mgSZpIfVQ0

— FOX Bet Super 6 (@FOXSuper6) February 17, 2022
Kyle Larson's Chevrolet will be leading the field to green, as he edged out Brad Keselowski and Alex Bowman in qualifying. Larson is ready for another big season after capturing the 2021 NASCAR Championship.
Not a bad start for Larson, who is looking for his first Daytona 500 win. Denny Hamlin is looking for his third win in four years after winning the Daytona 500 in 2020 and 2019 for Joe Gibbs. Michael McDowell broke up the three-peat last year.
Larson has never been great at superspeedways, so bet with caution for him to be at the front by the 200th lap. He struggles mightily to get into the top-5, let alone winning at a superspeedway.
Austin Dillon won in 2018 for Richard Childress and Chevrolet. Ford has the most wins in the Daytona 500 over the last decade, with five after McDowell scored in a fiery finish in 2021.
Chris Buescher and Austin Cindric rounded out the top-5 behind Keselowski in qualifying. Kyle Busch starts tenth and might be on your radar as one of the more popular drivers in the field.
He's really struggled over the last five years at Daytona, though. After finishing second on February 17, 2019, Busch has finished outside of the top-10. He'll collect money at the sportsbooks to win regardless, though.
There is somewhat of an unknown with the Next Gen cars going into the Daytona 500, but it should result in a fun race. Head below for our free FOX Bet Super 6 picks for the 2022 Daytona 500 on February 20, 2022.
1. Which Of These Drivers Will Have The Fastest Lap By End Of Stage 2?
(A) Alex Bowman
Chevrolet
(B) William Byron
Chevrolet
(C) Austin Dillon
Chevrolet
(E) Martin Truex Jr.
Chevrolet
Joey Logano and Denny Hamlin will attract plenty of attention for the first FOX Bet Super 6 question. For casual NASCAR fans, they should know who Logano and Hamlin are even if you're not a diehard.
Hamlin will be a popular option on every Super 6 question. Hamlin had back-to-back Daytona 500 wins in 2019 and 2020, the first driver to do it since Sterling Martin in 1995. He also won the Daytona 500 in 2016 to make it three in less than five years.
The same goes for Logano, but I'd rather look at a driver like Martin Truex Jr or Alex Bowman to run the fastest lap by the end of Stage 2. Bowman consistently runs well and has avoided trouble in the Daytona 500.
Floorin it. pic.twitter.com/BOQeRvcdTl

— Alex Bowman (@Alex_Bowman) February 18, 2022
Bowman was 7th, 35th, 7th in his previous three Daytona 500s. He had a fast car in qualifying, and his practice laps went well. In 11 of 12 appearances in the Daytona 500, Bowman has finished. He's also on the front row for the fifth straight year.
Bowman was clocked at 47.571 seconds in his most recent practice run, quicker than the rest in this question. William Byron and Truex Jr were slightly slower. I'm going contrarian and against the public with the first question.
2. Which Of These Drivers Will Lead Most Laps By End Of Stage 2?
(C) Chase Elliott
Chevrolet
Denny Hamlin's success has been well-documented in the Daytona 500. He couldn't complete the Daytona 500 hat-trick last year, but rates a threat to go back to the winner's circle thrice in four years.
Hamlin will also surpass Jeff Gordon, Dale Jarrett, and Bobby Allison and tie Cale Yarborough with four Daytona 500 wins. He'll be three wins behind Richard Petty with a win in the 2022 Daytona 500.
He's also won at Talladega, but Hamlin doesn't have a NASCAR Championship for all of his success. In any case, expect Hamlin to continue running well at Daytona.
He qualified in 15th, though Hamlin will not take the conservative route like the rest of his teammates at Toyota. This race team tends to play it safe. Hamlin? No. He will press and move to the front.
Busch to lead the most laps is a trap in the sense that people will select him based on his name. He hasn't won a Daytona 500 and hasn't been in six races at Daytona.
Hamlin should be running from the front throughout Stage 2, hence why I'm not backing him to have the fastest lap. He won't have the benefit of drafting. That doesn't matter, as Hamlin should win plenty of laps and be at the front near the end of Sunday.
3. How Many Lead Changes Will There Be By The End Of Stage 2?
This is the end of Stage 2, just like the previous three questions and every question on the card. 13 drivers combined for 22 lead changes by the end of the race in 2021.
It was just about the same the year before, as 13 drivers had 23 lead changes. Back in 2019, nine drivers swapped the lead for 15 lead changes.
That was a drop-off from 14 drivers with 24 lead changes in 2018. Then rounding out the last five years, the 2017 Daytona 500 had a whopping 37 lead changes between 18 drivers.
That was a drop-off from 14 drivers with 24 lead changes in 2018. Then rounding out the last five years, the 2017 Daytona 500 had a whopping 37 lead changes between 18 drivers.
An average of 24.2 lead changes have happened through the final lap of the last five Daytona 500s. Heading into the final stage at the end of Stage 2, expect between 11-20 lead changes. It's the most probable scenario.
4. Where Will The Pole Sitter Be Running At The End Of Stage 2?
We know that Kyle Larson will be leading the field around to the green flag on Sunday afternoon. After a title, that's a great start for Larson and his team, but he does not care for superspeedway.
Larson Still Searching For a Daytona Win
Even though his car has looked fast and is coming off a championship, Larson does not like operating too much here. Larson won the pole last year and finished 20th. Through 15 starts at Daytona, Larson's best finish was 7th in 2016 and 2019.
Larson will certainly want a Daytona 500 win on his resume to cement his legacy. Keep in mind Larson is only a 29-year-old, so he has plenty of years ahead of him if he wants. His history at Dayson thus far in his career hasn't boded well, though.
I'm going to project Larson to be 15-13th at the end of Stage 2.
5. Which Manufacturer Will Have The Most Cars In The Top-10 Of Stage 2?
This should come down to Chevy and Ford. As I noted earlier, Toyota doesn't care for taking chances.
It doesn't include Denny Hamlin, who goes against the norm at Toyota. He'll be up there, but the rest of his team would be lurking waiting for the Big One.
Ford won last year's Daytona 500, but seven Chevys in the top-10. It was a Ford year in 2020, though, as they had seven in the top-10, while a Toyota, Hamlin, won the race.
In 2019, Toyota swept the top-3 with Hamlin, Kyle Busch, and Erik Jones. However, Chevy had five cars in the top-10.
In the most recent event at Daytona in August, there were five Chevys in the top-10, with Ford having four, including the winner, Ryan Blaney.
I'm leaning towards Chevrolet edging out Ford to have five more drivers finish in the top-10 at the end of Stage 2.
6. Which Driver Will Finish Best In Stage 2?
(C) Michael McDowell
Ford
(D) Ricky Stenhouse Jr.
Chevrolet
(E) Daniel Suarez
Chevrolet
The way I see it, this has to be between Ricky Stenhouse Jr. and Bubba Wallace. I'm a Stenhouse Jr. fan and he's going to have his year eventually. Stenhouse Jr. qualified eighth and should post a nice race in the 2022 Daytona 500.
He hasn't had the best results at Daytona, though. He has finished 24th, 20th, 32nd, 18th, 22nd, in his previous five starts at Daytona. Stenhouse won the pole at Daytona four races back in the Daytona 500, but slipped to 20th.
Never. Gets. Old pic.twitter.com/dwxOFCc0Wc

— Bubba Wallace (@BubbaWallace) February 19, 2022
Is It Bubba's Turn In 2022?
Bubba Wallace continues to race well at Daytona and is likely going to strike before long. In nine races at Daytona, Wallace has finished in the top-5 three times and second twice. He qualified 20th last year in the August race at Daytona and finished second.
In his previous five outings at Daytona, Wallace has finished 15th, 15th, 5th, 17th, 2nd. He's starting seventh just ahead of Stenhouse Jr. in qualifying. Stenhouse will be a popular pick here, but I'm going with Wallace to be ahead versus these five drivers.
Good luck and have fun with your Super 6 picks!