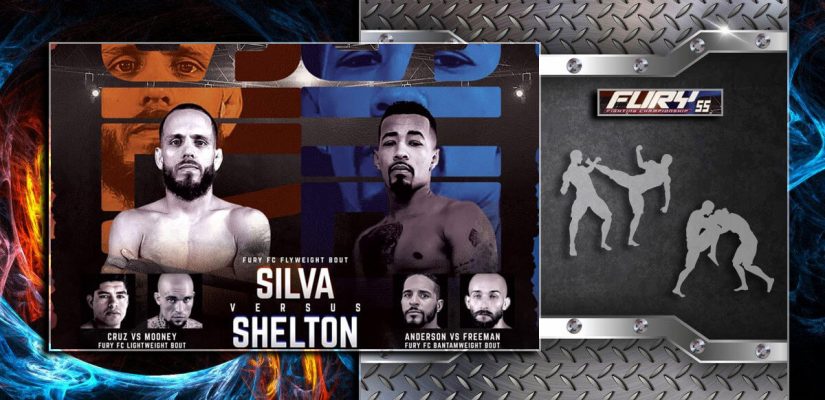 In this Fury FC 55 Betting pick, I'll be breaking down each of the fights on this twelve fight card. Currently, there are thirteen bouts on the card, but betting odds for only eleven available at betonline.ag after two fights were combined to produce a main event. Several fighters have been cut and replaced at the last minute, and oddsmakers are still playing catch up.
December 19th, 2021 at Houston Arena Theater, Fury FC is putting together a card of multiple amatures turned pro, one sided bouts and an opportunity for bettors to get familiar with rising stars in the mma community. You'll see the odds for each bout and a quick synopsis and betting pick for each.
I'll be reviewing the fights in the order you can find them on betting sites, not in the chronological order of the bouts. Let's go!
?After all there's only one more sleep 'til (#FuryFC55)?

We're 24 hours away! pic.twitter.com/crBQKAvhz6

— UFC FIGHT PASS (@UFCFightPass) December 18, 2021
These fights are available on UFC Fight Pass!
Matt Mooney vs Aalon Cruz Betting Odds
| Fighter | Moneyline |
| --- | --- |
| Matt Mooney | +215 |
| Aalon Cruz | -275 |
Fight Pick and Relevant Stats
Mooney took a few years off, winning his return bout earlier this year via ankle lock in the first round. He's a submission specialist that has come back after five years off.
Aalon Cruz is a fighter out of DEFWAR in Florida.
He's currently on a two fight losing streak after joining the UFC. he lost to Uros Medic and Spike Carlyle. Cruz has been at another level than Mooney, there's no question about it.
Mooney Fight Tape
Mooney won his most recent bout after the opponent took his back and crossed his feet.
Mooney finished via locking a figure four over the ankles to capitalize on the fighter's rookie mistake. Mooney showed little to no striking improvement since his 2016 appearance.
He does appear to be very well muscled and in moderate condition.
Aalon Fight Tape
Uros's win over Cruz started with a left hook and ended after Cruz survived another twenty shots or so. It was a bit of a late stoppage, but Cruz kept coming forward.
Cruz's submission game is beyond Mooney's.
His striking demonstrated in the Contender Series proved he's developed his head movement and has high accuracy in his hands and feet.
Final Betting Pick
Aalon Cruz should make short work of Mooney and hopefully, after the right team change, get back into the UFC.
Cruz pays out $36 per $100 wagered.
Jacob Silva vs Eric Shelton Betting Odds
| Fighter | Moneyline |
| --- | --- |
| Jacob Silva | NA |
| Eric Shelton | NA |
Fight Pick and Relevant Stats
Nate Smith was a strong favorite, but his bout versus Silva was scrapped at the last minute. Now Silva faces Eric Shelton, the #43 flyweight worldwide.
Jacob Silva is from the metro Fight Club in Houston. He's been fighting since 2011 as an amateur but has only won two of his last six. He appeared on the Contender Series twice in 2020, losing both times.
Eric Shelton trains out of a gym called Core Fitness Systems.
He's currently 3-3 of his last six and has been cut from the UFC as of 2019. Shelton was on The Ultimate Fighter 24. He didn't make it to the finale but got into the UFC.
Shelton was 2-4 for the UFC.
Jacob Silva Fight Tape
Silva shows heart and solid conditioning but struggles with the technical aspects of the game. He shows little head movement and rarely keeps his hands up to block incoming strikes.
Eric Shelton Fight Tape
Shelton Shows knockout power in earlier bouts and recent boxing matches. If Silva hasn't made major advancements in his boxing, we'll be seeing a beating and likely KO finish from Shelton.
Final Betting Pick
After odds are released, look to quickly bet Shelton before the odds shift.
I wager he'll win easily, and the betting line will move quickly on this last minute replacement.
Evers Anderson vs Cody Freeman Betting Odds
| Fighter | Moneyline |
| --- | --- |
| Evers Anderson | +160 |
| Cody Freeman | -200 |
Fight Pick and Relevant Stats
Cody Freeman has gone 2-2 over his last four. This is his fourth fight of 2021 and the kid has been in some brawls despite only being 26.
But is 7-4 and doesn't work with a high-profile MMA school and has a coach with no history of fighting.
Evers Anderson is 36 and lost his last bout. However, Anderson has knockout power.
His biggest issue is conditioning.
He's shredded, but his cardio gives up early leading to a slew of split decisions on his record.
Freeman vs Anderson 1
These fighters have faced off before. Anderson won the first time via decision in 2016. Cody was better in almost every area, but he had also just started training, facing off with a  fighter ten years his senior.
Recent Fight Tape for Cody
Cody has expanded his striking IQ since the 2016 bout. He has good head movement and understands when to pull and when to move his fight. He has a tendency to swing wide but makes up for missed shots with good takedowns and a moderate BJJ game.
Fight Tape for Anderson
Anderson had a bout eight months ago for XKO.
His striking was clunky but his grappling was sharp. He appeared to have extensive wrestling experience but was nearly caught in submissions several times. His stand-up was atrocious, and it will come down to his ability to grapple and ground strike Cody effectively.
Final Betting Pick
Cody Freeman has more tools, age on his side, and better conditioning.
Freeman pays out at fifty cents on the dollar.
Peter Caballero vs Carlos Vera Betting Odds
| Fighter | Moneyline |
| --- | --- |
| Peter Caballero | -105 |
| Carlos Vera | -125 |
Fight Pick and Relevant Stats
This is the closest fight on the card. Caballero trains out of Mendez Martial Arts in Texas. He's won his last three fights straight, two of them taking place earlier this year. Caballero is primarily a submission specialist, with four pro submission finishes.
Carlos Vera is 2-2 over his last four fights.
He's been fighting since 2011 as an amateur and trains out of a gym called Ground Control in New Orleans. However, Vera has been spotted at 50/50 and other high-level MMA facilities for the past year. The man is traveling in an attempt to upgrade his game.
He's also the highest rank of Capoeira and a black belt in Tae Kwon Do.
Final Betting Pick
Vera has consistently been facing tougher opponents and has spent the past year absorbing BJJ skills from some of the sport's best. I don't see Caballero as having an opportunity to submit him. I picked Vera, a slight favorite at -125.
PLACE YOUR BETS NOW!
Juan Carlos De Leon vs Nazim Sadykhov Betting Odds
| Fighter | Moneyline |
| --- | --- |
| Juan Carlos De Leon | +220 |
| Nazim Sadyhov | -280 |
Betting Pick and Relevant Stats
Leon is 2-1 as an amateur and is coming off two TKO wins. This is his pro debut after only three years as an amateur.
Little else is listed about Leon.
Nazim is training at the new Longo and Weidman MMA in New York. He's on a four-fight winning streak with three finishes and has been active since 2017. He was an undefeated amateur as well.
Final Betting Pick
I see Sadyhov taking this fight with ease, payout out $35 per $100 wagered.
PLACE YOUR BETS NOW!
Matheus Camilo vs Sam Kilmer Betting Odds
| Fighter | Moneyline |
| --- | --- |
| Matheus Camilo | +140 |
| Sam Kilmer | -170 |
Betting Pick and Relevant Stats
Sam Kilmer had an eight-fight undefeated amateur career and is now a 1-0 professional. Camilo didn't have an amateur career and is now 3-1 with two finishes.
Camilo showed weaknesses in his submission skills and grappling.
Kilmer has six rear naked choke wins to his name. He's an excellent wrestler and athlete and should make short work of Camilo.
I picked Sam Kilmer, a payout of $58 per $100 wagered.
Joshua Fleck vs Kenan Jackson Betting Odds
| Fighter | Moneyline |
| --- | --- |
| Joshua Fleck | +105 |
| Kenan Jackson | -135 |
Betting Pick and Relevant Stats
Kenan is a Jackson Wink fighter with a 6-1 amateur record. His only loss is to fellow JW fighter, undefeated Joel Bauman.
Kenan has an even mixture of knockout and submission victories.
Fleck doesn't currently have a home camp. He's an undefeated amateur at 7-0 now moving into a pro career.
Fleck is a decorated wrestler and has strong submission skills.
This is a tough fight to call, and I'll be putting money on Kenan Jackson. Jackson should be ready for the high level of BJJ brought by Fleck, and Kenan's conditioning may well be an equalizer versus Fleck.
PLACE YOUR BETS NOW!
Christian Lopez vs Michael Aswell Betting Odds
| Fighter | Moneyline |
| --- | --- |
| Cristian Lopez | +375 |
| Michael Aswell | -500 |
Betting Pick and Relevant Stats
Aswell is the biggest favorite on this card, paying out $0.20 per dollar wagered. Lopez has an extensive amateur career and has only won one fight out of his six on record.
Aswell trains at Glory MMA, a UFC level school that is producing more and more great fighters every year. He was an amature champion and went pro earlier this year, making quick work of both opponents.
Both fighters faced Jake Lira. Lira beat Lopez via split decision in his closest loss to date. Aswell demolished Lira in the first round with ground strikes from top position.
Aswell is an easy pick for this bout, and my top pick for the card.
Kaleo Meheula vs Justice Torre Betting Odds
| Fighter | Moneyline |
| --- | --- |
| Kaleo Meheula | +200 |
| Justice Torres | -260 |
Betting Pick and Relevant Stats
Torres is on a four-fight winning streak. His only losses were as an amateur, and he's been active since 2017.
Kaleo is on a four fight winning streak and has two finishes by strikes in his short career. He's fighting out of Hawaii. He's also a decorated kickboxer. I smell an upset.
Torres is good, but has shown less than ideal striking technique. Kaleo has the athleticism and technique to get the win over the more experienced fighter.
I pick Kaleo Meheula at +200 for a double your money win!
Hector Saenz vs Jonathon Moskowitz Betting Odds
| Fighter | Moneyline |
| --- | --- |
| Hector Saenz | +240 |
| Jonathon Moskowitz | -300 |
Betting Pick and Relevant Stats
Saenz is 2-1 as an amateur, starting in 2019. Both of his wins are via ground and pound stoppage but he showed poor striking against Christopher Tovar.
Moskowitz is 1-1 as a pro and 4-1 as an amature. He has standing knockout power and several bottom position submission victories that I'm unsure if Saenz is ready for.
Moskowitz got caught in his last bout with a lucky punch. He's a quality fighter and shouldn't have too much trouble taking out Hector.
Bet lightly, there is a possibility Jonathon has a glass chin and Saenz will put him out quickly.
Stephen Perez vs Kale Moniz Betting Odds
| Fighter | Moneyline |
| --- | --- |
| Stephen Perez | +200 |
| Kale Moniz | -260 |
Betting Pick and Relevant Stats
This Bantamweight bout was added at the last minute. Perez has strong submission skills and all his professional losses are via decision.
Kale has both knock out striking and submission work, losing only one of his professional bouts. In Kale's last two fights, he finished two undefeated fighters, including 4-0 Josh Walker.
I predict a decision win for Kale Moniz. Perez needs to develop his striking and takedown defense before he considers fights at this level.
Fury FC 55 Wrap Up
These kinds of cards can feel tough to approach, so if you're a new fan take a look at our mma guides. When you're betting on younger fighters, don't trust big odds differences as a sign that you should bet hard. The oddsmakers and the fighters are still getting an accurate idea of their abilities.
Tread lightly, and enjoy the fights!