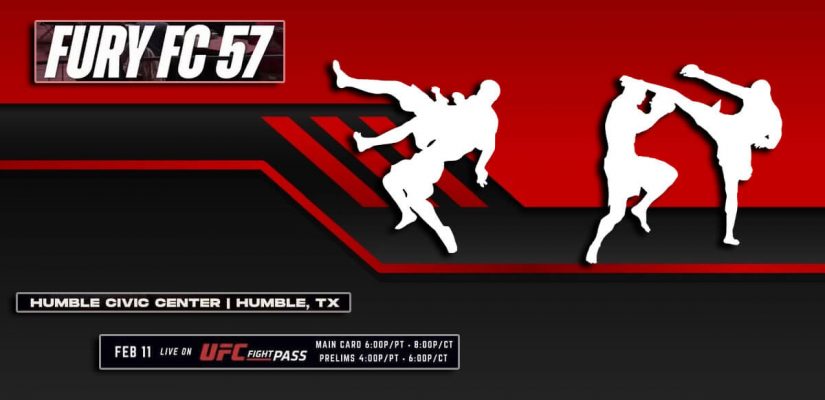 For our Fury Fighting Championship 57 Betting picks, we're covering all ten fights on UFC Fight Pass. You'll see the money line odds for each fighter and a quick breakdown of the bout, followed by our top betting pick. 
Fury FC 57 takes place on February 1th, 2022 at 8PM ET and is only available on fight pass.  
Fury FC 57 Main Event: Huseyn Alliev vs Andres Quintana 
| | |
| --- | --- |
| Fighter Money Line  | Betting Odds, Payout per Dollar Wager |
| Alliev | +190, $1.90 |
| Quintana | -240, $0.42 |
In this five round main event, Aliev and Quintana battle for the featherweight title. Aliev is #9 among Caucasus featherweigths, while Quintana is #2 in the US West Coast.
Andres Quintana Key Stats 
Quinatna is from the rising Lutrell's MMA. It's a school ran by Greg Jackson black belt Chris Luttrell. Quinatna recently defeated Alex Flores of VFS Academy, a very high level 20-3 opponent. You may recognize Quintana from a short skid on TUF, where he lost to Than Lee in the first round. That was seven years ago, and Andres has evolved significantly since then. 
Huseyn Aliev Key Stats
Aliev has had a massive career, but has no notable oppoentns outside his regional wins. He beat Cameron Graves, a kickboxer style fighter from Team Tooke MMA in Texas in their last Fury FC showing. Graves is on a two fight skid despite knockout power. 
Aliev has multiple submission losses, and while Quintana isn't a wrestler, he'll be happy to score the takedown if the opportunity arises. 
Aliev made the switch specific for this camp to AKA, one of the best wrestling academies in the nation. This truly changes things. 
Huseyn Aliev is endorsed by WHO???

Is it 6:00 yet????#FuryFC57 pic.twitter.com/NXdRFijQeb

— UFC FIGHT PASS (@UFCFightPass) February 11, 2022
Fury FC 57 Betting Pick
Our final betting pick was Quintana, but after seeing the AKA footage, Aliev should take the win at +190. We should see Aliev defend Quintana's wrestling and win kickboxing exhcnages with ease. 
PLACE YOUR BETS NOW!
Fury FC 57 Co-Main Event: Joey Elzea vs Paris Moran 
| | |
| --- | --- |
| Fighter Money Line  | Betting Odds, Payout per Dollar Wager |
| Elzea  | +215, $2.15 |
| Moran | -275, $0.36 |
This is a non-title flyweight bout set for three rounds. It pits the #1 flyweight from the Northwest in Elzea verus the #9 in the Southwest in Moran. Both fighters carried extensive amatuer careers, and both have a single professional loss. 
Joey Elzea Key Stats
Joey trains at Catalyst fight house, a mostly notable MMA school where he is one of only six active fighters. He has knockout power and a significant submission game, employing leg locks in two professional wins. His only loss was to Benny Vinson of Rose City FC, a scrappy wrestler focused on swinging as hard as he can in any bout. To win, Paris should come out looking for the kill early and often. 
Paris Moran Key Stats
Moran has three decision wins and two knockout wins. His only loss is by 'standing rear naked choke.' Paris trains at Gracie Barra Katy, a gym he must have joined after his strange submission loss. 
Mornan's submission game looks underdeveloped in recent fights with Nate Smith and Shawn Solis. 
Fury FC 57 Betting Pick
We're sticking with the underdog in Joey Elzea at +215. Moran's skills don't look compatible with Elzea's level of jiu jitsu, and it's unclear who has more knockout power. 
PLACE YOUR BETS NOW!
Fury FC 57: Gabriel Echavarry vs John Yannis 
| | |
| --- | --- |
| Fighter Money Line  | Betting Odds, Payout per Dollar Wager |
| Echavarry | -165, $0.61 |
| Yannis | +135, $1.35 |
This 135 pound pro bout is between amatuer champion Echavarry and Yannis from Louissian's Team Xtreme. This is a wrestler versus striker bout, with Echavarry looking for th takedown and Yannis counter-wrestling and boxing in the majority of his wins. 
Echavarry Key Stats
Gabriel looks for the takedown early an often in most bouts. Whether by submission or ground striking, all five of his finishes in pro and amatuer ranks have been on the ground. His one pro loss was a split decision to Justic Lamparez in an arguably bad call. Justice did some damage but Gabriel controlled more of the fight. 
John Yannis Key Stats
It's clear that John can win the fight if he can avoid the takedown. In his fight with Nick Kambasis, John wins a decision in what is essentially a kickboxing match until the theird round. Kambasis repeatedly gives up takedowns to Yanis, who wins the third round after implementing his grappling. Still, his technique doesn't look to be on the level of Echavarry's, neither does his conditioning. 
Final Betting Pick
Our betting pick is Gabriel Echavarry at -165. He's the bigger fighter and the better wrestler. Yannis should look for fights at featherweight as he gets to higher levels. Gabriel's wrestling background offers him too large of an advantage over the smaller, less experienced Yannis. 
PLACE YOUR BETS NOW!
Fury FC 57: Francisco Obando vs Joshua Thawng
| | |
| --- | --- |
| Fighter Money Line  | Betting Odds, Payout per Dollar Wager |
| Obando | +120, $1.20 |
| Thawng | -150, $0.67 |
This pro featherweight bout is between two returning Fury FC fighters. Obando has won twice via submission in his pro career, while Thawng has won twice via TKO. They're both ranked in the Southwest, Obando at #22 and Thawng at #26. 
Obando Key Stats
Obando has three submission wins on record in his seven year career. He's been finished twice in the amatuers by undefeated fighters, and his only loss as a pro is to Gabriel Echavarry.
In the amatuers his loss to Perez was met with a flurry of strikes, though Obando was able to recover and repeatedly find top position. Obando was winning the fight with his wrestling, and after six years of MMA, we can assume his striking has improved. 
Thawng Key Stats
Thawng has only one loss via submission in his last fight. He's had far fewer fights overall than Obando, and he's only ever won a bout via TKO or decision. Thawng is a classic scrapper, with fast movement and a high volume of strikes. 
Thawng's takedown defesne is questionable and it has cost him rounds as well as his last fight. 
Fury Fc Betting Pick
Our pick is Obando at +120. His wrestling is solid. He lost a recent fight to a better grappler, but unless your takedown defense is on the level, fights with Obando will be spend on your back. 
PLACE YOUR BETS NOW!
Fury FC 57: Diego Lopes vs Kenneth Glenn
| | |
| --- | --- |
| Fighter Money Line  | Betting Odds, Payout per Dollar Wager |
| Lopes | -650, $0.15 |
| Glenn | +425, $4.25 |
Lopes is a strong favorite for a reason. He's the #5 ranked pro Featherweight in the US, training out of LOBO gym and Legacy MMA. He lost at DWCS anf failed to bounce back against Nate Richardson. He's taken a big step down in competition to fight Glenn in hopes of retracking his career. Glenn swings for the fences but loses most bouts. He's 3-2 over his last five fights and 10-8 overall. 
Lopes Key Stats
Diego is 18-5, scoring 5 TKOs and 11 submissions. He's still primarily a BJJ fighter, looking for the finish even against higher level fighter, which cost him in his last two bouts. 
Lopeslast five wins include three submission finishes, two in the first round. He's been knocked out once before, but the majority of his losses are via decision to quality wrestlers with good conditioning. 
Glenn Key Stats
Glenn can't seem to break through to the top ranks of Fury FC. he lost to former champions Nico Echeverry and Bryce Logan who are now in larger organizations. Glenn seems to be a great pit stop for a fighter looking to retrack a career, however he does have moments of brilliance. 
Glenn's recent third round knockout of Simpson, an elevation fight team fighter that was on the fast track to bigger things, showed that Glenn is dangerous, even late in the fight. Glenn was a last minute replaceemtn for Sherrard Blackledge, a DWCS fighter that was supposed to lose to SImpson. Cleary, Glenn can pitch an upset. 
Fury FC 57 Betting Pick
Our betting pick is the underdog Kenneth Glen at +425. I'm going to bet lightly on Glenn. He's not great at BJJ or wrestling, but for four times your cash in return, he's a knockout artist that's always the underdog. Lopes wilts under striking pressure and with his loss at combat grappling, he's 0-3 of his last three. A tough hole to pull yourself out of. 
PLACE YOUR BETS NOW!
Fury FC 57: Jose Johnson vs Dulani Perry
| | |
| --- | --- |
| Fighter Money Line  | Betting Odds, Payout per Dollar Wager |
| Johnson | -325, $0.31 |
| Perry | +250, $2.50 |
With little fight tape on either fighter, the easy pick is Jose Johnson. He's training at the superior team and has nearly double the all time fight finishes of Perry. Bet Johnson at -325
PLACE YOUR BETS NOW!
Fury FC 57: Jake Heffernan vs Boston Salmon
| | |
| --- | --- |
| Fighter Money Line  | Betting Odds, Payout per Dollar Wager |
| Heffernan | +190, $1.90 |
| Salmon | -240, $0.42 |
Both of these fighters are 1-2 over their last three, Salmon has beaten some big names, such as TUF winner Ricky Turcios. Heffernan is a BJJ fighter that is slowly evolving in to a complete mixed martial artists, but it may be a touch to late to stand with Salmon. 
Heffernan Key Stats
Heffernana has been finished twice in his last four fights, losing by submission and knockout. He's finished three fighters in his professional career, notably Derek Brenan of Factory X Muay Thai.
Heffernan is out of Gracie Barra Woodlands, where he cross trains with Alex Morono of the UFC as well as Ricky Turcios. It appears that Heffernan does some of the coaching at GB Woodlands, which has me concerned about the level of sparring he receives. 
Salmon Key Stats
Salmon's last two loses were inside the UFC. He was knocked out twice and then cut. His last win was in the LFA, where his opponent was disqualified. Salmons' MMA journey has been a comedy of errors. He's a good fighter working out of Xtreme Couture and a win over Heffernan should retrack his UFC chances. 
Fury FC Betting Pick
Our betting pick is Boston Salmon at -240. He's beaten Heffernan's top student, and now he'll beat the coach. He's with a top gym and best possible training environment. I don't see Heffernan catching the submission, which is his only path to victory. 
PLACE YOUR BETS NOW!
Fury FC 57: Charles Cheeks III vs Bobby Moffett
| | |
| --- | --- |
| Fighter Money Line  | Betting Odds, Payout per Dollar Wager |
| Cheeks III | +400, $4.00 |
| Moffett | -600, $0.17 |
Moffett is a former UFC and PFL fighter, dropping down to face Cheeks after he was cut by the UFC. Both fighters are submission oriented, with multiple submission and decision finishes. Cheeks has three knockouts on record early in his career, while Moffett has never finished an opponent. 
Bobby Moffett Key Stats
Moffett has submission finishes in nine of his 21 fights. He loses to fighters like Bubba Jenkins, athletic pressure fighters that don't let up the strikes to combat Moffett's BJJ. 
Moffett's striking isn't bad either, it's just not his preferred method of victory. The only real question for me is, can Cheeks keep a high enough striking pace to stop Moffett?
Charles Cheeks III Key Stats
Cheeks is athletic, forceful and devastating in the clench. He's not going to fight Moffetts fight for one second. Cheeks does fade, and if  he gasses, Moffett will win a submission victory. Moffett's striking is more refined, but I don't see Moffett beating Cheeks in the clench, which is a huge part of his victory condition.
Fury FC 57 Betting Pick
Our betting pick is the underdog, Charles Cheeks III. This man is close to ready for UFC level talent. Moffett runs through people who can't wrestle, but Cheeks is a powerhouse that Moffett will have to weather before he wins, which isn't his strong suit. 
PLACE YOUR BETS NOW!
Fury FC 57: Aric Mercado vs Matheus Camilo 
| | |
| --- | --- |
| Fighter Money Line  | Betting Odds, Payout per Dollar Wager |
| Mercado  | +240, $2.40 |
| Camilo | -300, $0.33 |
This featherweight battle is between submission fighter Mercado and knockout striker Camilo. 
Mercado a submission fighter with two finishes as a pro, and a six fight amatuer career with six finishes. I couldn't find good fight tape on either fighter. 
Camilo is from Nova Uniao, one of the best fight gyms in Brazil, and Mercado is from Grind MMA in Texas. 
My only concern with a Camilo win is his only loss is via submission, coming from Derek Borges of Brazilian Top Team. Mercando has submitted better fighters than Borges, so it's difficult to determine if Camilo will have the right submission defense. 
Our final betting pick is Matheus Camilo at -300. Let's hope Nova Uniao has done a good job of building up Camilo's submission defense. 
PLACE YOUR BETS NOW!
Fury FC 57: Kyle Estrada vs Cleveland McLean
| | |
| --- | --- |
| Fighter Money Line  | Betting Odds, Payout per Dollar Wager |
| Estrada  | -180, $0.56 |
| McLean | +150, $1.50 |
For the opening bout of the evening, our favorite is a Black House MMA fighter up agaisnt the #3 flyweight in Florida. 
McLean is on a three fight winning streak, and he's 5-1 over the last six. Estrada is 1-3 in his last four, and McClean is supposed to be a step down in competition.
Cleveland keeps a high pace and has knockout power at 125 lbs, which is always tough to deal with. 
I feel Estrada should take longer than four months between losses to work on his skill. McLean is on the rise, and yet again we bet the underdog at +150 for Fury FC 57. 
PLACE YOUR BETS NOW!
Fury FC 57 Wrap Up
We took plenty of underdogs on this Fury FC card. I'm noticing a trend in MMA: the best gyms in the world are producing more losing fighters while multiple smaller gyms are on the come up. This could be from a spreading of high level training techniques, or simply burn out on part of large gyms with dozens of high level athletes grinding one another down. 
Scared of underdog bets? For some strong favorites, check out our UFC 271 betting picks.