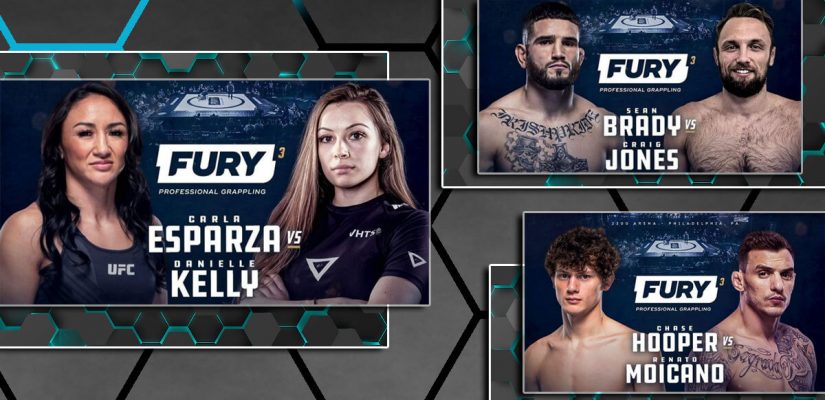 With the UFC off and more fighters looking for a payday, we see this roster loaded with some of the best Brazilian Jiu Jitsu competitors in the game facing off against fighters from the UFC roster. We're taking each of the nine fights and closely examining the competitors to make our top betting picks.
The stats for these bouts will look a little different than MMA betting breakdowns.
Many BJJ fighters don't have any height, reach and age stats readily available. Rather than comparing a tale of the tape, we'll take a close look at BJJ pedigree and grappling background, grappling style match up, and fight tape comparison.
Story of the Fight
Fury Pro Grappling is the same crew behind Cage Fury, the promotion under ESPN+ and UFC Fight Pass as a feeder organization to the UFC. Their first two events were heavily successful, pulling in Merab Dvalishvili and other notables from the grappling and MMA world.
This card is by far the highest number of MMA and grappling stars I've seen put on the same show.
Many of these fights are heavily one sided, but the odds are still favorable enough to place bets without a parlay, though I'll offer a bit of parlay advice at the bottom of the card.
The Greatest Submission-Grappling Card Ever. ?

? @CarlaEsparza1 vs Danielle Kelly
◽️ @SeanBradyMMA vs Craig Jones
◽️ @CowboyCerrone vs @JoeSolecki
◻ @ClayGuida vs @BillyQMMA
◻ @Chase_Hooper vs @MoicanoUFC

[ #FURYPro3 | DEC 30 THU | ? on #UFCFIGHTPASS ] pic.twitter.com/NGpPuLY1mq

— UFC FIGHT PASS (@UFCFightPass) December 28, 2021
Fury ProGrappling 3 airs on Thursday, December 30th, 2021 on UFC FIGHT PASS at 4:30PM PT.
Danielle Kelly vs Rose Namajunas Scrapped Last Minute
Many fans will look at this main event and ask themselves why a UFC champion is a +350 underdog, but it's important to understand the differences between pro grappling and MMA rulesets.
I think Cage Fury is setting this fight up, specifically to help people understand the major differences between grappling and other forms of fighting.
Kelly is very likely to win, and this will elevate her to grappling fame status due to the visibility of ProGrappling on UFC Fight Pass.
Fury Pro Grappling 3 Gets New Main Event With Rose Namajunas Out https://t.co/qITsqOsrcA via @middleeasy

— MiddleEasy (@MiddleEasy) December 28, 2021
Kelly has been seeking a big MMA debut, waiting for the right moment to get a solid payday. If she can beat Rose Namajunas in exciting fashion, that could pave the way to the next step in her career.
Danielle Kelly vs Carla Esparza
This last minute main event replacement is likely a tougher bout for Daniellle Kelly. Esparza outgrappled Namajunas in 2014. Kelly will likely take the bottom position and many of the same strategies she would have used versus Rose, she can use against Carla.
The odds for Esparza vs Kelly are still being worked out.
Here are the scrapped Namajunas vs Kelly odds. Expect something similar for Esparza vs Kelly.
| | |
| --- | --- |
| Fighters | Money Line |
| Danielle Kelly | -500 |
| Rose Namajunas | +350 |
I feel that Esparza is a tougher opponent in every way for Kelly, and we will likely see closer odds.
Fight Camp and Grappling Background Comparison
Kelly is a member of Silver Fox BJJ in New Jersey. She's a black belt in BJJ under Karel Pravec, a Renzo Gracie coach that's highly sought out by BJJ and MMA practitioners alike.
Kelly has been grappling at the pro level since 2018.
Esparza is a brown belt in jiu jitsu and UFC fighter with multiple takedown centered finishes. However, she has little involvement with professional BJJ.
She was a NAIA wrestler, and wrestled since childhood.
She's been cross training with Tenth Planet BJJ, but Carla hasn't posted much training footage since October, which is abnormal for her.
Grappling Analysis for Esparza vs Kelly
Kelly vs Crane
Kelly plays bottom position against Crane. The beginning of the match was slow, something I don't see happening versus Rose. Kelly engages in bottom guard position to invert to a leg locking position known as k guard. The kneebar finish soon followed.
This was a very high level display, with no mistakes made from a grappling perspective.
Esparza vs Rose
The Esparza bout is Rose's 2014 submission loss. She was taken down early and often, struggling to deal with the aggressive takedown game of Esparza. Rose goes for a takedown and it gets stuffed, with Esparza cutting through her guard like butter. It's clear that she's a more decorated grappler.
Esparza UFC Stats
Esparza averages 3.5 takedowns per fight while only attempting one submission every three fights. She's focused on ground striking and a controlling style. Over her last five fights, ranging back to 2019, she has no losses and has collected 17 takedowns for a total of 29 minutes of control.
Final Betting Pick
This will be a closer bout than Kelly vs Rose, but I still see Kelly taking the win. Esparza will want to take Kelly down and win via pressure positions, but Kelly is fantastic at inverting underpressure into leg lock and back take positions. In addition, Esparza may not have been training at 100%. This fight was short notice, and it's in Kelly's sport. Expect to bet Kelly when odds are released within the week.
Sean Brady vs Craig Jones
In the most one sided bout on the card, one of the pound for pound best grapplers in the world takes on an undefeated mma grappler. This bout's taking place at the catch weight of 200 pounds.
Sean Brady is a black belt in BJJ under Daniel Gracie and has four submission victories in his MMA career. He fight's primarily at Welterweight, cutting significant weight to make the 170 lbs weight class.
The Brady vs Jones match was added just seven days ago, and we don't know how the short notice will affect Brady who is mid fight camp for a bout early 2022.
Brady vs Jones Betting Odds
| | |
| --- | --- |
| Fighters | Money Line |
| Sean Brady | +500 |
| Craig Jones | -800 |
Brady offers a five times return versus Jones' $0.13 on the dollar.
Craig's last available odds showed a -1000 against Davi Ramos, a match he won with ease. There is no odds history for his recent win over fighter Donald Cerrone.
Brady's last time as underdog was +115 against Ismail Naurdiev in 2020, a match he won by decision. He's never offered higher paying odds than in this fight versus Jones.
Fight Camp and Grappling Background Comparison
Both fighters are black belts, Brady under Daniel Gracie, and Craig under ADCC competitor Lachlan Giles. Craig trained through the pandemic with Renzo Gracie group Danaher Death Squad, and has since opened his own gym in Austin, Texas.
Brady has been at the same gym throughout this time.
Grappling Analysis for Brady vs Jones
Jones is a leg lock and front head lock specialist. Brady will likely haven't faced this level of leg lock specialist inside MMA, but certainly will have seen this at Renzo Gracie Philly. Brady's best bet is to utilize his takedowns and high pressure style- something that will be difficult since Jones has a size advantage of approximately ten to twenty pounds.
Brady's UFC Stats
Brady averages one sub attempt per round and 3.2 takedowns per fight, much higher than the UFC average.
He's completed two submission victories inside the UFC inside the second and third rounds, pointing again to the high likelihood of Brady pushing for a longer match.
Brady vs Jake Mattews, Christian Aguilera
Brady's first submission win took place against Aguilera, a fighter with no BJJ pedigree or belt ranking. Aguilera's guard work was limited and anytime Brady scored the takedown Aguilera offered little to no threat. Brady won via guillotine with ease.
In his bout with Black Belt Jake Mattews, it was clear that Brady took the advantage via conditioning.
The submission against Mattews was in the third round, and the submission was the result of the only takedown of the fight.
Craig Jones vs Donald Cerrone, Tim Spriggs
Jones' last match was a combat BJJ competition versus Donald Cerrone. Cerrone offered little to no competitive resistance, and Jones won with ease despite slapping strikes being available.
His bout with Tim Spriggs feels applicable because Spriggs is such a powerhouse. Even in this bout, Craig was able to control the effort Spriggs put forth and score the finish.
Unless Brady shows up with world class defensive mechanics, Craig will find an easy finish.
Final Betting Pick
I see an easy win for Craig Jones at -800. He's one of the best in the game and I'll be selecting him on a parlay ticket alongside one of the other grapplers on this card.
Kevin Holland vs Kody Hamrah
This 185 lbs bout shows the UFC's Holland versus one of the newer high level grapplers in the professional scene. Hamrah is a high quality wrestler from NC State that has switched to BJJ. Holland has been on a skid in MMA, losing two straight. He's lost via submission once in the UFC and won by submission one other time.
Holland vs Hamrah Betting Odds
| | |
| --- | --- |
| Fighters | Money Line |
| Kevin Holland | +250 |
| Kody Hamrah | -325 |
Holland is the underdog in surprisingly high odds. He was a +270 vs Mavin Vettori and a +280 against Thiago Santos in 2018. It's clear to me that the gap between Holland's and Hamrah's grappling is a bit wider than this gap makes it out to be.
Monday vibes when I get to do some competing soon ? @SkilledViolence @hayabusacombat pic.twitter.com/GemQ93cdDe

— Kevin Holland (@Trailblaze2top) December 27, 2021
Hamrah has no betting odds on record. He had 74 career wins as a wrestler, and was the ACC Rookie of the Year in 2005.
Fight Camp and Grappling Background Comparison
Holland is from Travis Lutter MMA, the Black Belt fighter who lost to Anderson Silva in a 2007 UFC Title Bout. The gym is in Texas and primarily produces grapplers for MMA of which Holland, Justin Wren and Javier Obregon are the most successful athletes.
Holland's amatuer career started in 2012. He's a black belt under Travis Lutter and has been since 2020.
Texastan wrestling fam pic.twitter.com/EcPqApkdvf

— Kevin Holland (@Trailblaze2top) December 22, 2021
Hamrah trains at Edge Hoboken after working closely with UFC submission artist Damian Maia as his wrestling instructor. He hasn't been public about his BJJ rank, but he's been working alongside multiple black belts for the last ten years.
Grappling Analysis for Holland vs Hamrah
Holland has had two grappling centered losses in recent years. His BJJ has improved since the beginning of his career, but it's clear that a decent wrestler can put him on the mat time and again. Hamrah is a wrestler first, and will look to pressure from top position.
Holland vs Vettori, Derek Brunson
Vettori took Holland down eleven times throughout a five round fight. Holland took virtually no control time, being dominated for twenty minutes of the twenty-five minute bout.
The five round fight with Brunson showed similar stats, with sixteen minutes of the fight controlled by Brunson with six total takedowns.
Hamrah vs Cavalcante
Hamrah won by decision victory. He survived versus the MMA veteran and Black Belt in BJJ by taking top position and holding it. I think this is a bad matchup for Holland, and Hamrah's first showing was two months ago. I think We'll see Holland on his back throwing up repeated failed guard attack attempts.
Final Betting Pick
Tread lightly with this one. Holland could cause an upset with a lucky sub from bottom, but the highest likelihood is a Kody Hamrah win at -325. It's a $0.31 per dollar wagered return.
Chase Hooper vs Renato Moicano
The youngest fighter in the UFC is taking on UFC lightweight in Moicano. Hooper is technically a featherweight, and this bout will take place at 170 pounds so that neither fighter needs to cut weight for the competition.
We asked for more @chase_hooper this year for Christmas! #Believe

Dec 30! Only on FIGHT PASS! #FuryPro3 @CFFCMMA pic.twitter.com/Zj4kFslh3v

— UFC FIGHT PASS (@UFCFightPass) December 26, 2021
Moicano has only been submitted once via Brian Ortega, while Hooper has never been submitted inside the UFC and has a competitive submission rate among wins with the seasoned black belt.
Hooper vs Moicano Betting Odds
| | |
| --- | --- |
| Fighters | Money Line |
| Chase Hooper | +450 |
| Renato Moicano | -700 |
Moicano is a strong favorite. It's surprising to me that the gap in skill between Moicano and Hooper is seen as similar to the Hamrah versus Holland gap.
After #FuryProGrappling3 who would Chase Hooper want next on the BJJ mat?

(Not to sound clickbaity but boy, is one of them off the wall)https://t.co/EpL0DTzdBy

— UFC FIGHT PASS (@UFCFightPass) December 27, 2021
Hooper's last bout was his first time as the underdog since in the UFC, losing to Steven Peterson via decision at +100 odds.
Moicano was the favorite at -235 in his last showing versus Jai Herbert, winning via RNC.
His last time as an underdog was his loss to Calvin Kattar. He was the favorite coming into his submission loss to Ortega at -183.
Fight Camp and Grappling Background Comparison
Moicano trains at ATT and Constrictor Team in Brazil. His black belt instructor Ataide Junior owns the gym, and many of the UFC's better submission specialists such as Rani Yahya, have come into contact with Constrictor Team.
Moicano has been active since 2010 in MMA and received his black belt in 2016 after his showing on The Ultimate Fighter. Hooper trains at Combat Sport and Fitness alongside other Bellator and UFC fighters.
He's also a BJJ black belt, which is rare at 22.
Grappling Analysis for Hooper vs Moicano
In their last five wins, Hooper has two submissions over the last six wins, and Moicano has three. While it appears that Moicano should be head and shoulders above Hooper, I'm interested in Hooper's leg lock game and find that the fighter's UFC stats don't tell the whole story.
UFC Stat Comparison
| | | |
| --- | --- | --- |
| Fighter | Renato Moicano | Chase Hooper |
| Takedowns per Fight | 1.96 | .96 |
| Submission Attempts per Fight | .7 | 2.2 |
| Takedown Defense Average | 78% | 50% |
Hooper is a more aggressive submission fighter, looking for submissions more often than Renato. Renato would like to get top position and work from there, doing his best to find top position submissions.
This is why Moicano has a majority of RNC victories.
This, alongside with Moicano's size advantage, will put Hooper in the bottom position for the majority of this fight. So for this analysis, we'll be looking at what he can do from guard.
Hooper vs Barett, Stevenson
Hooper's heel hook win over Peter Barrett in 2020 hints at his strategy toward Moicano. Barrett has lost by submission in multiple fights in smaller shows, including local show Cage Titans. So it's not a particularly impressive finish.
However, Chase had the same position twice, nearly finishing in the first round by heel hook as well. Hooper will slide into flying armbars and set the heel hook finish up with an Iminari roll.
Hooper attempted similar movements against Stevenson, a fighter that beat him Unanimously. Stevenson was able to stay standing and shrug off the majority of Hooper's attacks. While Moicano will have to engage in grappling with Hooper, I see this as a preview of how Moicano will simply out-athlete Hooper's leg locks.
Moicano vs Ortega
Moicano was winning this fight against one of the better grapplers in MMA. Ortega was taken down and smashed in the first round. Moicano shot into a guillotine in round two, something Ortega is known for. It's not something I see Hooper capable of, or regularly utilizing.
Final Betting Pick
While the jiu jitsu enthusiast in me wants to bet on Hooper, I'm going to be pragmatic and put money on Moicano. This betting pick is based on size, and the style advantage Moicano has in this decision centered grappling ruleset. Take Moicano at -700 for the $0.14 payout per dollar wager.
Clay Guida vs Billy Quarantillo
The heavily popular Clay is coming off a comeback win after switching camps to Team Alpha Male MMA. He's up against Quarantillo, a UFC fighter and Black belt in BJJ under Matt Arroyo. Billy has never been submitted in the UFC, while Clay has been submitted seven times in his MMA career.
Guida vs Quarantillo Betting Odds
| | |
| --- | --- |
| Fighters | Money Line |
| Clay Guida | +195 |
| Billy Quarantillo | -245 |
In bouts that Guida lost by submission, his odds included +133 to Jim Miller, +128 to Charles Oliveira, and -170 to Thiago Tavares.
Quarantillo has lost two of his last three.
The only bout he won by submission in the UFC was against Jacon Kilburn at -305. I would expect a Quarantillo submission victory looking at these odds.
Fight Camp and Grappling Background Comparison
Guida was a longtime Jackson/Wink MMA import from Chicago. This year, he joined Team Alpha Male. He received no classical BJJ ranking during this time, and the training at both of these gyms is primarily no-gi MMA. Clay has competed in other pro grappling events, going to draw against Renato Sobral and losing to Gregor Gracie via armbar in round one.
Clay Guida is an underdog at #FURYpro3?

That's cool with him!!!https://t.co/zQvwHMdyM3

— UFC FIGHT PASS (@UFCFightPass) December 27, 2021
Billy trains at Gracie Tampa South with his long time coach Arroyo, earning his black belt after defeating Kilburn via submission in 2019. He hasn't taken the time to do any high level BJJ competition on record.
Grappling Analysis for Guida vs Quarantillo
Guida's main goal will be to get to the headlock position, where he has had some success in the UFC. In the gym, he makes good use of his D'arce choke and guillotine but hasn't been able to capitalize in the cage. Quarantillo has a solid guard and quality takedown stats in the UFC.
UFC Stats for Guida vs Quarantillo
| | | |
| --- | --- | --- |
| Fighter | Clay Guida | Billy Quarantillo |
| Takedowns per Fight | 3.26 | 1.37 |
| Submission Attempts per Fight | .7 | 1.4 |
| Takedown Defense Average | 68% | 57% |
It's interesting seeing that a Black Belt in BJJ doesn't always mean better stats. Guida is historically tougher to takedown, gains more takedowns total, but only goes for submissions half as often. From these stats, you'd think that it's likely Guida will take top position.
Guida vs Gracie
Gregor is quite good, so it's unsurprising he finished Gudia quickly. Guida practically jumped into the Gregor armbar at the beginning of the match.
Quarantillo vs Kilburn
It's surprising how close these two bouts are. Kilburn nearly jumps into Quarantillo's triangle. It looks as if Guida's athletic passing style plays straight into many jiu jitsu centered fighter's full guard attacks.
Final Betting Pick
Quarantillo's -245 is a steal here. His $0.41 return per dollar wagerd against someone who isn't a BJJ black belt and has so many UFC submission losses feels high. Play it safe and pick the Quarantillo money line.
Eddy Torres vs Alex Caceres
This 165 pounds catch weight puts the undefeated Cage Fury Fighting Championships fighter Torres up against a UFC TUF competitor on a winning streak, Alex 'Bruce Leeroy' Caceres.
Caceres has won his last five fights straight, including two submission victories.
Meanwhile, Torres carries four submission victories across his professional and amatuer career.
This match feels like a bit of a ploy for CFFC to say that it's fighters are on the UFC level. I feel it will be a showing of just how wide the gap between the UFC and up and coming fighters of other organizations can get.
Torres vs Caceres Betting Odds
| | |
| --- | --- |
| Fighters | Money Line |
| Eddy Torres | -220 |
| Alex Caceres | +180 |
Torres is the favorite, as he was in his canceled bout at -185 vs Blake Bilder. Bilder is a submission specialist with no losses.
It's surprising to see Torres so favored.
Were struggling to find Torres' BJJ pedigree or training. It appears he trains primarily at an MMA centered gym. He recently opened his own gym for the pandemic called Team Taino MMA, and has trained there all year.
Caceres is out of MMA Lab, one of the best grappling and wrestling schools in the nation for mma. He's a black belt in BJJ, and defeated Chase Hooper via decision as a +183 underdog.
Grappling Analysis for Torres vs Caceres
Torres' undefeated status in MMA means less to me than his submission quality. He submitted his first two pro opponent's, neither of which have notable BJJ backgrounds.
Caceres' two RNC finishes include Austin Springer and Choi Sueng Woo. Neither fighter has an official BJJ ranking.
I think this bout will be close, but I firmly believe the mid-level UFC fighters are as good as the best high level CFFC fighters.
Final Betting Pick
Alex Caceres is an exciting fighter at a top grappling gym.
Torres is an unknown from his own garage school.
This is not close. Pick the Alex Caceres underdog bet at +180 for a payout of $1.80 per dollar wager. I don't know where the oddsmakers are on this one, but they're clearly favoring the undefeated status with a bit too much weight.
Neil Magny vs Joaquim Silva
Magny is a consummate decision fighter. He's going up against an exciting Brazilian fighter Joaquim Silva. I'm predicting this match is incredibly boring, going for a long decision, regardless of who wins. A great time to get some popcorn.
Magny vs Silva Betting Odds
| | |
| --- | --- |
| Fighters | Money Line |
| Neil Magny | -150 |
| Joaquim Silva | +120 |
Magny is the favorite, despite Silva being a black belt for longer and having more UFC submissions.
Oh that's right. Neil Magny definitely got invited to the party!#FURYpro3https://t.co/qvCI4pJ6qr

— UFC FIGHT PASS (@UFCFightPass) December 28, 2021
Magny's last loss against Chiese was at -145. He also lost his -150 bout to Lorenz Larkin. He's been submitted by RDA via arm triangle, coming in as a +175 underdog.
Silva wasa a similar underdog versus Andrew Holbrook, a fight he won in the first round.
He was a +105 against Malegarie, a fight he won via split decision.
Historically, the oddsmakers have been wrong about Silva and Magny in these odds ranges.
Fight Analysis for Magny vs Silva
Silva was submitted during the ultimate fighter, and had two submission finishes in Brazilian local competition prior to those bouts.
Magny has one UFC RNC finish over Kiichi Kunimoto in 2015. Magny is a Brown Belt in BJJ under Miguel Torres, but his average of 2.4 takedowns per fight have rarely led to submission attempts in the UFC. Silva's been training BJJ since he was a teenager. He's a black belt out of Evolucao Thai. His level of BJJ is under-utilized.
After TUF, he was open about being informed that if his style wasn't exciting, he'd be cut out of the UFC.
Silva UFC Stats
Joachim rarely shows his submission skills in the UFC. he averages .23 takedowns, hitting only one inside the UFC against Jared Gordon. His UFC appearances are not a good proxy for his grappling style. He does demonstrate counter takedown sweeps, such as butterfly sweeps, on a regular basis. Expect to see Magny get a takedown and see him swept by Silva.
Final Betting Pick
I think Joachim's BJJ is under-represented in his MMA career. He's a high quality black belt. He will likely end up in bottom position, meaning that he could lose the decision, but after watching fight tape, it's clear Silva has the tools to submit Magny. I predict yet another upset for Joachim Silva at +120.
Donald Cerrone vs Joe Solecki
Donal comes off a combat grappling loss to Craig Jones. Many see Cerrone as a striker, forgetting his WEC days when he was submitting everyone with armbars and triangles from the guard position.
Joe Solecki is a UFC fighter with submission centered skills. He's submitted three fighters inside the UFC and carries another four MMA submission victories outside of the UFC.
Cerrone vs Solecki Betting Odds
| | |
| --- | --- |
| Fighters | Money Line |
| Donald Cerrone | +170 |
| Joe Solecki | -210 |
Solecki comes in as the favorite after winning submissions in three of his last five wins. In those wins, he was a +110 underdog versus Austin Hubbard. His last loss was as a -121 favorite to Jared gordon.
Donald's WEC submissions were all heavy favorites. Recently, his submission wins include -250 win over Alex Oliveira via Triangle in 2016 and the +175 Mike Perry armbar in 2018.
Fight Analysis for Cerrone vs Solecki
Both of these fighters have better jiu jitsu off the bottom position. It was one of the reasons I was so disappointed to see Cerrone fighting top position versus Craig Jones.
Solecki's professional and tournament grappling footage is readily available online, and it's clear that Solecki has a variety of submission skills.
Cerrone vs Jones
Cerrone was hip tossed to bottom position, with Jones as the bigger man, it seemed that Cerrone didn't want to take the bottom position.
He tripped Craig Jones in impressive fashion to bottom side mount but couldn't hold it. The six minute match ended with Cerrone losing via RNC.
Truly, Cerrone did better than many professional grapplers versus Jones, focusing on keeping him pressured and flat from top position.
Solecki Grappling Analysis
Solecki is a quality BJJ competitor in gi and no gi. His UFC submissions are patient and methodical.
His Gi superfights have ended primarily by submission, and his guard passing and understanding of leg locks is near the top level.
Many of the Solekci skills haven't been shown in the UFC, and I'm excited to see him produce some of his more grappling centered movements for a crowd at Fury ProGrappling.
Final Betting Pick
Though Cerrone looked good against Jones, Solecki represents the next generation of high quality grapplers. He's well versed in grappling competition and  he shows a level of BJJ finishing mechanics that Cerrone has not. Bet the favorite Joe Solekci at -210, a $0.48 payout per dollar wagered. This is the second in my three part parlay ticket for this bout.
Phil Hawes vs Andre Petroski
These two light-heavyweights pit two quality MMA grapplers head to head. Hawes carries two career submissions and Petroski has four.
Hawes vs Petroski Betting Odds
| | |
| --- | --- |
| Fighters | Money Line |
| Phil Hawes | -115 |
| Andre Petroski | -115 |
This bout is the closest match on the card. Hawes' odds history puts him as a strong favorite in every bout on record, including his -390 loss to Chris Curtis.
Petroski has few odds on record. The last time he was an underdog was his LFA knockout loss to Aaron Jeffery.
Fighter Camp and Background Comparison
Hawes comes from Sanford MMA and is a Brown Belt in BJJ. He started his MMA career at Jackson-Wink and moved to the BlackZillians with Rashad Evans.
He was a NJCAA wrestler and wrestled since childhood.
Petroski is yet another Renzo Gracie New Jersey fighter and Black Belt in BJJ.
Grappling Analysis for Hawes vs Petroski
It's likely we'll see Hawes winning top position and Petroski playing defense early. That doesn't mean he can't beat Hawes based on conditioning, but Petroski's wrestling isn't on Hawes' level.
UFC Stat Comparison
Keep in mind this only includes Petroski's two wins outside of TUF. The UFC doesn't record TUF exhibition stats.
| | | |
| --- | --- | --- |
| Fighter | Phil Hawes | Andre Petroksi |
| Takedowns per Fight | 2.42 | 4.29 |
| Submission Attempts per Fight | .3 | 3.8 |
| Takedown Defense Average | 100% | NA, no opponent takedowns committed |
After a close look at these stats and fight tape, I see Hawes winning top position, forcing Petroski to play off bottom where his game isn't optimized.
Final Betting Pick
Tread lightly, this match could go either way. I'll be betting Phil Hawes at -115 for a $0.87 per dollar wager return. Expect a long fight and a decision with lots of action between two high level grappling athletes.
Steve Mowry vs Nick Rodriguez
In my opinion, our opening bout is the most lopsided of the entire night. Rodriguez is one of the top grapplers in the world. Mowry is very big, and uses his size to crush opponent's. However, BJJ for mid level MMA isn't the same as top tier grappling.
Mowry vs Rodriguez Betting Odds
| | |
| --- | --- |
| Fighters | Money Line |
| Steve Mowry | +500 |
| Nick Rodriguez | -900 |
Nicky-rod has no grappling odds on record. Mowry has never been the underdog in mma competition, ranging from -28-0 to -950 across bouts since breaking into Bellator.
Grappling Analysis for Mowry vs Rodriguez
After a study of Mowry's Bellator appearances, four of which were MMA, you discover that Mowry's grappling relies heavily on striking. He's an excellent fighter, but his BJJ comes into play after he's beaten his opponent to a pulp.
Mowry recently switched to a better team, working with Sanford MMA. He's been awarded a black belt from Gilbert Burns, but it's hard not to think that's specific to Mowry's athleticism and difficult style to deal with.
Rodriguez has been training full time grappling for six years now. He moved onto the scene as a bit of a ringer, beating BJJ black belts after just two years of training. Nicky's work with B-team jiu jitsu in Austin alongside Craig Jones only solidifies his place as one of the best.
Final betting Pick
I see Nicky taking home the win. The worlds between the ADCC and early Bellator level are further than most analysts think. Rodriguez will be the third addition to my Parlay bet.
Fury Pro Grappling 3 Wrap Up
So for our final three part parlay bet, we have Nick Rodrigues, Solecki, and Craig Jones for a total of $0.85 per dollar wagered across three surefire winners.
Please Note:

If you'd like to learn more about grappling betting,
start here
. With more MMA crossover and FIght Pass events, expect to see grappling as a great way for fighters to supplement their income.
If you can get an early understanding of these events and how the oddsmakers think, you can put some serious wins in the bank.