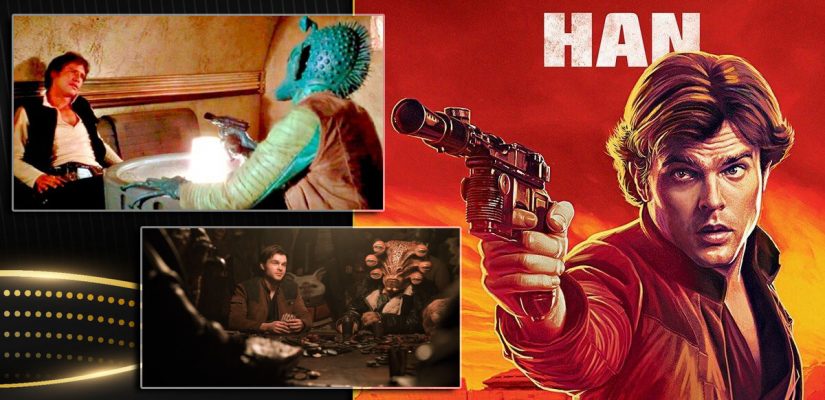 Han Solo and gambling — an iconic duo, no doubt. Not only was he one of the great leaders of the Rebel Alliance, but also quite the betting man! His penchant for theatrics and risk-taking was a defining characteristic.
He was a smuggler, too, amongst many other — perhaps not all too pleasant — things. As far as movie characters go, Han Solo ranks amongst the very best and most memorable. His quick wit and charming persona (one graced with supreme cynicism and a proclivity for facetious remarks) have made him an enduring fan favorite. The fact that he's still popular despite debuting all the way back in 1977 speaks volumes.
He's the ultimate anti-hero, one that is both slimey and relatable; behind his grizzled facade lay a vulnerable human being, one capable of great heroic deeds. You can't help but love the guy, at least on some level and in some fashion.
And, well, doubly so if you share his passion for gambling!
The concept of an online casino isn't really a thing in the Star Wars universe, but there are many adequate substitutes, and the same goes for poker and Blackjack, too. Sabacc, naturally, stands out the most; to label it as a popular high stakes card game wouldn't even begin to cut it! And the fact that it was so prevalent throughout the galaxy shouldn't come as much of a surprise either.
Undoubtedly the most iconic of all sabacc games — or "Corellian Spike" rather, a variation that includes dice — is the one in which Han Solo won the Millennium Falcon. Talk about winning big! If only we all score a light freighter capable of outrunning Imperial starships.
A Legendary Game of Sabbac
Han Solo's affinity for gambling eventually resulted in him facing off with none other than Lando Calrissian. We always knew what happened, but it wasn't until Solo: A Star Wars Story that this fabled moment was actually filmed and shown on screen.
And, as with any good game of Blackjack — or sabbac, in this case — it was all as tense as humanly possible. High stakes, ample machismo, and two smugglers looking to "one up" each other.
What's not to like?
And the way in which it was presented to us makes it all the more memorable: a spectacular implementation of a 360-degree video! You get to choose your own view, much like you would if you were there in person.
It all happens in one take, in real time — there aren't any cuts or close ups or wide shots or what have you; you can feel the tension in the air, and it only gets better and better as we move closer to the well known (and often referenced) climax.
Han Solo is known for many different things and gambling is definitely one of them. Perhaps it's not just gambling in isolation but rather his willingness to face the odds and stand his ground, to put himself in jeopardy if it might lead him to gains and winnings further down the line.
Casinos Across the Universe
The Star Wars universe might revolve around intergalactic voyage, epic battles between good and evil and various metaphysical powers, but casinos and gambling still have a place in such a world.
The planet Cantonica, in particular, is the place to be.
Anyone looking to have a good time is not only welcome but also invited. The Canto Casino, located in the coastal, desert city of Canto Bright, is the destination for the wealthy and affluent. Racetracks, casinos, lavish hotels, opulent spaceports, restaurants, fast food, and everything in between — Canto Bright is Las Vegas on steroids.
So, to bring things back to the initial question: was Hans Solo one of the greatest gamblers in movie history?
That's a hard thing to answer seeing how we know so little of his other gambling-related conquests. Then again, winning the Millennium Falcon is no easy feat; it speaks volumes about Han's ability to navigate a game of sabacc — pulling it off required a series of virtues which can easily be applied to other forms of gambling as well.
Han Solo might not be the best gambler in movie history, but one sure could make a case for him being the most audacious one. How about yourself? What kind of gambler are you?