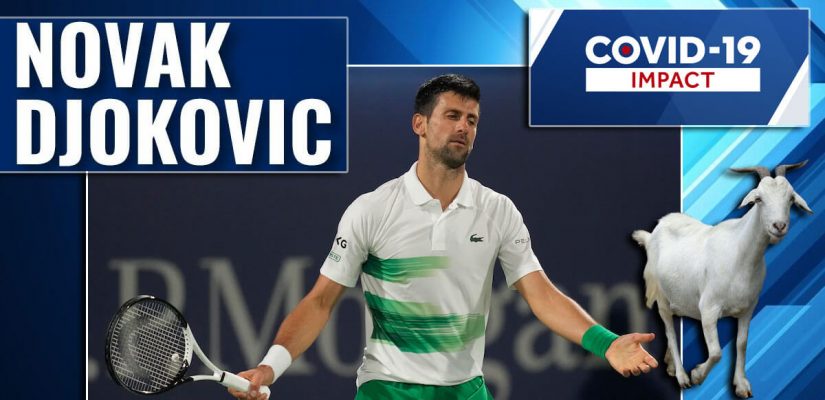 Nowadays, people throw the term GOAT around like it's nothing. "This queso is the GOAT," for example. "Uber is the GOAT ride-share service," someone might claim with questionable authority. The rise of TV and online debate culture in the US means everything on earth has to be ranked at all times. For better or worse, this is where we are.
We most often hear GOAT (greatest-of-all-time) used in a sports context. Most longtime basketball fans think Michael Jordan is the best player that has ever lived. Only recently did LeBron James start to mount a real push in the never-ending GOAT conversation. Others will wrongly claim Kobe Bryant belongs in this discussion.
Tennis is not immune from the seemingly endless GOAT debates. While the women's side is fairly clear-cut, with Serena Williams having long since established herself as the most dominant player of any era, there is more room for discussion on the men's side. Roger Federer likely has the best case, but you can make compelling arguments for a number of others.
Novak Djokovic is certainly one of those others.
The 34-year-old is six years younger than Federer, yet the two stars have very similar on-court résumés. Both players have won 20 Grand Slam singles titles. Given their respective ages, it's fair to assume Djokovic will have trounced many of Federer's career records by the time he hangs up his sneakers.
Djokovic's Career Now On Hold
While Djokovic's ascent had shown no signs of slowing down as recently as a year ago, times have changed. Much of the world has "gotten back to normal" since Covid-19 upended our lives exactly two years ago.
Thanks, in large part, to the prevalence and availability of safe and effective Covid vaccines, we're unlikely to see another Covid wave quite like the one we all endured in the spring of 2020 again.
Of course, not everybody is on board with the vaccine. In fact, Djokovic may be the world's most well-known holdout.
Back in April of 2020, just when the virus was beginning to shut everything down, Djokovic said in a social media post he would not be forced to take a vaccine just to return to the tennis circuit. He went on to clarify that he's not against all vaccines, but that he's against the notion of anybody forcing anybody else to get a shot. Djokovic also said he "prefers" vaccines that have fewer side effects. Well…who doesn't?
Djokovic made dubious headlines pretty early in the pandemic. He hosted a charity tournament that turned into a superspreader event back in June of 2020.
Djokovic's refusal to get vaccinated is starting to negatively impact his legendary playing career. Earlier this year, Djokovic was initially granted a medical exemption to play in the Australian Open despite his vaccination status. That decision from the government sparked a ton of backlash from the Australian people.
Djokovic's visa was revoked in the ensuing legal battle, which led to his deportation. A simple "Novak Djokovic Covid vaccine" Google search will tell you all you need to know about the details regarding that saga, if you're interested.
Will Djokovic Play a Grand Slam Event in 2022? 
Djokovic told the BBC in February that he is willing to skip any and all Grand Slam events in the future if the vaccine is mandatory. As a result, he has played in just one tournament so far this year.
Since his self-imposed holdout began:
Djokovic has seen Daniil Medvedev supplant him as the top-ranked men's player in the world, though Djokovic technically rose back into the top spot earlier this week following a Medvedev loss. Djokovic also watched helplessly as Rafael Nadal set a new record for most Grand Slam titles by a men's player with 21 at the aforementioned Australian Open in January.
Because the United States continues to require every person that enters the country to be vaccinated, Djokovic was recently forced to pull out of the BNP Paribas Open in California and the Miami Open in Florida. In a social media post announcing his withdrawals, Djokovic said:
"As international COVID regulations are always being amended, I wanted to wait and see if anything would change. The CDC confirmed today that regulations are not changing which means I will be not be playing in the US. I know my fans are looking forward to seeing me play again and I hope to be back playing for them on the tour soon."
While I was automatically listed in the @BNPPARIBASOPEN and @MiamiOpen draw I knew it would be unlikely I'd be able to travel. The CDC has confirmed that regulations won't be changing so I won't be able to play in the US. Good luck to those playing in these great tournaments ?

— Novak Djokovic (@DjokerNole) March 9, 2022
Djokovic isn't only missing minor events, of course. His vaccination status will also put his eligibility for the upcoming French Open, Wimbledon, and the US Open all in doubt. The French Open, in which he is the reigning champion, gets underway on May 22. Wimbledon starts a little over a month later, with the US Open in New York scheduled to start in late August.
When Will Vaccine Mandates End?
In many major cities around the world, vaccine mandates were put into place for a couple of reasons. Firstly, getting as many people as possible vaccinated against Covid is the best way to try and prevent the disease from continuing to circulate through the population.
If the disease slows its circulation, it's also less likely to mutate and cause massive new problems in the future.
Tying the vaccine requirement to things like dining out and attending live sporting events was one extra incentive to convince people to get the jab. Closing off certain venues to only vaccinated people also helps keep those that do participate relatively safe.
Of course, Djokovic is far from the only high-profile vaccination holdout in the world of sports. Brooklyn Nets star Kyrie Irving still can't play in his team's home games because of NYC's vaccine mandate for workers. The Nets initially told Irving to stay away from the team entirely until he changed his mind on the matter, only to invite him back after the first few months of the season. Kyrie's continued resistance may ultimately cost the Nets a chance at winning a championship this season. Of course, these mandates won't stay in place forever. New York Mayor Eric Adams has already struck down the city's vaccine requirement for things like indoor dining, for example. However, businesses still can't allow unvaccinated people to work in their workplaces. That's why Irving still can't play games at the Barclays Center. If the mandate sticks around, it's the same reason Djokovic likely won't be able to play at the US Open later this year.
That said, Covid cases around the US have fallen precipitously since the Omicron wave swept its way through the country in the middle of the winter. All states that previously had indoor masking requirements have since dropped them, while most schools around the US have done the same. While many worker mandates remain, they're unlikely to last forever, as long as Covid cases remain manageably low.
TRAVEL UPDATE

All remaining Covid travel measures, including the Passenger Locator Form and tests for all arrivals, will be stood down for travel to the UK from 4am on 18 March.

These changes are possible due to our vaccine rollout and mean greater freedom in time for Easter.

— Rt Hon Grant Shapps MP (@grantshapps) March 14, 2022
Could the mandates be lifted in time for Djokovic to return to the court in a Grand Slam event this year? Fortunately for him, some countries have started to lift their vaccination mandates. A couple of weeks ago, France did just that, which likely clears the way for the Serbian to return to Roland-Garros in May. He also won't be barred from competing at the All-England Club in June. The UK does not require foreign visitors to be vaccinated. Prime Minister Boris Johnson also axed the country's Covid requirements last month.
However, Djokovic's eligibility for the US Open remains very much in question.
You have to like Novak Djokovic's odds to win his seventh career Wimbledon title later this summer, but there's no telling when he'll be allowed to compete in Australia or the US again.
Djokovic Can't Play the Blame Game
In all of his public comments with regard to the vaccine, Djokovic comes off as an exasperated, self-pitying victim. Will Covid prevent Djokovic from cementing his status as the tennis GOAT? Perhaps, but that's quite a roundabout way to look at it. In the end, the only thing keeping Novak Djokovic from setting every record in the book is Novak Djokovic.
Millions of people around the world have gotten vaccinated.
Some do it for their own good. Others view it as a helpful public health gesture with an eye on getting us through this seemingly endless pandemic. Djokovic, Irving, and others seem to think taking the few minutes required to get a simple shot in the arm is a gross invasion of their personal liberty.
The Djokovic Covid saga likely won't be resolved at any point in the near future. As long as he stubbornly refuses to get vaccinated, he'll likely be barred from competing for at least three of the four Grand Slam events on an annual basis. Eventually, this ridiculousness is going to become a major stain on his legacy.
Will Djokovic finish his career as the best tennis player of all time? At this point, it's all up to him.