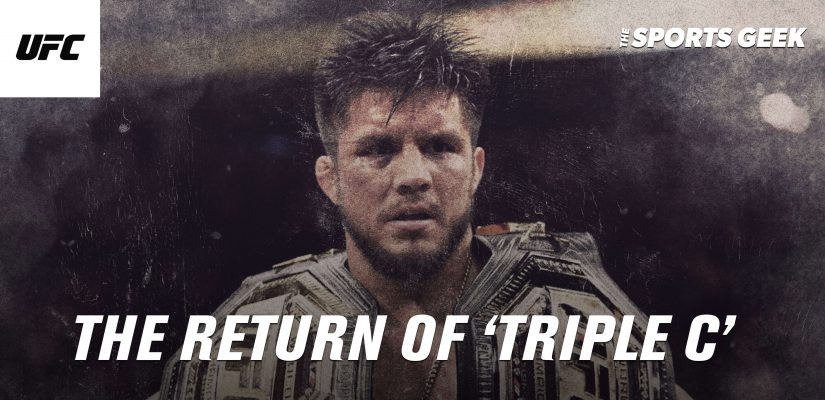 The return of Henry Cejudo — the self-proclaimed "Triple C" — is right around the corner and we, for one, are excited beyond measure! Nothing has yet been made official, but he has re-entered USADA's testing pool which means it's only a matter of time before he once again steps foot inside the Octagon.
Don't let his campy persona and immature Twitter antics fool you — Cejudo is one of the fiercest and most successful competitors in UFC history. And, well, that's really saying something given his many exceptional "forerunners."
No one's all too sure of what he'll do next, and that's mostly because he has many different options at his disposal. He's been incredibly active online and has "maintained" numerous different beefs with the likes of Alexander Volkanovski, Aljamain Sterling, and even Connor McGregor.
The sheer fact that he's willing to return and face off with some of the biggest names in the world speaks volumes. He's not coming back for a paycheck but rather to further prolong and extend his (already astounding) legacy.
Say what you want about the guy, but few are the fighters who can match his drive and ability to perform at the highest of levels — to say nothing of his incredible (and quite diverse) skillset.
And so we are left to wonder: what will one of the most accomplished combat athletes of all time do next?
2022 MMA Odds | Henry Cejudo — Options Galore
It's still way too early to predict whom Cejudo will face upon his return, and anyone who says otherwise is lying. We're still a few months away from it all happening, and the world of MMA to which Henry will return could look a whole lot different by the time he steps foot inside the Octagon.
Making any predictions or sweeping statements, therefore, simply wouldn't make any sense.
That being said, certain match-ups do stand out, and they're all equally mind-blowing.
The first question is perhaps the most important one: what are the odds of Cejudo getting an immediate title shot upon his return?
If he were to return as a Bantamweight, he would no doubt be matched up with Aljamain Sterling — assuming T.J. Dillashaw doesn't up healing sooner than expected. Sterling has already defeated Petr Yan and Cory Sandhagen, and other than Jose Aldo, there's really no one else left to challenge him. A rematch with Yan will happen at some point, but there are still other match-ups — seemingly more alluring at this point — that should take precedence.
A fight with Cejudo would generate a lot more interest than any other option that's currently available. A win for "Triple C" would then allow him to challenge one of the best featherweights of all time: Alexander Volkanovski.
Just the sheer thought of that match-up has us watering at the mouth. It's a barnburner just waiting to happen. It's also a fight Cejudo would prefer — what with it being so historic and all. Whether it's as feasible as a clash with "The Funk Master" still remains to be seen.
Cejudo has sort of taken a page from Connor's book — he's been challenging a slew of different fighters and champions, hoping to get some kind of response. Fortunately for him, they've all replied and are more than interested in welcoming him back.
His options are, therefore, plenty and varied. A fight with Sterling seems most likely at this point, but as already mentioned it's still way too early to label it as a "done deal."
FUTURES BETTING — Cejudo vs. Sterling Odds:
MMA Odds | Cejudo vs. Sterling or Cejudo vs. Volk?
A fight with Sterling would be massive, but nowhere near as important as a clash with Alexander "The Great" Volkanovski. That's one fight Cejudo wants, that's the reason why he's coming back. Reclaiming the Bantamweight throne means nothing to him.
He has the tools to do it and he knows it, too. But fighting a guy like Volkanovski, now that's a challenge worthy of one's time and effort.
He's beaten Jose Also, Max Holloway (twice), Brian Ortega, and Chan Sung Jung all in the span of just three years. Let that sink in. He's one of the all-time greats and he will be recognized and remembered for his achievements; of that you can be certain.
Sterling is amazing and is as crafty and versatile as they come, but his championship reign has only just begun. There's not a big enough incentive for Cejudo, there's not enough on the line.
Volkanovski is simply way too good. It's becoming harder and harder to envision anyone beating him, which is why a potential fight with Cejudo feels so important to his career — it is the kind match-up that could solidify his spot as the absolute greatest featherweight of all time.
He is by no means a spring chicken, and yet he's still somehow finding ways to grow and evolve with each new outing.
Every time we see him in the Octagon — after one of his bravura performances — we all say "he's the best he's ever been." And we're just wondering: when will he peak? Is there even a limit to his potential?
That's why we want to see him tested against one of the all-time greats: "Triple C." There's no one else out there who can compare and rub shoulders. Max Holloway is obviously very close in terms of skill and potential, but we really don't think he'd be able to best Volkanovski in their third (and hopefully final) outing.
Cejudo vs. Volkanovski is the fight to make. Hopefully we'll get to see it before the end of 2022 — one the biggest stage imaginable, of course.
FUTURES BETTING — Cejudo vs. Volkanovski Odds: