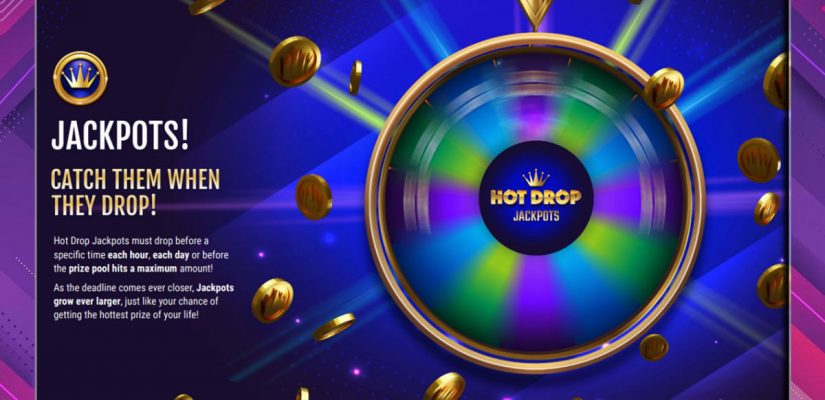 When it comes to slots games, there's nothing more exciting than jackpots. The thrill of chasing and winning the big prize is exhilarating. If you agree with that statement then you are going to love what we're about to share with you next.
Hot Drop Jackpots is an exciting twist to the progressive jackpots feature and it's rather brilliant. These jackpots guarantee daily and hourly prizes which could result in some serious cash for those of you that like to play slots for real money.
As an extra bonus, TheSportsGeek will be your go-to source for all things Hot Drop Jackpots including details on the jackpots, the newest online slots games and more. Without further delay, let's get you primed and ready for the newest fad to hit online slots gaming.
How Do Hot Drop Jackpots Work?
When playing fun online slot games, like Deluxe 777 or Golden Buffalo, a widget will pop up indicating that Hot Drop Jackpots are available.
Please Note:
This widget will appear on the left side of the screen if you are using a desktop and at the top of the screen if you are using a mobile device. The widget is triggered when you get three jackpot symbols on the reels in the various slots games that you are playing. Higher bets will also improve your chances of the widget appearing.
These Hot Drop Jackpots are also randomly triggered based on Max Time or Max Prize which we will get into in more detail down below.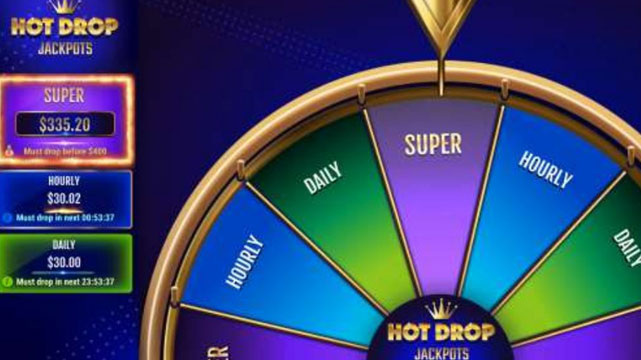 After three jackpot symbols turn up on the reel, a wheel will appear with the jackpots that you could potentially win: Super, Daily, or Hourly.
Just click to spin the wheel and wait to see which Hot Drop Jackpot you win.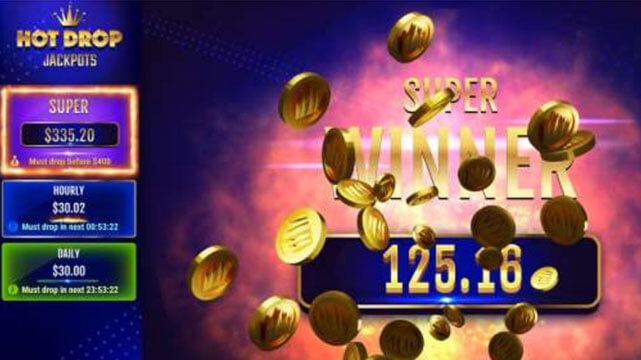 Once the celebration is over, you will return to the original game that you were playing and the Hot Drop Jackpots will be updated.
It's important to note that only one player can win a Hot Drop Jackpot at a time. The jackpots will be updated following each win.
What Are The Different Types of Hot Drop Jackpots?
Hot Drop Jackpots are divided into two categories: Max Time Jackpots and Max Prize Jackpots.
Although similar, they're triggered based on different criteria.
Max Time Jackpots: this progressive jackpot must drop before a set time.
The two set times are Hourly and Daily. So, a Max Time Jackpot will be trigged before the Hour or Day comes to an end. However, if someone wins a timed jackpot, then the Hot Drop Jackpots' timer will reset.
Max Prize Jackpot: this progressive jackpot will drop before it hits its maximum prize pool value.
For example:
If the max pool value is $50,000 then this jackpot will drop prior to reaching that total.
The closer the pool gets to its max value, the higher the odds of winning become. The primary type of Max Prize Jackpot is a Super Jackpot.
What's The Next Step?
Like us, we're sure that you are clamoring to get your hands on Hot Drop Jackpots. Well, we implore you to be patient just a little longer as this exciting slot gaming will be released shortly.
Continue to check back with TheSportsGeek for regular updates on when Hot Drop Jackpots will be released and other online casino content.