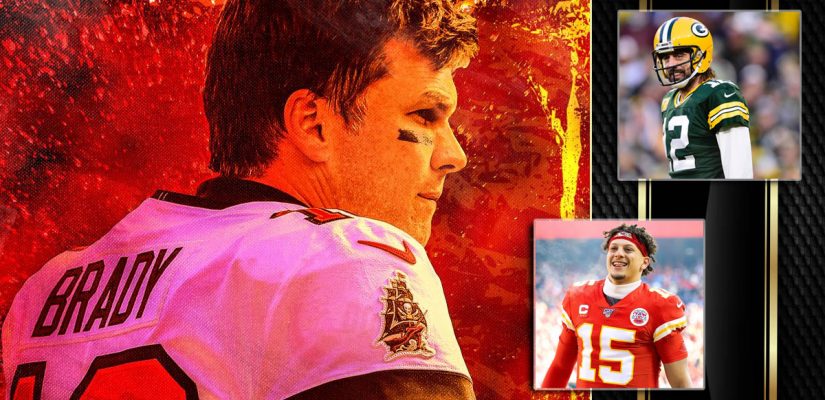 The NFL offseason has already taken its fair share of twists and turns. The biggest story of the offseason came down shortly after Super Bowl 56, when Tom Brady made his surprising retirement announcement. After 22 years and seven Super Bowl titles, Brady decided to hang up his cleats.
Of course, we know what happened after that.
Brady wasn't even officially retired for 40 days before he got back on Twitter and announced a comeback. On Sunday evening, Brady tweeted that he'll be back for a 23rd season in 2022 to run it back for a third time with the Tampa Bay Buccaneers.
These past two months I've realized my place is still on the field and not in the stands. That time will come. But it's not now. I love my teammates, and I love my supportive family. They make it all possible. I'm coming back for my 23rd season in Tampa. Unfinished business LFG pic.twitter.com/U0yhRKVKVm

— Tom Brady (@TomBrady) March 13, 2022
I guess it didn't even take two months for Gisele to get sick of having Tom around the house. Brady's decision to return was somewhat shocking because of the timing, but he had already shown signs of regretting his initial decision to hang 'em up. A day before declaring his intent to return, we saw Brady hesitate when asked by Cristiano Ronaldo whether he was done playing:
Ronaldo asked Brady are you done? Look at the face of Brady when asked that, he knew pic.twitter.com/1lDDolHoCa

— FergieTime™️ (@RonaldoLeGoatt) March 13, 2022
So, Brady will be back under center for Tampa Bay next season. He will turn 45 years old in August, but showed absolutely no signs of slowing down in 2021.
Brady threw for over 5,300 yards with 43 touchdowns while leading the Buccaneers to a 13-4 regular-season record.
Tampa Bay ultimately fell in the playoffs at the hands of the eventual champion Rams, but the legendary QB certainly didn't look like he was running out of gas.
Bucs' Super Bowl 57 Odds Improve Considerably
The Bucs' uncertain offseason looks a lot more certain now. Before Brady's return, Tampa Bay was staring down the real possibility of having Blaine Gabbert at the top of the depth chart entering the offseason. Nothing against Gabbert, but Tom Brady, he is not.
In news that should surprise nobody:
The Buccaneers' odds to win Super Bowl 57 improved quite a bit after Brady's dramatic 180. Most
NFL betting sites
had the Bucs listed in the +2000-to-+2500 range to win it all next season just a few days ago. Brady's return was enough to vault Tampa Bay back toward the top. As of this writing, the Bucs' new +850 odds to win Super Bowl 57 are the third-best in the NFL, trailing only the Bills (+700) and Chiefs (+750).
For all of us that got suckered into the retirement of Tom Brady betting on the Bucs looked like quite the risky endeavor as recently as a week ago. However, many have been skeptical all offseason that Brady had really retired for good.
Those that ate the risk and took chances on the Bucs' betting odds before Brady announced his return likely feel pretty good about their chances right about now. Tampa Bay is also once again favored to win the NFC championship at +375. It would be the Buccaneers' second conference title in three years since Brady arrived in 2020. The Packers, who announced the re-signing of Aaron Rodgers earlier this week, are at +1000 to win the Super Bowl and +400 to win the NFC in 2022.
If you're looking for Tom Brady odds, you've come to the right place. The fully updated odds to win Super Bowl 57 next season are as follows:
Tampa Bay Buccaneers:
+850
San Francisco 49ers:
+1400
Cincinnati Bengals:
+1800
Los Angeles Chargers:
+1800
Indianapolis Colts:
+2500
New England Patriots:
+3000
There are not many rules of thumb worth following when it comes to betting on the NFL. However, one phrase has been stuck in the minds of NFL bettors everywhere over the last two decades. The lesson, as we've learned over and over again, is don't bet against Tom Brady.
Will the Bucs Win the NFC South in 2022? 
Not only did Brady's return help solidify the Buccaneers' status as a Super Bowl contender, but Tampa Bay is also now a heavy favorite to repeat as the NFC South champions.
We'll see what the future holds for the Bucs this offseason, but Brady's presence alone is likely enough to lift this team to the top of what looks like a woeful division. Tampa Bay is now a -190 favorite to claim another NFC South title. Those are the best divisional odds of any team in the NFL. Part of that is because Tampa Bay should be laden with talent up-and-down the roster again in 2022. Another factor is that no other team looks remotely capable of giving them much of a sweat. New Orleans and Carolina both have uncertainty at the quarterback position. Atlanta, meanwhile, just lost their best player for the season because he gambled on pro football. The Falcons (+900) have the worst odds of any NFC South side.
Of course, the Saints and Panthers could both make headway depending on what happens in the Deshaun Watson saga. Both teams are reportedly in hot pursuit of the Texans' disgruntled QB.
The Saints are *said* to be the favorites for his services. If New Orleans does land the 26-year-old, Brady and the Buccaneers may run into some actual resistance from within their own division.
For now, though, the Bucs are deserving favorites to win the South for the second year running.
Epic QB Matchups for Brady
You can't win in the NFL these days without a star QB on the roster.
While we see a Trent Dilfer or Nick Foles win the Super Bowl once every blue moon, there's a reason big-time quarterbacks are so hard to find. With such a dearth of talent at the position, any team with uncertainty at the QB spot can't really be taken seriously as a viable contender.
Brady and the Bucs will run into several of the league's best quarterbacks in 2022.
While the schedule won't be officially unveiled until May 12, we do already know which teams will take on Tampa Bay. In addition to the usual six games against their NFC South bunkmates, the Buccaneers will also face the Packers, Ravens, Rams, Chiefs, Bengals, and Cardinals next season. Every single one of those teams features an upper-echelon quarterback.
How will Brady and the Bucs fare against all of that stiff competition?
Brady vs. Rodgers
Brady spent most of the 2021 campaign as the betting favorite to win NFL MVP, only to be surpassed late in the year by the eventual winner, Aaron Rodgers. Rodgers is back with the Packers. As mentioned previously, these two teams have the best odds of any NFC clubs to win the conference and advance to Super Bowl 57.
They'll tangle at Raymond James Stadium at some point in '22.
Brady and the Bucs infamously got the better of Rodgers and the Packers when they met at Lambeau Field in the 2020 NFC Championship Game. Brady threw for three touchdowns in that one and sent the top-seeded Packers home early. Tampa Bay also throttled Green Bay, 38-10, when they met in Tampa earlier that same season.
Give me another Brady vs Rodgers NFC title game. To be the best you have to beat the best!

— Ryan Glasspiegel (@sportsrapport) March 13, 2022
Because the two legends have spent most of their respective careers in different conferences, they haven't squared off all that often in the past. Brady is now 4-1 in his career against Rodgers, including that 2020 playoff matchup. Considering their 2022 matchup is scheduled to take place in Tampa, it's hard not to like Brady's odds of running his head-to-head record vs. Rodgers to 5-1.
Brady vs. Stafford
The Bucs will also welcome the defending Super Bowl champion Rams to town this season in what should be one of the best games of the entire campaign. The Rams went a perfect 2-0 against Brady's Bucs in 2021, including a thrilling victory in the NFC Divisional Round that, at the time, looked like the final game of Brady's Hall-of-Fame career.
Matthew Stafford and co. will look to establish themselves as the team to beat in the NFC once again next season.
While LA's roster may look a little different, the Rams' front office has shown they're willing to stop at nothing in pursuit of a Super Bowl. Winning Super Bowl 56 will likely make them even hungrier for another title in 2022.
People said Peyton Manning was past his prime at 36

People said Tom Brady was past his prime at 42

People said Matthew Stafford was overrated and couldn't win at 34

People are now saying Russell Wilson is past his prime and washed at 33

When will y'all learn? pic.twitter.com/EJ8S5tcDTx

— Swipa (@SwipaCam) March 11, 2022
Stafford has spent his entire pro career in the NFC, which means he hasn't seen a whole lot of Brady over the years.
Including the Rams' two wins over the Bucs in 2021, Stafford is 3-2 against Brady in his career. However, it's worth noting Stafford left the second of those two losses early with an injury back in 2020.
A matchup with the defending champs will be a good litmus test for the Bucs. Don't be surprised if we see this matchup in Week 1.
Brady vs. Mahomes
Tom Brady and Patrick Mahomes have seen their fair share of one another over the years. The Patriots and Chiefs have ruled the AFC for the majority of the last decade or so. Mahomes may be the best active player in the NFL, but Brady has gotten the better of him overall.
Brady is 3-2 in the five head-to-head meetings thus far.
Brady's most recent triumph over Mahomes came a couple of years ago when the Buccaneers thrashed the Chiefs in Super Bowl 55. Tampa Bay picked up an easy 31-9 victory in that one, thanks in large part to a stellar effort from their ferocious defense. Brady threw for three touchdowns in that game, while Mahomes was held out of the end zone.
Tom Brady's wedding present to Patrick Mahomes … https://t.co/2LBVE63WYK

— Anthony Curtis (@AnthonyCurtis68) March 14, 2022
The Bucs will welcome the Chiefs to Florida again in 2022. Given the state of both rosters, this will likely be a high-scoring affair featuring no shortage of fireworks. Tampa Bay went 7-1 at home last season, which means Brady and co. will likely enter as betting favorites once again.
Brady vs. Burrow
While the Bucs appear to have a fairly difficult schedule next season, they do get the fortune of playing most of their toughest foes at home. The Buccaneers will also welcome the reigning AFC champion Cincinnati Bengals to town at some point. While Cincy fell at the hands of the Rams in Super Bowl 56, you can bet Joe Burrow's Bengals will be even better next season.
Burrow has already drawn plenty of comparisons to Brady, which is quite an accomplishment for such a young player. Burrow has done nothing but win over the past couple of years, so those comparisons appear apt. Just two years after leading LSU to an unbeaten season and one of the most prolific campaigns in college football history, Burrow led the previously-downtrodden Bengals to a shocking appearance in the Super Bowl.
As you can see, the NFL betting sites aren't too bullish on the Bengals' Super Bowl hopes. Cincinnati is way down at +1800 to win it all next season, which puts them in the same range as teams like the Chargers and Ravens.
Regardless, the Burrow-vs.-Brady betting matchup should be fun for all involved.
Bengals-Bucs looks like one of the most exciting games on the schedule for 2022.
Brady vs. Murray
Quarterbacks come in all shapes and sizes. You probably won't find two QBs more different in stature and style than Tom Brady and Kyler Murray. Brady has been the epitome of a pocket passer over the course of his career. The 6'5″ 44-year-old likely won't be setting any QB rushing records before he hangs up his cleats for real.
Murray, meanwhile, who is generously listed around 5'11", is one of the game's most exciting dual-threat QBs. Brady and the Bucs will head to the desert to face Murray's Cardinals in '22.
Arizona got off to that blazing 7-0 start last season before hitting the skids. The team wound up falling in embarrassing fashion to the Rams in the Wild Card Round of the playoffs. The Cardinals do have plenty of talent on both sides of the football, but we'll see whether this team has what it takes to establish itself among the true contenders.
??? stop it… https://t.co/sSCDtTV3Zy

— Kyler Murray (@K1) March 8, 2022
Picking up a win on their home field over Brady and the Bucs would be quite the impressive feat. Brady has never gone toe-to-toe since Kyler entered the league in 2019.
Brady vs. Jackson
Speaking of clashes of styles, Lamar Jackson and Tom Brady couldn't be more different as players, either. Jackson has two 1,000-yard rushing seasons on his ledger, though he did endure something of a down year in 2021.
Lamar threw just 16 touchdowns to just 13 interceptions, while his rushing yardage total (767) was his worst output since taking over as the Ravens' full-time starter.
Baltimore will be looking to bounce back next season after missing the playoffs last year. The Ravens are expected to splash the cash in free agency this offseason in an attempt to improve what was an embarrassingly bad defense last term.
With a matchup on the road against Brady on tap for next season, the Ravens need to make fixing that defense a major priority.
Given how poorly the Ravens played for most of last season, it's fair to assume the betting odds will heavily favor Brady and the Bucs in this one.