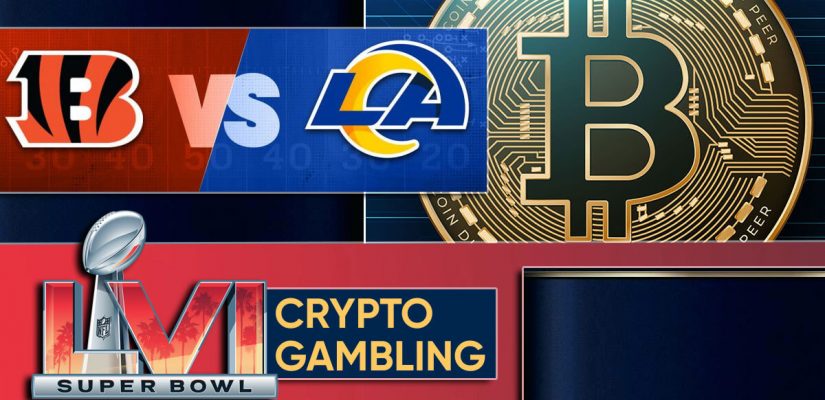 Super Bowl 56 pits the Los Angeles Rams from the NFC and the Cincinnati Bengals from the AFC in an unexpected matchup. It's a game that will have bettors trying to find all the right angles and maximize their betting opportunities at the top gambling websites.
If you're a cryptocurrency user:
We're going to show you how to bet on Super Bowl 56 with crypto. For many bettors, the Super Bowl is an event they circle on their calendars every year as the one event that is most important to them.
This year's game features even more intrigue than usual for those wagering on the game. The two teams who made it to SoFi Stadium in Inglewood, California were two that surprised even their most diehard fans.
SUPER BOWL WEEK ? pic.twitter.com/iA0dXBfbgl

— B/R Gridiron (@brgridiron) February 7, 2022
Many sports bettors are calling this game the "Crypto Bowl" because it is one of the first Super Bowls since cryptocurrency has really entered the mainstream conversation.
People are realizing that the digital coins are the ideal payment and payback method for online betting. You'll likely even see some commercials for crypto-based companies during the action.
But we realize that not everyone in the world is an expert in cryptocurrency betting. We want to help those of you who are completely new to this world and don't know what a Bitcoin is or how to use it.
We know that there are those out there who understand crypto but might not have an idea of how sports wagering sites work.
In this article we'd like to cover all the bases, including Bitcoin betting and some of the other coins that will be used for real money Super Bowl wagers. And we'd also going to explain how football betting at top sports wagering sites works as well.
We'll take you from start to finish in terms of using cryptocurrency for sports betting on events like Super Bowl 56.
Cryptocurrency Sports Betting Basics
Cryptocurrency is a catchall term used for digital coins that are passed from one party to another via the internet. These coins have value that is like the value of traditional currencies, such as the Dollar or the Euro.
But they are not issued by any centralized government.
There are many reasons that Bitcoin, the most popular of all crypto coins, and other coins like it are useful in betting online on events like Super Bowl 56. Take a look at some of the advantages that you get from utilizing crypto for your sports betting instead of traditional methods like credit cards.
The time it takes for you to receive your money is much shorter than with credit cards or other withdrawal methods. That means you get the money back that you've won on your Super Bowl 56 bets that much faster.
The fees attached to a transaction you make when using Bitcoin for sports betting are usually lower that with credit cards. You'll be seeing more of your winnings, which helps your chances to make a profit while betting.
There is much more privacy involved. Without any third party involved, you don't have to worry about anyone's opinions on your wagers.
You'd be getting involved in a trend that is absolutely booming. The fact that, as we mentioned, there are now cryptocurrency commercials that play prominently during the Super Bowl is evidence of where Bitcoin and company are headed.
While these positives definitely outweigh the negatives, we should mention that there are some drawbacks to Super Bowl betting with cryptocurrency that you should take into account.
The value of crypto can rise and fall at a much faster rate than is the case with traditional currencies represented by credit cards and other sports betting sites banking methods. Many people might be uncomfortable with that kind of short-term volatility.
For those who are a bit averse to technology, the idea of Bitcoin betting or using other crypto for your Super Bowl wagers might be too much. This is despite the fact that using crypto to bet is actually a pretty simple process.
Not all sports betting sites will allow payment in crypto. We should stress that the best sites (more on them in a bit) definitely have a strong cryptocurrency component to their business.
Types of Crypto You Can Use for Super Bowl Betting
If you're not that familiar with the world of cryptocurrency, you might think that it's inseparable from Bitcoin. In actuality, Bitcoin is only one of many kinds of crypto coins.
At the top sports wagering sites, you can usually find a nice variety of crypto offerings with which you can make crypto bets.
Here are some of the most popular coins commonly available at cryptocurrency betting sites:
Bitcoin: The first cryptocurrency and still the most popular, Bitcoin also has the highest market share of all coins
Ethereum: It can be used to pay and be paid, but also has many other applications that can be useful in various circumstances
Bitcoin Cash: This is a separate coin that broke off from Bitcoin due to differences in how they are processed
Litecoin: The makers of this coin attempted to improve upon the Bitcoin idea, and the coin has risen to near the top of the crypto market
Ripple: The coin Ripple is actually used to power applications on the larger Ripple network, but it can also be used as cryptocurrency for betting purposed and other common uses
Keep in mind that each of these coins slightly differ in technical ways. As a Super Bowl bettor, your main concern, in terms of their differences, is their value. You have to know how much each one is worth so you can properly judge your Super Bowl LVI wagers.
How to Bet with Crypto on the Super Bowl Step by Step
When it comes to wagering with Bitcoin and other crypto coins on the Super Bowl, the actual process to do it is much easier than you might think.
Perhaps the hardest part is securing the crypto in the first place.
Although that's much simpler than ever with the rise of coin exchanges. From there, you should be good to go as long as you have some sports betting knowledge.
Let's walk you through this process from start to finish:
Acquire your crypto: You'll want to get a digital wallet, which can be a software app on a computer or portable device, or an actual physical gadget that you'll want to keep secure. Go to a coin exchange and purchase the crypto that you want (some exchanges have wallets included; if not you'll have to send from the exchange to the wallet by pasting your wallet address in the necessary slot.) You can use the traditional money that you have in debit or credit cards to make the purchase.
Go to the "Cashier" or "Banking" section of the site that you're using: Click on the coin that you want to use and then paste the address provided by the site into the "Send" section of your crypto wallet. Choose the amount that you want to deposit as well, and you'll see that appear in your gambling account shortly after you send (no more than a few hours.)
Collect any bonuses that might be due to you: For example, the site BetOnline, which you'll find out is one of our most recommended Bitcoin Betting sites, features a 100% bonus on Bitcoin deposits up to $1,000. You'll be able to see in your betting dashboard which bonuses might apply to you, and you might have to enter a promotional code to activate the bonus.
Start betting: Go to the football section of the site, or maybe even directly to the Super Bowl section if there is one. Choose what types of bets you want to make, which options you want for each bet, and then how much you want to wager on each.
Withdraw your winnings: Follow the process required by the site to withdraw your funds. You'll have to provide your wallet address so that the funds can come directly to you. Once the site processes the request, you should see your money back in your wallet within the same day with crypto as your chosen banking method.
As you can see, there is nothing here that's overly complicated. It's just a matter of following the instructions and making sure you're copying and pasting the address of your wallet in the right places. We'll talk more about the football wagering aspect of using crypto for sports betting in a bit.
Where to Use Bitcoin and Crypto For Super Bowl Wagering
Now that you know the process of how to bet with crypto on the upcoming 2022 Super Bowl, you might be surprised to find out that there are dozens of sites that will accept bets with Bitcoin and the other digital coins.
But you shouldn't just go out and choose the very first one you find. Sadly, there are a lot of sites that aren't up to par, and there are others that actually might be trying to rob you of your betting money somehow.
But you don't have to worry about any of that as long as you stick to the sites that are trusted and legitimate.
How do you know what these sites are?
Well, we suggest that you take our word for it, because we've done all the inspecting for you.
We've gone through all the crypto betting sites available for wagering on the Super Bowl and checked out them out in terms of the most important online gambling criteria. What we've come up with is a list of the best Super Bowl betting sites that use Bitcoin and crypto. Take a look:
This list didn't come to us at random, nor did we just gravitate to the most popular or trendy sites. Instead, we based our list on the sites that fulfilled certain criteria that relate to the online gambling process.
You might want to go through learn about the qualities that we looked for, so that you can research on your own if need be.
Here are the qualities that the best crypto betting sites possess:

Good reputation among bettors: Sports bettors demand an excellent experience from their gambling sites, which is how reputations are built.
History of safe gambling: It's important that you're using sites that are licensed to operate and have protection in place to keep your funds from hackers
Betting markets variety: As we'll talk about in a bit, there are many types of wagers you can make on the Super Bowl and other football games, and you should have access to all of them
Big bonuses: Bonuses are a crucial way to help with your gambling bottom line, and the best Bitcoin betting sites offer you a wide variety of them
Mobile gambling: With an app or dedicated mobile site, you'll be able to place bets on Super Bowl 56 from any location at any time
Site simplicity: Make sure any site that you use is easy to navigate, especially if you're going to be using cryptocurrency
Live betting options: With live wagering, you can actually bet on the game as it's happening, opening up a whole new world of wagering opportunities
Fast payback: Betting with crypto will speed along the process, but a top betting site will make it even quicker by streamlining the withdrawal process and reacting to your requests in a timely fashion
Banking versatility: Obviously, offering crypto helps with that versatility, but the best sites will really stretch it out for you in terms of your withdrawal and deposit possibilities
Customer service: When it comes to online betting, technical issues are always a possibility, which is why it's nice to have a good customer service department in place
If you are going to be using Bitcoin for sports betting and want to choose a site not listed as one of our best, we strongly suggest that you check the site you choose for the qualities listed.
And don't let them off the hook is they come up short. Otherwise, you could find that you have a bad experience that you didn't see coming at first.
Betting on the Super Bowl
As we hinted above, we're guessing that there are two types of people who might be drawn to an article like this.
The first are folks who know about football and want to get acquainted with the crypto betting side of it. And the second are those who might have already have the crypto thing down but are new to the ins and outs of pro football betting.
Just in case, you fall into that latter category, we're going to walk you through how it all works, in terms of the bets you can make and the odds that you get on those bets. Finally, we'll round it out with some tips.
Super Bowl Odds
The Super Bowl, and most sports bets at top gambling websites, use a the profit margin is higher for the Bengals, which is why they're considered the underdog and the Rams are the favorite in the game.
basic set of odds known as the moneyline. Basically, the moneyline tells you how much you'll receive in return for what you bet.
When you learn how to read the moneyline, you'll then be able to tell the value you're getting from your wager.
Keep in mind that there are other figures that might be on the screen when you look at the Super Bowl 56 odds board at Bitcoin betting sites. But the moneyline is always involved.
It's based on the number 100.
It works like this:
Number on moneyline – preceded by a minus sign – you have to bet that number to win $100 in profit
Number on moneyline – preceded by a plus sign means that you have to bet $100 to win that number
As an example of how the moneyline works, let's take a look at the current odds to win Super Bowl 56, courtesy of BetOnline, one of our top crypto betting sites:
What this is telling you is that, to win $100 on the Rams, you have to wager $195. And, to win $170 on the Bengals, you have to bet $100.
The profit margin is higher for the Bengals, which is why they're considered the underdog and the Rams are the favorite in the game. There is no rule saying that you have to bet $100 (or, in this example, $195) on the game.
The moneyline can be used in conjunction with any betting amount allowed by the wagering site. Think of it as a ratio that you can figure out by dividing everything by 100:
For every $1.95 you bet on the Rams, you win $1 in profit
For every $1 you bet on the Bengals, you win $1.70 in profit
As we mentioned, the moneyline will be in place for all of your Super Bowl 56 bets at crypto wagering sites.
There might be even more than two options, meaning that the odds can get pretty high on the moneyline.
Learn how to read it and you'll be able to tell what you're getting in terms of value in every bet that you can make.
Types of Bets You Can Make on Super Bowl 56 at Bitcoin Betting Sites
There are many different ways that you can approach wagering on the Super Bowl. Each comes with its own set of risks and rewards. Read on to find out which of these bets you might want to make on the upcoming Big Game.
Win bets: We showed you the moneyline above for a win bet on either the Bengals or Rams in Super Bowl 56. This is an easy way to get involved in betting on the game as a beginner. You don't have to worry about anything else other than who comes out on top at the end of it all.
Point spread: Point spread bets are extremely popular in the sport of football, as they put both teams on roughly even terms, even if they aren't even talent-wise. The favorite gives points to the underdog, with the spread being attached to the final score to the winner of the bet. At the moment, Super Bowl 56 features the Rams as a 4-point favorite over the Bengals.
Over/under: Crypto betting on an over/under wager requires you to keep an eye on the final score of the game. The oddsmakers at the top betting sites will put out a line of roughly how much will be scored by the two teams at the end of the game (currently 48 ½ in Super Bowl 56.) You then have to decide if the points scored will be higher (over) or lower (under) that line.
Props: Prop bets can come in all shapes and sizes, especially when it comes to the Super Bowl. You can wager on everything from the National Anthem to the halftime show and the commercials. Some prop bets give you the chance to win a lot on a small amount wagered, which is what makes them attractive to some bettors.
Live betting: if the site you're using offers live betting, it means you can continue making wagers on the game after it has begun. The odds will keep changing on all of the bets that we mentioned above. You can use live betting to support your pregame crypto bets or to hedge against them.
The top crypto betting sites will deliver all of these wagers to you. They'll also provide odds that make it worthwhile to take your chances on them. Read on to find out how you can come out a winner on your "Crypto Bowl" wagers.
Tips for Winning Your Crypto Betting Sites Super Bowl Bets
If somebody tells you that they have a foolproof system for winning bets on the Super Bowl and other football games, they're probably telling you tall tales.
But the truth is that there are strategies that will certainly give you a better chance at winning your wagers.
Here are some that we suggest when you go to make your bets at the best Bitcoin betting sites for the Big Game:
Bet with Your Preferences in Mind
Just getting the picks right is only half the battle when it comes to being a successful Super Bowl bettor. It's also about making the bets that get you the closest to satisfying your betting wishes. First, you have to identify what those are.
Decide how much risk of losing you want to take on, and compare that to the amount of profit you're hoping for.
When you figure that out, it might lead you to a lot of small wagers on the game or one big one. But in any case, you'll have a better chance to come away feeling like you accomplished your betting goals if you take the time to do this.
Think about Value Betting
By value betting, we mean that you're getting the most impact from your wagers compared to what you're risking.
You have to search the moneyline for bargains. And a bargain could be a heavy favorite if you think that it really is a lock. By contrast, simply going through and betting the longest shot in every case isn't necessarily the way to go either.
Making bets that have little chance of winning isn't going to be a value in the long run. Try to find that balance between good payback and solid chance to win.
Go in with a Budget
Your Super Bowl wagers should be all about having fun. But it won't be too much fun if you wind up losing all your crypto because you didn't know when to say when.
That's why it's crucial that you practice budget management on your Super Bowl wagers. Go in with a set amount for all the bets you want to make, an amount that won't hurt you if you lose every one of those wagers.
If you're planning on betting live, considers stopping the moment that you hit your preset amount. In this way, you have a chance at profiting without any chance of a loss that is really going to hurt.
Research Usually Pays Off
There is something to be said about beginner's luck and just sort of rolling the dice with your Bitcoin Super Bowl bets. But the truth is that you can really improve your chances if you just take a little time to go over some of the important factors in the game.
There are a number of ways that you can go about this.
If you haven't watched them play before, go back and watch videos of past Rams and Bengals games to get a sense of their strengths and weaknesses. Statistics can also give you a snapshot of how the two teams stack up, and you should also look at the betting trends attached to the two teams.
With all of this information, you can usually find places where there is value based on the odds provided by the best betting sites that use Bitcoin and other crypto.
Final Words for Betting on SB 56 with Crypto
After reading this, you should have a pretty good idea of the process for how to bet on Super Bowl 56 with crypto.
When you add up the info on Bitcoin and the rest with the advice on betting apps and sites and winning your wagers, you should be in a good place to get started.
Now it's just a matter of a little bit of luck going your way when the Rams and Bengals meet.