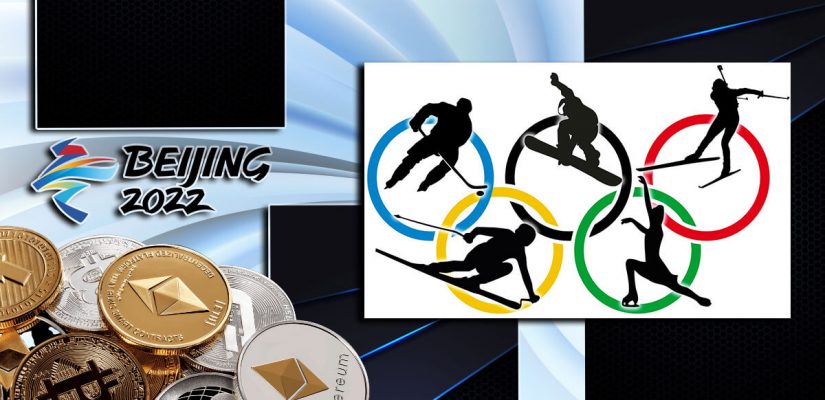 The 2022 Winter Olympics have begun and have been enthralling the sports world as they roll on from Beijing, China. For many fans, the lure of watching these games is the chance to wager on them at top sports betting sites.
If you're interested in wagering on the Olympics with cryptocurrency, we're here to tell you how to do it.
There are really no sporting events that quite compare with the Winter Olympics. Even when you try to compare them to the Summer Games, the uniqueness of the winter events, all set on snow and ice of some kind, stands out. And this year's Games have roared off to an exciting start with still plenty more action left.
Amazing, Guangzhou Drones show.Flying Mascot of Beijing Winter Olympics.??? pic.twitter.com/7Lg8mATR3p

— Sharing travel (@lsjngs) February 7, 2022
Many of you might be fans of the Games and understand the process of betting online, but you might not know how to do it via cryptocurrency. You might not even realize all of the advantages that you get out of betting with digital coins. But the process isn't that difficult if you just get a little guidance at the start.
Then there are those who might already be in the crypto realm and thus understand how it all works, but they don't know much about sports betting. If you're one of those people, you might be watching the Winter Olympics from Beijing, seeing commercials from sportsbooks, and wondering how you could take part. Again, it's not al that daunting if you just know where to begin.This article should be a great place for you to start learning how to bet on the Winter Olympics with cryptocurrency.
We'll explain how crypto works when it comes to sports betting, which coins you might be able to use, and what process you should utilize for choosing the best sites for betting on the Winter Olympics. Then we'll shift gears and tell you a little bit about the process of wagering on the Winter Olympics from Beijing, in terms of the events, the bets, and the strategies for winning.
Winter Olympics Betting with Cryptocurrency
The idea of betting with digital coins on the Winter Olympics might seem a little bit alien to those who have never used crypto before. But at this point, if you've paid much attention to either the technological or the financial world over the last few years, you should have a rough idea of what cryptocurrency is.
You likely have seen headlines about Bitcoin, the most popular coin on the market. To put it simply if you are entirely new to the concept, cryptocurrency is a form of currency, just like the US Dollar of the Euro. It isn't something that you hold in your hand, however. It is entirely digital, and all transactions with it take place over the internet.
A sample transaction might be someone who wants to bet on the Winter Olympics using crypto to fund their wagering account. By the same token, you can also get paid with crypto when you win your wagers. Let's talk first about the types of coins that are used in cryptocurrency Olympics betting.
Types of Crypto for Betting on the Winter Olympics
It all depends on what website you use as to what crypto coins you can use to bet. Some sites don't allow you to use crypto at all, but those are sites you should avoid, because, as you'll see, using cryptocurrency to wager has many advantages.
The better Olympics betting sites can give you an excellent selection of the top crypto coins. The one coin that stands out as the most well-known in crypto is Bitcoin. If there is one coin that is most available as a withdrawal or deposit method at top Olympics gambling sites, it is Bitcoin. But Bitcoin is also very expensive to purchase.
For that reason, you might also want to check out the so-called "alt-coins," meaning alternatives to Bitcoin. Some of these are relatively cheap compared to Bitcoin and are used at top gambling sites. Names you want to know include:
Ethereum: This is the second most well-known coin behind Bitcoin and is known for the fact that can do much more than simply be used as currency.
Litecoin: It used much of the same technology as Bitcoin but veered off in certain ways that payments are processed.
Bitcoin Cash: This coin is essentially an offshoot from Bitcoin when some users wanted to change certain aspects of the first cryptocurrency.
Ripple: This coin was born out of an actual startup-type company, as opposed to other coins which were mostly created by users
Tether: If you're looking for the convenience of using digital coins without the volatility, this coin, which is "tethered" to the prices of more stable financial instruments, is the one for you
If you haven't already bought your crypto and want to gamble online with the coins, check the best websites to see which ones they allow. And if you have the coins already, you can make sure the ones you have are allowed at a specific site before you sign up. As we said, the best sites tend to be ones which offer you great flexibility in Olympics betting with cryptocurrency.
How to Get Started Using Cryptocurrency for Winter Olympics Betting
If you haven't yet purchased your cryptocurrency, you might think the train has passed in terms of your betting on this year's Winter Olympics.
But the good news is that getting involved with Bitcoin and the like doesn't actually take very long, because you're not dealing with some company that has to process. You can buy your coins and be up and betting that day.
It's just a matter of following certain steps. Once you do, you'll be able to start making your Winter Olympics wagers with crypto as the fuel, so to speak. Here is what to do:
Step 1: Buy your Coins
The place to do that is to go to a coin exchange website or app. These exchanges will list the available coins along with the price of them in more traditional currency. Choose how much of the coins and simply enter the info for your payment information, such as a debit or credit card, and the coins will show up in your account on that exchange.
Step 2: Get a Wallet
In some cases, coin exchanges will have crypto wallet capabilities, which will remove a step in the process for you. But securing your own wallet might be better in terms of keeping your coins more under your control.
You can get a software-based wallet as an app for your cellphone or other device, or you can acquire a physical wallet, which is the safest in terms of protecting your coins. If you do get a wallet separate from the one offered by the exchange, you'll need to transfer to coins to that wallet.
This can be done by going to your exchange account and entering the "address" (a kind of password) of your wallet into the space where it askes where you're sending the coins. Your coins will then show up in your wallet for you to control.
Step 3: Sign up for Your Olympics Gambling Site
The next step occurs once you've chosen the Olympics betting site that you're planning on using. You'll have to sign up for an account with this site. This will require clicking on the sign-up link and answering some basic questions while also providing a user name and password so that you can quickly get into your account in the future.
Step 4: Fund your Betting Account with Your Crypto Coins
You'll then have to transfer the funds that you want to use for betting into your wagering account at the site. This is a matter of going to the "cashier" or "banking" section of the site once you're signed into your account.
In that section, you'll see a list of all the available cryptocurrencies accepted by the site. Choose the coins that you're planning to use and the amount that you want transferred. Request the address for the site's wallet.
Copy and paste that info into the "send" section on your wallet and the funds will move from one place to the next.
Step 5: Activate the Bonuses You Have Coming Your Way
When you go to your account dashboard, you'll likely be able to see links to the bonuses for which you are eligible. If not, you can always go to the promotions page of the site. There will definitely be a welcome bonus available if you've just signed up, and there also might be specific perks tied to either crypto or betting the Winter Olympics.
In some cases, you'll be able to simply opt in to these bonuses.
On other occasions, you might have to enter a promo code to get the bonus to start. Once you have activated it, the bonus money will show up in a special account, and when you meet any betting restrictions that are attached to it, it will then move to your regular gambling account and become eligible for withdrawal.
Step 6: Make Your Bets
From there, you are good to go to start wagering on the Winter Olympics. There should be a link on the betting page that takes you straight to the Winter Games.
You'll see all the events lined up and can click on them to see what bets are available.
When you go to make your wager (or wagers) on the Winter Olympics, you'll need to be ready with the following information:
What event you want to wager
What type of bet you want to make on that event
What selection you want within the wager
How much you want to bet
You'll be able to fill in all of that information with some quick clicking (or touch-screen activity.) Once you're done, you'll see a digital betting slip containing all of the pertinent information. Make sure that everything on there is as you wanted it to be for your Olympics bets.
Step 7: Withdraw Your Winnings
For this step, you'll simply go back into the banking or cashier section and reverse the process that you went through when you made your deposit.
That means entering your wallet information and the amount that you want withdrawn.
Keep in mind that there might be limits, which you should learn about before you sign up for the site. That all might sound like a lot when you read it.
But in reality, the whole process is pretty self-explanatory when you go through it.
Even if it's your first time in the crypto realm, you'll find that buying the coins and using them for your Winter Olympics betting is a snap.
Why Use Crypto for Betting on the Olympics
If you've never used them before, you might be wondering what you get out of using them for your betting action on the Beijing Winter Olympics. You'll find that the coins actually lend themselves to online gambling quite well.
Here are some of the main reasons why:
It's a more private way of gambling. Instead of having to go through a third party such as a credit card company or a bank, you can make direct transactions with the site. That means less scrutiny on your gambling action.
You'll find that many Olympic wagering websites use incentives for people to bet with crypto. They do this because they want the digital coins in their possession as well. Therefore, when you're betting with crypto, the bonuses will often be more significant than if you were using traditional methods of payment.
The settlement times, in terms of payback and payment, are much quicker than with traditional methods. In some cases, it can take weeks for you to collect your winnings via traditional banking methods. With cryptocurrency, that time is reduced to just a few hours.
You can usually get away with paying lower fees for cryptocurrency transactions as well. This is certainly the case when you compare those fees with those attached to credit cards with high interest rates. With the lower fees, it means more of your betting money stays in your pocket.
We'd like to be straight with you and admit that there might be some drawbacks with using cryptocurrency for your Winter Olympics betting. Let's talk about some of those:
The big concern is that there can be great volatility involved with the value of cryptocurrency. That means you run the risk of losing coins that will be worth much more down the road, or, vice versa, winning coins that will come to be worth less. Of course, the flip side of that is true as well, and the volatility could actually work out in your favor.
Some people have a hard time wrapping their head around Bitcoin and other cryptocurrencies in terms of how they work. They might hear terms like blockchain technology and coin mining and their eyes begin to gloss over. For folks like that, the downsides of the traditional methods of banking might be worth it if it means that have a better understanding of the Olympics betting process.
Not all sports betting sites accept cryptocurrency as payment for wagers. That's why you should always check before jumping in with both feet. If you stick with the best betting sites, however, you should be fine in most cases.
On that note, now that you know how to bet on the Winter Olympics with cryptocurrency, let's transition to where you should be doing it. Read on the find out about the best Olympics betting sites with crypto capability.
The Best Winter Olympics Betting Sites Using Crypto
We understand that you might be excited to get started wagering with crypto on the Olympic Games, especially since they're already underway and all of the advantages you get from using the coins for gambling might be enticing you. But all of these advantages might be nullified if you choose an inferior site.
All kinds of bad things can occur, from a generally poor experience to even having your money scammed or stolen from you.
The good news is that you don't have to take the time to research every website allowing crypto for gambling on the Winter Olympics, because we've already done that.
And we've come up with a list of the sites that we think are ideal for this purpose. Check out the best sites for betting on the Winter Olympics with cryptocurrency:
How did we choose these sites? Well we made sure that they each contained all of the necessary qualities to ensure that your online sports gambling experience will be smooth. Those qualities include:
A top reputation among sports bettors
Guaranteed safe gambling from a legitimate site
A variety of betting markets on the Winter Olympics
Many different banking options, including various cryptocurrency coins
Bonuses that can really help out your potential profit
A mobile app or site that lets you wager on the go
Live betting capability so that you can wager on events as they occur
Customer service that responds quickly and delivers what you need
A site that is simple to use even for beginners
Withdrawals that are processed quickly so that you get fast payback
If you settle for a site that is somewhat lacking in any of these departments, it can really jump up and bite you, if not immediately, then somewhere down the road. Choose from one of our recommended sites and you'll be fine. But if you must go out on your own to choose your crypto betting site for the 2022 Winter Olympics, make sure that they possess every item on that list above.
Winter Olympics Betting Basics
We've gone pretty thoroughly through what it takes to use cryptocurrency for betting purposes. Now it's time to shift gears and talk about the betting process at gambling sites for the Winter Olympics. It is a unique set of events that make up the Games.
But the basics of betting on them are similar to wagering on any sport.
Of course, some of you might not be familiar with how all that works, in terms of determining betting odds and how all the specific wagers work. Let's talk about all of that, starting with a look at the events that comprise the Winter Olympics.
Winter Olympics Events
The 2022 Winter Olympics can be broken down into the following disciplines:
Alpine skiing: These are events where athletes try to post the fastest times in a variety of different styles, such as the Downhill and the Giant Slalom
Biathlon: One of the most unique Winter Olympics events, it's made up for a cross country element and intermittent rounds of target shooting
Bobsleigh: Two and four-person teams fly down a speedy sliding course in their cramped bobsleigh in an effort to be the fastest
Cross Country Skiing: The athletes here have to be in amazing shape to ski long distances without any real help from gravity
Curling: It's so much more than "Shuffleboard on Ice," as it requires great individual skill and team strategy
Figure skating: One of the highlights of the Winter Olympics games every time it is held, including events for men's and women's singles as well as pairs and ice dancing
Freestyle skiing: In these events, skiers must impress judges with their acrobatics over dangerous jumps
Ice hockey: The most popular of the team sports played in the Winter Olympics draws a major amount of betting interest
Luge: Luge is like a one-person bobsleigh with the athletes flying down the course feet-first
Nordic combined: In this event, athletes must perform well in both cross country skiing and ski jumping
Short track speed skating: Skaters here race in extremely tight quarters and navigate turns that come up very quickly on the shorter track
Skeleton: Imagine the luge only with athletes braving a face-first journey down the sliding course
Ski jumping: Perhaps the signature image of the Winter Olympics is that of a ski jumper soaring fearlessly through the air
Snowboarding: This event has only been introduced in the past few decades but is already a fan favorite for their high-flying daredevils who compete
Speed skating: Athletes compete in a variety of distances to see which can cut through the ice the fastest
Odds on Winter Olympics Betting
When it comes to betting the Winter Olympics at top gambling sites, the system of odds used is the same as what is used for all other sports. It's known as the moneyline, and it explains how much you'll win based on how much you bet. To read it, just remember the number 100 and the following rules:
If there is a minus sign before the moneyline number, it means you must bet that amount to win $100
If there is a plus sign before the moneyline number, it means you must bet $100 to win that amount
As an example, we found this line at BetOnline for a moneyline bet on a men's hockey game:
In this case, a bet on Russia to win would gain your profit of $100 if you wagered $196. By contrast, you would win $400 profit on a $100 bet on either Switzerland or a draw. Another way to look at it:
Every $1.96 bet on Russia returns $1 in profit
Every $1 bet on Switzerland or a draw returns $4 in profit
The moneyline should be in place for just about any wager you make on the Winter Olympics using cryptocurrency.
Learning to read it is pretty easy.
Once you do, you'll immediately be able to tell the value you're getting on your wager.
Bets You Can Make with Crypto on the Winter Olympics
When you go to the best sites for betting on the Winter Olympics, you'll see that there is a wide range of Olympic markets. You can sift through these to find the bets that match up for your preferred level of risk and your potential payback. Here are some of the bets you can expect to make:
Gold medalist: Pick out an event and pick the athlete or country that you think will win the gold at the end of the competition. This is the simplest Winter Olympics bet to understand. And you can get excellent return you pick a mid-priced or long shot selection that comes through for you.
Any medal: You would win this bet if your choice wins any medal. This bet decreases the volatility level from picking who will win the gold. It also decreases the potential payback, since there will be three medals at stake in any given event at the Winter Olympics.
Moneyline/win: This would come into play in a team sport such as curling or hockey where there are single games/matches to get to the medal rounds. It could also be utilized if an oddsmaker at top gambling sites were to take two athletes from an individual event, such as two skiers, and unofficially pit them against each other. Whichever one does better would be the winning side of the bet.
Spread: The team sports events would be where this bet would be used. It essentially evens up an underdog and a favorite by giving points/goals to the underdog. In hockey, this kind of bet is known as a puck line bet.
Over/under: With an over/under bet, you would be wagering based on the estimation of total goals/points in a match from the oddsmaker. You would be deciding if the ultimate total is over or under. Bettors like over/unders because they can be easier to peg than win or spread bets.
Props: Prop bets are hard to define, but they basically are any bet that is a bit unique compared to the standard ones. They can be tied into the event action or can be involved with some connected element. For example, you might wager on how many medals a specific country wins for the entirety of the Winter Olympics.
You won't be able to find every one of these bets on every single discipline. Some of the events are a bit more obscure, and so you might only get to make medal bets on those. But the best crypto betting sites for the Winter Olympics will give you as many of these wagers as possible.
Tips for Winning Your Crypto Bets on the Olympics
Each event in the Olympics is so different from others that you really have to go into specific events with a separate strategy. But it's a good idea to go into it all with a general game plan that will help you with all your Winter Olympic wagers. Here are some tips to help:
Stick with what you know. While it might be fun to take a stab at a bet on Biathlon as something different, you're probably putting yourself at a disadvantage if you don't know anything about it. Try to be selective with your wagers and choose events about which you have some knowledge. That will greatly improve your chances of winning.
Look for value where you can. In a lot of the Winter Olympic events, there will be heavy favorites who have little chance of losing out on the gold. In order to make money without betting a ton on the Winter Olympics, you might want to look to the event that are more evenly matched, since that opens up chances for mid-priced selections to win.
Bet countries. What that means is that, in certain events, athletes from specific countries tend to do very well year after year. If you locate an athlete from one of those countries without short odds, you might be able to get yourself value in that manner.
Conclusion
You should be ready now to bet on the Winter Olympics using cryptocurrency. Remember to start by choosing the very best sites for wagering on the Olympics. When you start this process and find out how easy it is to bet with crypto, we're guessing that you'll use it for all your future sports wagers.