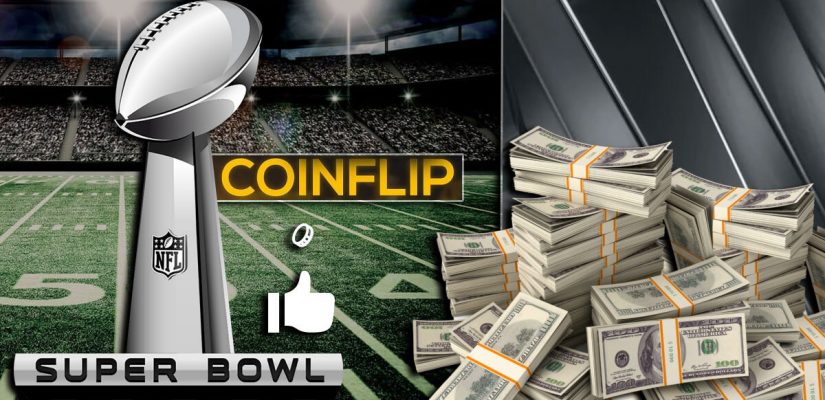 If you like to combine the randomness of casino gambling and football, then Super Bowl coin toss betting might be what you're looking for on Sunday Bowl Sunday. There will be many fun Super Bowl bets for Super Bowl LVI at SoFi Stadium. The most popular of them all has to be the coin toss to open the game.
That's the great part about the Super Bowl. There is just about any type of bet for everyone. You don't even have to be a serious football fan to get involved in these fun Super Bowl bets. It's the one time of the year when everybody in the room probably has something riding on the game. If you don't have a bet, a Super Bowl squares pool can be a fun way to get involved.
This will be the 1st Super Bowl in NFL history that does not feature any of the top 3 seeds in either conference. pic.twitter.com/emrwb1Wm3C

— NFL on CBS ? (@NFLonCBS) January 31, 2022
If you don't like to think much and go on pure luck with your gambling, the Super Bowl coin toss is the perfect option. Like roulette and baccarat in the casino, there isn't much to a coin toss betting strategy. It's hard to say that there are best bets for the Super Bowl coin toss.
However, you can find better odds betting the Super Bowl LVI Super Bowl than casino games. The house edge on American roulette (double zero) is 5.26%. Baccarat, one of the lowest house edges in the casino, has a house edge of 1.06%. If you can find the right Super Bowl coin toss odds online, then you can beat the 1.06% on baccarat.
Are you looking to learn how to bet the Super Bowl coin toss? You've arrived at the right place because we'll go step-by-step on how to get the most out of your coin toss betting experience for Super Bowl 56.
TheSportsGeek will feature many more fun Super Bowl bets on the blog. Check back often lading up to Super Bowl LVI at SoFi Stadium. Our best bets for the Super Bowl will follow on the picks page and blog.
How To Bet On The Super Bowl Coin Toss
You will be able to find the coin toss prop bet at most of the major NFL sportsbooks. However, it's important to pick the right one before locking in your bet.
This is the most important game plan for betting on the Super Bowl coin toss prop. If you don't bet at the proper online betting site with the best odds, you're already putting yourself at a disadvantage.
As a comparison, it would be like playing the 6/5 blackjack table instead of a 3/2 table available steps away. If you prefer roulette, then betting triple zero roulette instead of double zero.
There are people on the daily playing the worst odds in Vegas casinos when there are better opportunities in the same casino on the same game. Fortunately, TheSportsGeek has found the best online sportsbooks for betting the coin toss prop.
BetOnline and MyBookie are offering as close as you're going to get to even money on the coin toss. That's the best advice that you can have for betting on the coin toss.
This is a 50-50 prop bet. In a perfect world, you get the true odds at +100. -101 is as good as you're going to get and better than a lot of over juiced prop bets that you are going to find on Super Bowl LVI.
I've seen coin toss prop bets priced at -105 and even -110 out there. Do not bet those odds and point yourself to BetOnline and MyBookie. BetOnline and MyBookie are also offering top-notch free bet bonuses for the big game on February 13.
SUPER BOWL LVI FREE BETTING OFFERS
Super Bowl LVI Coin Toss Prediction
Are you ready for my super scientific coin toss prediction for the Super Bowl? Unfortunately, that's not what you're going to find here.
There might be another website that attempts to sell a guaranteed coin toss winner, but this is a completely random bet. Don't get fooled by someone trying to tell you that it's possible.
Not even looking at what happened in previous years is going to help. Every flip of the coin is independent of the previous.
For the fun of it, though, let's look at the previous results from the Super Bowl coin toss; just don't use it for a clear indicator of what's going to happen.
| Super Bowl | Coin Toss Result | Game Result |
| --- | --- | --- |
| 48 | Tails | Seahawks 43, Broncos 8 |
| 49 | Tails | Patriots 28, Seahawks 24 |
| 50 | Tails | Broncos 24, Panthers 10 |
| 51 | Tails | Patriots 34, Falcons 28 OT |
| 52 | Heads | Eagles 41, Patriots 33 |
| 53 | Tails | Patriots 13, Rams 3 |
| 54 | Tails | Chiefs 31, 49ers 20 |
| 55 | Heads | Buccaneers 31, Chiefs 9 |
In the last eight Super Bowls going back to Super Bowl 48, tails has been the dominant winner. From Super Bowl 48 to Super Bowl 51, there were four straight winners on the tails prop.
Since then, heads has come up in two of four Super Bowls. Tails was close to going on a three-flip win streak before the coin landed on heads last year at Raymond James Stadium.
Heads owned the spotlight from Super Bowl 43 to Super Bowl 47, so it has also had consecutive win streaks. Tails never fails? Fading that strategy and being contrarian with heads is where I'm going.
We haven't had consecutive heads on the Super Bowl coin toss since Super Bowl 46 and 47. In a random guess that hopefully falls our way, I'm going to play the heads for my first fun Super Bowl bet for Super Bowl LVI.