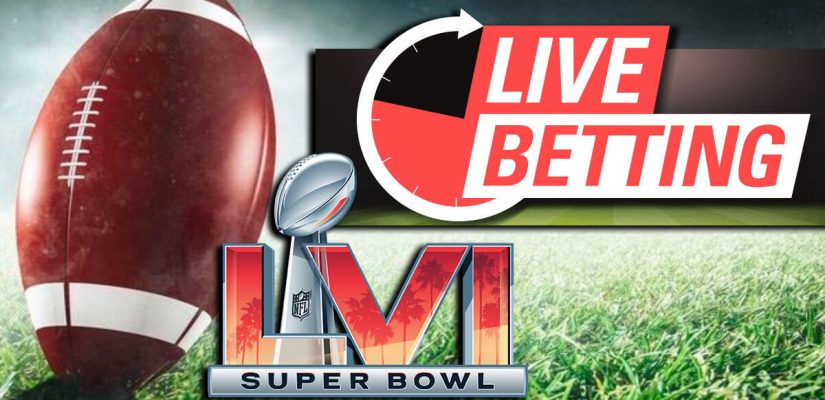 Live betting is an essential tool in your Super Bowl 56 arsenal. Whether you made a wager pre-game, or want to get a feel for the game before locking in a wager, live Super Bowl betting lines are worth considering. Long gone are the days where you have no betting option on the Super Bowl after kick-off.
Online betting sites have elevated the live Super Bowl betting experience throughout the years. Most if not all of the online sportsbooks have live Super Bowl betting lines available for wagering. Some are better than others, but all of the best Super Bowl sportsbooks will have some form of live Super Bowl lines posted.
LEARN HOW TO BET ON THE SUPER BOWL BEFORE KICK-OFF
If you are looking for a complete guide on how to lock in your pre-game Super Bowl bets, follow our
helpful advice for betting
on Super Bowl 56.
The live betting environment for the Super Bowl has taken off in recent years. Live prop bets on Super Bowl 56 will be available at some online sportsbooks if you know where to look. There is much more than just spreads and totals for live wagering.
Taking advantage of Super Bowl prop bets live is a great way to find value that may not have been present before kick-off. All it can take is one slow drive or three-and-out to get a better number for your wager. It's important to be patient and not force any live bets. That's how you get into trouble.
Waiting on the best live Super Bowl betting lines is how you have a successful betting experience on Super Bowl 56. TheSportsGeek will teach you the basic principles for how to live bet on Super Bowl 56. We'll also point you in the right direction to find the best live Super Bowl betting lines.
1. Register At Online Betting Sites With The Best Live Super Bowl Betting
There are multiple online sportsbooks with live Super Bowl betting lines. The experience can be much different from sportsbook-to-sportsbook, though. It's important to find a sportsbook that suits your needs the best.
Prop betting is what makes the Super Bowl so special for sports bettors. When we look for a top live Super Bowl betting experience, it includes a website with a big betting board with several options. That includes live prop bets on Super Bowl 56.
Even better than prop betting is Super Bowl prop bets live, which isn't common during the regular season. As the game proceeds, odds and numbers will adjust to what is occurring in the game.
For instance, if Joe Burrow struggles in the first quarter, his passing prop total will come down accordingly. This could present a situation where there is good value and a much better number than you would have had before kick-off.
The best online sportsbook for live betting Super Bowl 56 has to be Bovada. Their interface is modern and intuitive with a big betting board. You can find the usual live Super Bowl betting lines, as well as Super Bowl prop bets live on Bovada.
WAGER LIVE ON THE SUPER BOWL AT BOVADA
All new sports bettors at Bovada receive a 100% sign-up bonus for your initial deposit. Bitcoin users will receive an additional bonus for a cryptocurrency deposit.
2. Navigate To Live Betting and Bet The Best Value
If you are not familiar with live Super Bowl betting lines and this is your first experience, it could be overwhelming looking at all of the options. Having a strategy before even going in is vital to success.
It's important to shortlist the live bets that appear like the best value. Ignore and forget about the live lines attempting to get you to bet on emotion.
If there is something you liked before the game started and there's a better number in live betting, this could be your value spot on the Super Bowl.
Finding The Best Super Bowl Live Betting Value Tips
Line Shopping With Multiple Sportsbooks
Avoid Emotion: Teams playing well at the moment probably have overinflated live odds
Compare The Pre-Game Odds To Live Odds (Print out a sheet before kick-off for convenience)
Consider The Implied Probabilty
When I say bet on emotion, the oddsmakers always favor and juice the teams that are currently playing the best football in the game at that minute. They know that the public will bet on this line regardless. That goes for player prop bets and totals in the Super Bowl as well.
For instance, the Kansas City Chiefs were monster favorites after going up 21-3, more than 18 points, though just a 7 or 7.5-point favorite pre-game. The Bengals plus the points presented terrific value in that spot.
BENGALS HAVE COME BACK FROM DOWN 21-3 TO TIE IT.

(via @NFL)pic.twitter.com/7mpXNAH2FK

— Bleacher Report (@BleacherReport) January 30, 2022
In the Super Bowl, I'm looking for a player that might have had a slow first 5 minutes or quarter. After beating the pre-game line, their live prop bet might present some value to wager. You can also use this same strategy for other types of live Super Bowl betting lines.
3. Only Live Bet What Your Bankroll Can Sustain
This might be the most important lesson for live betting on the Super Bowl. As I said, it can be overwhelming when looking at the Super Bowl live betting portal.
There will be multiple wagers, including endless Super Bowl prop bets live on the sportsbook. It might be the biggest game of the year, though that doesn't mean to go wild and reach too far outside of your comfort zone.
Live Betting Bankroll Management Tips
Proper Bankroll Management Is The Key To Long-Term Success
Only Bet 1-3% Of Your Bankroll On Any Bet
Never Go All-In On A "Guaranteed" Big Favorite
Set Aside A Portion Of Your Bankroll For Live Betting
When I say your comfort zone, your live Super Bowl bets should be 1-2% of your bankroll. If you feel especially confident, you might be able to stretch it to 3%, but I wouldn't overreach because of all the options in front of you.
Hence why it's important to shortlist the best live bets you are targeting. Live Super Bowl betting lines can try to lure in even the most disciplined sports bettors.
Stick to your bankroll and accept there are more events to bet on after the Super Bowl. The one exception is if you are just looking to deposit and do nothing but bet on the Super Bowl, then go wild, my friend.
4. Consider Attempting To Middle A Pre-Game Bet On Live Betting
Attempting to middle bets is an excellent method to try and be right on both sides with limiting your risk exposure. Professional sports bettors will go for a middle on a spread or total more frequently than the general public.
Professional gamblers seek to limit their risk while exploiting bad lines, in theory getting the best value in the long-term consistently. One way they do this is by utilizing live betting.
IS IT ALWAYS SMART TO ATTEMPT A MIDDLE?
No. This must be considered on a bet-by-bet basis. Try and locate the stale lines that look bad. It also requires paying close attention to the game and getting a feel for the action. The bigger the window of opportunity between numbers, the greater chance of successfully middling your Super Bowl live bet.
There will be middle opportunities galore on live Super Bowl betting lines. This includes your live prop bets on Super Bowl 56. If you are unfamiliar with middling, what I'm getting at is trying to land between two numbers.
Let's assume you select the UNDER 48.5 before kick-off for Super Bowl LVI, and the first quarter is slow. The live Super Bowl betting lines will adjust down off 48.5 points. Instead of 48.5 points, the live number could be 42.5 by the end of the quarter.
This could be a chance to live bet the OVER. Then a final score of 23-20, 27-20, 27-21 etc. would generate a winner on both the OVER and UNDER. Close to breaking even, or even, depending on the price, is your worst-case scenario.
As a result of so many live Super Bowl betting lines, there are going to be numerous instances for a middle opportunity. More so than a regular season game, making Super Bowl live betting the best time of the year to successfully middle a bet.
5. Remember: Live Betting Odds Are Constantly Changing. Be Patient.
There will be times when these live Super Bowl betting lines change before you have time to lock in a wager. They are changing by the second and reacting to what is happening on the field.
PATIENCE IS YOUR BIGGEST WEAPON FOR LIVE BETTING SUCCESSFULLY
Sportsbooks hate a patient sports bettor. This is especially true if you are playing the live Super Bowl betting lines. They want you to get frustrated and fire away with random bets. Live odds are changing all of the time, providing new opportunities for four quarters.
Don't be discouraged if your live bet is rejected and then take a bad line when it's refreshed. This can knock you off your rhythm, and the sportsbook is going to have just where they want you with bad bets.
My best advice is to click the bet, enter your wager amount, and confirm as quickly as you can if there is something you like. That line and price aren't going to be there for very long.
There will be enough bad lines with live Super Bowl betting lines to go around. Remember to be patient and wait for a good opportunity. The sportsbooks feed off bettors that have no patience and can't wait for something they really like.