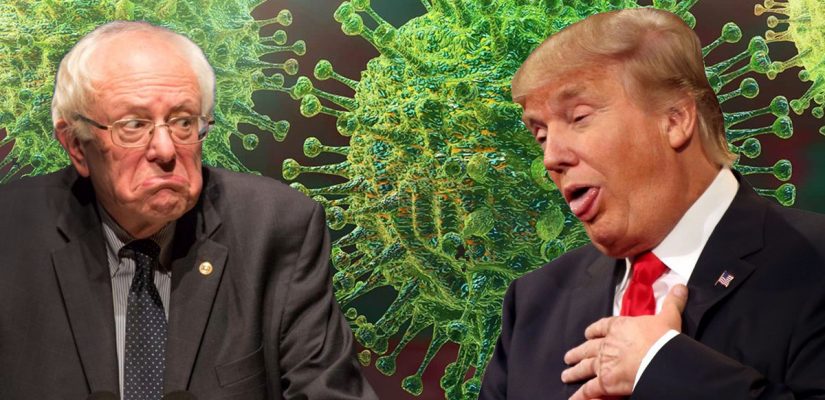 Hey, you know what's so great about political betting? It's not legal at the land-based sportsbooks, so you have to do it online. And from the looks of things, we're going to be needing lots more stuff to do at home and occupy our time as we're all locked down under "self-quarantine!" (Assuming things
Since the impeachment trial, I've been downright arrogant in my assuredness that Donald Trump had the 2020 election in the bag.
My bad, it did not occur to me to include "global pandemic" as one of the critical variables to consider when handicapping the race. Well, you live (hopefully), and you learn! Now, for the first time this election cycle, Trump looks to be vulnerable as the incumbent.
| | |
| --- | --- |
| Candidate | 2020 Presidential Election Odds |
| Donald Trump | EVEN |
| Joe Biden | EVEN |
| Bernie Sanders | +2500 |
| Mike Pence | +2800 |
| Hillary Clinton | +6000 |
| Nikki Haley | +10000 |
What's Going On?
At the moment, this isn't the most straightforward question to answer. Like everything else that happens in America, there's too much information whizzing around at any given time to keep up, and your perspective is likely heavily shaded by your preexisting political beliefs and from which source(s) you receive your news.
We know that the COVID-19 virus was first reported in Wuhan, Hubei, China, in November 2019. There have been disputes as to where it began.
Some have blamed bats from a wet market in Wuhan; others have pointed to the Wuhan Institute of Virology; – which, in 2015, published research claiming that bat coronavirus could be made to infect HeLa (a human cell line) — while Chinese officials are accusing the US government of bringing the disease to their mainland during the World Military Games in October '19.
However it was created; this novel coronavirus has rapidly spread to over 130 countries, with over 145,000 confirmed cases and at least 5,400 deaths. China, Italy, South Korea, and Japan have been hit the hardest so far. The virus manifests itself as a typical respiratory infection in younger populations but is thought to be ten times deadlier than the flu for older people.
What makes COVID-19 especially dangerous is how easily it spreads. Carriers can be asymptomatic for several days, allowing it to spread through respiratory droplets before the infected person knows to self-quarantine.
US National State of Emergency
Many experts are arguing that the United States was slow to act despite repeated warnings from overseas to prepare for the upcoming pandemic. This delay is at the heart of criticisms being levied at Donald Trump, who – at a campaign rally in Arizona – called the outbreak a "hoax."
Additionally, some government officials have accused Trump of refusing to roll out more extensive testing measures sooner, in fear of it hurting his reelection campaign.
Politico's Dan Diamond reported that Health and Human Services Secretary Alex Azar tried to express the urgency of early testing to the President's aids, but "[Trump] did not push to do aggressive additional testing in recent weeks, and that's partly because more testing might have led to more cases being discovered of coronavirus outbreak, and the president had made clear — the lower the numbers on coronavirus, the better for the president, the better for his potential reelection this fall."
Again:
I want to point out that the objective facts are hard to come by in this hectic and highly politicized environment. What's most imperative for the sake of political betting is the perception of what's been happening – not having every detail of every conversation that's taken place.
Since Wednesday, March 11, the US economy has been in a steep decline as investors panic over the possibility of widespread quarantines, hospital overruns, and the halting of travel. Every major sports league has now suspended their seasons, March Madness is canceled, as are any large concerts or events that attract large gatherings.
On Friday, President Trump officially declared a national state of emergency over the threat of the pandemic. How he proceeds from here will likely determine whether the incumbent is re-electable in November, after having been the favorite to win in 2020 for over a year.
Trump's First Real Reelection Vulnerability
As I mentioned previously, this week has marked the first time Donald Trump's reelection efforts have been in jeopardy. Before the pandemic reached the United States, he was riding a wave of record-setting economic figures and approval ratings; the latter has steadily increased since the President was acquitted in his impeachment trial.
Now, almost overnight, he and Joe Biden both have even odds of winning this November. How things play out from here will be entirely dependent upon how the pandemic progresses.
Is Trump Infected with COVID-19?
Since the Wednesday night address to the nation, I've suspected Donald Trump himself has come down with the coronavirus. Throughout the speech, he seemed to struggle, and at times appeared to stop himself from clearing his throat or coughing.
One unfortunate reality of this virus is that the demographic for which it's most deadly is the same one in which all of our presidential hopefuls reside. If Trump is as unhealthy as has been reported, including using large quantities of Sudafed to keep his energy up (which may just be a rumor), an infection could be fatal.
Last weekend, the President met with a senior Brazilian official at Mar-a-Lago, who has since been diagnosed as having the virus – as has Brazilian President Jair Bolsonaro – who was also meeting with Trump in Florida. Between his recent appearances and close-quarter interactions with carriers, it seems highly unlikely that the incumbent could have avoided contracting the illness.
On the other hand, Donald Trump is undergoing his first real crisis as a President. The perceived lack of energy and vitality could be the result of stress and not sleeping; he's likely meeting with officials around the clock to get a grip on this pandemic.
Still, a bet on Mike Pence at +2800 doesn't look half bad.
How Bad Will Things Get?
The President is now taking the pandemic seriously, but that wasn't always the case. For weeks, while China's strict city-wide quarantines were buying the rest of the world time to prepare, Trump was busy dismissing the virus as a "hoax," and nothing to worry about. There's nothing he can do to take those statements back now; he'll have to hope fate is on his side.

Best Case
If it turns out that this outbreak is much less severe than the media has led us to believe and America weathers the storm with minimal damage, the incumbent will be vindicated. Should that happen, I'd imagine he'll play up how dangerous a moment this was and how his leadership helped the country avoid a crisis. As a result, I'd imagine we'll see his approval ratings skyrocket back to the post-impeachment levels.
Worst Case
However, if – over the next two weeks – the pandemic plays out similarly to how it has in Italy and China, Trump is in deep trouble. Every day that was spent not obtaining test kits and medical supplies or passing executive orders in preparation for the outbreak will be magnified. As more people die, the entire episode will become highly personal for Americans. It's one thing to watch a pandemic on the news; it's another to lose your parents and/or grandparents.
A panel of top experts from the University of California, San Francisco, estimates that 40-70% of the US population will be infected over the next 12-18 months. That means roughly 160 million people will catch the coronavirus, leading to approximately 1.6 million deaths.
If that projection is accurate, Trump will shoulder most of the blame. First, he ignored the issue for political reasons; then, his earliest responses were to tend to the economy – pumping $1.5 trillion into Wall St while regular citizens had no access to testing kits or treatment. By waiting, the US will have lost their opportunity to contain the pandemic. In this scenario, Trump might not finish out his first term.
If you think a widespread, devastating pandemic is unavoidable, the Democratic Party at –115 is a safe bet.
2020 Election – Winning Party
Matchup Odds
Democratic Party

-115

Republican Party

-115
A Free Tip for DT:
A week ago, I wrote an article complimenting Trump's ability to control messaging and fight back against media narratives by going on the attack – but now is not the time. If the President wants a second term in office, he's going to need to change his approach to that of a "wartime" leader.Stop taking shots at Obama in every public address and stop using funny nicknames like "Sleepy" Joe Biden. Those tactics were perfect under normal conditions, but with the public terrified and confused, it's time to take things seriously and stick to the script.
There are already videos of Trump calling the coronavirus a "hoax" at a campaign rally weeks ago; he'll need to drastically change his tone to shake the perception that he hasn't taken this pandemic seriously — something that will destroy his candidacy if this thing goes sideways and lots of people die.
Sleepy Joe Biden was in charge of the H1N1 Swine Flu epidemic which killed thousands of people. The response was one of the worst on record. Our response is one of the best, with fast action of border closings & a 78% Approval Rating, the highest on record. His was lowest!

— Donald J. Trump (@realDonaldTrump) March 13, 2020
Trump's Reelection Hinges on the Economy
"The economic ramifications of the coronavirus are increasingly likely to weigh heavily on Trump's reelection chances and quite possibly could cost him reelection," says Dan Eberhart, a prominent GOP donor.
The President's reaction to the economic collapse supposedly brought on by the pandemic, is what I see costing him most in November. Remember, Trump was only able to flip those Rust Belt states in 2016 by appealing to working-class voters in those states with a populist message highly critical of the last several decades of US trade deals – allowing him to run to the left of Clinton on those issues effectively.
In his response to the coronavirus outbreak, every tool he's deployed to stop the economic bleeding has been targeted to help Wall St bankers and wealthy investors/owners of capital. He's enacted payroll tax cuts for small businesses, injected trillions of dollars into the stock market, and offered bailouts to the cruise-ship industry and airlines – moves that could help stabilize the economy, but won't do much for his average blue-collar worker forced to stay home without a paycheck.
"We all too often have socialism for the rich and rugged free market capitalism for the poor."
At the same time, his administration has stopped states from using Medicaid to expand services during the crisis, while Republicans in the Senate have blocked emergency bills intended to create a social safety net for Americans – which included paid sick leave.
Now, in fairness, the bill brought forth by Democrats would have been a federal mandate that forced employers to foot the cost of paid sick leave. Senator Lamar Alexander, who blocked the bill, argued, "Employees are struggling, our employers are struggling, and it's not a cure for the coronavirus to put a big new expensive federal mandate on employers who are struggling in the middle of this matter."
On Monday, the Trump administration is supposed to rollout whichever measures they plan to take to protect the numerous hourly wage and gig workers living paycheck-to-paycheck in this country. Pay close attention to whether or not they'll truly keep low-income employees afloat during these uncertain times.
Heads Up!
If there aren't protections against evictions, layoffs, sick pay, etc., that could come back to bite Trump in November (or whenever the elections are eventually held) by costing him his precious blue-collar supporters. They may seem almost cultish in their adoration and approval of the President now, but an empty stomach and economic fears will break through that cognitive dissonance in a hurry.
Impact on What's Left of the Democratic Primaries
We also must consider how the pandemic changes the complexion of the Democratic primaries. Before the outbreak, it appeared that Joe Biden was running away with the nomination (although, there are some massive election discrepancies that I'll be covering in another article). As the public grows more anxious over the outbreak, however, more and more voters see the benefit of a social safety net when it comes to healthcare.
First and foremost is the concern that either of the two remaining candidates will contract coronavirus themselves. Like Donald Trump, they're both in the age-range for which the virus is most fatal. Bernie has been on the road for months, attending huge rallies almost daily, and doing his political duties of shaking hands and kissing babies. Between the fatigue of the road and his repeated proximity to crowds, Senator Sanders would be at high risk of falling ill.
Joe Biden hasn't been as exposed, mostly because his team is keeping him hidden. Before the pandemic, there were growing concerns regarding the former Vice President's cognitive fitness. Over the course of the campaign, his ability to stay on topic and string together coherent thoughts has visibly declined. At the same time, he's become more and more aggressive towards anyone that dares ask a pointed or uncomfortable question.
Most recently, Biden told an auto worker that he's "full of s***," told his female staffer to "shush" and appeared to challenge him to go outside with him.
Will the Call for "Medicare for All" Get Louder?
Many pundits have pointed out that Bernie Sanders's exact platform policies would have left the American populist in a much better position to combat this virus. So many citizens are uninsured or unable to afford using sick time, people have continued to attend work and spread the illness for weeks – many without even knowing they were infected.
Sanders argues that our current crises are the result of routinely legislating on behalf of corporations and billionaires while continually chipping away at public services and workers' rights. In that sense, the pandemic gives him a very real, tangible, scenario with which to draw a contrast between himself and Joe Biden.
The first thing Bernie's opponents have said about his Medicare for All proposal is, "how do we pay for it?" Trump's $1.5 trillion injections into the stock market lay that argument to rest. It's now glaringly obvious the government can afford these things when they want to.
It might also hurt Biden that he was interviewed mere days before the pandemic reached America, claiming that he'd veto Medicare for All if he were President, and it reached his desk.
It could also be that the pandemic is too little too late. Democratic voters have been inundated with liberal media telling them that the primary is already over, and Biden is the nominee. It's unclear whether the sudden threat of disease will change their minds.
Voter Turnout Issues?
If coronavirus plays any role in determining Trump's opponent, it'll be in how it affects older voters. So far, Bernie Sanders has been the overwhelming favorite among voters 40-years-old and younger, while Biden has been equally popular with Americans 55 and up.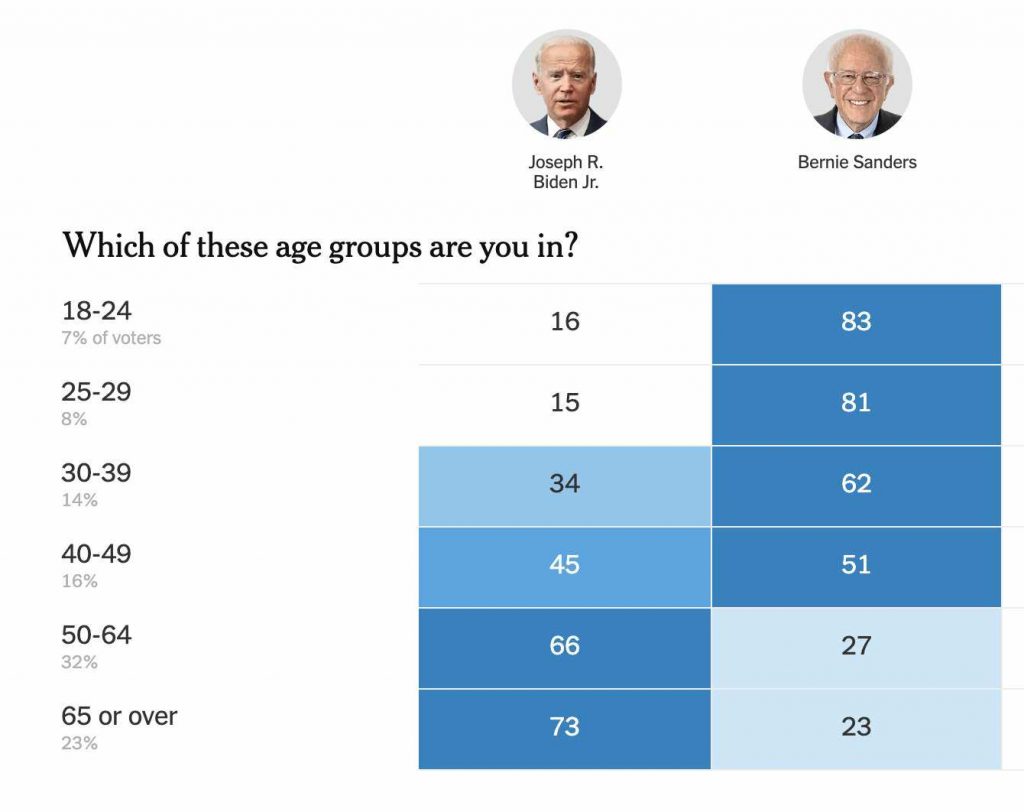 Will Bernie's advantage with younger voters be more pronounced under these new conditions? His supporters have little to fear when it comes to contracting the virus, whereas Biden's are risking death. To date, the student vote has been surging, despite being met with massive suppression tactics at the hands of the establishment.
Lines to vote have continually been hours long around college campuses and in minority-heavy neighborhoods – both of which favor Bernie. Meanwhile, there have been no such issues in the suburbs, where Biden's base resides. In that sense, the pandemic may work as more of an equalizer than an advantage for Sen. Sanders.
It may be worth a long-shot wager on Bernie Sanders mounting a comeback to win the nomination at +1800 odds. In 2008, Barack Obama was losing by a larger margin to Hillary Clinton at this same point in the race. If Biden flops in Sunday's debate, we might just see the same thing here.
Uncomfortable Conspiracy Wager
Let me just apologize in advance….but I have to do it.
I don't even want to go into this too deeply, lest I put a target on my bag – figuratively, I hope. All I'm saying is that if Joe Biden manages to stay in the race and
the DNC establishment
is able to drag him all the way to the convention, only for him to 1) bow out and leave the nomination up to the Democratic National Committee, or 2) names Hillary Clinton as his Vice President, that will look very suspicious.
If the pandemic then goes on to make Donald Trump unelectable and Clinton is handed the nomination, eventually allowing her to waltz into the White House like she's always intended, — I won't say it out loud – but there will always be 5% of my mind, waaaay in the back of my brain, that will wonder if the release of this extremely convenient virus was part of a greater overall plan.
Again, I know we're venturing into Alex Jones territory here, but it's hard to ignore the many "coincidences" that have worked out in Clinton's favor over the years.
"Just in Case" Bets:
Hillary Clinton To WinOdds
DNC Nomination+1600
2020 Presidential Election+6000