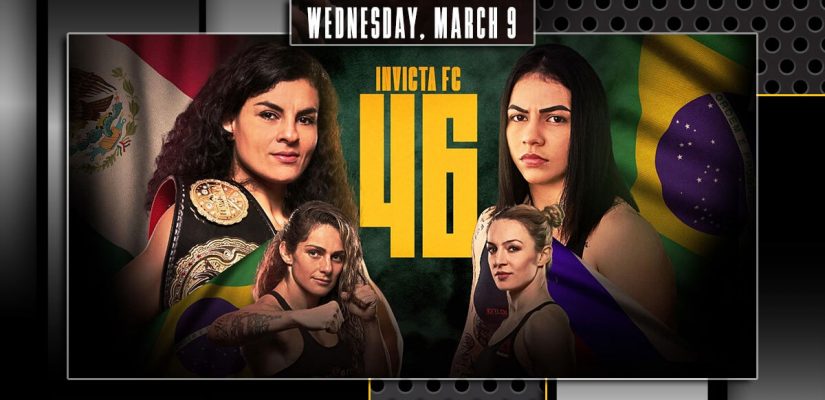 We're covering all six fights for Invicta 46, starting with the main event. Each fight includes a short MMA breakdown. Click the bet now button to place your bet below any fight to go direct to betonline.ag to place your bet.
Invicta 46 Main Event: Diana Torquato vs Karina Rodriguez 
The Flyweight title is on the line in a five round title fight between #56 and #66 women's flyweights in the world, and an immediate rematch. Torquato lost the first fight as a +135 underdog in May of 2021. Rodriguez is 3-2 over her last five fights, losing two decisions to, one of them at a -190 favorite position. 
Tale of the Tape for Torquato vs Rodriguez 
| | | |
| --- | --- | --- |
| Fighter | Diana Torquato | Karina Rodriguez  |
| Money Line Betting Odds  | +185 | -225 |
| Age | 31 | 36 |
| Height | 5'6'' | 5'7'' |
| Reach  | 65'' | 67'' |
| Record | 10-4 | 9-4 |
| Submissions/TKO | 1/2 | 0/2 |
| Losses via Sub/TKO  | 0/0 | 0/1 |
| Fighter Training Camp | Thai Brasil Floripa | Entram Gym  |
Entram gym doesn't have the same level of women's MMA fighters. Thai Brasil Floripa, where Diana is training with a four women fight team that includes Talia Santos and Marina Rodriguez of the UFC, both women are on four fight winning streaks. 
Entram has a better overall MMA record and system that has produced a UFC champion as well as four contenders. 
Karina Rodriguez hopes to get UFC call with title defense at #InvictaFC46: 'I'd like to close my career there' (via @dannyseguratv) https://t.co/bhQPOj1o5J

— MMA Junkie (@MMAJunkie) March 9, 2022
I don't like to see her looking past Torquato, she barely won the first fight.
Is Karina Rodriguez Too Old to Win?
Marina is 36, which tends to be the end of the road for women's MMA athletes. She fought three times in 2019, and only once in May of 2021, so she's slowing down significantly in fight output. I expect that she has several more years of competition, but age will play a factor in this bout. 
Can Torquato Win By Submission?
Rodriguez has never been submitted, but Torquato is among the best BJJ fighters that she has faced. Diana has been honing her grappling, winning an ADCC trials match against Jinana Sais on February 5th.
Torquato is going to bring a grappling centered game plan to the cage at Invicta 46. 
Torquato vs Rodriguez Fight 1
While we could only find the full show, you can watch their first fight here. The link jumps to their main event fight. Torquato manages the clench well, and it's clear early on that she's the stronger fighter inside the clench. 
Rodriguez has great boxing from range, but the gritty bout wasn't tough to score from my perspective. Invicta has open judging, and I have no idea what fight they were watching. Rodriguez was up three rounds at round four, despite Torquato landing more significant strikes, controlling the ring and pushing Rodriguez to the edge for the first three rounds. 
Rodriguez's face was a mess, while Torquato had a small mouse under the right eye. 
I think Torquato fought a very close fight, and with a better strategy that includes grappling, Torquato will win the rematch. 
Invicta 46 Betting Pick
Our main event betting pick for Invicta 46 is the Diana Torquato Money Line at +185. The younger fighter should have won the first fight, and comes back with improved grappling skills and the support of two UFC level fighters on a serious winning streak.
PLACE YOUR BETS NOW!
Invicta 46 Co Main Event: Denise Gomes vs Milana Dudieva 
Two flightweight contenders go head to head, pitting the #73 world wide flyweight Dudieva versus Brazil's #32 flyweight. Gomes is on a four fight winning streak that includes three TKOs. She was a professional kickboxer prior to her MMA career, and hasn't lost since her first bout in 2017; she was taken down and TKO'd by a far superior grappler. 
Betting Odds for Gomes Dudieva
| | | |
| --- | --- | --- |
| Fighter | Denise Gomes | Milana Dudieva  |
| Money Line Betting Odds  | +110 | -140 |
Dudieva is the favorite, but has lost six of her last seven. She was in the UFC prior to coming to Invicta, but has also lost to Rodriguez and Torquato, our main event fighters. She has quality Sambo style grappling, but the right takedown defense can leave her with few tools to her disposal. 
Gomes has been training with Parana Vale Tudo, the school that brings us Jessica Andrade, one of the women that submitted Dudieva, so Gomes knows what she's up against, and she has high level grappling partners to work her gameplan. 
Our Invicta 46 betting pick is Denise Gomes money line at +110. She's a seriously powerful striker and Dudieva has been knocked out in three of her last seven fights. 
PLACE YOUR BETS NOW!
Liz Tracy vs Danielle Taylor 
Taylor is the #42 strawweight in the world up against the #84 strawweight Tracy. Emily Ducote knocked Taylor out in the first round in their last fight, right after a win over former UFC fighter Jessica Aguilar. Taylor went 2-3 in her UFC run, losing to fighters like champion Weili Zhang and contender JJ Aldrich. 
Tracy has been taking on a string of pro grappling bouts, going 4-2 over her last six. In MMA, she's 3-3 over her last six to mid level Invicta fighters, and a split decision over the then 6-6 Jodie Esquibel. 
Betting Odds for Tracy vs Taylor 
| | | |
| --- | --- | --- |
| Fighter | Liz Tracy | Danielle Taylor  |
| Money Line Betting Odds  | +140 | -170 |
Taylor is the obvious favorite, having fought at a much higher level, evein her Invicta level fights. She survived three rounds with champion Zhang and beat Jessica Penne by Unanimous decision. Still, I went to Tracy's fight tape to look for anything that shows me she could win. 
Fight Tape for Tracy vs Taylor
Tracy beat Gillian Robertson, a UFC fighter who's 2-2 of her last four. She won via armbar in overtime. The biggest issue I see for Tracy is pulling guard. Tracy's BJJ is top notch, there is no question. However, in MMA she'll need a better grappling game and be less inclined to stay on her back. 
Our Invicta 46 betting pick is Danielle Taylor at -170. She has a better grappling game for MMA submissions and a far better striking acumen. 
PLACE YOUR BETS NOW!
Kristina Williams vs Flore Hani 
Williams is a Bellator fighter that was recently released from the promotion. She defeated Emily Ducote via split decision in 2018, but has lost via TKO and submission in her last two fights. She faces Flore Hani, a fighter who's coming off the biggest win of her career against 5-1 Stephanie page. Both fighters are up and coming, and both bring moderate skills but few finishing mechanics to the ring. 
Betting Odds for Williams vs Hani 
| | | |
| --- | --- | --- |
| Fighter | Kristina Williams | Flore Hani  |
| Money Line Betting Odds  | +125 | -155 |
This is one of the closest bouts on the card. After reviewing fight tape, I see no skills that make me feel either fighter has a clear winning advantage. Hani has a slight grappling advantage, and Williams a slight striking advantage. 
Our Invicta 46 betting pick is Flore hani at -155, but bet lightly and avoid any parlays on this one. This will also probably be fight of the night for any MMA fans wondering when to tune in. 
PLACE YOUR BETS NOW!
Paulina Granados vs Monique Adriane 
Paulina is on a three fight losing streak to various levels of fighters. Adriane took the second loss of her career from now UFC fighter Loma Lookboonmee in 2019. She stated that she looked to recreate her kickboxing and takedown defense after the loss and came back two and a half years later. 
Betting Odds for Granados vs Adriane  
| | | |
| --- | --- | --- |
| Fighter | Paulina Granados | Monique Adriane |
| Money Line Betting Odds  | +220 | -280 |
Adriane is a strong favorite and the #43 atomweight on the planet. Adriane's striking is profiled well in her 2018 fight with Vaness Santos, when she knocks Santos down in the first thirty seconds. Her Bjj is in question, but she survives and drops a thirty punch flurry on Santos. 
Granados looks like the right fighter for a comeback. Adriane is gearing up for bigger things, and Granados shows no real ability to win this bout. 
Our top Invicta 46 betting pick is Monique Adriane at -280, a fight that I'd feel comfortable parlaying with another winning bout on this week's massive MMA ticket. 
PLACE YOUR BETS NOW!
Nadia Vera vs Fatima Kline 
The opening bout features undefeated strawweights with very different MMA experiences. Vera has had far more fights, including a seven fight amature career. She's coming off her first professional finish over 2-1 Ana Segura via ground strikes. 
Kline has focused on professional grappling, racking up twenty or more bouts and winning six of her last seven, six of them via submission finish. 
Betting Odds for Vera vs Kline
| | | |
| --- | --- | --- |
| Fighter | Nadia Vera | Fatima Kline |
| Money Line Betting Odds  | +240 | -300 |
I wanted to get a look at Kline's takedowns right away. Her wrestling in her amatuer career is good quality. She understands how to use the fence but not how to ground strike. 
Meanwhile, Vera's boxing is good, but her grappling looks fundamental. Kline will win takedowns, so we'll get to see how Vera fairs at standing up using the fence. 
Her opponent Arnault scored a first round takedown and advanced to mount immediately, I don't think Vera has the BJJ to get beyond the first takedown. 
Our Invicta 46 betting pick is Fatima Kline at -300. 
PLACE YOUR BETS NOW!