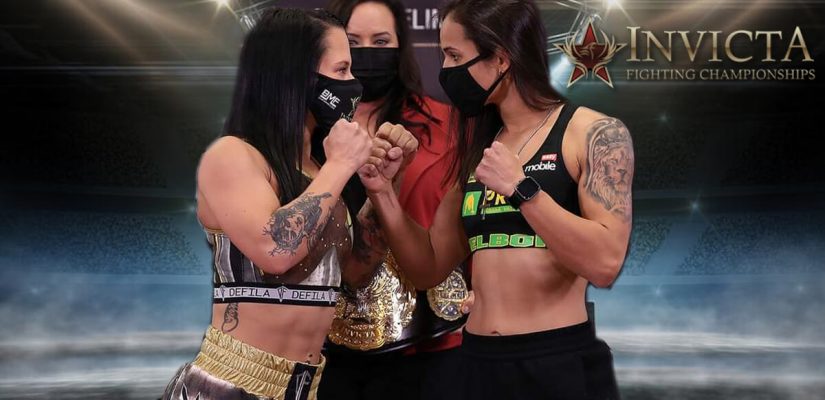 The best of Women's MMA is back with Invicta FC 45 and we're bringing you our top MMA betting picks for the six key fights on the card. These fights include the Atomweight Invicta Title fight, and the undefeated Monica Franco and Elise Pone.
We're taking a detailed look at each bout, fight tape for all twelve fighters, the latest odds and odds history to offer our most accurate betting picks!
Alesha Zappitella vs Jessica Delboni Main Event Betting Pick
Our main event is between the #6 and #39 Atomweight fighters worldwide. These two are among the most talented 105-pound fighters in the world. This fight is an immediate rematch after Delboni lost a split decision in May of 2021.
Betting Odds for Zappitella vs Delboni
| Fighter | Moneyline and Payout Per Dollar Wager |
| --- | --- |
| Jessica Delboni | -175, $0.57 |
| Alesha Zappitella | +150, $1.50 |
Zappitella is the underdog for the first time since her +110 Invicta appearance in 2019 versus Viviane Pereira. She's been in three other Invicta events in that time, ranging from -120 to -150.
She lost the underdog bout to the 5-0 Pereira.
Delboni opened as the underdog in this fight at +150 but moved to -175. In her last fight with Zappitella, she was the underdog. She also defeated Herica Tiburcio as the underdog in 2020.
Tale of the Tape
| Jessica Delboni | Fighter | Alesha Zappitella |
| --- | --- | --- |
| 28 | Age | 26 |
| 5'1″ | Height | 4'11" |
| 11-3 | Record | 9-2, 1 NC |
| 0/2 | Submissions/TKO | 3/0 |
| Parana Vale Tudo | Training Camp | Scorpion Fighting System |
It's clear that Zappitella is a grappling focussed fighter. Delboni worked hard in their first bout to avoid the takedown, and it paid off. Zappitella racked up no ground control in their first fight.
Delboni has the better striking, and has shown finishing power in the past. With Delboni's new grappling skills and confidence, I wonder if she'll look to reverse Zappitella, going so far as to look for takedowns in their next bout.
Training Camp Comparison
Scorpion is a big camp with many coaches and plenty of wrestlers. They've done well in 2021, with fighters like Josh Parisian going 2-2 for the UFC. They have some growing to do, but with over 20 active athletes, you have to think Zappitella is getting good training.
Parana is home to Jessica Andrade, one of the best female fighters in the game. Prana is a staple in Rio de Janeiro's combat sports scene.
Delboni is training with a more proven team, but Scorpion FS is a quality gym.
Last Five Fights
Zappitella is on a four-fight winning streak after the second and third losses of her career in 2019. Three wins were via decision and one was with a Von Flue Choke over Ashely Cummins. This was Cummins' first career submission loss.
Delboni has focused on both grappling and kickboxing in 2021 after defeating Lindsey VanZandt in June. She racked up five pro grappling wins in six months. Prior to that, she'd gone two and two, beating Lindsey VanZandt again, but losing to Alesha and 6-2 Julia Polastri at Shooto Brasil 97.
It's clear Zappitella has more high-profile wins, across more opponents, in her last five fights.
Delboni vs Zappitella 1 Analysis
This fight was five, five-minute rounds for the Invicta Atomweight title.
Throughout this fight, Delboni is the aggressor, stalking Zappitella down. Little damage is done by either fighter, but it's clear Delboni is getting the better of the exchanges.
I have this fight for Delboni, 49 to 46.
Final Betting Pick
Delboni has a better training environment. She spent the last six months competing in grappling and kickboxing to hone her skills, and she won the first fight on my scorecard.
I see a Delboni win at -175 and a new Invicta Champion crowned.
Monica Franco vs Hailey Cowan
This bantamweight bout features Monica Franco, the #1 Hawaii women's bantamweight facing off against Cowan, the #41 women's bantamweight in the USA. This fight is three, five-minute rounds and both fighters' first bout since 2020.
Don't let their records fool you. Both fighters had extensive amateur careers, including eleven bouts for Franco.
Betting Odds for Franco vs Cowan
| Fighter | Moneyline Odds |
| --- | --- |
| Monica Franco | +200 |
| Hailey Cowan | -260 |
Cowan is the favorite, down from her -450 appearance with Kelly Clayton in 2020. She lost that bout via guillotine choke in round 2. This is Cowan's first fight with available betting odds.
Monica Franco's Amateur Career
Monica is currently the underdog not just due to a lack of experience. She's only fought twice as a pro even though her debut was in 2015. Her amateur career spanned 2009 to 2014, going 3-8 overall. I'll be interested to dig into what her training has looked like over the last five years of inactivity.
Tale of the Tape
| Monica Franco | Fighter | Hailey Cowan |
| --- | --- | --- |
| 37 | Age | 29 |
| 5'6″ | Height | 5'9″ |
| 2-0 | Record | 5-2 |
| 0/1 | Submissions/TKO | 1/2 |
| Hawaii Elite MMA | Training Camp | Blitz Sport MMA |
Hailey has a finishing rate of 42% as a pro. She was also an undefeated amateur fighter.
Size and age is a factor here, with Franco coming in eight years older and three inches shorter.
Monica Franco Side Lined by Covid in 2021
Franco looked to continue her career at Invicta FC 44 versus Lauren Mueller, but she caught COVID-19 and was unable to compete. This fight versus Cowan was scheduled in October, put together while Franco was still unable to train and in recovery.
Fight Camp Comparison
Franco trains at Hawaii Elite MMA and UFC Gym in Hawaii as an instructor. She's also seen cross-training at Jesus Is Lord gym in Hawaii. Clearly, Franco is doing everything she can to get lots of different training partners, which can be tough to do on the island. None of the gyms are producing elite-level fighters.
Blitz Sport MMA is from Texas and has been on a bit of a skid. None of their fighters have won a bout since 2020. Blitz is still an up-and-coming gym, and they look to be getting a larger pool of athletes to work with. Hailey is their star athlete, so at least she's getting plenty of coaching attention.
Last Fight Comparison
We have a few stats coming from Invicta, so we'll look at the last fight for both athletes.
Kimball vs Feucht
Kimball looks to be in even worse condition in this bout. Feucht walks through him after landing one straight right in the first round.
Franco vs Pettigrew
Pettigrew charged forward with near abandon, almost scoring the armbar inside the first round after taking Franco's back. The pace is frantic, but Franco is landing more shots and doing more damage. The second round slowed down, with Pettigrew looking to win striking exchanges. Franco looks better than 2015 but still unrefined.
Looking side by side with Cowan, it's tough to believe they're in the same weight class. Cowan will have a strong reach advantage, especially in the realm of leg kicks.
Cowan vs Clayton
Cowan lands an early takedown after a striking exchange. She looks sharp and controlled while carrying out a game plan.
Clayton's BJJ is superior early, nearly landing an armbar. BJJ is clearly a weakness for Cowan, but Franco is a blackbelt in taekwondo, and submission fighting is in no way her focus.
Final Betting Pick
Cowan is the more physical fighter. She has good takedowns and very solid conditioning. I think she needs higher quality BJJ instruction for her long-term success, but it's safe to say she'll outwork and overpower Franco, who spends little time building a submission-oriented fight game. Bet Cowan at -260 for a $0.38 payout per dollar wager.
Courtney King vs Ramona Pascual
The only featherweight fight on the card pits #63 in the world is Pascual vs #15 King. With the top twenty women's featherweight fighters distributed so widely, it's tough to get a handle on who is among the best. This fight shows near even odds despite the difference in the world ranking.
Betting Odds for King vs Pascual
| Fighter | Moneyline Odds |
| --- | --- |
| Courtney King | -105 |
| Ramona Pascual | -115 |
Pascual is a slight favorite. This is her first time displaying betting odds of any kind.
King has been the underdog in her last two fights, including a +900 bout with Olympian and PFL 2021 Champion Kayla Harrison.
Tale of the Tape
| Courtney King | Fighter | Ramona Pascual |
| --- | --- | --- |
| NA | Age | 33 |
| 5'9″ | Height | 5'7″ |
| 4-2 | Record | 5-2 |
| 2/1 | Submissions/TKO | 1/3 |
| Z's Training Gym | Training Camp | Syndicate MMA, Phuket Top Team |
King has one less pro fight, but an extensive 6-3 amateur career. Ramona has no amateur career on record.
King has acted more as a grappling specialist, wearing opponent's down and scoring the submission, while Ramona has knocked out a number of fighters and recently scored a Keylock submission in 2021.
Fight Team Comparison
Z's is a fairly unknown gym with five professional fighters of which King is the most well known. I was unable to confirm if King was cross-training anywhere.
Ramona is at Syndicate, one of the best MMA gyms in the world right now, with world champions from BJJ and MMA on the mat every single day. Ramona's last fight in China was 2021, so it's unclear if she goes back to China for fights, or when she switched to Syndicate. Prior to Syndicate, she was with Phuket Top Team, a growing gym that feeds fighters into ONE FC.
Fight Tape Comparison
King's last bout was against Kayla Harrison, and that's not a very useful fight to use. Harrison is head and shoulders above nearly every featherweight.
Instead, we'll start with the fight before that, Audrey Wolfe in 2019.
Wolfe vs King
King demolished Wolfe in this five-round, non-title main event. King threw Wolfe around the ring, battering the Mezger Martial Arts student with strikes and cleanch work. King took the 4th round submission, but by that time Wolfe had little fight left.
According to Tapology, 93% of analysts had Wolfe winning the bout.
Ramona Pascual vs Janay Harding
Ramona's second loss was in 2018. This may have been her last bout with Phuket before moving to Syndicate. Early, she showed good stand-up defensive mechanics but couldn't find a home for the majority of her strikes. She hits a beautiful body lock double but can do little with it in terms of damage. Even in this bout, Raona looks like the better athlete than King.
Final Betting Pick
Because of better coaching and technique inside the clench, I see Ramona Pascual taking home the win at -115. King is hoping to bounce back strong from her loss to Kayla, but I'd hope she'd take a less talented opponent
Ramona may be the next in line to hype a fight with Kayla Harrison.
Maria Jose Favela vs Sarah Kleczka
This bantamweight bout has a heavy favorite in the #36 in Latin America Maria Favela. Favela is coming off her first loss, so the promoters are doing what they can to offer her a win in Kleczka.
Betting Odds for Favela vs Kleczka
| Fighter | Moneyline Odds |
| --- | --- |
| Maria Jose Favela | -350 |
| Sarah Kleczka | +275 |
Kleczka is on a three-fight losing streak, including a loss to the 2-3 (now 3-3) Brittney Cloudy in Apex Fc. Kleczka had a promising amateur career, with seven undefeated wins with multiple stoppages. She can't seem to get her bearings in the pro circuit.
Tale of the Tape
| Maria Jose Favela | Fighter | Sarah Kleczka |
| --- | --- | --- |
| 28 | Age | 28 |
| 5'7″ | Height | 5'6″ |
| 2-1 | Record | 2-3 |
| 1/0 | Submissions/TKO | 1/0 |
| Entram Gym | Training Camp | American Top Team Tampa |
The fighters are evenly matched with similar stats and finishing rates. Favela was a 4-1 amateur with no finishes, so Sarah technically has more all-time fight finishes.
American Top Team Tampa has ten professional fighters of their own. They've struggled to put anyone in larger promotions and many of their fighters have been inactive since 2017. Top Teams do cross-train, but we found no evidence of Kleczka hitting both gyms.
Etram MMA is one of Mexico's premier MMA schools, and the original home to Brandon Moreno, now UFC champion. Favela is in the company of some of the best fighters in the world.
Fight Tape Comparison
We'll be comparing 2021 bouts for both fighters, though Favela's is much more recent. Kleczka hasn't fought for Invicta since 2018, but her 2021 bout with Cloudy is a good showing of how she'll do against Favela.
Maria Favela vs Storts
This is a competitive clench fighting and grappling bout for the majority of the first round. Storts wins a takedown and secures rounds one and two. Favela gets desperate to land a knockout blow, a common mistake in the inexperienced. She's outwrestled and forced to escape control for the majority of the bout.
Sarah Kleczka vs Cloudy
Kleczka is looking for a stand-up battle. She's stepping into the jab and looking for some long-range punches. She seems disinterested in engaging and her defensive striking worries me, as she continues to paw open-handed at incoming punches. If she looks like this against Favela, we'll see a one-sided night.
Final Betting Pick
Favela is the better striker and has the team to offer her better grappling in a shorter period of time. I don't see a path to victory for Kleczka unless her wrestling and conditioning has dramatically improved in the last six months. Take the -350 for Favela, a $0.29 payout per dollar wager and my most confident pick on Invicta FC 45.
Tabatha Ann Watkins vs Katie Saull
This Atomweight bout shows two fighters on serious losing streaks. One of these women will get their first win since 2019.
Betting Odds for Watkins vs Saull
| Fighter | Moneyline Odds |
| --- | --- |
| Tabatha Ann Watkins | -115 |
| Hailey Cowan | -105 |
This is a close bout with near even odds. Neither fighter has racked up any significant wins. They've both beaten 5-6 Andy Nguyen and lost to 7-5 Lindsey VanZandt. The Atomweight pool is small enough that most fighters have some overlap on their record.
Tale of the Tape
| Tabatha Ann Watkins | Fighter | Hailey Cowan |
| --- | --- | --- |
| 27 | Age | 34 |
| 5'3″ | Height | 5'4″ |
| 3-3 | Record | 3-5 |
| 2/0 | Submissions/TKO | 1/0 |
| Scorpion Fighting Systems | Training Camp | WAMMA |
Watkins has some slight advantages, namely the seven-year age difference. She trains with our main event fighter Alesha Zappitella at Scorpion, the ever-improving gym of wrestlers.
Saull is from WAMMA, a Canadian school that brought us small-time UFC fighters like Roland Delorme and Brad Katona. I'm not sure that either fighter has a direct training advantage, but Saull's WAMMA has produced more top promotion fighters.
Final Betting Pick
After reviewing the fight tape, I see Watkins taking home the win. Saull is lanky and has good BJJ, but Watkins will control the pace of the fight by putting Saull against the fence. Unless Saull has made a dramatic improvement in her striking, look to see Watkins winning a decision at -115.
Helen Peralta vs Elise Pone
In the opening bout of the evening, we see a three-round featherweight matchup with serious underdog Elise Pone. Pone has one win to her name and no amateur experience to speak of.
Betting Odds for Franco vs Cowan
| Fighter | Moneyline Odds |
| --- | --- |
| Helen Peralta | -550 |
| Elise Pone | +385 |
Peralta is heavily favored, going 1-1 in her last two, her last finish was in 2018. She finished Maia Kahaunaele in a 2019 BKFC boxing match, but her MMA finishes have been few and far between. Peralta was a strong amateur as well, competing since 2016 with a 9-1 record.
Monica Franco's Amateur Career
Monica is currently the underdog not just due to a lack of experience. She's only fought twice as a pro even though her debut was in 2015. Her amateur career spanned 2009 to 2014, going 3-8 overall. I'll be interested to dig into what her training has looked like over the last five years of inactivity.
Tale of the Tape
| Helen Peralta | Fighter | Elise Pone |
| --- | --- | --- |
| 33 | Age | 36 |
| 5'1″ | Height | 5'8″ |
| 4-2 | Record | 1-0 |
| 1-0 | Submissions/TKO | 1-0 |
| NA, home gym | Training Camp | Central PA MMA |
After a bit of digging, I found that Pone is a 5-time world Muay Thai Champion and a purple belt BJJ competitor, winning local NAGA and IBJJF tournaments. In Muay Thai, she is 14-1, a black band (the second-highest Muay Thai Ranking), and a full-time instructor.
Helen has the experience advantage on paper, but she's going to get eaten alive on the feet in this one.
Elise Pone vs Chrissy Yandolli
Pone looks good early, managing distance with teep kicks and blocking most of the incoming strikes with ease. She looks a bit stiff in her Invicta debut, but this is the biggest show she's been a part of to date. She shows chopping leg kicks in the first round, and her power is elusive. She has Chrissy backing up and is scared to exchange after several kicks.
In the second round Pone lands a right hand that marks the beginning of a massive flurry. She displays good killer instinct and finishes the fight quickly.
Helen Peralta Fight Tape
Peralta's fights are gritty. She has a fight-of-the-year BKFC performance in 2019 versus Kahaunaele, but mainly she's a brawler. I think she'll struggle to get inside range with the lanky Hone, and will have no way to get past the teep and leg kicks other than to absorb them outright.
Peralta has knockout power, but most of the featherweights she's up against have little kickboxing experience, many of them started with grappling and moved to MMA. Peralta is a striker, taking advantage of the many disadvantages of MMA striking while neglecting to develop offensive wrestling.
Final Betting Pick
Thank goodness this slipped past the oddsmakers! I'm betting Elise Pone, the sleeper underdog of this card at +385. She's going to steal the show and line our pockets at the same time.
Invicta FC 45 Betting Pick Wrap Up
As women's MMA advances in popularity, these are some of the atomweight fighters we may see someday in the UFC. Smaller female fighters are great because of a high likelihood the fight goes to decision. When you're looking at two 105 pounders records, you'll see that the fights go to decision around 70% of the time even for the best athletes. This gives analysts and bettors an edge in predicting the outcome because you're not dealing with many flash knockouts or lucky punch endings.
If you like betting analyses like these, drop a comment below or check out the MMA picks for more every week.