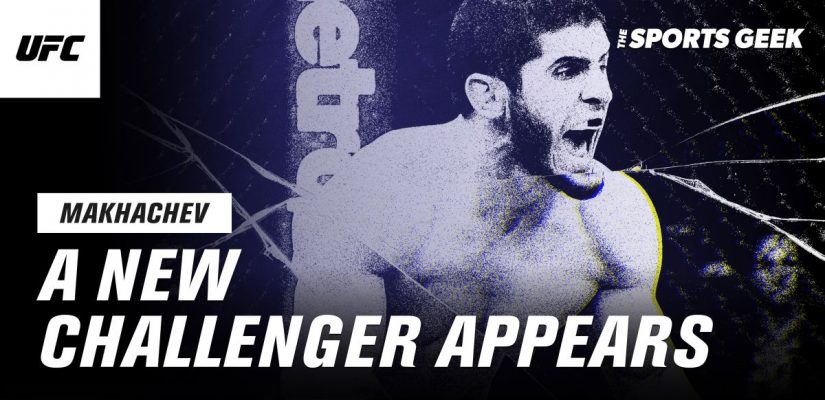 The only fighter who can be compared to Khamzat Chimaev in terms of hype and momentum is Islam Makhachev — a lightweight bulldozer who's currently on a ten-fight win streak and is already being deemed as the biggest threat to reigning champion (and future hall of famer) Charles Oliveira.
And, frankly, it's hard to argue against such a narrative. The ease with which Islam disposed of his opponents has been nothing short of awe-inspiring. He echoes much of what made Khabib Nurmagomedov so darn great, and even though he's not as technical or perhaps layered, he's still astoundingly dominant and has yet to meet his match inside the octagon.
The thing with Islam is that you always know what he'll do and how he'll go about doing it. Everyone knows, in fact, and yet no one has yet been able to counter his game plan and actually give him a run for his money.
He's been astoundingly dominant and the things his peers and past opponents have been saying about him have only further increased his legend:
"I understand now. He's so patient and he's so strong and he just goes little, little, little and then little until he gets right where he wants to be, you know? So I tried to do some turning over and as I did it, he went to mount and he was so strong at holding his mount, I was like eventually I could try to get and turn and I couldn't move out of it. No one's been that strong before," said Bobby Green mere moments after getting mauled by Islam.
Much of the same was said for Khabib as well, and if he can accomplish even a fraction of what his friend and mentor has, he'll no doubt go down in history as one of the most dominant lightweights to ever do it.
One thing's for certain: his best days are yet to come.
Makhachev vs. Oliveira | What Are the Odds?
The question now is: could he do to Oliveira what he has done to so many others? It's an endlessly interesting question, one that we cannot answer with any noticeable amount of confidence. His grappling prowess and ability to push the pace and overwhelm his opponents are seemingly second to none, but Oliveira has been through it all.
His rise to fame has been long and arduous, and he's weathered many great battles, a good number of which he was on the receiving end of. And for some odd reason people are still sleeping on him. The guy's been wrecking house for so long and yet so few pundits and MMA connoisseurs are willing to give him his due. That has started to change, but not at the pace at which he deserves.
Now, granted, his reign hasn't been perfect (i.e. his fights weren't always that clean or dominant), but he always got the job done and that's the only thing that matters. The fact that he almost got knocked out cold on many occasions changes very little. In fact, one could argue that it adds a bit of intrigue and mystery — he doesn't have an aura of invincibility around him which, in turn, makes his fights all the more alluring.
HE's VULNERABLE, AND THAT'S GOOD
He doesn't have the same "problem" as his direct predecessor; Khabib's fights were foregone conclusions. Kamaru Usman and Israel Adesanya are also facing a similar challenge at the moment: they're simply too good. Granted, it's not the worst problem one can have, but it's still a complicated challenge and a hurdle that needs to be addressed somehow.
If you know they're going to win, there's not that big of an incentive to tune in and buy the pay-per-view. Oliveira's fights, however, are all over the place. It's chaos from start to finish — he's somehow both the underdog and the favorite all at the same time. You never know what'll happen and how the fight will pan out, but he's obviously an exceptional mixed martial artist and is more than worthy of the history books.
Consecutive wins over Tony Ferguson, Michael Chandler, and Dustin Poirier speak volumes. And if he can handle Justin Gaethje in much the same fashion at UFC 274 (May 7), he'll no doubt solidify his spot as one of the best lightweight champions in history. Khabib's shadow does, in all fairness, loom over him, but that should in no way affect his own stock and personal narrative.
Islam Makhachev, however, has that special kind of aura.
An Absolute Beast | Makhachev vs. Oliveira Odds
It took him less than six minutes to go through both Dan Hooker and Bobby Green which, by all metrics, is exceedingly impressive. You're only as good as your last fight, and if were to judge Islam by his last few performances we'd simply have to deem him as a bona fide behemoth.
If he blows Beneil Dariush out of the water as well (at some point in the very near future), then Charles Oliveira will definitely have a reason to be worried.
The oddsmakers have already sided with Islam Makhachev — he's deemed the heavy favorite at -300. That alone tells you all you need to know. Unlike Khamzat Chimaev, Islam's not only been fighting top-tier opposition (and winning with ease), but he's also coached by Khabib and the legend himself Javier Mendez.
UFC Futures Betting: Charles Oliveira vs. Islam Makhachev
He has the kind of "lineage" and guidance most fighters can only dream of — not to mention a gold medal from the 2016 Sambo World Championship.
He's earned his hype in sweat and blood, and that is a fact no one can put into question. Then again, Oliveira is as seasoned as they come. And, well, he's an absolute genius on the ground; Islam will take him down, there's no doubt about it, but that might be a double-edged sword.
Oliveira's a crafty guy, and he's no stranger to getting punched in the face (repeatedly). He doesn't mind getting punished if it'll put him in an advantageous position further down the line. It's not the most advisable method or approach one can think of, but it's been doing wonders for him nonetheless — so who are we to judge and suggest otherwise?
I don't care who you will put in front of me, I'll smash this whole division

— Makhachev Islam (@MAKHACHEVMMA) March 3, 2022
It's Hard to Tell
It's sometimes hard to discern a real threat from an unwarranted hype train. Makhachev is the real deal, but whether or not he'd be able to rub shoulders with Oliveira is totally up for debate — and it'd be quite a heated discussion.
Stylistically speaking, Makhachev might have an edge, but Oliveira does have a wondrous submission game, so it's not like he'd find himself in deep waters should he end up on his back. The guy holds the UFC record for most submission wins (15), after all, and he can also "stand a bang" should the need arise.
STILL SOMEWHAT OF A QUESTION MARK
So it's really not as clear-cut as the odds would lead you to believe. Moreover, two of Makhachev's biggest wins did come over opponents who were tapped as last-minute replacements. That's a hugely important element of the equation and it's not being talked about all that much.
Now, we don't think the outcome would've been any different had Dan Hooker and Bobby Green had a full training camp, but they would have probably made it a bit more competitive; they'd have more time to prepare for the prodigious samboist.
In any case, we can't wait to see him go up against Beneil Dariush. That'll be quite a formidable test, and if he can pass it with flying colors — and Oliveira happens to beat Gaethje — then we'll be in for one heck of a clash come fall of 2022!