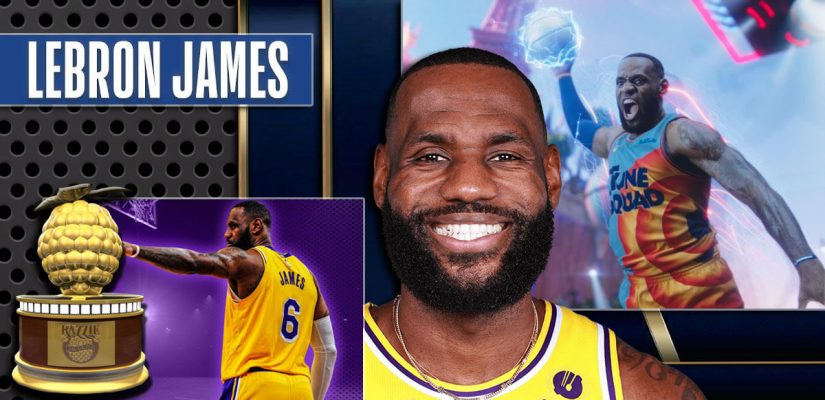 LeBron James is a lot of things. He's arguably the best basketball player to ever live. He's also become a pretty successful businessman, with his hand in a number of ventures that have nothing to do with hoops. Once his playing career is done, James probably has a bright future as an entrepreneur.
If he's smart, that's what he'll do.
James is a man of many talents, but acting is not his strongest attribute. LeBron has appeared in a couple of feature films over the course of his playing career. He actually earned solid reviews as Bill Hader's buddy in Trainwreck, where he essentially played himself in a more comedic role.
However, LeBron's first attempt at playing a leading man didn't go quite as smoothly. Last year, James starred in a reboot of the iconic Space Jam. In case you live under a rock, the original Space Jam starred another NBA legend, Michael Jordan, as he teamed up with the Looney Tunes to play an epic basketball game for the ages. The first Space Jam became an instant classic among kids of the 90s, such as yours truly.
LeBron's remake…not so much. Am I still in the target demographic for a Looney Tunes movie? Admittedly, no. Still, I'm not alone here. Take a gander at the newer Space Jam's Rotten Tomatoes reviews if you don't believe me.
On the bright side, LeBron's terrible acting might actually earn him some recognition.
We know James has a crowded trophy case, and there's a pretty strong chance he'll be adding to it. According to entertainment betting sites like MyBookie, LeBron is actually an odds-on favorite to win the Razzie for Worst Actor at next week's Golden Raspberry Awards.
Worst Actor Odds
LeBron James (Space Jam: A New Legacy):
-110
Ben Platt (Dear Evan Hansen):
+165
Mark Wahlberg (Infinite):
+500
Scott Eastwood (Dangerous):
+1000
Earlier in his career, LeBron admitted that he wanted to become a "global icon." I'd say he's done enough on the basketball court to make that dream a reality, but we'd all be better off forgetting his Space Jam reboot ever happened. Fortunately, I don't think they'll mention it on his Basketball Hall of Fame plaque.
SPACE JAM: A NEW LEGACY can be visually unpleasant & LeBron James's acting leaves much to be desired but as someone who grew up with the original, there's enough Toon nostalgia, clever meta references & WB IP surprises to put a smile on my face. Plus Don Cheadle is having a ball! pic.twitter.com/ltGvw43oBO

— Matt Neglia (@NextBestPicture) July 13, 2021
Of course, nobody tuned into Space Jam to see LeBron James acting. It's not like Jordan was nominated for an Oscar for his work in the original, either. It's also worth mentioning James' acting isn't really that terrible.
It's not good, of course, but what did we expect?
It's not like they could get Daniel Day-Lewis to come out of retirement for this thing. LeBron falls victim to a horribly-constructed plot that makes no sense, either.
The storyline in the original was simple:
If the Looney Tunes didn't beat a group of aliens in a basketball game, they'd be forced into a life of slavery on another planet. You know, a typically lighthearted kid's movie plot.
As someone that spent a few hard-earned bucks to watch the sequel, I couldn't even really tell you what the plot was. LeBron's fake movie family was abducted by a computer version of Don Cheadle…or something.
James had to get the Tune Squad back together to win them back.
Rather than focusing on the Looney Tunes, as was the case in the original, Warner Bros. decided to force a bunch of unnecessary cameos into this one. The Justice League, Rick and Morty, and a dragon from Game of Thrones all show up to watch the game, for some reason. It's all very stupid, obviously.
Other Worst Actor Contenders
At this point, you have to like LeBron James' odds to win the Razzie. This man does nothing but win, after all. I can only assume the Worst Actor Razzie will take a prominent spot in his trophy case right next to his 2016 NBA Finals MVP Award.
Of course, LeBron James' acting prowess doesn't make him a shoo-in to win it. Ben Platt is listed at +165 to win the Razzie after his awful showing in a movie called Dear Evan Hansen. The 28-year-old rose to fame after starring in the Broadway version of Dear Evan Hansen between 2015 and 2017.
In fact, he actually became the youngest person to ever win the Tony Award for Best Actor in a Leading Role in a Musical. So, what went wrong with the 2021 film adaptation?
Ah. Looks terrible! Platt looks like a legitimate contender capable of giving LeBron a run for his money here.
Mark Wahlberg is the most decorated actor up for a Razzie this year for his work in Infinite.
If you haven't heard of this movie, you're certainly not alone. The film's original August 2020 release was postponed as a result of Covid, and it was instead released on Paramount+ last year. This masterpiece earned a 16 percent approval rating on the Tomatometer. Let's take a look:

Admittedly, I don't have a clue what's going on here. As a result, it's probably perfect Razzie material. Wahlberg is something of a long-shot at +500 to win Worst Actor, but, based on that trailer, his odds should probably be a little more favorable.
Lastly, we have Scott Eastwood listed at +1000 for Dangerous.
Had you ever heard of Scott Eastwood until now? Me neither. Needless to say, it doesn't look like Scott will follow in his father's footsteps as a future Hollywood legend.
Dangerous also features the disgraced Mel Gibson, so you know it's good. This looks a little bit like Infinite, only with more boats.
It also features an actor named Kevin Durand, not to be confused with the wildly more successful Kevin Durant. While LeBron James' odds are the most favorable of the group, the future Basketball Hall-of-Famer certainly isn't a lock to win the Razzie.
Frankly, this is a stacked field. Any of the four actors with listed odds can realistically win it.
Will LeBron James' Acting Pay Off?
The new Space Jam is bad, but it wasn't the only terrible movie released last year.
Is LeBron James the worst actor ever? Absolutely not. Remember, he's a basketball player doing some acting in his spare time. Everyone else nominated for the Worst Actor Razzie allegedly does this full-time.
Winning a Worst Actor Razzie won't be a death knell for LeBron James' acting career, either. In fact, some of the biggest names in Hollywood have won this very award in the past. Tom Cruise, John Travolta (twice!), Adam Sandler (twice!), Ben Affleck, and Bruce Willis are just a few of the luminaries to have won the Worst Actor Razzie in the past. In case you were wondering, Mike Lindell, the "My Pillow" guy that turned into a pro-Trump crackpot, took home the prize last year. LeBron James' odds are favorable, but he wouldn't be my bet to win Worst Actor. Taking a shot on Platt (+165), Wahlberg (+500), or Eastwood (+1000) gives you a lot more bang for your buck.
LeBron James' acting likely won't earn him any actual honors once his playing days are over, but he's also no lock to win the Razzie.