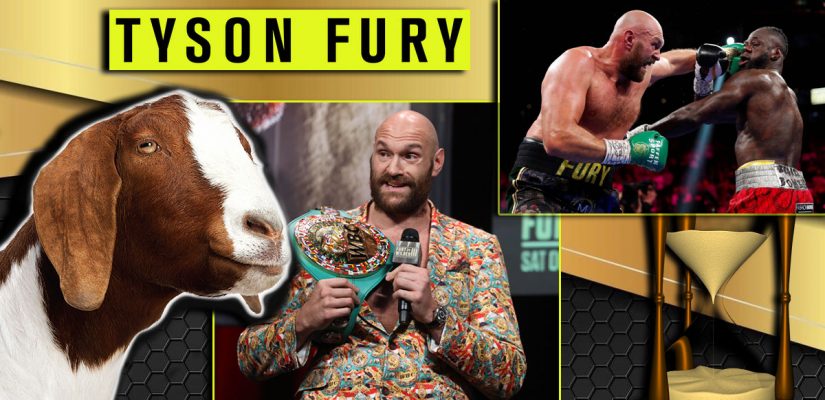 Is Tyson Fury ready to be one of the best heavyweight boxers ever? He's defeated other top ten picks such as Wladimir Klitchko and dethroned his rival Deontay Wilder.
Let's take a look at our top ten heavyweights of all time, and speculate on how Tyson Fury would fare against them, including Tyson Fury's odds against them in their prime.
You can speculate your own betting odds using our boxing guide to get a better understanding of sports betting and boxing betting. 
All Time Top Ten Heavyweight #1: Lennox Lewis
Given the level of competition in this era of boxing, Lewis is the all time champion. His 41-2-1 record only started to falter as he reached 35 years old.
He beat other top ten honorable mention heavyweights, like Mike Tyson, Vitali Klitschko, Evander Holyfield and Shannon Briggs. Lewis owned an era of massive boxing talent, even fights fom long before his title era, such as Tommy Morrison (IBF Title win,) Phil Jackson and Ray Mercer are still household names for boxing fans.
He was ranked #1 for nine years and active for fourteen years as a professional. 
Tyson Fury vs Lennox Lewis
We're assuming that both fighters are in their prime for this fight. Tyson Fury has a four inch reach advantage, and his clinch game is one that can exhaust fighters with straight punching strategies.
Another of Tyson Fury's strengths is head movement.
Seeing Lewis struggle to land against Tyson's peek-a-boo style is a snapshot into just how effective Fury would be up close. 
Why did Mike Tyson seem to have stamina problems during his boxing match against Lennox Lewis back in 2002?#Boxing pic.twitter.com/WeBkQSSDGw

— The Boxing Bulletin (@BoxingBulletin) April 7, 2022
I give Tyson Fury odds of about +140 against Lewis. It would have been a fight for all time greatness. 
All Time Top Ten Heavyweight #2: Muhammad Ali
Ali is usually lower on all time great lists, but our list is organized by estimated ability, not necessarily accomplishment.
Ali was 56-5 at the end of his pro career with 37 knockouts.
He's the only man on the list that can match Fury's lightness of feet. He was an elusive giant at 6'3''. Three of his losses came at the end of his career from age 36 to 39, far outside of his prime.
Muhammad bested Sonny Liston, Floyd Patterson, George Foreman and Joe Frazier all in a four year period.  
Muhammad Ali vs Tyson Fury
Tyson would tower of Muhammad. Ali's jab would have been something to contend with. Ali has a better knockout ratio, but mostly because he was more willing to engage. One of Tyson Fury's strengths is managing power. I think that split decision losses to Ken Norton made it seem that Fury would have a chance to defeat Ali, and I agree. I would put the Tyson Fury odds at +100 against Ali, with a good chance of winning late rounds over the shorter fighter using clench tactics from the Wilder fight. 
Who did it better, @Tyson_Fury or Muhammad Ali? #FuryPianeta pic.twitter.com/lis8phGDf6

— Ryan Songalia (@ryansongalia) August 18, 2018
All Time Top Ten Heavyweight #3: Joe Louis  
Louis took over where Dempsey left off. Lewis was defeated by Marciano but only as a 37 year old champion. His 66-3 record included 52 knockouts, including a 34 fight unbeaten streak. Lewis didn't start to fade until he was 36 after a two year hiatus from beating Jersey Joe Walcott back to back. Louis is number one on lots of lists. 
Joe Louis vs Tyson Fury
Make em miss….make em pay!
The brown bomber Joe Louis ?? pic.twitter.com/SXLQdbVEqE

— Mad About Boxing (@mad_aboutboxing) April 12, 2022
Fury would have had seven inches of reach and height over Louis. Brown Bombar's slip and hook strategy would have been tough against Fury. He was the best of his time, but Fury would have won. We give the Tyson Fury odds -400 over Louis, with a likely knockout of the tiny champ. 
All Time Top Ten Heavyweight #4: Jack Dempsey
Jack Dempsey's career spanned 85 fights and 53 total knockouts. He retired when he was 32 after two losses to Gene Tunney, but the pace of his fights from 19 to 32 was incredible. Dempsey took his first title in 1916, and the World Title in 1919.
He defended it for six bouts before retirement, knocking out each opponent.
Jack Dempsey vs Tyson Fury
Dempsey was a great fighter, but Fury would have mauled him. Tyson Fury's strength is in his six, and heavyweights in the early 1900's were quite small. Dempsey was 6'1'', giving up eight inches of height and a foot of reach to Fury.
In legacy, Dempsey was a boxing genius.
In person, he wasn't very intimidating.
I give Tyson Fury odds  -800 against Dempsey in what's bound to be a shut out. 
All Time Top Ten Heavyweight #5: George Foreman
Foreman had a massive career, spanning 81 fights for a 76-5 record. He lost to Tommy Morrison and Shannon Briggs late in his career, making fights competitive despite being 44 and 48 at the time of those fights. The only person to beat him in his prime is Muhammad Ali and Jimmy Young. Many people would make Foreman #3 on this list as a result. 
George Foreman vs Tyson Fury
Foreman is still dwarfed by Fury, but he would have had the power to go to the body in a way many boxers wouldn't have. Ron Lyle was 6'5'' and Foreman was able to chop him down in five rounds. 
My Fight of the Year;
George Foreman KO5 Ron Lyle.
01/24/1976.

Full Highlights.https://t.co/heqrb2x4Db pic.twitter.com/NAzB96fHPZ

— ???? ?. (@BoxingJournaIs) July 16, 2021
Tyson Fury's strength is in his strategy. He won't go toe to toe with power. I give Tyson Fury odds against Foreman in his prime -115, a close fight where either fighter could end up on the canvas. 
All Time Top Ten Heavyweight #6: Tyson Fury
I think Tyson Fury is #6 of all time currently. The main thing holding him back is a refusal to fight the other greats of his time. Dillian Whyte, Alexander Usyk, Anthony Joshua, and Andy Ruiz are the other fighters in the top five- Fury hasn't even considered fighting them. The Wilder trilogy was great, but his 31-0-1 record is puny compared to the other GOATS on this list. 

Our Projected Fury Odds Against the Top Contenders
| Fighter | Fury's Made Up Odds |
| --- | --- |
| White | -200 |
| Usyk  | EVEN |
| Joshua  | -325 |
| Ruiz  | -575 |
Usyk is easily the right fight and title unifier. Joshua would have always gotten mauled and would probably lose to Wilder. 
All Time Top Ten Heavyweight #7:Wladimir Klitschko 
Fury beat Klitchko at the very end of his career, taking out the 39 year old via decision. Klitschko was defeated 4 times in his career, but amassed 53 knockouts over his twenty-one year career. In his prime, Vlad was a knockout machine. Going pro when he was 20, he wasn't defeated for 22 bouts, and followed up with a four year sixteen fight undefeated streak. 
Wladimir Klitschko vs Tyson Fury 
Fury was the only fighter to beat Klitschko and not knock him out. Fury's odds were+350 against the Vladimir -500 favorite position. I think it could have been more competitive in Klitschko's prime, with the fifteen year age difference playing a major role in their fight. 
5 years ago! Klitschko vs Furypic.twitter.com/bILsqVwBWL

— Dan Frost (@DannyBoyFrost) November 28, 2020
You can see how slow Klitschko looks in comparison to his prime. Fury danced circles around this fading all time great. 
All Time Top Ten Heavyweight #8: Rocky Marciano 
Marciano was an undefeated champion, going 49-0 with 43 KOs. He's regarded by many as a protected fighter, who defeated a massive number of small time heavyweights before moving up to the title level at the very end of his career, retiring after six title defenses, two fights after his defeat of Joe Louis. 
Rocky Marciano vs Tyson Fury
Marciano was only 5'10''. Again, looking at the all time greatest of boxing we see how many of them wouldn't have done well in the modern boxing meta, where boxing giants have plenty of time to train and fight. Our Tyson Fury odds are -10000. There is no doubt in my mind Fury would knockout Marciano. 
All Time Top Ten Heavyweight #9 Jack Johnson
The Galveston Giant was 72-11-11, 3 NC over his career. Five of his losses were toward the end of his career after he turned 48. Johnson's last win was as a 53 year old by second round KO. His early career had a rocky start, with multiple draws due to poor judging. His first winning streak ran from 1902 to 1904 for fifteen wins. 
Jack Johnson vs Tyson Fury
This depends on the rule set. I think Jack Johsnon could have a chance if they wore six ounce gloves and fought for twenty rounds. Early 1900's boxing was brutal. Still, Johnson's six foot frame would have been battered by the massive Tyson Fury. I give Tyson Fury odds of -8000 as a strong favorite over a prime Jack Johnson. 
All Time Top Ten Heavyweight #10 Mike Tyson
Tyson's 50-6 record was scored against many of boxing's greats. He beat Larry Holmes and Carl Williams. His 37 fight winning streak is still a thought of legendary beauty, and all before he turned 24. After the loss to Buster Douglas, he didn't lose again until he faced Holyfield (our tie for the #10 all time greatest spot.) 
Mike Tyson vs Tyson Fury
Tyson Fury was named for Mike Tyson. This would be a young man fighting his hero and I'd be interested to see if he could pull the trigger. Prime Mike Tyson took down fighters much taller than him, and the early rounds against Lewis showed Tyson scoring with hooks that nearly had his legs off the canvas. Still, our Tyson Fury odds are -1000 over Tyson in his prime. No one has finished Fury, and Tyson struggled under the clenching strategy of Buster Douglas for a reason. 
Honorable Mention: Alexander Usyk 
We're looking forward to this fight. Usyk holds three heavyweight titles and a bout between Fury and Usyk would be the biggest fight since Ali vs Foreman. Usyk has all the tools to be an all time great, and is the only other undefeated heavyweight contender of our time. 
Who's on your list that we missed? Let us know in the comments below.