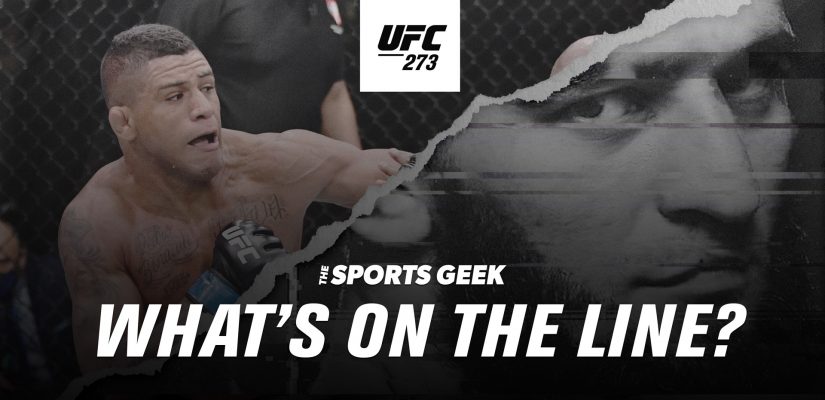 Khamzat Chimaev vs. Gilbert Burns is undeniably one of the most hype match-ups of 2022; the odds for this particular clash will surely be all over the place and some bookies have already pegged Chimaev as the heavy favorite at -300.
That's not only astounding but even a bit ludicrous.
Now, we all love a good storyline and we yearn for those mouth-watering narratives as much as everyone else, but there must come a point where logic and reason take over. That point still hasn't come with Khamzat Chimaev, and we're getting a bit jaded with all the hype surrounding him.
Chimaev vs. Burns Odds | He Knows What He's Doing
With all of that being said, a ton of credit needs to go toward this talented Chechnyan. He's been marketing himself in the most spectacular of ways, and that holds true for both his "Twitter game" and his Octagon performances as well — Khamzat has capitalized on each and every single opportunity he's been given.
And even when he wasn't a part of the conversation he somehow found a way to steal a bit of the spotlight. He's been getting talked up by basically everyone, but there's still no concrete evidence that would prove that he really is as good as the hype surrounding him.
Now, let's get one thing straight: Chimaev is obviously a force to be reckoned with and one of the most frightening prospects in the entirety of the UFC. Heck, just his wrestling match with Jack Hermansson is enough to get our blood pumping.
He hasn't, however, been tested, and that's a fact that is easy to lose track of. We don't care much for training room stories — wins in the Octagon are the only thing that matters and are the ultimate (if not only) benchmark by which we should judge fighters and gauge their potential. And while Khamzat's wins were exceedingly dominant, they did not come at the expense of top-tier prospects or title contenders but rather bottom-dwellers and severely flawed competitors.
STILL A WAYS TO GO
Wins over John Phillips, Rhys McKee, Gerald Meerschaert, and Li Jingliang — astonishingly dominant though they definitely were — are by no means enough for us to board the hype train. Do we think he's special? Absolutely, but just how special he really is still remains to be seen.
He's still a very young fighter and we simply don't know how well he can cope with being one of UFC's biggest media "darlings." It's a prestigious position to be in, no doubt, but it carries a ton of pressure with it as well.
It is a heavy burden.
No one's questioning his talents — the depth of which is supposedly quite astonishing — but the amount of attention he's been getting could prove to be problematic, especially now that he's finally on the brink of "breaking through."
This "folklore" of sorts is great for building up hype and momentum, but we'd much rather see him tested against someone with a proven track record — a fight between two equals, rather than a lopsided mismatch that was always a foregone conclusion.
Chimaev vs. Burns Odds | Still a Ways to Go
Dana White went on the record and said that Khamzat will need to win four more fights before challenging for the belt. That means he's still a year away (at the very least) from potentially clashing with Kamaru Usman, so we'll definitely see him get challenged by the biggest and baddest men in the welterweight division.
Then again, if he can dominate his forthcoming opponent and, in doing so, make a tremendous statement, he could end up facing the "Nigerian Nightmare" a whole lot sooner than expected — that's just the way things work and, fortunately for Khamzat, it's not like there's any other promising contender in his division other than, say, Leon Edwards (who's yet to get the recognition he deserves).
There's also a world of difference between the way Khamzat markets and asserts himself and what Leon's been doing, and we'd be remiss if we didn't say that most folks would rather watch Chimaev trade blows with Usman, records and accomplishments aside.
He is not ready to die brother ?
@henry_cejudo ??? pic.twitter.com/sZn9dWDBXW

— Khamzat Chimaev (@KChimaev) February 15, 2022
"Nobody wants to fight Khamzat, I don't think Kamaru Usman does. It's undeniable, it's scary and we're going to get a lot of answers when he fights Gilbert Burns. I have a good idea that that's not going to go great for Gilbert Burns. That Khamzat trains' coming. I don't see anybody beating him," said Brendan Schaub during a recent episode of his podcast. "I don't know how much Kamaru Usman has but I don't know who beats him. He'd be favored over everybody. That's what's scary," Schaub concluded.
AN IMMENSE AMOUNT OF HYPE
Is it not crazy to already consider him not only as a threat to Kamaru Usman but to also label him as the man equipped with the right skillset to dethrone the best pound-for-pound fighter in the world and one of the very best mixed martial artists who've ever taken flesh? Is that not ludicrous after just a handful of "easy" opponents?
We get it: he's an amazing fighter with a bright future ahead of him, but there's a very big difference between competing against flawed, unranked competitors and going up against someone who's been fighting at the highest of levels for years and has a slew of high-profile wins.
That's where Gilbert Burns comes into play.
A Very Big Test for Chimaev
He's the right kind of challenge. He has an incredible amount of power in his hands but also an astonishingly potent BJJ game. He's by no means infallible, but he's nonetheless one of the very best welterweights on the planet and is equipped with the right tools to truly push Chimaev in ways he's never been pushed before.
Now, we're not immune to all this hype — Chimaev has played his cards to perfection and he's still nowhere near his peak; he'll only get better and better as time goes on and at twenty-seven years of age he's bound to continue dominating for many years to come. We think he has the tools — or at the very least the willingness and self-belief — to upend the welterweight status quo, but we're nonetheless afraid that he might be a future victim of the UFC's potent marketing dynamo.
The search for the superstars of tomorrow is unyielding and it has ruined about as many careers as it has facilitated and unearthed. For some, this unexpected push comes at just the right moment — that's when legends are born. For others, it comes a bit too soon and they start believing in their own hype.
Chimaev has the right teammates by his side, so there's definitely a reason to be optimistic, but we're nonetheless aware that there's still a bunch of ways for this whole thing to go awry.
For Chimaev, this is "do or die" — a win would propel him to incredible heights; a loss, however, would derail the hype train in the grandest of fashions. Burns is in a much better situation — most folks already consider him the underdog so it's not like he'll lose much stock should things really pan out that way.
The fight's expected to take place at UFC 273 but nothing has yet been made official. One thing's for certain, though: millions of fans across the globe will tune in to Chimaev's next bout, and we hope he'll be able to thrive and persevere amidst such circumstances.
If he can "stick the landing" — and put on a show — a bona fide superstar will be born.