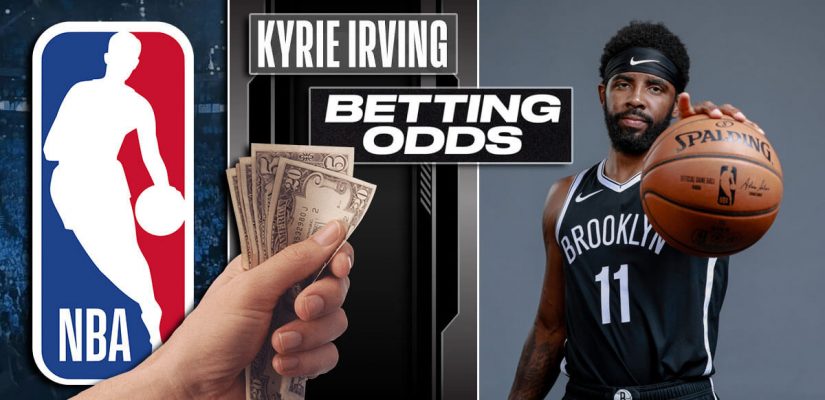 You won't find many star athletes around the world of American sports like Kyrie Irving. Despite an injury-riddled freshman campaign at Duke, Irving was the no-brainer No. 1 overall pick in the 2011 draft by the Cleveland Cavaliers.
Kyrie has gone on to earn seven All-Star nominations over the course of his career.
He helped lead the Cavs to their first (and only) championship in 2016. Kyrie was the MVP of the All-Star Game in 2014 and a Second Team All-NBA selection in '19.
However, Irving is already on his third team since entering the NBA a little over a decade ago. After a rough 2021-22 season capped by a first-round sweep at the hands of the Boston Celtics, the Brooklyn Nets could be looking to rid themselves of Irving this summer, as well. Irving previously wore out his welcomes in Cleveland and Boston, and his time in Brooklyn could soon be coming to a close.
Star players moving around the NBA is nothing new at this point. The current age of player empowerment means we see a number of top players switching teams just about every summer.
If the early rumors are to be believed, Irving may suit up for his fourth team once the 2022-23 campaign tips off this fall.
As usual, NBA betting sites like BetOnline are on top of things. In fact, you can already wager on where Kyrie will land if he leaves Brooklyn this offseason.
Kyrie Irving Next Team Odds (if not Nets)
| | |
| --- | --- |
| Team | Odds |
| Los Angeles Clippers | +150 |
| Houston Rockets | +275 |
| New Orleans Pelicans | +300 |
| Los Angeles Lakers | +700 |
| Chicago Bulls | +900 |
| Miami Heat | +900 |
| Dallas Mavericks | +1000 |
| New York Knicks | +1200 |
Los Angeles Clippers (+150)
It's interesting to see the LA Clippers opening as +150 favorites in the odds for Kyrie Irving's next team. The Clips have been the next big thing in the Western Conference for the past few years, but injuries continue to derail Ty Lue's squad. This past year, Kawhi Leonard didn't play a single minute after tearing his ACL in last year's playoffs.
Hopes are exceedingly high for LAC in 2022-23, however.
Kawhi will be back. So will Paul George and newcomer Norm Powell after both dealt with injuries of their own last term. Robert Covington already re-signed, as well. The last remaining question mark for the Clips this offseason is whether backup center Isaiah Hartenstein will return as a free agent.
Jerry West and Steve Ballmer put a gun to your head. They say: "We're gonna trade Kennard, Morris, Mann, BBJ and an unprotected pick for either Kyrie Irving or James Harden. Pick which one…"

Who do you pick? #ClipperNation pic.twitter.com/1211pCIIF0

— Unbiased NBA Fan (@nonbiasednbafan) May 18, 2022
Next year looks like the Clippers' year, if they can manage to keep everybody upright. As a result, I'm having a very difficult time envisioning the Clips' front office deciding to make any drastic changes to what is already a very deep and talented roster.
Much of this depends on what Nets GM Sean Marks wants in return if Kyrie is really on the trading block. If the Clippers could get Irving in exchange for, say, Marcus Morris, Powell, and a future pick, would that be enough for Brooklyn to pull the trigger? If that's all it takes, the Clips would have to seriously consider it.
Point guard is certainly the weakest spot on the roster, and adding a player of Irving's offensive caliber would further enhance what should already be an outstanding offensive side next season. All things considered, I'm quite interested in the Clippers as a potential destination at +150 in the Kyrie Irving odds.
Houston Rockets (+275)
Unlike the Clippers, the Houston Rockets are firmly in rebuilding mode. Houston did exceedingly well in last year's draft, nabbing Jalen Green, Alperen Sengun, and Josh Christopher. With the No. 3 pick in what is a loaded upcoming '22 class, the Rockets will have an incredibly impressive stockpile of young talent at this time two months from now.
So, why would the Rockets mortgage that future to trade for a divisive 30-year-old point guard? Who knows? Irving could also hit free agency as soon as the summer of 2023. If he arrives in Houston and hates it, he could simply leave for greener pastures a year from now.
Green and Kevin Porter Jr. seem to be the Rockets' guards of the future, anyway. Benching one or both of them in order to give minutes to Kyrie in what will otherwise be another rebuilding year seems like a very silly, pointless move to make. I will gladly pass on Houston as a destination for Irving at +275.
New Orleans Pelicans (+300)
The Pelicans became the darlings of this year's playoffs when they gave the defending Western Conference champion Phoenix Suns a run for their money in the first round. New Orleans ultimately fell short, but this is another team with a very bright future ahead.
Much like the Clippers' situation with Kawhi, the Pelicans were waiting all season for their own franchise player to return from injury.
In the end, he never did. Zion Williamson missed the entire year with a foot issue, though he's expected to be ready to roll by the time training camps start. With an otherwise excellent mix of young and established talent, the Pelicans should be a much-improved side in 2022-23.
Wow luka. Wow. He been playing in games on the road with fires 🔥 and flares going off in the stands. Police officers with AK'a separating the rows in the arena back in Europe. Road game with pressure isn't really pressure to him. Killer performance 🤝

— CJ McCollum (@CJMcCollum) May 16, 2022
Point guard is a weak spot, of course. The Pels started Devonte Graham there for most of the year, while Jose Alvarado came on late and cemented himself as a nice backup. New Orleans could stand to upgrade that starting spot this summer, but should they deal away a good bit of their young talent in exchange for Kyrie?
Would Brooklyn want CJ McCollum back in a trade? Likely. McCollum is the same age as Kyrie, and they're extremely comparable as score-first guards. I'm not sure there is enough of a gulf in talent between them to make the trade worth it for the Pelicans, especially considering Brooklyn would likely be the team asking for even more in return.
McCollum appeared to be a natural fit for the Pelicans' locker room after his arrival, which wouldn't necessarily be the case with Irving. The question is…why would the Pels do this? With New Orleans' +300 Kyrie Irving odds, I think we can find better value.
Los Angeles Lakers (+700)
Kyrie Irving and LeBron James on the same team?
Where have we seen this before!?
The Lakers, obviously, need to hit the reset button after their calamitous 2021-22 season. Frank Vogel was already shown the door, though there's no telling who will come in to replace him. Los Angeles also desperately needs to rebuild their roster around LeBron James and Anthony Davis.
Last year's collection of old guys did not go as well as Rob Pelinka apparently thought it would.
The elephant in the Lakers' locker room is named Russell Westbrook. Russ was, predictably, an absolutely awful fit next to the ball-dominant James. Westbrook doesn't space the floor or play capable defense at this stage of his career. He tries hard, but that's about it. As things stand, the Lakers owe Russ over $44 million next season, which makes trading him awfully tricky.
Does Kyrie have a future with the Nets? 🤔 pic.twitter.com/e29a6zM5ur

— theScore (@theScore) May 11, 2022
Any Irving-to-the-Lakers trade would have to involve Westbrook, James, or Davis. I can't imagine the Lakers are ready to trade either LeBron or AD. Would the Nets take Westbrook back just to dump Kyrie? As terrible as he is, Russ is an expiring deal, which minimizes the risk. The problem is the Nets already have a non-shooter expected to play a big role on next year's squad in Ben Simmons.
If you thought Westbrook was a dreadful fit next to LeBron, just imagine him next to Simmons.
The only way Kyrie winds up in LA with the Lakers is some sort of three-team trade in which Westbrook winds up on a third team. It's possible, but Pelinka will have to get awfully creative. Kyrie's +700 next team odds to wind up with the Lakers look a bit dicey as a result.
Chicago Bulls (+900)
The Bulls were aggressive last summer in a desperate bid to turn the team into a winner. Things looked rosy early on, but the season-ending knee injury to Lonzo Ball was ultimately the last nail in the coffin. Chicago was unceremoniously dumped in the first round of the playoffs by the Bucks.
Ball is a much more capable shooter than Westbrook or Simmons, but marksmanship is still far from an area of strength in his game. Ball is also on the books for only about $18 million, which means Chicago would have to cobble together some additional salary just to match Irving's $35 million number in a prospective trade. Depth isn't necessary Chicago's strong suit, to begin with, so sacrificing what little depth they have just to get Kyrie doesn't make a whole lot of sense.
Given how well they played with Lonzo healthy, I simply expect the Bulls to try and run it back next year with the group they already have. Patrick Williams showed flashes after returning from his own injury in the playoffs. That should be enough to keep Arturas Karnisovas from making too dramatic a move this summer.
Pass on the Bulls' +900 Kyrie Irving odds.
Miami Heat (+900)
Right now, the Miami Heat have bigger fish to fry. Miami is up, 1-0, in their Eastern Conference Finals clash over the Boston Celtics, and they'll look to take a commanding 2-0 lead on Thursday night. If they get past the Celts, the Heat will make their second NBA Finals trip in three years.
Of course, we know Pat Riley isn't one to rest on his laurels.
If Miami is ultimately unable to win it all this summer, you can be sure he'll do whatever he can to improve the roster this offseason. If that means trading a few key parts to get Irving to South Beach, so be it.
We do know the Heat could use some offensive upgrades. Jimmy Butler has been outstanding in the playoffs, but he's not your typical go-to offensive player. Ditto for Bam Adebayo. Kyle Lowry appears to be aging in a hurry, and he's been plagued by injuries all year long. Miami has plenty of other tradeable salaries on the books, including Duncan Robinson and Tyler Herro.
If the Nets would consent to a package built around Lowry, could Miami really say no? Lowry may be a better fit for Miami's locker room culture, but he's also going to turn 37 years old next March. Brooklyn would do well to add another shooter in Robinson or Herro if the Heat are willing to play ball.
Frankly, I think the Heat's +900 Kyrie Irving odds are just too low.
With Riley always seeking upgrades, I do think there is a realistic deal to be made between these teams. Jump on these +900 odds while you still can.
Dallas Mavericks (+1000)
Dallas is another team more focused on the here-and-now. The Mavs fell into a 1-0 hole with a blowout loss to the Warriors in Game 1 of the Western Conference Finals on Wednesday.
Clearly, Jason Kidd will need to tinker with Dallas' gameplan ahead of Friday's Game 2. Mark Cuban is another guy that has made no secrets of his desire to fill his team with as many stars as possible.
Unfortunately, Dallas has routinely struck out on landing big-time free agents over the past decade. That's not for a lack of trying, either.
The Mavericks had the chance to extend Jalen Brunson for 4-years, $55M this season, and didn't send an offer.

Now, heading into free agency, Brunson's father made it clear: "Ain't no discount."

(via @espn_macmahon, https://t.co/jO0t8lf9EW) pic.twitter.com/Tj1bCMFBqV

— Legion Hoops (@LegionHoops) April 25, 2022
The Mavs already have Jalen Brunson and Spencer Dinwiddie in the mix to take some of the pressure off of Luka Doncic. Brunson will be a hot commodity as a free agent this summer, but you can bet the Mavericks will do whatever they can to keep him around. If they lose him, however, perhaps a trade for a player like Irving would be the next best thing.
Would Brooklyn take a combination of Tim Hardaway Jr. and Spencer Dinwiddie in a deal for Irving?
It's probably not enough, but it's a start. Cuban has always shown a willingness to take a shot on questionable locker room fits, including Dennis Rodman and Lamar Odom, as well. If Brunson leaves, the Kyrie-to-Dallas rumors could grow some legs.
You can do worse than taking a plunge on the Mavs' +1000 Kyrie Irving next team odds.
New York Knicks (+1200)
Would the Nets really trade Kyrie Irving to their archrivals? They just might. Irving is a New York native, and we know he's quite fond of playing in his hometown.
The issue, in addition to the Knicks being the Nets' direct rivals, is that New York is pretty limited in terms of appealing assets. New York has a clear need at the position with Kemba Walker and Derrick Rose topping the depth chart, but would the Nets take a package built around RJ Barrett, Obi Toppin, or Immanuel Quickley? Besides, we can also expect the Knicks to be in hot pursuit of the younger Donovan Mitchell, especially if the Jazz decide to go in a new direction this summer.
Mitchell is another NYC native that has expressed interest in coming home, too. It's a long shot, but not the craziest idea in the world.
Where Will Kyrie Irving Land?
We can go ahead and scratch a few teams with listed Kyrie Irving betting odds off the list. I see no scenario in which Irving lands in Houston (+275), Chicago (+900), or New Orleans (+300). The Lakers (+700) are a remote possibility, but hardly a frontrunner.
I'm admittedly skeptical that the Clippers (+150) will look to make such a splashy move, but it's possible if the price is right. The problem with LAC is those +150 Kyrie Irving odds offer limited profit potential.
Miami (+900) is my favorite value. The Heat are always aggressive in pursuit of stars, and I don't think Kyrie's personality would be enough to scare Pat Riley away. Ditto for Dallas at +1000, especially if Brunson skips town this summer in free agency.
My favorite Kyrie Irving next team bets are listed as follows:
| | |
| --- | --- |
| Team | Odds |
| Miami Heat | +900 |
| Dallas Mavericks | +1000 |
| Los Angeles Clippers | +150 |
| Los Angeles Lakers | +700 |
| New York Knicks | +1200 |