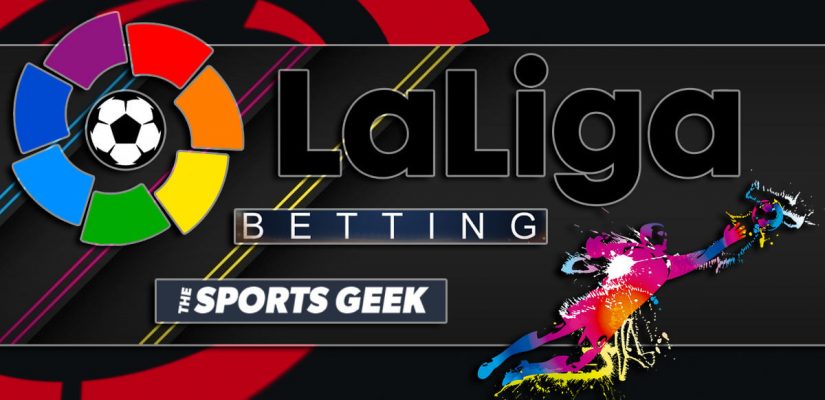 La Liga title race is not over just yet! Real Madrid and Sevilla are still the main favorites, but challengers aren't lacking… especially considering the way both frontrunners have been dropping points over the last couple of weeks.
That's right, this means that La Liga outright winner betting lines are nicely poised!
This is the perfect time to invest in some exotic long terms, so let's see what the bookmakers have in store for us!
La Liga Outright Winner Odds
At the moment, soccer betting sites only offer five La Liga outright winner betting lines because, realistically, no other teams are still in the title race. Even more realistically, only the top three teams still have realistic chances of lifting the title at the end of the season.
Here's a closer look at the odds:
La Liga Outright Winner Betting Predictions | Key Contenders
There are five betting lines you can explore right now. As mentioned earlier, only three teams possess realistic chances. But, for the sake of being thorough, we'll be taking a closer look at all five of them:
Real Madrid
Let's start off with Real Madrid! They are currently in the top spot, with four points advantage over Sevilla. They've been at the top for quite a while and seem confident in their ability to hold onto it and clinch the title.
But, their gameplay isn't perfect.
They're losing points quite often, sitting on 54 from 24 games. To put things into perspective, Manchester City has 63 from 25. It's not a massive difference, but it's a difference nevertheless.
Current Form
Over the last five fixtures, Real Madrid won two, drew two, and lost one. They have a mix and mash of anything and everything which perfectly portrays the current state of affairs in the dressing room. Unsatisfied youngsters, aging stars – consistency issues on the horizon is never a good sign for league leaders.
Next Couple of Fixtures
Real Madrid's next couple of La Liga fixtures should be straightforward. They're set to play vs. Alaves and Rayo Vallecano, both of which shouldn't be major issues.
Real Sociedad could be an interesting outtake, especially considering the fact it's scheduled just four days before Real Madrid vs. PSG second leg. All in all, I just can't recommend you to bet on Real Madrid to win La Liga this season.
Even though they are the likeliest candidate and the moment, Sevilla possess more value and could even step up for the occasion and take over the top spot before the end of the month.
Sevilla
Let's move on with our La Liga outright winner betting predictions, boys and girls! Next up, we have the second-place Sevilla, a team that possesses great value in the outright betting department.
But, with Real Madrid in front, are there realistic chances for Sevilla to wrap the deal up and win the ever so elusive La Liga title?
Current Form
Sevilla is unbeaten in five! Two wins and three draws, though, don't exactly leave a superb impression. Rakitić and the company are doing well, but they're struggling to close out matches and finish them with all three points in the bag.
Still, it's been 24 fixtures already and they're only four points away from the top spot.
If someone had offered that scenario to Julen Lopetegui at the start of the season, I'm pretty sure he would've wholeheartedly accepted it.
Next Couple of Fixtures
As for Sevilla, they're set to play Europa League first-round playoff clashes against Dinamo Zagreb. In between the two legs, they'll play vs. Espanyol, followed by a clash with Real Betis, all before the end of the month.
This period is basically make it or break it for Sevilla.
If they can finish both La Liga clashes with six points in the bag (three of which would come from their direct competitor) and eliminate Dinamo Zagreb, Sevilla's 2021/22 season finish would be splendid!
Atletico Madrid
Diego Simeone's men are in terrible form.
They've been like that for the biggest part of this season:
With no end in sight, everyone feels their title race is all wrapped up at this point.
They're fifth at the moment, but have already conceded 33 goals this season which is a lot more than any of their nearest contenders.
Current Form
Atletico Madrid won two, drew one and lost one over the last four. Mind you, though, that loss came to Barcelona.
A 4:2 loss was a big hit for Atletico's morale and it has definitely showed in their match against Getafe.
Atletico did take all three points in the end, but conceded three goals in the process with only nuances deciding the winner.
Next Couple of Fixtures
What about future matchups? Atletico has two tough outings against Manchester United in the Champions League but a relatively straightforward set of La Liga clashes… until 6th March when they'll be going up against Real Betis.
Barcelona
Let's not forget about Barcelona! Yes, the Catalonian giants no longer have Messi to fill the opponents' nets.
They also had one of the worst starts to a season ever, which was often classified as the "Messi shock". But, a lot of time has passed since Leo's departure to Paris and Barcelona is finally getting back to its former glory.
It's still far from it, mind you, but at least they're closing in on the leading tandem and within Champions League football next season.
Current Form
Barcelona dropped just four points over the last five matches. It's not ideal, but winning eleven in five is a much better situation than what they had going on a few months ago. With several outstanding signings that came in during the winter transfer window, Barcelona's track record is bound to improve.
Drama until the very end. ?@LuukdeJong9's late equaliser makes it all square between @RCDEspanyol and @FCBarcelona! ⚖️#EspanyolBarça highlights ⤵️ pic.twitter.com/wHuhKMaw7n

— LaLiga English (@LaLigaEN) February 13, 2022
The likes of Aubameyang, Ferran Torres, and Adama Traore are world-class athletes. All three of them have come to Barcelona last month directly from the strongest league in the world, the ePL. Their impact is imminent and could be the driving factor behind Barcelona's late title push.
Next Couple of Fixtures
Barcelona's next couple of fixtures will be bombastic, to say the least. First things first, they're set to host Napoli in the Europa League playoffs, followed by a tricky away leg against Valencia.
That's followed by the second leg in Italy and a tough match vs. Athletico Bilbao at Camp Nou.
Mind you, all these matches are scheduled before the end of the month, meaning Barcelona fans will be in for quite the ride.
Real Betis
And finally, Real Betis. They're not out of the equation just yet, though soccer betting websites don't really give them any realistic chances anymore.
Betis has the capacity to complicate things for other teams with top-four aspirations like Atletico Madrid, Barcelona, and even Real Sociedad.
They are not to be taken for granted, that's for sure, especially if you're aiming to invest in La Liga outright winner betting lines. They don't have a direct shot anymore, realistically, but they could spice things up for sure!
Current Form
Betis has three wins and a loss in their last four outings. They're sitting at 43 points which is seven fewer than second-place Sevilla and four more than fourth-place Barcelona. Pellegrini's men are doing well this season and it would be a real shame to see them fall out of Champions League football spot for next season.
Next Couple of Fixtures
Betis are still alive in Europa League, ready to face off against Zenit later this week in what's bound to be a tough away leg.
They will be following that up with a match against Mallorca just before the second EL clash with Zenit.
After that, Betis will be in for a match that'll decide a lot of things – Sevilla. If Lopetegui's men can clinch all three points from this one, they'll be all set to continue their title run!
Wrap Up
Real Madrid and Sevilla are not going to have the title race all to themselves, whether you like it or not.
Barcelona and Atletico Madrid are both capable of turning up the heat, but both also have glaring issues they need to address.
Still, it will make for a fine season finale, with several teams still in it… unlike that ePL sh*t that's been practically over last month. Thanks Pep!