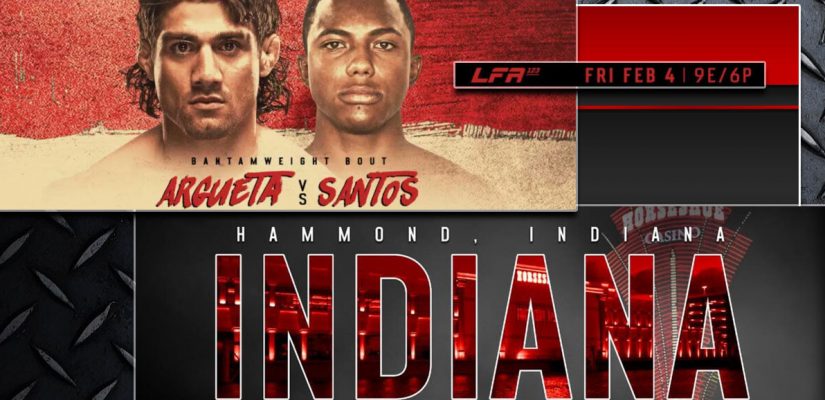 Tune in to UFC Fight Pass this Friday, February 4th 2022 to see LFA 123. We've lined up each fighter and our top betting picks, analyzing their fight footage and crunching the stats for these up and coming athletes. 
We're listing the fights from our most confident bouts to our least known bets. If this is your first time MMA betting, start here instead. 
Betting Odds for Garbiel Mota vs Tyler Hufnagle 
| | | |
| --- | --- | --- |
| Fighter | Garbiel Mota | Tyler Hufnagle  |
| Money Line  | +300 | -400 |
| Weight Class | 205, 185 | 205 |
| Age | NA | 32 |
| Height | 5'9'' | 6'6'' |
| Reach/Stance | NA | NA  |
| Record | 4-6 | 5-2 |
| Submissions/TKO  | 0/4 | 3/2 |
| Fighter Training Camp | NA | NA |
In one of the cards most lopsided bouts, Mota is a striker known for some knockout power but almost no technical ability. He's tiny for a light heavyweight, and Hufnagle will tower over him by eleven inches. Let's do a few fight tape breakdowns before casting our bet. 
6'6 vs. 5'9. Is too bad this fight is stuck on the often inaccessible LFA prelims. It's not everyday you see a 9 inch height difference. #LFA123 pic.twitter.com/Rb18pRWtVN

— Strong and Jacket MMA Picks©️ (@strongandjacket) February 4, 2022
Fight Tape Analysis for Hufnagle vs Mota 
Here we look at the available fight tape for both athletes. 
Hunagle vs Avila, Hufnagle vs Govan 
Hufnagle faces a grappler in Avila whom he handles easily. He doesn't know how to use his reach in this 2014 bout, but displays athleticism and an understanding of ground striking. 
In 2016, he fought Marcus Govan.
Again, Hufnagle still doesn't understand his jab's power, and prefers to close the distance and find top position. He's a grappling centered fighter and if Mota isn't up to snuff in the wrestling category, we'll see an easy bout. 
Mota vs Nathan Pierce
Mota fought Pierce as a middleweight five months ago and Mota looks small for middleweight. He's a haymaker centered fighter, throwing looping shots from the first bell. His understanding of distance isn't terrible, but this is a fighter that essentially lives off his power. I felt he beat Nathan Pierce, who clearly won off some kind of hometown advantage. Pierce was knocked down and rocked several times during the bout. B2 Fighting is becoming known for highway robberies in decision victories. 
LFA 123 Betting Pick
Given Mota's low level of grappling skill, we should see a quick night for Hufnagle. He has a string of natural advantages and isn't afraid to move forward to secure early takedowns. Bet Tyler Hufnagle at -400, and consider a parlay with another confident fight on the UFC Vegas 47 card. 
Betting Odds for Aleksander Keca vs Justin Lovrich 
| | | |
| --- | --- | --- |
| Fighter | Aleksander Keca | Justin Lovrich |
| Money Line  | +240 | -300 |
| Age | 28 | 29 |
| Height | 6'0'' | 5'9'' |
| Record | 6-4 | 7-1 |
| Submissions/TKO  | 3/1 | 5/0 |
| Fighter Training Camp | Team Top Notch | Midwest Training Center  |
These amatuer lightweigths are both 1-1 of their last two. Keca has more bouts, and has fought at welterweight several times in the past few years. 
Keca has also lost twice via submission, indicating that Lovrich- who is a wrestler and submission specialist- won't need to change his gameplan much for Keca.
 
Midwest training center has UFC level fighters like Dan Stittgen, while Top Notch has Ricardo Lamas and other high level athletes. Both schools are of similar quality. 
Fight Tape for Keca vs Lovrich
Both fighters were active through 2021, giving us recent fight tape to analyze for our betting pick. 
Keca vs Chapman, Keca vs Ramos 
Keca's kickboxing isn't terrible, but it's still looping and unrefined. Specifically his striking defense, which boasts almost no head movement or evasive footwork. 
His takedown defense is moderate, and Chapman had to work for any control time he received. The second round opened with a Keca takedown, but he was unable to do much with it, save a near back take.
Keca fought Ramos in 2018, losing via armbar. Keca was in top position for this sub, and had dominated most of the fight. Expect Keca to look to work his kickboxing and test Lovrich's conditioning.
Lovrich vs Gamez
Lovrich is a wrestler at heart. He shows advanced techniques, like shooting under punches and feinting to set up takedown attempts. His ground striking is effective, my only concern is his lack of kickboxing ability. His stand up game isn't non-existent, but it's clearly not the focus. If Keca can avoid the takedown, we'll see an off night for Lovrich. 
LFA 123 Betting Pick
Lovrich is a high quality athlete who clearly cuts weight to make lightweight. He's bigger and a more accomplished wrestler. Keca will need to have developed significant takedown defense skill to deal with Lovrich's strengths. Our betting pick is Justin Lovrich money line at -300 for a $0.33 payout per dollar wager. 
Betting Odds for Mairon Santos vs Daniel Argueta 
Two undefeated fighters face off for the main event of LFA 123. 
| | | |
| --- | --- | --- |
| Fighter | Mairon Santos  | Daniel Argueta |
| Money Line  | +200 | -260 |
| Age | NA | 28 |
| Height | NA | 5'7'' |
| Record | 12-0 | 6-0 |
| Submissions/TKO  | 0/7 | 4/1 |
| Fighter Training Camp | Parana Vale Tudo  | Jackson-WInk MMA |
Arguta was a TUF competitor, losing an exhibition match in the first round of fights. Santos is an undefeated professional from Brazil, who's fought as heavy as the lightweight division.
This bout is at bantamweight.
This is a classic striker versus grappler match up, with Santos scoring over half of his finishes via knockout. 
Jackson-Wink is one of the nations top academies with dozens of UFC contenders in attendance, and Parana VT is a gym with several UFC level fighters like Jessica Andrade and Jessica Delboni. Jackson-Wink is a slightly better academy overall, having produced more total champions and UFC level fighters. 
Fight Tape Analysis for Argueta vs Santos
Both fighters have plenty of fight tape available, so I'll be finding their closest striker vs grappler bouts. 
Argueta vs Severson
Argueta secures the takedown in under a minute, taking the back and ending the fight after a full four minutes of ground strikes. He keeps a blistering pace and has five first round finishes. We can expect him to bring that same, rush forward energy to the ring against Santos. 
Santos vs Boundjou, Various Bouts
Santos is widely considered to be Brazil's top bantamweight prospect. He's good at managing distance and his striking speed is lightning.
Santos can wrestle as well:
BODY TEXT GOES HERE
But it doesn't look as sophisticated as much of Argueta's groundwork, particularly when considering head position. 
Santos's early career features less metered striking, and aggressive combination centered kickboxing. His takedown defense will be the deciding factor for the bout. 
LFA 123 Main Event Betting Pick 
Argueta's striking is questionable, so if Santos can defend the takedown early, it'll be his night. I don't see Santos being controlled as easily as many of Argueta's other opponents, and the grappling pace he keeps is often too high to keep up for a three rounder. 
I'm predicting an upset, with Mairon Santos winning at +200.
Betting Odds for Ryskulbek Ibraimov vs Askar Askar 
| | | |
| --- | --- | --- |
| Fighter | Ryskulbek Ibraimov | Askar Askar  |
| Money Line  | +115 | -145 |
| Age | 29 | 27 |
| Height | 5'7'' | 5'7'' |
| Reach/Stance | NA | 69'' |
| Record | 19-9 | 12-2 |
| Submissions/TKO  | 6/3 | 1/5 |
| Fighter Training Camp | Aikol Manas | Midwest Training Center |
In this bantamweight pro co-main event, we see another top fighter from another country, flown in to face a top US fighter. Askar is another Midwest Training Center fighter, and he's built himself up as a true mixed martial artist, blending takedowns and kickboxing seamlessly. 
Ibraimov is a Kyrgyzstani pro flyweight coming up one weight class for this bout. He trains at Aikol Manas, a small team with no UFC or ONE FC level fighters. 
Askar was supposed to make his UFC debut against Cody Stamann but the bout was canceled in February 2021. 
Fight Tape Analysis for Askar vs Ibraimov
Both fighters have dozens of bouts. Askar has been knocked out twice in his past four fights, ranging back to 2020. Ibraimov is coming off a loss that ended an eight fight winning streak. 
Askar vs Kakhromon, Kevin Wirth
Askar's inability to bring his head off the center line was glaring against Kakhramon. He was hit again and again with little adjustment and finished in 39 seconds. 
He won his next bout with Midwest veteran Kevin Wirth.
Askar outboxed Wirth, which was difficult to believe. Clearly, the quality of his stand up is inconsistent. Ibraimov will do his best to test his ground game early. 
Ibraimov vs Zavaev, Victor Dias
This fight gives you a feel for how small Ibraimov is as a flyweight. He'll want to find top position as he did against Zavaev, but Askar will be an easy twenty pounds heavier than him on fight day. 
Against Dias, we see a back and forth battle with a defensive Ibraimov looking for head kick finishes and elusive footwork. Dias lands an armbar from bottom off a late takedown. 
LFA 123 Betting Pick 
Askar is the larger fighter, in a better training environment, with better jiu jitsu overall despite less submission finishes. Ibraimov will make the fight interesting, but Askar Askar will bring home another win for Midwest Training Center at -145.
A $69 return per $100 wagered. 
Betting Odds for Josh Streacker vs Miguel Jacob 
| | | |
| --- | --- | --- |
| Fighter | Josh Streacker | Miguel Jacob |
| Money Line  | +155 | -185 |
| Age | 30 | 24 |
| Height | 6'1'' | 5'11'' |
| Reach/Stance | NA | 72'' |
| Record | 7-4 | 5-1 |
| Submissions/TKO  | 0/5 | 0/1 |
| Fighter Training Camp | Jackson-Wink  | King's MMA, Black House |
Streaker is primarily a striker, and a tall lightweight with good range. He'll be taking on the well rounded Miguel Jacob Elmokdisi. Jacob's only loss is to wrestler Aaron Nichols, a third round ground strikes TKO. Streacker will need to bring his A game to get the finish over this evolving fighter. 
Fight Tape Analysis for Streacker vs Jacob
Streaker is dropping down to lightweight after a long career at welterweight. Streacker was overpowered often, and his takedown defense is shoddy at best. 
Streacker's losses to fighters like Tyler Ray and Mike De la Vega both came by way of ground work. Streacker doesn't have much fight tape online, but he's now been at Jackson Wink for 2 years, so we can be confident that his wrestling should improve to the point that it can support his first round knockout power. In an interview with Riley Kontek, Josh opened up to the fact that his wrestling was his weakness and needed work, and also noted his cut to 155 kept him at the same weight as his welterweight bouts.
Miguel Jacob trains at two of the top schools in the world at Kings and Black House. He also has little fight tape, but does have plenty of training footage. It appears he's gearing up for a stand up battle. 
LFA 123 Betting Pick
With Jacob looking to stand and Streacker filling the holes in his game, we should see an upset. Streacker is an up and coming athlete with lots of striking acumen naturally. Bet the underdog Josh Streacker at +155, and expect some beautiful striking from a future UFC level fighter. 
Betting Odds for Payton Brezinski vs Cody Davis 
| | | |
| --- | --- | --- |
| Fighter | Payton Brezinski | Cody Davis |
| Money Line  | +100 | -130 |
| Age | 28 | 27 |
| Height | 5'6'' | 5'3'' |
| Record | 4-1 | 4-0 |
| Submissions/TKO  | 4/0 | 1/0 |
| Fighter Training Camp | Team Colon MMA | California MMA |
Both fighters are evenly matched, but with Payton having a 100% finishing percentage with one guillotine loss. Davis is often a more well rounded fighter, scoring a mix of KO and submission wins in his amatuer career. However, Payton is the better BJJ practitioner. 
Fight Prediction and LFA 123 Betting Pick
Payton has shown blended mma and wrestling, quickly switching from clench striking to takedown attempts. He shows plenty of forward aggression and uses takedowns on and off the cage with ease.
Cody is more tentative, preferring to strike from the outside and focus on winning rounds and scoring points. Indiana judges hate this style, and I expect that Cody will circle often, winning in total strikes but losing in ring control. Even if he 'wins' the rounds the decision will go to Payton for aggression. I'm close with the Indiana judging system, because I live here and have fought here. 
Bet Payton Brezinski at +100 and double your money on a solid BJJ practitioner that will win on forward movement against a decision fighter in Cody Davis.
Betting Odds for Beau Samaniego vs Alberto Rodriguez 
| | | |
| --- | --- | --- |
| Fighter | Beau Samaniego | Alberto Rodriguez |
| Money Line  | +120 | -150 |
| Age | NA | NA |
| Height | 5'9'' | 5'7'' |
| Record | 2-1 | 3-1 |
| Submissions/TKO  | 0/1 | 1/1 |
| Fighter Training Camp | Gilbert Grappling  | NA |
Both of these fighters are amatuer champions, and their pro careers have been hit and miss. 
Beau has the height advantage, and looks lankier than Alberto. Alberto has more finishes across both his pro and amatuer career. 
Fight Prediction and LFA 123 Betting Pick
Expect Beau to fall short. His submission work is rudimentary compared with Alberto. This will be a close bout, but Rodriquez's losses have been close bouts while Samaniego has been submitted more than once, and will need more time as a pro to develop his grappling defense.