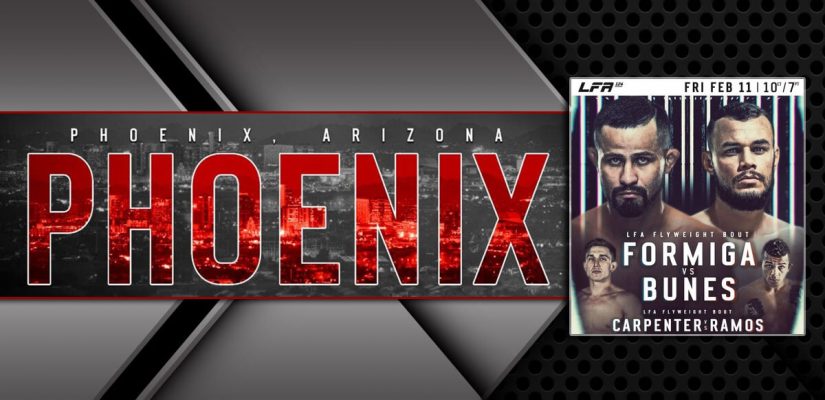 LFA 124 brings us ten fights, and we've organized our top LFA 124 betting picks, the latest odds and a fight breakdown of every bout.
LFA Formiga vs Bunes is on UFC Fight Pass February 11th, 2022 7:00PM (PT.)
No props have been made available for LFA 124, so we'll be focused specifically on fighter money lines, analyzing past fight performances to make our picks. 
LFA 124 Top Pick: Jussier Formiga vs Felipe Bunes 
This main event is five rounds in the flyweight division. The World ranked #16 Formiga faces the #80 Bunes. Formiga is fresh off being cut from the UFC after losing three straight to top level fighters. He went 9-7 for the UFC in a career that spanned 2012-2020. Now, he joins LFA and will likely become the champion. 
Bunes is an ACA fighter, going 2-3 from the promotion. He struggled in decision losses to several mid level fighters, like Murad Magomedov,  but has multiple submission finishes on his record. 
Tale of the Tape for Formiga vs Bunes
| | | |
| --- | --- | --- |
| Fighter | Jussier Formiga | Felipe 'Felipinho' Bunes |
| Money Line | -205 | +175 |
| Age | 36 | 32 |
| Height | 5'5'' | 5'7'' |
| Reach | 67'' | NA |
| Record | 23-8 | 11-5 |
| Submissions/TKO  | 10/0 | 8/1 |
| Fighter Training Camp | Kimura | Pitbull Brothers |
| Losses by Sub/TKO | 0/4 | 1/0 |
Formiga is older and smaller, but has fought tougher competition. His submissions against UFC level fighters mean much more than Bunes ACA wins. 
Bunes does have a better stoppage percentage at 56%, but Formiga has only lost to UFC level competition. Bunes has losses to various ACA athletes and a few Brazilian unknowns. Formiga's losses come by fighters like Jon Dodson, and current contenders like Moreno and Benavidez. 
Comparing Fighter Camps
Both fighters train in Rio. Formiga trains at Kimura alongside a dozen active fighters, including Carlos Fonseca, a rising star in Shooto. Pitbull Brothers is home to Patricio Pitbull of the UFC and dozens of other fighters at Bellator and ACA level. Pitbull Brothers is probably the better training environment on paper, but Formiga was able to come close to title contention at Kimura, so lower level competition may feel easy for him. 
Fight Prediction and Breakdown for the LFA 124 Main Event 
Formiga is going to overwhelm Bunes with five round experience and overall cleaner technique. Formiga's experience over far more effective strikers will lead to wins via decision or submission. 
Perez vs Formiga
Formiga looks good early, landing the more significant shots, including repeated lead check hooks. Alex is putting money in the bank early, landing many low leg kicks early in the first round. 
Formiga lands several combinations at range, and once inside hits Alex with a three piece combination. Bunes doesn't carry this level of striking in any of his bouts. In Feliphinho's last bout, he chased his opponent and lost repeated exchanges to Silander. 
Bunes vs Mikael Silander
Filhepinho wins the first minute of the stirking, shooting a double leg to closed guard. Silander uses a rubber guard to find various control positions. Bunes takes the round with ease. He's using a kind of Taekwondo type striking, long snappy kicks and knees. 
Bunes seems controllable inside the clench. He's taken down in the second round and uses body position to achieve the submission win.
I can't see Formiga falling for this style. He's careful in top position, and will win the striking exchanges against Bunes' point style fighting. 
LFA 124 Betting Pick
Our betting pick is Formiga at -205. He's the more seasoned fighter, with a high enough level of BJJ to survive on top position whilst damaging Bunes each round. Expect Bunes to play the outside, but once his back is on the cage Formiga will open up with combinations. 
PLACE YOUR BETS NOW!
LFA 124 Co-Main Event: A. Hassanzada vs James Wilson
This lightweight co-main event is between Asia's #5 fighter Hassanzada and the #322 Lightweight in the USA, Wilson. 
Hassanzada is one of the first international fighters from Afghanistan, going 7-1 for local organizations. Wilson is a 4-0 fighter from Kings MMA in California with a wrestling background. 
Tale of the Tape for Hassanzada vs Wilson
| | | |
| --- | --- | --- |
| Fighter | Ahmad Hassanzada | James "All Might' Wilson |
| Money Line | +225 | -265 |
| Age | 26 | 28 |
| Height | 6'1'' | 5'9'' |
| Reach | NA | 72'' |
| Record | 7-1 | 4-0 |
| Submissions/TKO  | 4/3 | 1/2 |
| Fighter Training Camp | Int. Hosharafu Federation | Kings MMA, Stanford Wrestling |
| Losses by Sub/TKO | 0/1 | 0/0 |
Hassanzada is lanky for a lightweight, so expect him to have the reach advantage. He's also finished each of his fights by the second round, but had no amatuer career to speak of. He was knocked out in his only loss at NFG 14 by a now 10-4 ground fighter named Petr Birko. 
This doesn't bode well for Hassanzada, who will be facing the highest level wrestler of his career in Wilson. 
Comparing Fighter Camps
Kings MMA is one of the premier MMA camps world wide boasting multiple UFC level fighters. Hosharafu is located in New York, and has many immigrant athletes, most of whom are inactive in 2020-2021. They do have a fighter in ONE FC named Mehdi Barghi, but he lost his only bout for the promotion. Kings MMA is a much higher quality training environment.  
Fight Prediction and Breakdown for the LFA 124 Co-Main Event 
Neither fighter has any fights available online. We can be confident in a Wilson win due to his wrestling background and gym. Occasionally, a fighter from a no name gym can beat a fighter like Wilson, but it's rare. Consider that Hassanzada hasn't defeated another fighter from any major gym, and many of his opponents haven't competed against anyone but losing fighters. 
Our betting pick is James Wilson at -265
PLACE YOUR BETS NOW!
LFA 124: Waldo Cortes-Acosta vs Derrick Weaver
This heavyweight bout features an undefeated Acosta, #6 in the US Southwest, versus the #2 Michigan Heavyweight. Weaver doesn't have a home gym, but he does have knockout power. Waldo does have losses in boxing, where he sports a 6-4 record overall. 
Tale of the Tape for Acosta vs Weaver 
| | | |
| --- | --- | --- |
| Fighter | Waldo Cortes-Acosta | Derrick 'The Dream'  Weaver  |
| Money Line | -550 | +385 |
| Age | 30 | 31 |
| Height | 6'4'' | 6'4'' |
| Reach | 80'' | NA |
| Record | 4-0 | 7-7 |
| Submissions/TKO  | 1/1 | 2/4 |
| Losses by Sub/TKO | 0/0 (Boxing 3 KO losses)  | 3/4 |
| Last weight in | 239 pounds | 254 pounds |
Waldo is evenly matched with Weaver. The Dream has more total losses, but the opponent's he's lost to have been mostly talented stand outs, like the 8-3 Chandler Cole of Valor Fights. 
Waldo's wins have been over moderate fighters, including the 10-5 Edison Lopes of Brazil. Lopes is 43 years old. 
A short review of their records tells us that Weaver is easily the toughest MMA opponent that Waldo has encountered to date, with the most finishes and the best attributes. 
Neither fighter had a camp listed, or has posted training footage of any kind. 
Fight Prediction and Breakdown for LFA 124: Cortes Acosta vs Weaver
Weaver is bigger and has knockout power. He's the youngest and biggest heavyweight that Cortes has come up against. This is anyone's fight. Waldo has shown he can be knocked out, and Weaver has knockout power. 
The four times return that Weaver offers is tough to pass up. I'll be betting Derrick Weaver at +385. He has as much a chance as Waldo for actually finishing the bout. I don't see any way this one goes to decision. 
PLACE YOUR BETS NOW!
LFA 124: Austin Wourms vs Jacobi Jones 
This 160 pound catchweight bout is between two lightweight fighters ranked #60 and #37 in the Southwest. Jones has climbed the ranks quickly after a 4-1 amatuer career and three clean professional wins for LFA. 
#LFAQuickHits: @BigToeMMA won his pro debut with this slick submission at #LFA103. The top prospect returns to the LFA Octagon at #LFA124! ?

Powered By: @GoVibeLoops

Friday, Feb. 11@AZFedTheatre#Phoenix, #Arizona

?: https://t.co/FxthqIZf4f#MMA#LFANation@UFCFightPass pic.twitter.com/VsuOVxrfJP

— LFA (@LFAfighting) February 10, 2022
Tale of the Tape for Wourms vs Jones 
| | | |
| --- | --- | --- |
| Fighter | Austin 'Starkiller' Wourms  | Jacobi 'Big Toe' Jones  |
| Money Line | +285 | -360 |
| Age | NA | 25 |
| Height | 5'11'' | 5'10'' |
| Record | 4-3 | 3-0 |
| Submissions/TKO  | 4/0 | 1/0 |
| Losses by Sub/TKO | 0/3 | 0/0 (1/0 Amatuer loss)  |
All factors look the same between these two high level grapplers. Jacobi has plenty of wrestling experience and a background in wrestling at Colorado State. He lost via first round submission in the amateurs, but has since beaten two undefeated pros. 
Austin has a history of getting beaten up in bottom position. The BJJ athlete struggles to handle striking. 
Austin Wourms has multiple quick wins, like Anthony Pike at RUF MMA. Wourms demonstrated little ability to strike effectively, but secured a lightning fast armbar win. 
Fight Prediction and Breakdown for LFA 124: Wourms vs Jones
The key fight for Wourms is his last bout with a quality wrestler. In fighting Ernesto Rodriguez in April 2021, Wourms was unable to finish a full secured armbar just moments before he was knocked out. He's a dangerous submission athlete. 
Jones has looked dangerous in top position against other fighters. His submission skill is high, and he's more patient than many. I don't see a knockout finish, but if Wourms gets the submission it will be a Hail Mary attempt. 
Our final betting pick is Jacobi Jones, the -360 favorite. 
PLACE YOUR BETS NOW!
LFA 124: Guilherme Crossi vs An Ho
Both of these flyweights are debuting professionals. Both fighters are undefeated amateurs, and this is a tough fight to debut for two promising youths. 
Tale of the Tape for Crossi vs Ho
| | | |
| --- | --- | --- |
| Fighter | Guilherme Crossi | An Ho |
| Money Line | +250 | -325 |
| Amatuer Record | 6-0 | 7-0 |
| Submissions/TKO as Amateurs  | 0/2 | 3/2 |
An Ho's the favorite, maintaining a very high finishing rate for an amatuer at 71%. In his last two bouts, he defeated two undefeated amateurs, 4-0 Liberato and 6-0 Saeteurn. 
Crossi has knockout power, but the Brazilian amatuer scene isn't as competitive. 
Fight Prediction and Breakdown for LFA 124: Crossi vs Ho
Looking closely at a few of each fighter's bouts shows us why An Ho is the favorite, and just how far Crossi is from the level of his opponent. 
An Ho vs Jacobs in 2019
An Ho scores an early takedown, nearly getting guillotined. He passes the guard with a solid understanding of no gi BJJ, works to a topside crucifix and wins via submission. An Ho is three years from this bout, and looks metered, methodical, and ready for much bigger competition. 
Guilherme Crossi vs Phelan
This bout opens with the kind of wild striking I'd expect from the amateurs. Crossi looks accurate, but unrefined. His takedown defense needs work, and Phelan has his back early but doesn't have the skill to keep it. Crossi faces some real adversity here, but doesn't display the skill or grappling of Ho. 
Our final betting pick is the favorite, An Ho at -325. Expect a grinding ground fight with Crossi in bottom position. 
PLACE YOUR BETS NOW!
LFA 124: Kasey Tanner vs Tristan Lindi 
Tanner is a fighter from FIght Ready MMA, one of the better MMA schools in the nation. Lindi has lost three fights in his last four. No fight is a sure thing, but Tanner is a serious favorite for a reason. 
Tale of the Tape for Tanner vs Lindi 
| | | |
| --- | --- | --- |
| Fighter | Kasey Tanner | Tristan Lindi |
| Money Line | -700 | +450 |
| Age | 30 | 25 |
| Height | 5'7'' | 5'7'' |
| Record | NA | NA |
| Submissions/TKO  | 2/1 | 0/2 |
| Losses by Sub/TKO | 0/0 | 2/0 |
| Fight Camp | Fight Ready | Rogue Combat |
Both of these fighters have 5-0 undefeated amatuer records and went pro in 2017-2018. Lindi does have submission skill, but has spent his pro record swinging for the fences against various grapplers. Tanner has solid wrestling, and under the tutelage of Henry Ceudo, uses his Kung Fu as a base style to set up shoot boxing and takedowns. 
Tristan's training at Rogue Combat in Oregon is home to around a dozen fighters, with Lindi being the only fighter active in 2021. There is currently no notable MMA coaching staff. 
Fight Prediction and Breakdown for LFA 124: Tanner vs Lindi
My only concern for this fight is the Quality of Lindi's striking. His grappling has clear holes, and Tanner is capable of landing submissions like the Soelov stretch. Tanner is landing rare submissions in live fights, I'm confident Lindi won't be on his grappling level. 
Lindi's Amatuer Career
After reviewing the tape, it's clear Lindi can wrestle, but no better than your average amatuer champion. He's shooting with his head low and inside the pocket, which explains his multiple losses via chokes from oversprawl. 
Lindi doesn't have any notable knockout power. Many of his strike finishes are due to accumulations of strikes. 
Tanner vs Guzman
Tanner displays advanced striking tactics and improved striking defense. He uses leg kicks to batter Guzman and eventually wins the takedown with ease after lulling Guzman into a kickboxing match. This is high level strategy making, something that I'm sure Tanner is working on at Fight Ready. 
Our betting pick is the favorite Kasey Tanner at -700. I won't be parlaying this bout with any other big wins. Lindi has a puncher's chance in clipping Tanner, or even wearing him down if he shows up out of shape. 
PLACE YOUR BETS NOW!
LFA 124: Federico Flores vs Braden Pagoa
This flyweight prelim features the unranked flores and the #3 Hawaii flyweight Pagaoa. Both fighters are 1-1 pros with one knockout win. 
Tale of the Tape for Flores vs Pagoa
| | | |
| --- | --- | --- |
| Fighter | Federico 'Filipino Flash' Flores | Braden 'Puni' Pagoa  |
| Money Line | +165 | -190 |
| Age | 27 | NA |
| Height | 5'3'' | 5'6'' |
| Record | 1-1 | 1-1 |
| Submissions/TKO  | 0/1 | 0/1 |
| Losses by Sub/TKO | 0/0 | 0/0 |
| Fight Camp | Warrior Sport and Wellness, Jay's BJJ | Xtreme Couture  |
Pagoa is slightly taller but all other factors are even. Both fighters had seven amatuer bouts with various finishes. 
Pagoa has a major training advantage by moving to Xtreme Couture in Las Vegas full time. He's working with the best in the world while Flores has moderate leadership at Warrior Sport and appears to be managing much of his own training. 
Fight Prediction and Breakdown for LFA 124: Flores vs Pagoa
Flores has a secret boxing background that I couldn't find on his record but discovered in his fight tape history. The man has some ability, but has been knocked out several times, retiring from boxing at 2-4. 
Pagoa LFA bouts
Pagoa's striking is much higher quality than Flores's. I'm concerned with Flores' grappling capability, but otherwise convinced in Pagoa's victory. Flores has shown no recent signs of grappling in fights, despite being a purple belt in BJJ. 
This fight will likely be a firefight with Pagoa catching the knockout. Our LFA betting pick is Braden Pagoa at -190. 
PLACE YOUR BETS NOW!
LFA 124: Ben Goodwin vs Ovidio Bojorquez
This welterweight bout pits Nebraska versus Mexico. Don't be fooled by his 0-1 record, Goodwin has a seven fight amatuer career, while Ovidio only has three fights on record. 
Tale of the Tape for Goodwin vs Bojorquez
| | | |
| --- | --- | --- |
| Fighter | Ben Goodwin  | Ovidio Bojorquez |
| Money Line | -205 | +175 |
| Age | 28 | 22 |
| Height | 6'0'' | NA |
| Record | 0-1 | 1-1 |
| Submissions/TKO  | 0/0 (0/3 Amatuer record)  | 0/1 |
| Losses by Sub/TKO | 1/0 | 0/1 |
| Fight Camp | The Lab | Total Gym  |
Goodwin moved to the Lab from South Dakota to pursue his MMA career. He still has plenty of issues with BJJ, but he's an athlete through and through. 
On paper, these fighters are evenly matched. The Lab is a world renown training center, and Total Gym appears to be a newer MMA gym with only three professional fighters, none of which have won any notable fights. 
Fight Prediction and Breakdown for LFA 124: Goodwin vs Bojorquez
Goodwin's MMA fight tapes include his one knockout loss, where he is caught with a beautiful head kick in the first round that breaks his opponents foot.
Goodwin has put on serious size in his last few bouts. He's got good wrestling pressure, and the move from South Dakota to the Lab in Arizona should serve him well. 
It's clear his BJJ is still developing, even in recent bouts. 
Bojorquez Fight Tape
Ovidio has taken part in multiple MMA bouts and appears to be mostly out of shape. He's aggressive, but his grappling training is minimal at best. I'll be betting on Ben Goodwin at -205 for the $0.48 return per dollar wager. 
LFA 124: Alex Martinez vs Chris Sandoval 
This is the second of two amatuer bouts for the evening. Both of these ranked amateurs have submission victories, whil Sandoval has lost by decision to an undefeated amatuer. Sandoval is dropping down from welterweight to lightweight for the first time in this bout. 
Fight Prediction and Breakdown for LFA 124: Martinez vs Sandoval 
| | |
| --- | --- |
| Bet  | Odds |
| Martinez Money Line  | -205 |
| Sandoval Money Line | +175 |
Martinez has powerful wrestling and focuses mostly on ground striking. His passing was aggressive, and kepta heavy pace for the amatuer ranks. 
Sandoval is hoping to catch weaker competition by dropping a weight class, but he won't find it against Martinez.
Our betting pick is Alex Martinez at -205. I'm confident enough in this bout to look for a parlay. 
PLACE YOUR BETS NOW!
LFA 124: Luke La Vanway vs Jacob Highley
| | |
| --- | --- |
| Bet  | Odds |
| Vanway Money Line  | +105 |
| Highley Money Line | -125 |
This is Vanway's first ever fight. Highley is a powerhouse who knocked his first opponent out with a single strike. Bet lightly on Highley, because we have no idea what Vanway brings to the table!
PLACE YOUR BETS NOW!
LFA 124 Betting Preview Wrap Up
That's it for our coverage of LFA 124 betting picks and odds. If you're still looking for fights to parlay with some of LFA's favorites, check out our coverage of UFC 271. 
With LFA level fights, it's often heavily one sided or highly contested. Look to spread your bets out over the whole card rather than banking on one big favorite.