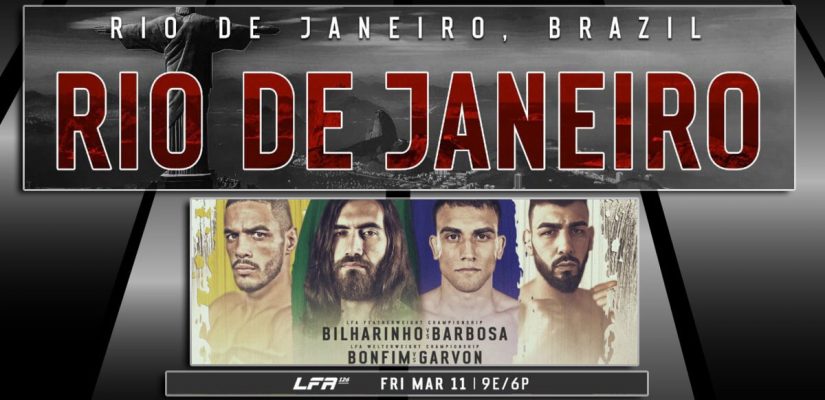 We're covering each and every fight with betting available for LFA 126 on UFC Fight Pass. You'll see an LFA 126 Betting pick followed by the green button that takes you to a betting site with awesome MMA sports betting promotions, betonline.ag. Place your bets before Friday March 11th, 2022 at 9:00 PM ET, and build your ticket quickly before the odds shift and you miss out on some of these undefeated fighters that oddsmakers are unsure of. When you're building your ticket, many of the fighters on this card have the same last name. Some are related,like Gabriel and Ismael Bonfim, but others simply share a surname. 
LFA 126 Main Event: Jonas Bilharinho vs Jose Delano
| | |
| --- | --- |
| Fighter  | Money Line Betting Picks |
| Jose Delano | +165 |
| Jonas Bilharinho  | -205 |
Bilharinho was originally scheduled to fight Rafael Barbosa but the fight fell through this week. LFA scrambled to find the right opponent and Delano stepped up on short notice. This fight is for the vacant 145 LFA title. Taking a five round fight on short notice is no easy task. Delano is on an eight fight winning streak that spans back to 2015. He's finished fighters by submission and TKO, beating primarily low level talent. Recent fights include the 0-3 Jean Silva and the 6-12 Ricardo Rodrigues. Bilharinho is coming off a wheel kick finish at DWCS. he's fighting high level competitors and using a blend of muay thai and karate to put people out with head kicks everywhere. 
In 1 Day, top prospect @JonasBilharinho fights for the @LFAfighting #featherweight title in the main event of #LFA126! ??

Friday, March 11@RibaltaRJ#RioDeJaneiro, #Brazil#MMA#LFANation@UFCFightPass pic.twitter.com/xPDRsjHNCh

— LFA (@LFAfighting) March 10, 2022
I'm unsure why Bilharinho didn't get the UFC call. He's Diego Sanches levels of weird and has Wonderboy Thompson levels of kicking.
With the short notice fight in combination with how good Bilharinho's kickboxing is, I see a Jonas win. He's taking on tougher fighters in his career and bested them, meanwhile Delano seems to falter during steps up in competition. Bet Jonas Bilharinho at -205. Delano commonly keeps his hands too low, so expect plenty of head kick attempts, especially during Delano's takedowns. 
PLACE YOUR BETS NOW! 
LFA 126 Main Card Betting Picks
Onto the main card, which includes six fights and four undefeated fighters. 
LFA 126 Co Main Event: Gabriel Bonfim vs Eduardo Garvon
| | |
| --- | --- |
| Betting Pick | Odds  |
| Bonfim Money LIne | -200 |
| Garvon Money Line | +160 |
| Over 3 ½ Rounds  | -105 |
| Under 3 ½ Rounds | -125 |
This fight is five rounds for the welterweight LFA title. Bonfim is an undefeated 24 year old with every fight ending in submission or knockout. His first major challenge was his last fight with the 8-0 Brenner Alberth and he served up a third round TKO last July. 
Garvon is a 13-3 fighter out of Brazil. He's lost fights by submission twice in his career, including once to the legendary Akihiro Gono. I'd say Garvon's record has faced more adversity overall, but he stumbles and loses fights to middle of the road athletes like the aging 20-11 Wendell Oliveira. Bet the under if you're convinced Garvon has a chance, but Bonfim should take home the belt inside three rounds at -200, a $0.50 per dollar return for an undefeated prospect. 
PLACE YOUR BETS NOW!
Bonfim vs Augusto
| | |
| --- | --- |
| Betting Pick | Odds  |
| Ismael Bonfim Money LIne | -225 |
| Audrey Augusto Money Line | +185 |
| Over 2 ½ Rounds  | -165 |
| Under 2 ½ Rounds | +135 |
Ismael is on a ten fight winning streak, stunning six of his last seven opponents with stoppages. His last loss was to Renato Moicano, now a famed UFC fighter. Augusto is also on a winning streak, beating his last seven opponents with submissions and decision wins. 
Ismael has finishing power, but Augusto has fought better fighters and has never been finished. I'm looking at the prop bets. The Over 2 ½ Rounds looks right. Ismael is powerful, but Augusto has the kind of durability you rarely see. He just went the distance with Fazliddin Obidov, a Dagestani fighter with  80% finishing rate among wins. 
Our betting pick is the Over 2 ½ Rounds at -165. 
PLACE YOUR BETS NOW!
Vieira vs Neves
| | |
| --- | --- |
| Betting Pick | Odds  |
| Vieira Money LIne | +110 |
| Neves Money Line | -140 |
| Over 1 ½ Rounds  | -115 |
| Under 1 ½ Rounds | -145 |
These undefeated heavyweights go head to head, bringing a total of six stoppages between them, and a 80% combined finished rate. The smart thing to do is to bet the under, given Neves 100% fight finishing ratio. He finished his last two fights in under a minute each. But Vieira is durable. I'm skeptical of the Under only because of Neves style. He doesn't push the pace, he just happens to catch fighters early, or out pressure them into bad positions. 
I'm playing it safe with the Neves Money Line at -140. I don't think Vieira has the grappling to win a takedown, and the better kickboxer is clearly Neves. 
PLACE YOUR BETS NOW!
Bellato vs Vieira
| | |
| --- | --- |
| Betting Pick | Odds  |
| Rodolfo Bellato Money LIne | -145 |
| Thiago Vieira Money Line | +115 |
| Over 1 ½ Rounds  | +145 |
| Under 1 ½ Rounds | -175 |
Bellato is another fighter with a 100% finishing rate among wins. He lost to Vitor Petrino, a debuting fighter that caught him early and has since gone 6-0. Vieira is good, but has struggled with being drawn into firefights and outworked by bigger fighters in the past, costing him four of his last seven. 
The under is a favorite, given how often each man has a first round knockout, but only Vieira has had multiple first round losses. Our betting pick is Rodolfo Bellato at -145. Skip the Over 1 ½ Rounds bet no matter what you do. 
PLACE YOUR BETS NOW!
Vidal vs Braga
| | |
| --- | --- |
| Bet   | Odds |
| Tamires Vidal Money Line | -130 |
| Queila Braga Money Line  | +100 |
| Over 2 ½ Rounds  | -260 |
| Under  2 ½ Rounds  | +200 |
This is the only women's bout on the card. Both fighters are 5-1 and they only have two fight finishes between them. It's a classic striker versus grappler matchup, with Quelia being a former pro kickboxer, and Tamires a BJJ brown belt. 
I'll be betting the Over 2 ½ Rounds prop at -260. Braga is coming off a knockout win that I don't think she can do with repeated success. Vidal has only ever been finished via submission. Bet the props, steer clear of the favorite because this one is razor close. 
PLACE YOUR BETS NOW!
Braga vs Ferreira
| | |
| --- | --- |
| Bet  | Odds |
| Gabriel Braga Money Line | -130 |
| Rogerio Ferreira Money Line | +180 |
Braga was set to fight Quemuel Ottoni but Ferreira is a last minute replacement. Braga is our last undefeated fighter on the main card at 6-0. Ferreira has more fights than any of Braga's competition to date, but Braga has defeated fighters with good records, like the 4-0 Loibe Neto in 2020. Ferreira is a scrappy veteran but he's given up wins to fighters who have complete grappling and striking games. I see a narrow Braga decision win at -130. 
LFA 126 Prelim Betting Picks
There are four prelim bouts on the card including four undefeated pros. Up first is my most confident pick, Inaildo Santos. 
Santos vs Brauns
| | |
| --- | --- |
| Fighter  | Money Line Betting Picks |
| Mateus Brauns  | +115 |
| Inaildo Santos  | -145 |
Santos is the more physical fighter, undefeated in eight bouts including four finishes. Brauns has losses in both his professional and amatuer career, and his submission centered style is going to cost him rounds against Santos. 
PLACE YOUR BETS NOW!
Fernando vs Lima 
| | |
| --- | --- |
| Fighter  | Money Line Betting Picks |
| Lucas Fernando  | -300 |
| Rodrigo Lima | +240 |
Fernando is a brutal finisher coming off a flying knee win. He lost a decision to the 11-3 Diego Dias in 2020, but he went back to the drawing board and redeveloped his takedown skills. Lima is an older fighter that's been an active pro since 2012. He's won his last four fights in local shows against moderate fighters, but Fernando is another animal. Our betting pick is Lucas Fernando at -300. 
Alves vs Costa 
| | |
| --- | --- |
| Fighter  | Money Line Betting Picks |
| Vandirson Alves  | -110 |
| Gabriel Costa  | -120 |
Costa is 5-0 but moving up from lightweight to welterweight against the 7-2 Vandirson Alves. Alves is a finisher with serious knockout power and Costa has finished all five of his fights, three by submission and two by knockout. It's difficult to call, but after watching some fight tape I'll go with Gabriel Costa. His submission work is next level, and Alves seems to get into trouble in some of his grappling exchanges. I don't see Costa going down as easily as many of Alves' victims. 
PLACE YOUR BETS NOW!
Silva vs Santos
| | |
| --- | --- |
| Fighter  | Money Line Betting Picks |
| Hyago Silva  | -115 |
| Matusalem Dos Santos  | -115 |
The opening fight on the card features two more undefeated heavyweights, both with a 100% finishing rate. Santos appears to be slightly smaller but more well muscled. He's another team Tata fighter, which is a BJJ centered fight camp. After watching a Santos fight with a  much larger heavyweight, I believe Silva will dominate the fight with Santos, forcing him to cut to 205 if he wants to stay competitive as a submission fighter in the big leagues. 
PLACE YOUR BETS NOW!