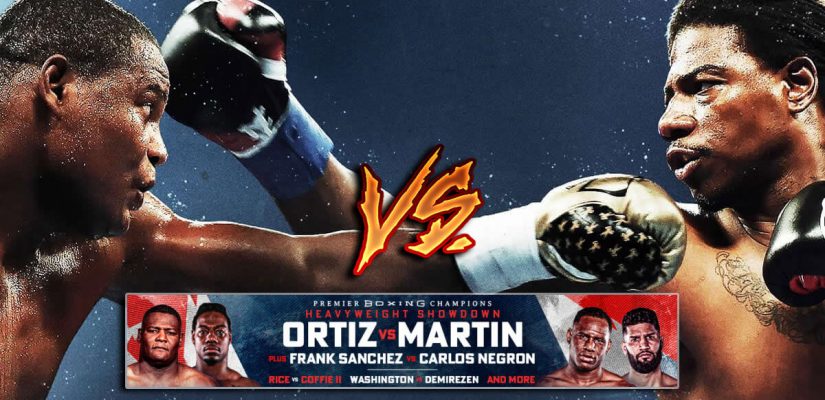 We're covering all three of the most popular boxing bouts from this weekend's card. Our boxing betting preview breaks down the stats and odds for Ortiz vs Martin, Polite Coffie vs Rice and Kiladze vs Vykhryst.
We're going into detail on the available bets and most recent odds, the fighters' tale of the tape, fight tape analysis, and compubox stats.
Story of the Fight
This Saturday, january 1st 2022 at Seminole Hard Rock Hotel in Florida, USA FOX PPV is putting on a ten fight card with three matches being looked at by oddsmakers.
The heavyweight main event features the former Heavyweight champion Martin going up against Luis Ortiz. Ortiz's only losses have been to Deontay Wilder, and Ortiz has only lost to Joshua and Kownacki. These boxers have been inactive through the pandemic, but are easily top ten in the world.
The other two bouts on the card with betting odds include the undefeated Viktor Vykhyst and the 12-1 Michael Polite Coffie vs Rice rematch.Viktor has been rocketing upward in popularity after a recent string of KOs. The Coffie vs Rice fight is an immediate rematch after the crushing knockout win from Rice in round 5 of their July 2021 bout.
Charles Martin vs Luis Ortiz
In this bout between knockout artists, fans are expecting a strong finish. We're looking closely at the stats to see if a clear winner and a clear outcome is available. Many analysts, myself included, put Louis's age into serious question. Can the boxer perform at the champion level at 42 years old?
Tale of the Tape for Martin vs Ortiz
| Fighter | Charles Martin | Luis Ortiz |
| --- | --- | --- |
| Age | 35 | 42 |
| Height | 6'5'' | 6'4'' |
| Reach | 80'' | 78'' |
| Total Fights | 31 | 34 |
| Record | 28-2-1 | 32-2 |
| Knockouts | 25, 80% | 27, 75% |
| Stance | Southpaw | Southpaw |
| Career Rounds | 105 | 162 |
| Inactivity | 676 Days | 417 Days |
| Last Fight Weight | 254 pounds | 241 pounds |
| Boxing Trainer | Henry Tillman | Herman Calcedo, Jukka Toivola |
Martin is seven years younger than Ortiz but has just three fewer fights. Ortiz has been a pro two years longer, starting in 2010. Martin has the height and reach advantage. Both fighters have excellent finishing percentages, but it's interesting that Martin has seen fifty-seven fewer rounds, indicating a string of early finishes throughout his career.
Neither fighter has fought in over a year.
Comparing the Fighters Trainers
Tillman is an Olympic gold medalist and has been with Charles Martin since before he won the title. Tillman has been working with fighters for twenty years and Martin is the only champion he's produced. I'm not sure I trust Tillman's methods.
Herman Calcedo is a special coach. He produced Juan Payano, Fernando Vargas and others. He brought in Toivola to keep the aging Louis at peak condition. This long distance runner has an incredible ability to get athletes to conditions that they couldn't achieve on their own.
I give the training advantage to Ortiz.
Money Line Betting Odds for Martin vs Ortiz
| Bet | Odds and Payout per Dollar Wager |
| --- | --- |
| Luis Ortiz Money Line | -350, $0.29 |
| Charles Martin Money Line | +260, $2.60 |
Ortiz comes in the favorite after a stunning first round knockout of Alexander Flores in his last bout. Luis was -2500, -1667, and -2500 in his last three wins. In his loss to Wilder he came in at +375. This fight is Ortiz's closest on record as a favorite. His line has moved from -500 during opening, falling to a lesser favorite over the last few weeks.
Martin has won his last three fights, coming in at -2000, -485, and -550. His last loss was to Kownacki, where Martin was a +175 underdog. Martin has won only once as the underdog in his +115 against Vyachelsav Glazkov in 2016.
Prop Betting Odds for Martin vs Ortiz
There are fifteen markets on this bout, but we've selected our top seven prop bets for Ortiz vs Martin.
| Bet | Odds |
| --- | --- |
| Over 6 ½ Rounds | -120 |
| Under 6 ½ Rounds | -110 |
| Martin KO, TKO or DQ | +550 |
| Ortiz TKO, KO or DQ | -185 |
| Ortiz by Decision | +325 |
| Martin by Decision | +750 |
| Luis Ortiz by TKO/DQ/KO in Rounds 1 to 3 | +375 |
There is a wide selection of round calls, but we've excluded most of these long shot bets. Luis Ortiz is the only one included, as it lines up with Martin's one loss to Anthony Joshua. Joshua beat Martin in two rounds after being downed twice. Louis has that kind of knockout power, with three KO's inside rounds 1 to 3 in the last seven bouts.
Betting the Over/Under Props
Ortiz has four bouts under 6 ½ Rounds in the past eight fights, breaking dead even. His most recent loss to Wilder was close, coming in at 2:51 of round seven. When Ortiz fights in the later rounds, it tends to be intentional. His bout with Hammer was clearly a coasting bout, looking for a win that would give him the rematch to Wilder.
Martin has had eight bouts of the last ten fall into the under category. Many of the fighters he's defeated recently weren't on the right level of competition. His loss to kownacki was a decision, despite both fighters landing over two-hundred punches.
I feel the under is the better bet.
It's statistically more likely, and after the style analysis, you'll see that these two are meant for an early fire-fight.
Betting the Method of Victory Props
Ortiz produces a -185 for a knockout, which isn't an exciting bet for me. I feel the decisions are accurately weighted. The fight going to decision is less likely than either fighter knocking the other out.
Ortiz has two decisions across the last fifteen fights, Martin has one inside the last nineteen. To think you're predicting which fighter will win on top of one of the only decisions of this fighter's career is bold. Don't fall victim to the enticing underdog odds on these methods of victory.
Boxing Analysis for Martin vs Ortiz
There are two bets I would consider at this point, the under 6 ½ Rounds prop, or the money line bet for Luis Ortiz. Ortiz has better coaching, a more consistent knockout record of high level fighters, and a better defensive boxing style. Let's look at a few recent fights and some compubox stats to lock in our betting pick.
⚠️KING KONG IS ALWAYS DANGEROUS⚠️

Luis Ortiz is a problem for all opponents as he showed against Deontay Wilder.

He's back in the main event of @premierboxing #OrtizMartin.

[ Live on #FITE | Jan. 1 | https://t.co/8mN2Rl9hW6 ]

?Not Available: ?????????? & Latin America* pic.twitter.com/uS6UaWxNWV

— FITE (@FiteTV) December 29, 2021
Martin vs Washington Fight Study
In Martin's last bout we see the left cross landing again and again. Martin looked a bit clumsy, losing his footing and shift stepping to follow his left hand, but Washington couldn't find a way to get through Martin's left hand. Martin slips while he punches.
He very rarely slips or pulls then counters. This is dangerous, especially against Ortiz.
This fight was all confidence. Martin knew that if the left hand landed flush, it wouldn't matter what Washington brought to the table.
Anthony Joshua vs Martin Fight Study
Martin was more patient versus Joshua, using his lead hand a mitt and attempting to catch the Joshua right hand. Still, we see little head movement that doesn't involve slipping while throwing the straight left. Joshua lands a straight right that clips Martin's chin.
Martin tried to game the count and get up right at ten, but the ref called it. Later, the referee said it looked like Martin was trying to get out of there. I agree. I'm concerned that Martin will fawn at Ortiz's power.
Martin vs Martz Fight Study
Against Martz, Martin took to exchanging early. He went to the body, but at the cost of taking a jab-cross clean. This fourth round TKO. Martz took to clenching after he got hit, a strategy that only let Martin rest and recover for his next big left hand.
Look to see if Ortiz is clenching often, because Martin will use that to recover his power.
Luis Ortiz vs Alexander Flores Fight Study
This is Ortiz's most recent bout. He put a right hand to the body to put in a first round knockdown. It looks like a hit to the forearm that busts the rib underneath.
Whatever we can see about how Ortiz is aging, he's still got his power.
Ortiz vs Wilder 2 Fight Study
Ortiz has an interesting method of dealing with Wilder's power. He's patient and unafraid, shelling up and taking hits on the gloves. He tends to exit the pocket, bouncing away with a high guard to deflect wide shots.
Ortiz slips to the inside repeatedly, dodging the jab but putting himself in harm's way. The round seven knockdown comes from a solid shot to the face.
Ortiz vs Kauffman Fight Study
Ortiz looks good here, slipping and pulling to dodge Kauffman's punches. It's clear Ortiz has little respect for Kauffman's power. He works to the body with a snapping jab, and it reminds me of the straight punching Joshua put to the body of Martin to set up the finish.
The first knockdown starts with back to back uppercuts to the body. Martin rarely puts work into the body, but he'll need to deal with Ortiz's body shots with more than straight lefts.
Compubox Stat Comparison
This table shows the boxers total punches landed and absorbed in their last four fights. Absorbed punches are simply the total punch count of their opponent. The fights are listed chronologically, with the most recent first.
| Fighter | Martin Punches Landed | Martin Punches Absorbed | Ortiz Punches Landed | Ortiz Punches Absorbed |
| --- | --- | --- | --- | --- |
| Fight #1 | 48/166 | 24/157 | 3/10 | 0/1 |
| Fight #2 | 70/204 | 21/172 | 35/179 | 34/184 |
| Fight #3 | 108/369 | 26/218 | 140/610 | 84/403 |
| Fight #4 | 203/621 | 242/729 | 135/575 | 37/222 |
Martin has absorbed significantly more strikes, simply because of the Kownacki loss. Ortiz's loss to Wilder took only 34 punches. That's one reason I think betting the under is smart. Martin has the power to end this fight, and Ortiz didn't demonstrate his usual relaxed head movement in the face of power punchers.
The compubox stats tell the story of two fighters that can throw volume and knock people out early.
Final Betting Pick
In a battle of knockout artists, I can see why many people would choose Ortiz. He's devastating, he's the more technical boxer, and I agree that he will probably win. The under 6 ½ Rounds feels a bit too high for a ten round bout. These two are finishers, and both have been finished before. Expect an exciting bout that ends with someone on the canvas, bet the Under 6 ½ Rounds prop bet and take $0.91 per dollar wagered.
Jonathan Rice vs Michael Polite Coffie
This is an immediate rematch after Rice upset Coffie in July. Coffie was a fighter on the way up, ranked #10 in the US, while Rice was moved to #8 after his win.
Tale of the Tape for Rice vs Polite Coffie
| Fighter | Jonathan Rice | Michael Polie Coffie |
| --- | --- | --- |
| World Ranking | #40 | #48 |
| Age | 34 | 35 |
| Height | 6'5'' | 6'5'' |
| Reach | 81'' | 83'' |
| Total Fights | 21 | 13 |
| Record | 14-6-1 | 12-1 |
| Knockouts | 10, 47% | 9, 69% |
| Stance | Orthodox | Orthodox |
| Career Rounds | 90 | 41 |
| Inactivity | 151 Days | 151 Days |
| Recent Fight Weight | 268 pounds | 271 pounds |
Coffie has a slight reach advantage and a better knockout percentage. Rice has him in all other categories. These two big heavyweights weighed in just three pounds apart in their first bout.
Betting Odds for Rice vs Polite Coffie
| Bet | Odds and Payout per Dollar Wager |
| --- | --- |
| Jonathan Rice Money Line | -175 |
| Michael Polite Coffie Money Line | +145 |
Michael comes in as the underdog for the second time in his career. He beat Darmani Rock as a +165 underdog, up from opening at +110. In Coffie's first bout with Rice he was a -1100 favorite, a stunning drop just one fight apart. It's clear Michael had a bit of hype that's been diminished from his first loss.
Rice only has a few fights in his odds history. His decision loss to Efe Ajagba had him at +1750. Rice's current odds are up from the open, where he was a +250 underdog against Coffie, but bettors shifted the odds.
Prop Bets for Rice for Coffie
These betting odds are currently available at betonline.ag.
| Bet | Odds |
| --- | --- |
| Over 6 ½ Rounds | +105 |
| Under 6 ½ Rounds | -135 |
Oddsmakers see a likely knockout. Rice has already shown he has the ability to knock out Michael, and Coffie has nine KO finishes, 75% among his wins.
Of Michael's last five fights, all have fallen into the under 6 ½ Rounds category. Rice has seen two ten round losses, one UD and one TKO, over his last five. Five bouts of his last seven fall into the under category.
I see Rice winning via knockout again, or Coffie winning via decision.
The over under isn't interesting or useful for me. If you believe in Coffie's early knockout capability, a bet on the under protects you from both fighters most likely outcome. Rice is tough to put away, and he's never been finished before round seven. I could see this fight being more of an echo of the first one, with both fighters gun shy in attempts to protect their momentum.
Boxing Analysis for Rice vs Polite Coffie
Rice carries himself in a loose philly shell, while Coffie keeps a high guard, just under his chin. First, we're taking a look at the fight tape and compubox stats from their first fight to make predictions.
After watching some of Coffie's performances, it's clear this was the first time he encountered power like Rice's. Across his wins, Darmani Rock has the most knockouts with 12, mostly against low level opponents.
With Coffie, we may be seeing a fighter who's chin and durability simply wasn't tested up until this point.
Coffie vs Rice First Fight
Rice starts landing significant shots early in the first round. Coffie holds his hands 'up' but under his chin. Rice's looping over hands land to the side and back of the head, and despite Coffie's complaints, the ref tells him to protect himself.
Coffie is dismissive of Rice's power and confident in entering the pocket. Rice's jab lands well, and it's surprising he doesn't use it more.
The fight takes a turn for RIce in round four, as Coffie is clearly fading.
Coffie was upset with the stoppage, but reacting poorly to getting hit. The referee was forced to step in. This reinforces my thinking that the under is not a good bet. With Coffie avoiding the early stoppage, I think he will have learned to keep his composure better in the rematch.
 
Compubox Stats for Rice vs Coffie
| Fighter | Total Punches | Jabs | Power Punches |
| --- | --- | --- | --- |
| Coffie | 40/127 | 14/67 | 26/60 |
| Rice | 68/209 | 14/90 | 54/119 |
Rice kept a much higher volume, landing power shots two to one. It's interesting that the jabs were equal and neither fighter capitalized on good distance management.
Looking at the scorecards and punch tracker, Coffie could have won rounds two and three, but lost the other three rounds.
Coffie was tentative in the rounds he lost. When he punched, Rice used the same philly shell pull again and again, so I'm not sure if a higher punching volume would have changed hsi landing percentage.
Final Betting Pick for Rice vs Polite Coffie
I see Rice winning yet again. Coffie didn't take getting hit well. Some fighters don't respond to elite level power well. Rice is often overlooked because of his losses, but each of his four losses were to undefeated fighters. Rice had a singular amatuer boxing match, a loss to main event Charles Martin. What were witnessing a pro fighter who's been forced to develop throughout their pro career. Pick Jonathon Rice at -175.
Viktor Vykhryst vs Iago Kiladze
This bout is on the betting ticket for undefeated Vykhryst. This eight round bout between heavyweight knockout artists comes in as the first fight on the main card. Iago is the #1 Georgian boxer.
Tale of the Tape for Vykhryst vs Kiladze
| Fighter | Viktor Vykhryst | Iago Kiladze |
| --- | --- | --- |
| Ranking | #59 | #78 |
| Age | 29 | 35 |
| Height | 6'5'' | 6'3'' |
| Reach | 81'' | 79'' |
| Total Fights | 8 | 33 |
| Record | 8-0 | 27-5-1 |
| Knockouts | 6, 75% | 19, 57% |
| Stance | Orthodox | Orthodox |
| Career Rounds | 28 | 147 |
| Inactivity | 82 Days | 116 Days |
| Last Fight Weight | 233 pounds | 226 pounds |
| Boxing trainer | Bulent Baser | Las Angeles |
Viktor is slightly heavier, has the reach, height, and youth advantages, and has taken less damage in his short, 28 round pro career.
Iago doesn't have any advantages on paper, other than pro experience. It's tough to say Iago has the experience advantage with Viktor was an Olympic silve medalist and has over 100 amatuer bouts.
Comparing the Fighters Trainers
Baser, Viktor's coach, is responsible for the training of Sinan Samil Sam, Selcuk Aydin, Juan Carlos Gomez and Odlanier Solis. This list of champions and contenders is an impressive one. German athletic trainers have a long history of producing talented boxers.
Iago is in Las Angeles, but he doesn't advertise his gym frequently and it's currently unconfirmed.
Betting Odds for Vykhryst vs Kiladze
| Bet | Odds and Payout per Dollar Wager |
| --- | --- |
| Viktor Vykhryst Money Line | -4000, $0.03 |
| Iago Kiladze Money Line | +1400, $14.00 |
The paltry $0.03 payout for Viktor is the lowest of his career. He's ranged from -2000 to -3500 over his last three fights.
Kiladze has been the underdog in all fights on record, ranging from +335 to +3500.
Prop Betting for Viktor Vykhryst vs Iago Kiladze
Remember that this fight is 8 Rounds, so either prop covers nearly half the fight.
| Bet | Odds |
| --- | --- |
| Over 3 ½ Rounds | -110 |
| Under 3 ½ Rounds | -120 |
In Viktor's last six fights, three fights fall into the under category. In Iago's fights, only one of the last six fall into the under category. Though Iago has been knocked out in four of his last seven fights, none have finished him in under five rounds. This includes Efe Ajagba, Joe Joyce, and Adam Kownacki.
Given Iago's history of surviving against tough fighters, the over prop looks like the right choice.
Viktor is a safe fighter, and he won't engage the way Efe did. Many heavyweights rush the action, Viktor will feel Iago out.
Boxing Analysis for Vykhryst vs Kiladze
We'll focus on two fights, Kiladze's fight with Efe and Viktor's fight with Yakup Saglam.
You'll see that Iago has the hand speed to make this competitive, but lacks many of the fundamental heavyweight boxing tactics that he'll need to survive Viktor.
Kiladze vs Efe
After a long feel out period, the fighters begin to engage. Kiladze pulls several times in the first round but still gets clipped by Efe's reach advantage.
I see the same happening for Viktor. Iago gets knocked down in the second round after a clean hook that he posed no blocking or head movement to defend.
Efe stalks forward, running into several shots from Iago. After this aggressive display, Iago lands a stunning right hand that drops Efe. I see Viktor respecting this power and drawing out the fight.
Vykhryst vs Saglam
Viktor is still a rising star, and this fight happened without an audience and poor camera coverage in Germany.
45-7 Saglam has 41 KOs and respectable power.
Viktor used the jab early, walking Saglam down and using his reach advantage to control the range, going as far as reaching with his lead hand to hold Saglam's gloves. Viktor displayed more power than Saglam was ready for and offered almost no return fire in the early rounds.
Final Betting Pick
After watching the fight tape, it's clear we'll see a Viktor win. If the payout is too low, and you don't want to use it to add to a parlay, I'd advise the over 3 ½ Rounds prop bet at -120 for an $0.83 per dollar wager payout. I see a knockout for Viktor between rounds five and eight.
Martin vs Ortiz Boxing Pick Wrap Up
If you liked this boxing pick and want to learn more, check out our boxing guides for online betting. These exciting heavyweight fights have strong favorites, and if you're looking for another fight to parlay through the weekend, consider our Ioka vs Fukunaga Betting Pick for a better return.