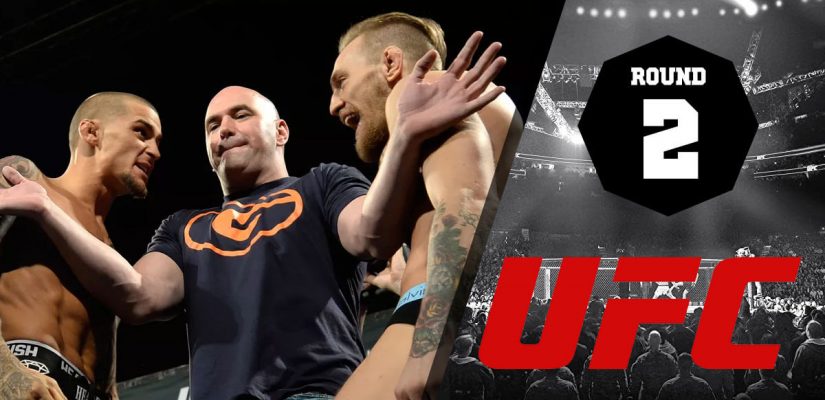 The Mac is back?
I really miss the old Conor McGregor.
Every word was measured and precise.
It was infectious to listen to the man speak about martial arts or life. Maybe it was just me.
Not anymore, though.
I first started to see a difference in him at the UFC 229 press conference for his Lightweight World Title fight with Khabib.
Nurmagomedov will talk trash but it is usually a fight tactic to further demoralize his opponents once they are already locked into the Octagon with him.
He let Khabib win that debate.
Heck, he lost it all by himself being such a jerk.
Sound familiar?
I suppose if people are already decided on the issues in our polarized society, a candidate's character will sway the undecided, whoever they are…
Have you ever met one?
I haven't.
Regardless of political affiliation, our thoughts and prayers are with the President right now as he recovers from COVID-19 at Walter Reed.
Conor is the epitome of charisma…or at least he used to be.
You know what they say…
It isn't confirmed but if you listen to the man as much as I did, you realize he was truly a caring good person at least on the outside years ago but, yea, see above.
Conor McGregor hasn't fought since January when he put Donald cowboy Cerrone away in the first minute of the first round.
Ever since then, it has been one intoxicated tweet after another usually on fight nights where he misses the spotlight and wants to get some exposure.
It is important to stay relevant and when you make as much as he does, each tweet could be worth a million bucks.
So, I guess you can't blame the guy.
I really do hope that he has got his life back together.
He has a couple of kids now and a half a billion dollar whiskey business.
The idea of putting yourself through another training camp for Khabib and then fighting the guy is not the most fun thing you could do.
There is a reason we see so many fighters change once they get to the top.
Nobody seems to prepare to stay there.
Everything is full speed ahead and the climb to the top of the mountain.
Then what?
I do it all the time. I hike and hike and hike for 10 or 15 miles to the summit thinking I'm going to relax at the top, enjoy a nice little picnic, maybe take a selfie, and have an interesting convo with a stranger.
Normally what happens, though, is I get to the top and it's pretty windy up there above the treeline.
I try to take a picture but my phone shuts down from the cold.
My peanut butter sandwich resembles a frozen pancake at this point and I just start back down the mountain.
The moral of the story is that it's more about the journey than the destination, in life and in professional fighting as well.
Maybe you do take the time to relax and enjoy the fruits of your labor after you have won the world title.
Well, not for long bro.
The title contenders are coming!
This reminds me of a quote.
"Hard times create strong men, strong men create good times, good times create weak men, and weak men create hard times."
That is the cycle.
McGregor vs Poirier?
Recently, Conor McGregor tweeted to his former Featherweight foe Dustin Poirier to try to pique the man's interest in a charity boxing match.
Dustin responded immediately saying that this would help a lot of people and he isn't lying.
Twitter is public, though, and Dana White overheard this conversation and took the reigns.
White is now pushing for a mixed martial arts rematch between the two men who are now both competing in the UFC's Lightweight Division at 155 pounds.
I think they make this fight happen.
Hardcore fans have been waiting a long time for these two to rematch at 155 pounds.
Dustin Poirier has been nearly unstoppable at Lightweight, a much better fighter than he was down at 45.
I think Conor is better as well. I don't like him at 170 but he does hold a significant speed advantage over most UFC Welterweights.
I think the UFC is waiting to see what happens in a few weeks at UFC 254 between Lightweight Division Champion, Khabib Nurmagomedov, and challenger, Justin Gaethhje.
If Khabib wins, I think the Russian will fight Georges St Pierre.
If Justin wins, Conor will get the title shot at him.
I don't think Jorge Masvidal wants to go back down to 155 pounds but I'm pretty sure he would do what he had to do if it meant he was getting a title shot.
They could have the Conor McGregor vs Dustin Poirier rematch for the #1 contender spot at Lightweight.
Let's not worry about too many more "if's".
Let's instead assume this fight is going to happen.
The sportsbooks have played along and given us a betting line to work with.
Well, it has moved a bit since it opened but we still may have some value on the favorite.
Conor McGregor (-210) vs Dustin Poirier (+180)
Conor opened at (-160) which is just above a 60% chance of winning and now he is approaching an implied probability of 68% to win the fight with Poirier.
We can revisit the first fight between these two men but it ended so abruptly, it's hard to say that we learned a lot from it.
I can understand why Conor didn't want to fight Poirier again.
What does he have to gain?
He TKO'ed him in the first round.
You can't really beat that a second time around.
For Poirier, this is huge!
His performance in the rematch can't get much worse than it was in the first fight.
Let me see if I can pull that up really quick.
This was a truly masterful performance from the Irishman.
The more I go back and watch this fight, the more nuances I pick up.
McGregor opened up with a hook kick that had the range. It didn't land flush or anything but it got Dustin thinking about it.
Conor's next attack is a spinning back kick to the body that landed flush on the gut of Poirier.
Both southpaw fighters then settled into their boxing.
Eventually, McGregor pierced the guard of Poirier with a left hand laser down the middle.
Then, he immediately switches to throwing his left hand as a hook looping around the front favoring guard of Dustin Poirier.
Poirier let McGregor back him up to the fence and this time when Conor threw his patented left hand, Poirier made a tactical error and tried to duck.
Speed kills as the punch lets say heavily grazed or clipped Dustin behind the ear.
Even if it did land square in the back of Poirier's head, it was his own fault because he tried to duck the punch.
This was enough to drop him and McGregor barely misses when his opponents are intelligently defending themselves but when they are face down on the mat, he is Cam Hanes level precise.
Since then, though, it is Dustin Poirier who has won more fights at Lightweight.
This fight was Dustin Poirier's last time competing at the Featherweight limit of 145 pounds.
He is a much much better Lightweight fighter.
Dustin started off going 9-1 in the UFC's Lightweight Division.
His only loss was to Michael Johnson who was Tony Ferguson's only loss in 10 fights or so before he fought Gaethje earlier this year.
9-1 in the Lightweight Division and Dustin Poirier was ready for a title shot at the entirely intimidating Khabib Nurmagomedov.
Dustin wasn't scared, though.
He is a fighter through and through and was coming off of stoppage wins over Justin Gaethje and Eddie Alvarez, and Anthony Pettis.
He has just defeated Max Holloway more convincingly than anyone in the past including The Notorious Conor McGregor.
Dustin fought so hard against Khabib but in the end, the scenario was playing out as it had with everyone who came before him, on his back, and unable to move from the superhuman strength of the Dagestani superstar.
The same thing happened to Conor but luckily, we don't have to think about Khabib right now.
There will be plenty of content coming your way in the next few weeks as we approach UFC 254.
Dustin Poirier has power in his hands but he has transformed his style at Lightweight to be the volume pressure puncher who stays in the pocket in your face for the entire fight.
Dustin has also developed a fairly effective wrestling game.
One minute you have a guy sitting in the pocket trading with you and the next second, he is in on your legs.
That is tough to defend.
As good as Dustin Poirier's boxing is, Conor McGregor is that much better.
The Diamond has had over 6 years now to improve his skills for the potential rematch.
Conor has too, though, and he spent a lot of his time strictly on the sweet science in preparation to fight the greatest pugilist of our generation.
Conor hit Floyd more than he had ever been hit.
The Irishman completely gassed himself out in the process and you can safely assume that Floyd Jr and Sr had their game plan mapped ever since Pauli Malignaggi told him that Conor is built only for speed.
He is faster than Poirier and I believe he is more precise as well as having better defense.
Khabib beat them both so we will throw that one out.
Nate Diaz is the only other mixed martial artist to defeat Mcgregor in the past decade.
The key for Dustin Poirier in this fight is to take this scrap into the championship rounds.
This will surely be a main event so the fight being scheduled for 5 rounds is pretty much guaranteed.
I don't think Poirier will beat him in the first few rounds.
He will have to mix up his boxing and wrestling better than he ever has before to defeat Conor.
I think McGregor's defensive wrestling hit another two levels after his training camp for Khabib.
He still got taken down, controlled, and submitted by the champ but hey, so did Dustin.
In the Cowboy fight, though, Cerrone shot in for the takedown on Conor's first punch.
Donald said something like "No way I am shooting in. I will strike with him."
Bull spit.
How quickly McGregor was moving through his reads and transitions in that fight was extraordinary.
I remember saying to people: I don't know why in the world Cowboy slipped into the head kick from Conor. It wasn't like he feinted a punch or anything.
Actually, he did. I needed super slow motion to see it but sure enough, he feinted/faked, one of the two-it was so fast, his straight left just before the head kick that put Cerrone down.
The guy is operating on another level.
In Conclusion
I think I would rather see Conor McGregor fight Jorge Masvidal then Dustin Poirier but I'm a huge fan of all of these guys so I will take what I can get.
Conor is still one of if not the best striker in all of mixed martial arts.
I recently wrote a piece on the best strikers in MMA and I really did try to keep him out of the number one spot, but I just couldn't.
For those of you bringing up how Khabib dropped him with a right hand in their fight, remember that the threat of the takedown changes everything, and the threat doesn't get much more real than with Nurmagomedov.
Neither Poirier or McGregor could get anything going in their title fights with The Eagle.
We might have to wait to see if said Eagle can successfully defend his Lightweight World Title at UFC 254.
I'm almost positive the UFC brass will wait on that fight coming up on October 24th to determine the next fights for both Conor McGregor and Dustin Poirier.