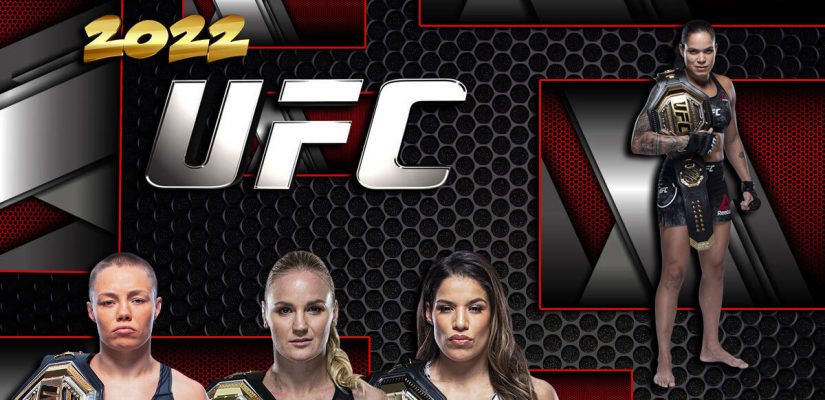 Odds have been released for MMA Futures on each women's UFC champion division. We're looking closely at all four women's divisions, to produce a betting pick for each UFC Champion.
For this MMA Future, you're betting on who will be champion at the end of 2022.
If your bet holds the belt from December 31st, 2022 to January 1st 2023, this bet pays out.
While many will be looking at their favorite fighters, we took a practical approach to this problem, looking closely at the average number of fights per division per year, how often each fighter fights, and who is within range of the title shot.
All odds available at Betonline.ag as of January 6th, 2022.
UFC Women's Straw-weight Champion Betting Pick
Rose Namajunas beat Zhang Weili in two back to back fights for 2021. The title changed hands only once last year, and once in 2019 to Zhang, who defended only once in 2020 against Jedrzejczyk.
2022 should have two title defenses for Rose, starting with Carla Esparza.
| Fighter | Betting Odds |
| --- | --- |
| Rose Namajunas | +275 |
| Carla Esparza | +350 |
| Joanna Jedrzejczyk | +450 |
| Weili Zhang | +450 |
| Marina Rodriguez | +650 |
| Mckenzie Dern | +750 |
| Tecia Torres | +900 |
| Amanda Lemos | +1000 |
| Amanda Ribas | +1400 |
| Yan Xianonon | +2000 |
Again, we see the recently dethroned champion drop a significant distance. Joanna is set to return this year, but she lost to both Zhang and Namajunas. She isn't next in line for a title fight, even if she manages to negotiate a return.
Which Fighters Should I Avoid Betting for UFC Futures?
Xianon's recent loss to Esparza wasn't even close. Xianon revealed a few serious weaknesses against high level grapplers, and if she is ready for a championship fight, it will be in 2023.
Ribas is too far up the rankings to be relevant. Her win over Mackenzie Dern is her biggest claim to fame, but even Dern has evolved more than Ribas in the last two years. Tecia Torres is on a three-fight winning streak, but none of the fighters she's fought are top ten. She's just not at that level right now.
Mackenzie Dern is going to be a gatekeeper until she learns to wrestle. She's fantastic at submission work, but her lack of takedown ability stunts her rise to the top. A submission grappler with .54 takedowns per fight has to pull guard to win, and Rose or Zhang will beat her with ease.
Can Zhang Weili Regain the Title?
After back to back losses, Zhang will need to defeat some contenders. Joanna Jedzejczyk is eyeing Zhang for her 2022 return. This is a good fight for Zhang. She knows she can win, and she knows she can out wrestle Joanna for a safe win.
I don't remove Zhang from the running, simply because Esparza could beat Rose and Zhang could easily jump in, win that fight, and regain the crown. That said, I think Joanna Jedzejczyk is the weakest bet remaining. She's taken time off and wasn't staying prepped during it.
Her negotiations for more pay have been the focus of her return. Joanna wants to make a career, she doesn't want to be the best. This may seem like a bad read, but believe me when I say that these are different goals.
UFC Stat Comparison for Women's Strawweight Champion
This is a tough division, and I've narrowed it down to five top picks.
| | | | | | |
| --- | --- | --- | --- | --- | --- |
| Fighter | Rose Namajunas | Carla Esparza | Zhang Weili | Marina Rodriguez | Amanda Lemos |
| Average strikes Landed/Absorbed per Minute | 4.1, 3.8 | 2.3, 2.7 | 5.4, 4.1 | 5.05, 3 | 5.3, 4.6 |
| Takedowns per Fight | 1.78 | 3.5 | 1.75 | .22 | 1.31 |
| Takedown Offense/Defense percentages | 56%, 51% | 37%, 48% | 31% ,60% | 33%, 67% | 57%, 87% |
| Total UFC Finishes | 6 | 2 | 2 | 2 | 3 |
Marina Rodriguez has the best offensive to defensive striking ratio and one of the better takedown defenses in the division. It's notable that Esparza skewed her stats, scoring five takedowns in their 2020 bout.
Lemos is the dark horse of the strawweights.
She has a very high takedown defense that needs to be tested against Esparza or Zhang. She's a strong finisher, closing out three of her last five fights.
Will Namajunas lose to Esparza?
I haven't done a full analysis, but I think she will. Esparza's takedowns are honed to perfection, and we saw how Rose struggled against Zhang's takedowns, giving up five in their last bout.
Rose should spend most of the fight in the bottom position, and I could even see a repeat Esparza submission win.
Who Can Beat Carla Esparza?
Lemos is a good candidate. She's currently ranked number ten and has no wins inside the top eight. I expect her to be Joanna's next fight after losing to Zhang, meaning she won't be eligible for the title shot until 2023.
Final Betting Pick
I think Carla Esparza will take the belt from Rose and retain it against Zhang or Rodriguez. Her grappling is undeniable at this point, and almost no one is ready for that level of wrestling. Bet Carla Esparza at +350, a $3.50 payout per dollar wager.
5 straight for Carla Esparza!! @CarlaEsparza1 making a serious case for a title shot at #UFCVegas27 pic.twitter.com/1l5lCDu8GO

— UFC Canada (@UFC_CA) May 23, 2021
UFC Women's Flyweight Champion Betting Pick
Valentina gained the belt in 2018 and defended five times since then, including twice in 2021. If she can win her next two bouts, likely against Talia Santos.
She's defeated only one of the fighters on this list, so there are plenty of up and coming athletes for Valentina to face.
| Fighter | Betting Odds |
| --- | --- |
| Valentina Shevchenko | -600 |
| Talia Santos | +800 |
| Katlyn Chookagian | +800 |
| Viviane Araujo | +1200 |
| Manon Fiorot | +1200 |
| Andrea Lee | +1200 |
| Alexa Grasso | +1600 |
| Jenifer Maia | +2000 |
Talia Santos is the next fighter on the docket at #5 in the division. Shevchenko has defeated #1-#4 contenders over the last four fights. Unless one of them loses, we'll see Santos get a title shot, and then one of the four contenders take a second crack at the championship.
UFC History of Giving Raining Champions Immediate Rematches
When a long reigning champion loses, they get an immediate rematch in the UFC. Zhang, GSP's loss to Matt Serra, and so on. If Shevchenko does lose, she'll have an immediate shot at the title again.
If Maia wins, the next title fight will be Shevchenko, and that will be all of the title fights for 2022 in the flyweight division.
Which Fighters Should I Avoid Betting for UFC Futures for Women's Flyweight Champion?
Maia lost with relative ease to both Chookagian and Valentina. Her wins are over solid competitors, but not champion level fighters.
Grasso is yet to lose at flyweight, but her win over Maycee Barber was a close decision and arguably a bad one. That fight was at best a draw. She'll need to do more against quality opponents and she only fights once a year on average.
Not enough to rocket her to the title from #11 in the ranks.
Andrea Lee won both fights last year but took a three fight losing streak from 2019 to 2020. Losses to fighters like Murphy and Modafferi show us that she's a long way from the title. She's coming off two finishes, a trend that if it continues could mean a 2023 title shot.
Viviane Araujo lost to Chookagian and Eye. Coming off a loss in 2021 means that she'll likely be behind a Chookagian rematch against Shevchenko for the title.
UFC Stat Comparison for Women's Flyweight Champion
There are massive stat differences between these four athletes.
| | | | | |
| --- | --- | --- | --- | --- |
| Fighter | Valentina Shevchenko | Manon Fiorot | Talia Santos | Katlyn Chookagian |
| Average strikes Landed/Absorbed per Minute | 3.2, 1.8 | 7.1, 2.4 | 3.7, 2.2 | 4.5, 4.3 |
| Takedowns per Fight | 2.6 | 1.87 | 2.4 | .25 |
| Takedown Offense/Defense percentages | 64%, 77% | 50%, 100% | 86%, 87% | 15%, 52% |
| Total UFC Finishes | 6 | 2 | 1 | 0 |
Manon Fiorot is set to fight Jessica Eye in March, a fight I think she will win. She fought three times last year, but her only path to the title is Shevchenko beating Santos and then scoring a dominant KO over Eye. It's not impossible, but I see Shevechenko winning the bout with Fiorot in a narrow decision.
Chookagian is good, but I think she loses to any of these three athletes.
Her takedown percentage isn't there and her striking defense isn't where it needs to be, coming in the lowest of the four at 4.3 strikes absorbed per minute.
Final Betting Pick for the Flyweight UFC Title
Santos has the right skills to face Valentina, but not the right power. This fight, for me, comes down to finishing percentages. Shevchenko has finished four of her last six fights, each against top tier competitors. Santos has finished one, #7 Joanne Wood. She outwrestled Molly McCann, but she's not top fifteen. I wager that Valentina beats Santos, and then beats a top four rematch or Manon Fiorot late in the year.
Bet Valentina Shevchenko at -600, a $0.17 return for one of the UFC's most dominant current champions.
I'm watching an old #UFC266 fight with Valentina Shevchenko, my god she is phenomenal. pic.twitter.com/xkxiCKITpD

— Brigitte Krause (@TheBrigitteEdit) December 31, 2021
Go back and watch some of her early fights. Many forget just how good she is.
UFC Women's Bantamweight Champion Betting Pick
Julianna Pena recently dethroned Amanda Nunes, and will likely face her in an immediate rematch. The Pena win was a dominant one. The average title defenses for this division is one to two per year. It's likely that Pena will fight Nunes again, and then the winner will face Holm or Aldana toward the end of the year. It's notable that Nunes wasn't forced to defend the belt at all in 2020.
| Fighter | Betting Odds |
| --- | --- |
| Amanda Nunes | -115 |
| Julianna Pena | +200 |
| Holly Holm | +600 |
| Irene Aldana | +650 |
| Ketlen Vieira | +1100 |
| Aspen Ladd | +1400 |
| Miesha Tate | +1400 |
| Racquel Pennington | +2000 |
Nunes is still favored, despite her recent loss. Pena out struck Nunes 90 to 58 and won 3:35 of control in just eight minutes of total fight time.
While many would call this a fluke, an off night for Nunes, I'm worried that the champion has simply reached her limit of champion level camps. She has a new baby, and a life to live outside of fighting. Conor McGregor comes to mind, a champion that has simply gotten too happy and comfortable to be competitive.
Which Fighters Should I Avoid Betting for UFC Futures for Women's Bantamweight Champion?
Due to the nature of the dethroned reigning champions, we will see an immediate Nunes rematch, and then one more fight at the end of the year. In some rare cases, we will see an immediate trilogy of fights between the two champions as with Holloway and Volkanovski.
This is an unfortunate thing for the other fighters in the division.
Fighters like Pennington, Tate, and Viera are excellent fighters, but they're too far from the title to get a shot at it this year. Aspen Ladd won't get a title shot until she makes weight at bantamweight versus a contender.
What if Nunes Doesn't Rematch Pena for The Bantamweight Title?
Nunes is yet to confirm the Pena rematch. She also has the 145 lbs title to defend, so there's a chance she leaves the division altogether, focusing on her featherweight title.
Holly Holm has an opportunity to face Pena, and has publicly responded saying she was ready.
Aldana has a shot at the title assuming Nunes doesn't take the fight. She could be the next to face Pena.
Her recent loss to Holly makes it unlikely. I think Aldana should first be forced to rematch Chookagian. Aldana would most likely lose to Holm, Nunes or Pena.
WIldcard: Germain De Randamie
Randamie was cut due to inactivity and stripped of her featherweight title after refusing a fight with Cyborg. However, she could negotiate a return. She's beaten Holly before. Say Holly beats Pena, then Randamie negotiates a return title shot- we could see a dark horse upset for the title. It's certainly more likely than an Aspen Ladd title run at bantamweight.
UFC Stat Comparison for Women's Bantamweight Champion
Based on ability and proximity to the title, I think these are the most likely Champions.
| | | | |
| --- | --- | --- | --- |
| Fighter | Julianna Pena | Amanda Nunes | Holly Holm |
| Average strikes Landed/Absorbed per Minute | 3.3, 2 | 4.5, 2.8 | 3.1, 2.8 |
| Takedowns per Fight | 2.4 | 2.46 | .8 |
| Takedown Offense/Defense percentages | 55%, 22% | 54%, 82% | 30%, 76% |
| Total UFC Finishes | 4 | 11 | 2 |
Holm lost to Nunes back in 2019 during her fourth run at the title. I believe that Holm can beat Pena, but I may be wrong in that. Pena shows similar submission skills to Tate, and better takedowns than Pennington. It could be that Pena can submit Holm or win a ground centered decision. Pena also outstruck Nunes, but I noted before that Nunes looked off.
Holly Holm's Injuries
Holly has been sidelined with injuries. She had no fights in 2021, pulling out a scheduled bout and unable to schedule another. If she couldn't stand with Nunes at her best, how will she look after returning from an injured year off?
Final Betting Pick for Women's Bantamweight UFC Champion 2022
Julianna Pena beat Nunes hands down. I think she'll defend the title against Nunes or Holly and likely Aldana toward the end of 2022 or early 2023. Manon Fiorot has a real chance at the title, but she's at least two good finishes from a title shot, and that will take most of 2022 to hash out. Bet Julianna Pena at +200, a double your money return on the new champion.
3. JULIANNA PENA SOMETIÓ A AMANDA NUNES

Julianna Peña logró lo que se pensaba era imposible, no sólo ganar, sino finalizar a una Amanda Nunes que se notó sorprendida. La sorpresa del 2021. pic.twitter.com/iuOfjTN7IE

— Quinto Round MMA (@QuintoRoundMMA) December 29, 2021
It doesn't look like a fluke in this clip.
UFC Women's Featherweight Champion Betting Pick
In our final division we have Amanda Nunes as the champion. There are currently no rankings official for the featherweight division in UFC. Nunes hasn't defended against any of these fighters at 145 pounds. She last defended against Megan Anderson, an easy win in 2021, and Felicia Spencer in 2020. Nunes has never defended her Featherweight title twice in one year.
| Fighter | Betting Odds |
| --- | --- |
| Amanda Nunes | -600 |
| Kayla Harrisson | +325 |
| Norma Dumont | +1100 |
| Aspen Ladd | +1200 |
One interesting issue for Nunes is that she dieted down for her fight against Pena. She cited a bad weight cut against Randamie, and said "This one, we made a lot of changes. We put a lot of nutrition in. Right now, I'm almost there [on weight] actually."
This was obviously problematic against Pena, but may also affect her 145 pound title holding.
Which Fighters Should I Avoid Betting for UFC Futures for Women's Featherweight Champion?
Aspen Ladd just lost to Norma Dumont, and also lost to Germaine de Randamie. She's a featherweight with power, and that's exciting, but she needs two or three years of refined striking and wrestling to be a threat to Norma or Nunes.
The Special Case of Kayla Harrison
Harrison has dominated the PFL and is currently the champion. She's also Nunes' training partner. She dominated the PFL season, winning four bouts via finish last year. Harrison is 12-0 with ten finishes in just three years.
However, the UFC hasn't signed her yet.
On December 10th, Anderson Franca (Top Team Coach) gave an interview stating that Kayla and Nunes won't be fighting any time soon. If Harrison gets her shot with UFC, it will be against other top contenders, or possibly a move to Bellator.
UFC Stat Comparison for Women's Flyweight Champion
There are really only two athletes to consider, unless the division goes haywire.
| | | |
| --- | --- | --- |
| Fighter | Amanda Nunes | Norma Dumont |
| Average strikes Landed/Absorbed per Minute | 4.5, 2.8 | 3.9, 2.2 |
| Takedowns per Fight | 2.46 | 1.2 |
| Takedown Offense/Defense percentages | 54%, 82% | 45%, 100% |
| Total UFC Finishes | 11 | 0 |
Dumont is less offensive but slightly more defensive in her striking. The 100% takedown defense is exciting, but the biggest difference is experience and finishing power. Dumont has none, and Nunes is known for putting opponents away, even at the title level.
Of her last six title defenses, four were knockout and submission wins.
Final Betting Pick for Women's Featherweight UFC Champion 2022
Despite the loss, I hope to see Nunes getting serious and retaining the title in 2022. I can also see her simply holding onto the title throughout the year, while she looks to regain the Bantamweight title, Dumont may end up waiting for a division that is frustratingly overlooked.
Bet Nunes at -600, a $0.17 per dollar wagered payout on the reigning champion.
5 years ago Amanda Nunes welcomed back Ronda Rousey pic.twitter.com/i4f6144KsV

— Jason Williams (@jasoneg33) December 30, 2021
MMA Futures Betting Picks Wrap Up
Futures can be tough to understand for new bettors, so start here if you're lost. I've selected three current champions for the women's MMA divisions and one new champion.
We had two new champions and two defending champions, and in 2020 we had one new champion and three defending. If you're thinking of picking a list of new champions, remember that all the champions being dethroned in the same year is a rare occurrence, many will hold their positions simply because one can only fight so often.
Good luck fight fans, I'm looking forward to another year of the best fight prediction and betting picks on the web!