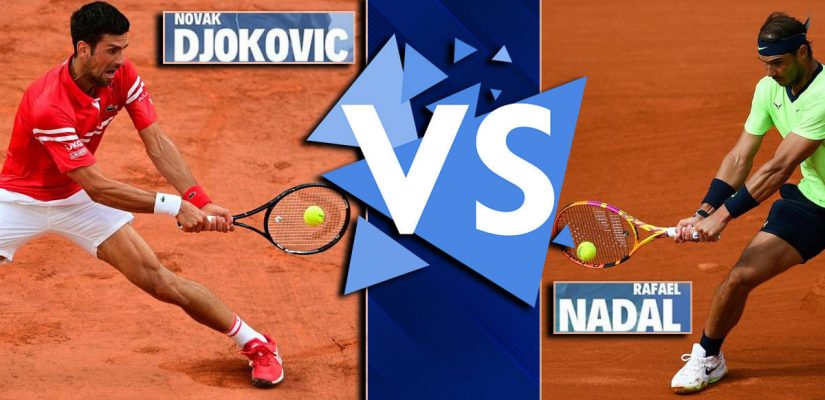 Nadal vs. Djokovic is a rivalry unlike any other. Two all-time greats and two men who've revolutionized the sport of tennis. They're legends, is what they are, and they've been entertaining us for what feels like an eternity.
You have the "King of Clay" on the one side, a man known for his power and physicality, a machine that can always "brute force" his way towards victory. On the other, you have a player most folks deem as the greatest to ever do it — a legend known for his iron will, mental fortitude, sheer resilience, and some truly mind-boggling stamina.
These two differ in so many ways and yet they share so much of the same "DNA." They're warriors on the court — immovable objects and forces of nature that can not and will not yield, no matter what the odds might be and no matter whom they might be playing against.
It is a rivalry as old as time.
The sheer fact that both men are still at the peak of their powers and are winning Grand Slams left, right, and center speaks volumes about their innate talent, drive to compete, and ability to deliver on the biggest stages in the world.
Simply put: Nadal vs. Djokovic is the greatest rivalry in the history of tennis — and it's not even close. Why, you might ask? Well, it's rather simple.

The Awe-Inspiring Tennis
They're spectacular tennis players first and foremost. They're so well-rounded it doesn't even make sense.
The moment Nadal and Djokovic peaked and fully realized their inherent potential, Roger Federer — a legend in his own right — sort of faded into the background.
He couldn't compete, and it certainly wasn't for a lack of trying. He couldn't match Nadal's physicality nor Djokovic's resilience. Those two men could always go further than any of their peers; they could always defy and bend the rules of the game.
Federer, of course, brought the best out of them, but he could only keep up to a certain point, what with him being a fair bit older and all.
Nadal and Djokovic are without equal. They've been trading blows for over fifteen years. Let that number sink in.
They've faced off a whopping 58 times thus far, with the Serbian leading 30 to 28. It is a truly awe-inspiring number and, odds are, they're going to share the court many times more in the future as well. That's our hope, at least.
The Mouth-Watering Narratives
These two players have the absolute best narratives. Their backgrounds, their upbringing, their personal struggles, staggering highs and crushing lows — their lives will one day be shown on the "big screen."
There's no doubt about it.
Their careers, too, have had numerous twists and turns, some of which no one could have predicted. Huge, mind-blowing win streaks, crushing defeats and losses that made our heads spin, and rebounds worthy of the history books.
A Rivalry With Historical Significance
It's rare for two tennis players to remain on top for such a long period of time. Nadal won his first Grand Slam all the way back in 2005. Djokovic, on the other hand, had to wait until 2008 to etch his name in history.
They've been around for over twenty years and the fact that they're still at the very top of the tennis world is simply astonishing. These two gentlemen — along with the venerable Roger Federer — are the best players who've ever taken flesh. The most capable, well-rounded, and physically adept players you'll ever lay your eyes on.
And the fact that we can still watch them compete at the highest of levels is a luxury you ought not to waste.
The second Grand Slam of the season is right around the corner, so if you're looking to bet on this year's Roland Garros, you can check out our list of best French Open betting sites!
And, well, there's a very real chance that we'll witness yet another clash between these two legends — a clash you do not want to miss!