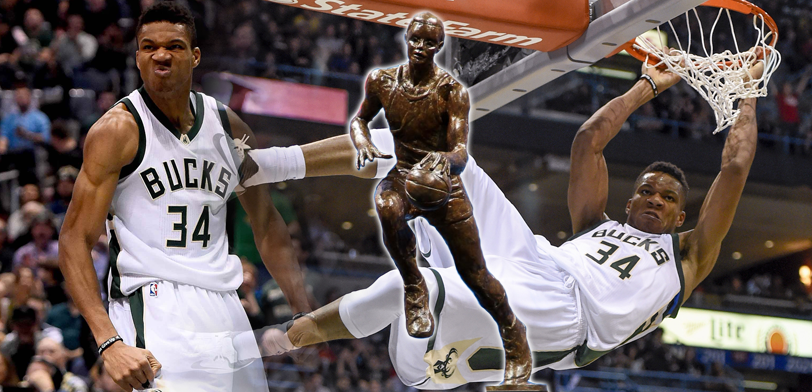 Back in 2014, the Milwaukee Bucks took a flier with the No. 15 overall pick on little-known Greek swingman Giannis Antetokounmpo. There was very little intel on Antetokounmpo at the time, as he'd never played basketball at a level higher than Greece's second tier. To put that in perspective, Greece's top-tier league isn't even one of the better in Europe. Greece's A1 League is about the ninth-best professional league you're going to find outside of the NBA. And Giannis wasn't even playing in that league, he was a level below. To say he was an unknown would be an understatement.
Nevertheless, the Bucks decided to roll the dice on a lanky 19-year-old that nobody had ever heard of. He's still only 22, but it's safe to say that Milwaukee landed one of the greatest draft steals of all time by nabbing the Greek Freak.
Giannis struggled as a rookie, but his upside was obvious even then. At 6'11", Antetokounmpo displayed guard-like skills despite having the length of a traditional center. He made the leap from tantalizing prospect to All-Star last season, and he was honored with the NBA's Most Improved Player Award as a result.
He's only played four games thus far in 2017-18, but it's safe to say Antetokounmpo has improved drastically yet again. Through those four games, he's averaging an insane 36.8 points, 10.8 rebounds, 5.3 assists, 2.3 steals and 1.3 blocks per game. He obviously won't average 36 points per game all season long, but he looks like an unstoppable force right now.
Is he a lock for MVP? Or will he slow down enough for someone else to steal the crown? Let's take a look at the updated odds, courtesy of Bovada.
Giannis Antetokounmpo +200
LeBron James +500
Kawhi Leonard +800
Kevin Durant +1000
Russell Westbrook +1200
James Harden +1200
Steph Curry +1200
Kyrie Irving +1400
Anthony Davis +1600
The Case for the Greek Freak
The case for Giannis to win MVP this season is simple: he has to put up insane numbers while leading the Bucks to a better-than-expected regular season record. So far, so good. Antetokounmpo is posting the aforementioned incredible individual numbers, and his Bucks have gotten off to an impressive 3-1 start.
With the Cavaliers and Celtics floundering in the early stages of the season, the race for the No. 1 seed in the Eastern Conference is as wide open as it's been in several years. If the Bucks can take advantage of Cleveland's and Boston's struggles and put some distance between themselves and the field early on, they may be tough to catch.
Quite frankly, if Antetokounmpo is able to lead a super inexperienced roster to the top seed in the conference, he has the MVP award on lockdown. Voter fatigue in the NBA is very real. If voter fatigue didn't exist, LeBron James would have more than four regular season MVP awards. It seems doubtful that Russell Westbrook will repeat given the fact that he's now playing alongside two All-Stars in Paul George and Carmelo Anthony.
It's super early, but Giannis is a very, very real threat to take home the MVP in his age-22 season. He'd be the second-youngest MVP in league history behind Derrick Rose, who took home the award in 2011 at 22 years and five months old.
Fear the Deer, and fear the Giannis.
Can LeBron Retake his TItle?
While he hasn't won an MVP award since 2013, few would argue with the notion that LeBron James is currently the best basketball player on the planet. He has led his teams to the NBA Finals in each of the last seven seasons, which is about as underrated an accomplishment as you'll find on his lengthy list of personal achievements.
Antetokounmpo has stolen some early-season headlines thanks to his clear improvement and downright gaudy numbers. LeBron has been putting up insane stats for so long that we almost take it for granted at this point. While the Cavaliers haven't gotten off to a perfect start, they can't blame the King for their scuffles. Despite working with almost an entirely new roster around him, James is averaging 27.6 points, 9.0 assists, 7.4 rebounds and 1.6 blocks per game. Let's not overlook the fact that he's connected on 61.1 percent of his shots and 45 percent of his looks from long range, either.
Unfortunately for LeBron, the common thought now is that he's supposed to put up these numbers. At 22, Giannis is still thought to be four or five years away from his true prime. He's not supposed to be doing what he's doing yet. He's still a pup. The Cavs are also supposed to reign supreme in the Eastern Conference. If they finish the season with the top seed, nobody will be impressed. That's what they were expected to do. Big whoop.
For all of his accomplishments, James has never averaged more than the 8.7 assists he averaged last season. He's already at 9.0 through five games, and he's racked up 13 dimes in each of the two games since Ty Lue named him as the team's de facto point guard with both Isaiah Thomas and Derrick Rose on the shelf.
The fact that LeBron can literally do whatever you ask of him on the basketball court is an underrated aspect of his general greatness. The fact that most take him for granted is probably going to cost him come awards season, once again. That said, he's still a tremendous value here at +500 to take home a fifth MVP award. If Giannis or the Bucks falter, we know LeBron will be right there, waiting to pounce.
Anyone Else?
After Giannis and LeBron, it's hard to come up with a name that has really separated himself from the field in the early going. James Harden hasn't looked quite the same as he did when he was the runner-up last season. Kawhi Leonard, who finished third, hasn't even played yet this season thanks to a quad issue, and he has no timetable to return. It's hard to imagine Kevin Durant and Steph Curry will do enough to separate from one another considering they're on the same team.
Kyrie Irving has a clear path, especially now with Gordon Hayward out for the season. Unfortunately for him, he's struggled a bit in his first week or so in Celtics green. He's shooting just 37.5 percent from the field and 32 percent from three-point range through his first four games with his new team. He won't play that poorly all year long, but he's going to have to up his game considerably if he's going to be in the same stratosphere as either Giannis or LeBron.
The most likely challenger would appear to be Harden considering the Rockets are expected by many to emerge as the primary challenger to Golden State. While he hasn't put up the early-season numbers he did last year, he's still going to be one of the league's leading scorers and Houston does appear to have a legitimate shot at least giving the Warriors a run for their money.
The Beard makes for a nice value at +1200, especially considering his numbers will be inflated as long as Chris Paul remains injured. The common thought was that Paul's addition would hamper Harden's MVP case, but we've hardly seen them together yet thanks to an early-season injury to CP3. If Harden can help keep the Rockets among the league's elite despite an injury-laden roster, his case is a strong one.
As of now, we'll rank our favorite values in terms of likelihood of winning MVP as follows:
Giannis Antetokounmpo +200
LeBron James +500
James Harden +1200