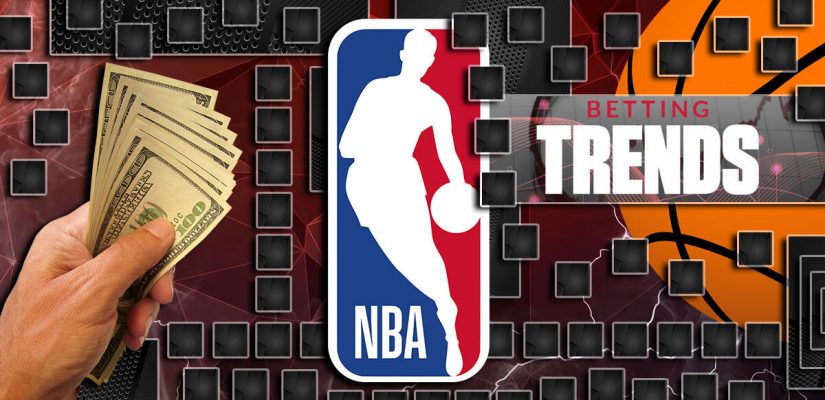 Hornets' high-powered offense, thin defense make them a solid cover
Shooters like Trae Young, Devin Booker can procure OVERs
Cavaliers blow away the points spread after a win
Interested in betting on the NBA? Well, we have everything you need this week to get you ready to go!
I. OVER
The average amount of points that a team's games go OVER is a direct correlation to how consistent the team is in scoring on offense. If you bet the OVER/UNDER, these are the top five teams that are more than likely going to push the game OVER.
1. Charlotte (+3.2)

The Hornets are second in total points per game at 114.6, but they are also 29th in points given up at 114.6. They shoot 46.2 percent from the field at 37.3 percent from three (4th/NBA). Five Hornets average in double figures led by Miles Bridges, who is having an all-star year and is averaging 20.0 points pregame.
One of the Hornets' biggest problems is perimeter defense as this feeds into the over because their opponents are averaging 26 assists per game (30th/NBA) and that feeds into the scheme for the OVER as it correlated to three-point defenses which allow 14.2 triples per game (30th/NBA) and 39.9 attempts (29th/NBA).
2. Houston (+2.4)

While the Rockets are currently 14-32 and post the third-worst mark in the NBA, Houston's defensive statistics are where the team ails. They are the last-place team in the NBA in points allowed at 116.5 points per game. The lack of a shot-blocker in the middle allows Houston's opponents to go inside and convert at a 55.9 percent rate (30th/NBA).
Christian Woods has the most blocks per game which are 0.9 as the Rockets have no one who can come up with at least 1.0 per night. Although we know, this team is ailing in a major way. Check the matchups and if the opponent has a solid big man and a commitment to the inside, the OVER is more than likely going to work for the Rockets.
3. Atlanta (+2.3)

Having a prolific scorer and three-point shooter like Trae Young is a recipe for the OVER as he averages 27.9 points per game while shooting 45.6 percent from the field. Young makes 37.2 percent of his threes while Atlanta rips it at a 37.4 percent clip (2nd/NBA). Kevin Huerter and John Collins have also been nice supplemental pieces in Atlanta's three-point attack.
Defensively, the Hawks allow 112.3 points per game (25th/NBA) and opponents shoot the three at an alarming 36.2 percentage (26th/NBA). So in Atlanta's case check for a prolific three-point shooter and the same defensive struggles when considering an OVER.
4. LA Lakers (+2.2)

The Lakers have no connectivity on either end of the floor, so that allows Lebron James to take games over offensively as he gets 28.8 points per game to lead LA. The offensive profile of the Lakers is more conducive to the play of James and Anthony Davis in the paint as the team shoots 46.4 percent for the field.
Los Angeles shoots 53.6 percent inside the three-point arc (10th/NBA). Opponents get up 91.3 shots per game vs. this defense (28th/NBA) and they make 41.3 (25th/NBA). This team also fouls too much with 20.3 per night (27th/NBA) and that affects opponents' free-throw chances as they take 23.1 (27th/NBA) and make 17.5 (24th/NBA).
5. Chicago (+2.0)

The Bulls are one of the season's great stories as Chicago is tied with the Miami Heat for the lead in the Eastern Conference as they check-in at 28-15. The Bulls are also nursing a two-game lead over the defending World Champion Milwaukee Bucks in the NBA Central Division which shows a four-game advantage in the loss column.
Chicago is No.1 in the NBA in three-point percentage in shooting at a 38.8 percent clip. Lonzo Ball takes 7.4 per night and makes 42.3 percent and Zach Lavine takes 7.2 and makes 41.2 percent. When you see this type of three-point shooting in your studies and then two players who average in the mid-30s in minutes, betting the OVER is very enticing.
II. UNDER
This is the bottom five which is equated to the highest UNDER percentage in the average amount of points for a team to go OVER. However, for the sake of this blog, we will use the negative numbers to show this UNDER. A team's defensive consistency is a major common denominator in these numbers.
1. Golden State (-7.3)

This could be a tricky team to project as Stephen Curry is rejoined by fellow Splash Brother Klay Thompson on the perimeter, so the penchant for Golden State to push OVERs just got even better. Bet the UNDER generally with the Warriors because they lead the NBA in six of the top 22 defensive categories.
Warriors are in the top five in eight others which equates to 14 defensive categories in which you find them in the Top 5. As Draymond Green continues to be out with a back injury, the facilitation of the offense and the grit on the back boards and defense is also missing. This entices Golden State to play more possessions rather than attack quickly in the half-court.
2. Dallas (-6.1)

The Mavericks give up only 102.6 points per game which is why they are a solid UNDER waiting to happen. Playing more of a possession game and limiting shots also gives Dallas a bevy of options, especially on the three-point line where 10.9 makes per game by opponents is second in the league.
Their ability to not foul and keep opponents off the line is a deal-clincher as well as opponents generally are just 15-of-20 from the stripe. Dallas is 29th in the NBA in the pace of play.
3. Oklahoma City (-5.1)

Team Analytics is on track for bettors who love wagering on the UNDER. By definition, this is the NBA's worst offense as the Thunder are last in points per game (100.7) and field goal percentage (41.7%). In addition, they bet only 31.2 percent from the three as three of their usual five starters shoot below 30 percent from behind the arc.
While all five are at 33.2 percent of less. OKC's defense is limiting as well as it allows opponents to shoot only 44.5 percent overall (10th/NBA).
4. LA Clippers (-4.5)

With Kawhi Leonard out – probably for the season – and Paul George for several weeks with an injury to his right elbow, the Clippers are going to play the UNDER as well as anyone. Reggie Jackson and Marcus Morris are going to have to step up and be the prime scorers in this matchup.
This could be problematic for two players who are role players and supposedly set up and supplement George and Leonard. The Clippers limit the three at 32.7 percent (2nd/NBA) and they play good defense without fouling and putting the opposition on the free-throw line. LA allows online 18 free throw attempts per game (3rd/NBA) and 14.3 makes (2nd/NBA).
5. New York Knicks (-3.0)

Of course, Tom Thibodeaux and the Knicks are in this equation as New York is last in the NBA in tempo and they average only 98.7 possessions per game. The Knicks are the picture of a team that consistently defends every night (43.9%/4th) and limits opponents' shots as opponents make only 37.9 field goals per game (4th/NBA).
New York can get on a roll from the three-point line as their 35.9 percentage (8th/NBA) suggests. The problem is that their 24.9 made twos is last in the NBA, which makes the fluid Julius Randle beg for consistent and supplemental help in scoring the ball inside. New York is last in averaging 41.0 points in the paint per game.
III. ATS After A Win
1. Cleveland (18-7-2) – 72.0% cover rate

The Cavaliers not only accentuate the covers after a win, but they also give a solid margin of victory with 6.8 points per victory. Cleveland has posted some wins in this category of late as the Cavs are 3-1-1 in this scenario over their last five games. They were a (+5) underdog in Utah on Jan. 12 and took a 111-91 win over the Jazz.
Cleveland was giving points in the last four games, but their five-game winning streak ended with the loss to the 117-104 loss to the Bulls on Wednesday as Cleveland failed to cover as the Cavaliers were a 3-point favorite.
2. Oklahoma City (9-4-1) – 69.2%

OKC has been able to accentuate a high cover rate after a win as they don't win two in a row off the cover, but keep the games close with in fostering a (5.1%) margin of victory. The Thunder are 1-8 SU since the start of the new year so this category has rarely been in play. The lone win was a 130-109 decision at Brooklyn on Jan. 13.
They came back the next evening and had a push as a (+5) underdog in a 107-102 loss to the Cavaliers. The Thunder have had one four-game winning streak and a three-game win streak where they covered all of those numbers as the underdog.
3. Memphis (20-11-0) – 64.5%

These Grizzlies are becoming one of the most-watched teams in the NBA with Ja Morant and then they are topping out with the third-best record in the Association at 31-16. Dallas ended the Grizzlies 11-game winning streak on Jan. 14, but in that streak, Memphis went 10-1-0 ATS as the lone dissenting cover came in a 104-99 win over the Lakers.
Where the Grizz were favored by six points. The Grizzlies failed to cover last night after their 119-106 win over Chicago on Monday as they were a (+6.5) underdog against the Bucks and lost 126-114.
4. Phoenix (20-13-0) – 60.6%

As the Suns bring in the best record in the NBA at 34-9, they stand at 7-1-0 ATS after a win in their last eight games. Monday night was the latest example as they were a (-4) favorite over the Spurs and covered with a 121-107 rendering in San Antonio and on the fourth game of a five-game road trip that ends in Dallas this evening.
As the Suns hit their league-high 17-game winning streak earlier in the season, they went 11-6-0 ATS the spread after those wins.
5. Charlotte (14-10-0) – 58.3%

Charlotte is a good team to bet on regardless of the spread as James Borrego's group is 28-17-0 ATS. The Hornets have a small margin of victory in covers after wins as it sits at 0.9 points. The Hornets have covered their last four games after a win as the average margin of victory in those games is 8.0 points.
The Hornets were at their best in this scenario at the beginning of the season as they went 7-2-0 ATS after their first nine dubs.
IV. ATS After a Loss
1. Miami (12-4-0) – 75% cover rate

The Heat is a character team as they continually define this in coach Erik Spoelstra's 12th season at the helm of this team. Miami is 6-1 SU in its last seven games as they have won 10 out of the last 11 to move into a tie with the Chicago Bulls for the lead in the Eastern Conference.
This scenario hasn't popped up but once as the Heat covered (-4) in a 104-99 win over the Raptors on Monday night. Miami has lost only five games since Dec. 13 and the Heat come up 3-2-0 ATS after those losses.
2. Golden State (9-3-0) – 75%

The Warriors have gone through one of the obligatory valleys of an NBA season in going 3-5 in their last eight games. With Draymond Green out and then the return of Klay Thompson, Golden State has had to reconfigure its chemistry. Golden State is 3-2-0 ATS after a loss in this stretch.
On the last road trip, the Warriors fell 118-99 as an EVEN bet on Jan. 14. They came back the next evening as a (+2.5) underdog vs. the Bulls and routed Chicago, 133-96. Golden State covered after its first four losses, but that streak was up on Dec. 13, when the Warriors were a 4-point favorite in Indiana and won 102-100.
3. Dallas (13-6-0) – 68.6%

The Mavericks are certainly a bettor's friend as they continue to fall into this week's scenarios. Dallas is 10-1 SU since New Year's Eve and they covered as a (+2.5) underdog in a 112-105 win over Memphis, which followed the lone loss to the Knicks. Mavs started the season 4-6-0 ATS after their first 10 losses and now have won the last nine ATS after a loss.
4. Oklahoma City (19-10-0) – 65.5%

The Thunder are striding toward another pick in the NBA Draft Lottery with that 1-8-0 SU record so far this year. Like we have noted, OKC plays plenty of close games which feeds their 5-2-0 record ATS after loss in this last string. The Thunder just do not have enough playmakers other than Shae Gilgeous-Alexander and Lugentz Dort to come through.
In their season-long eight-game losing streak from Nov. 19-Dec. 2, the Thunder covered the first four after a loss and wound up with a 4-3-0 ATS ledger within that streak.
5. Charlotte (13-7-0) – 65%

The Hornets have won six out of their last seven games and are 9-3 in their last 12 outings. Charlotte is 2-1-0 ATS after those three losses which date back to Dec. 23. The lone loss on the cover was when the Hornets were a (+2) underdog at the Wizards and fell, 124-121. Currently, the Bees sit at 25-20 and second place in the Southeast Division. 1.
V. Top 5 Over/Under Teams with One Day Off
This is another area where firepower on offense can have a huge impact as teams have to reboot and focus mentally 48 hours later. It can also be impacted by teams who are once again challenged on the defensive end of the court.
1. Phoenix (16-9-0) – 64% cover rate

The Suns are third in the NBA in scoring at 112.5 points per game which sets the stage for this scenario. Phoenix has Devin Booker averaged 24.6 points per game and posted a 40.3 percent three-point accuracy, it's easy for Phoenix and its veteran mentality to refocus and play off his energy if he gets on a role.
Phoenix has covered seven OVERs in their last 10 games after one day of rest.
2. Atlanta (17-10-0) – 63%

We talked about Trae Young earlier and how he could light it up for the Hawks. The defensive profile of this team off of one day's rest can play into covering the OVER as well. A huge reason that the Hawks have struggled is their defense as they allow 46.8 percent from the floor per game (25th/NBA) and 112.3 points per game (25th/NBA).
The Hawks are 4-2-0 in their last six games in accentuating the OVER on one day of rest.
3. Orlando (15-10-0) – 60%

The Magic is an outlier to all of this as this is the most challenged offensive team in the NBA as they score only 101.7 points per game (29th/NBA) and shoot only 42.6 percent from the floor. Seven players average double figures, led by 18.7 points from Cole Anthony. The Magic have improved on defense.
But the connectivity has been a problem with so many injuries and COVID-19 interruptions. Only one player, Franz Wagner, has played in all 46 games. Orlando is 4-1-0 in covering an over with one day rest in its also five opportunities.
4. Brooklyn (15-12-0) – 55.6%

Kevin Durant's absence due to a sprained MCL could change the entire outlook of the OVER/UNDER for the Nets, especially if this is for any long period. Factor in the selfishness of Kyrie Irving for not getting vaccines so he can play full time and you have a team with a dysfunctional mantra that is too volatile to consistently wager on.
James Harden, who scored a combined 75 points in two wins over the Lakers and Clippers, shows an example of the antithesis of this idea as he can fill it up and potentially keep Brooklyn bettors focused on the OVER. The Nets are 6-3-0 in covering the OVER since 2022 began.
5. Charlotte (15-12-1) – 55.6%

The two different ends of the spectrum are once again in play with the Hornets' high octane offense and then a defense that allowed the Orlando Magic to shoot 51.7 percent and make 15 threes in a 116-109 to the 8-35 Magic last Friday evening. The depth on this roster also makes it a solid play as well as 11 players average double digits in minutes.
Eight of those log between 24.9 minutes and 36.1 as Miles Bridges tops the roster with that highest number. The Hornets have only covered two OVERs in their last five games.