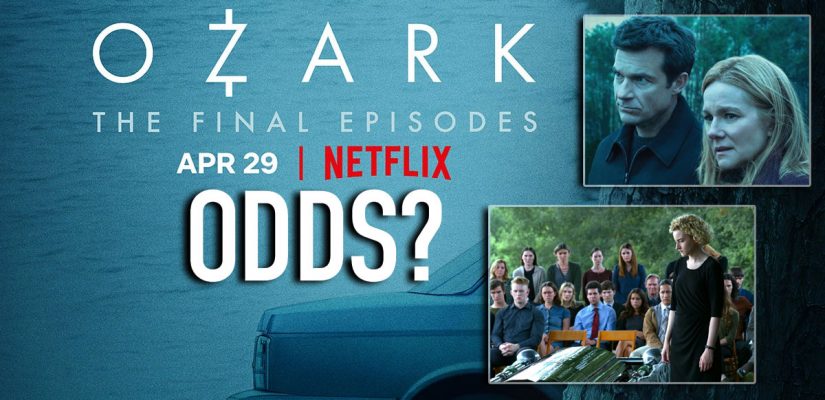 Get your couches and snacks ready. The last couple of weeks of April will produce no shortage of must-see TV. Not only are the NBA and NHL playoffs in full swing with the NFL Draft on the horizon, but a handful of our favorite TV dramas are also due back. Over the next two weeks, all of Better Call Saul, Barry, and Ozark will all return to the airwaves.
So, if you have social plans, cancel them immediately.
On April 29th, Netflix will unveil part two of the fourth and final season of Ozark. The first part, which featured the first seven episodes of the series' final season, was released back in January. If you're new to the show or haven't caught up on the new season, you can catch the first three-and-a-half seasons of Ozark on Netflix right now.
If you're not all caught up on the drama, you should probably stop reading this right now. If you are up-to-date on the latest developments with the Byrde family's unfolding story, feel free to read on. Entertainment betting sites are giving you the chance to wager on which other major characters will die in part two of season four with some Netflix Ozark odds, which will consist of another seven episodes.
Already this season, a couple of major characters met their demise in shocking fashion. Both Darlene Snell and Wyatt Langmore were gunned down by Javi Elizonndro, Omar Navarro's loose cannon of a nephew, in part one's final episode.
It's probably not too much of a stretch to assume those two won't be the only dead characters by the time the last season comes to a close. Based on the way part one ended, there will be untold amounts of chaos over the next seven episodes. Buckle up.
Which characters are good bets to die, according to the Netflix Ozark season four odds?
PLACE YOUR BETS NOW!
Will Omar Navarro Die?
Ozark is similar to Breaking Bad in countless ways. The members of the Byrde family have essentially become antiheroes in the same vein of Walter White or Jesse Pinkman. In this show, it's always one step forward, two steps back for our favorite characters.
Over the past couple of seasons, the Ozark writers have made drug cartel kingpin Omar Navarro into something of a protagonist. At first, he's as scary as they come. You don't become head of a Mexican drug cartel if you're not at least a little cold-blooded.
However, we've seen the softer side of Navarro over the past season or so. He's trying to work hand-in-hand with the Byrdes in order to get all of them out of this mess. Navarro wants to work with the FBI in exchange for a new life in the United States. At this point, we're kind of rooting for Omar against his aforementioned nephew.
This despite the fact that we saw him choose to have his own lawyer murdered just feet from the Marty and Wendy Byrde at the end of the third season. However, things don't typically end too well for drug kingpins, do they? Even if Navarro is trying to ditch the cartel and get a fresh start in the US, there are quite a few obstacles still standing in his way. For one, the FBI wants him to serve as an inside man for them while retaining his position atop the cartel for at least five more years. That's not what Omar had in mind when he initially agreed to cooperate.
He also didn't expect to get arrested despite his cooperation. Maya Miller went around the FBI and made the high-profile arrest of Navarro, which has essentially blown up the plans. The FBI is now instead working with Javi, who is now immune from prosecution, for now. Javi then takes out Wyatt and Darlene, sending Ruth into a violent rage.
Will Omar survive the season?
For now, his prospects actually look more favorable than they did before season four began. He's in prison, though he's trying to convince the Byrdes to help get him out. At this point, there is actually some value in betting on Navarro to survive the season at the current +450 Netflix Ozark odds.
As long as he's still incarcerated, he's a good bet to live.
Will Maya Miller Die?
We were initially introduced to Maya Miller back in season three. She's the FBI agent tasked with keeping a watchful eye on Marty and the Byrde family's riverboat casino. She gives Marty a way out of his current predicament by offering him the chance to serve 18 months in jail and then work to help the FBI prosecute other money laundering cases. Needless to say, he didn't take the deal when given the chance.
Maya finds herself in a tough spot as the season winds to a close.
She went around her higher-ups at the FBI to arrest Navarro. Not only does that put her in a weird position with her own agency, but she's now on Omar's bad side, too. Maya was dismayed that the FBI would decide to cut a deal with the head of the cartel, so she took justice into her own hands with an extremely bold and, potentially, costly decision.
Maya doesn't have many friends at this point. She's burned a bridge with the FBI by torching their deal with Navarro. Both Omar and Javi are no fans of hers, while we know the Byrdes will do just about anything to save their own skin. Maya's saving grace could be Jonah Byrde, who seems to have an axe to grind with his own family.
Miller recently gave birth to a child:
Which would make her potential death all the more heartbreaking. While Miller's prospects of survival seem to dim with every new enemy she makes, part of me thinks she's more likely than not to survive.
This show's writers have been more than willing to kill off seemingly-untouchable characters, but I would be surprised if Maya were killed before the end of the season despite all of the questionable decisions she's made of late.
Bet against Maya to die at the current even-money Netflix Ozark odds.
Will Three Langmore Die?
The Langmores have had a rough go of things over the course of this show. In the first three-and-a-half seasons alone, we have already seen the deaths of Wyatt, Russ, Boyd, and Cade. Ruth is the primary living Langmore at this point, but her cousin,
Three, is still breathing.
This guy is literally named after Dale Earnhardt, which is about as country as it gets. Unlike most of the other Langmores, however, Three has been a more tangential character in the series to this point. Three's run on the show has been largely devoid of drama, and we barely saw him at all in the first half of season four. The only glimpse we get of him is when he's putting on a suit ahead of Wyatt's wedding with Darlene.
The Netflix Ozark season four odds are heavily against Three dying at +375. I tend to agree.
If any Langmore survives the rest of the way, it'll be the cousin.
Will Jonah Byrde Die?
Jonah has grown up figuratively and literally over the course of the first three-and-a-half seasons. At this point, he's a real chip of the old block. Jonah appears to be even more handy with computers than Marty is, and he's already launched his own well-oiled money laundering operation. News of that development almost brings a proud tear to his father's eye.
Jonah has flashed a violent streak in this series, and his decision to run afoul of the law will almost certainly cost him in the future.
Jonah's primary issues at this point are with Wendy after she had her own brother, Ben, killed back in season three. He even showed a willingness to betray his own family in order to help Ruth and Darlene with their own drug operation in the first part of season four.
Javi is clearly motivated to ruin the Snell family's business. He killed Darlene and Wyatt in cold blood. At this point, Ruth and Jonah are the only major characters still tied to the Snell operation. Jonah was the one that identified Javi as Wyatt's killer to Ruth. Based on a trailer, we know we're getting the highly-anticipated Ruth-vs.-Javi showdown we thought we would at the end of the first half of season four.
Of the two Byrde kids, Jonah is certainly the more likely to die. However, I still have a hard time believing either of them will be killed.
Pass on Jonah's Netflix Ozark season four odds to die at +450.
Will Charlotte Byrde Die?
Charlotte isn't dying either. If Jonah is going to get away with all of his escapades, it seems highly unlikely Charlotte will. She's the one still on the side of her parents in this whole fiasco, though she has been able to maintain a strong bond with Jonah, as well.
Bet "no" here at the -600 Netflix Ozark season four finale odds.
Will Ruth Langmore Die?
Ruth isn't your classic hero, but she is probably the easiest still-living Ozark character to root for. She has dealt with an impossible amount of loss since the show began, though Wyatt's murder in the most recent episode was clearly the last straw. This certainly wasn't the first time we've seen Ruth lose her composure, but she is certainly out for revenge this time.
Would it be a surprise to see Ruth die in season four? Absolutely not. She's a bit of a loose cannon in her own right, and the fact that we last saw her flying around the neighborhood with her finger on a shotgun trigger means she's likely headed for a violent conflict sooner than later. She has her sights set on Javi, but it seems quite likely that we also haven't seen her last confrontation with Marty or Wendy, either.
An awful lot has gone wrong for Ruth since we first started watching this series. Ruth is really one of the few fan favorites left. I'm a bit surprised to see the Netflix Ozark season four odds set against Ruth to meet her demise at -200. She has a few complicated situations still left to navigate, but I'm optimistic the series won't end with Three left standing as the lone surviving Langmore.
Bet on Ruth to survive at -200.
Will Javi Elizonndro Die?
No character in the history of Ozark has been more ticketed for death than Javi since we were introduced to him at the beginning of the season. He's basically a less charismatic version of Lalo Salamanca from Better Call Saul. 
He's going to kill anyone that gets in his way, but he has a target on his back, too. Ruth wants to kill Javi. The Byrdes, meanwhile, can't afford to let that happen.
If Javi dies, so does their cooperation deal with the FBI. However, things don't look too good for Mr. Elizonndro. This trailer shows Ruth walking up to Javi on the street and putting a couple of bullets right into his chest.
I'm gonna go out on a limb and say that's probably not a good indication of Javi's chances of survival. There isn't much upside in those -1000 Netflix Ozark season four odds, but I see no other way to bet this. Javi goes down.
Will Wendy Byrde Die?
As Ozark has progressed, Wendy has emerged as the most conniving, diabolical member of the Byrde household. Marty seems more focused on trying to get his family through this whole ordeal alive. Wendy, conversely, seems more intent on maintaining the impressive amounts of power she's earned along the way.
Wendy arranged for the death of her own brother, which is one of the more tame things she's done over the past couple of seasons. She appears to be the type to let nothing get in the way of her insatiable ambition. Even if it costs her her family, she appears to be hell-bent on winning at every turn.
In the end, though, those kinds of characters aren't often rewarded with victory. Wendy has become one of the more unlikable characters on the show, and I don't think many would be too sad to see her get a taste of her own medicine. At equal -120 Netflix Ozark odds, I think Wendy is the better bet to die than not.
Will Marty Byrde Die?
Marty's plans haven't always come to fruition. He does seem to have a heart, unlike his wife, but that hasn't helped him too much to this point. Over the course of the series, however, Marty has been the more measured senior member of the Byrde clan.
Marty has stared down the barrel of death a couple of times already, including once this season when confronted by Javi. He's been able to escape alive despite every brush with death to this point. I don't have too much conviction here, either way, but I have more faith in Marty to find a way to survive than I do in Wendy.
Could Marty sacrifice himself in a last-ditch attempt to save his family? If it comes to that, sure. I just think the value in the Netflix Ozark odds on Marty to survive at +150 offer you better bang for your buck. Not many of the Ozark protagonists will get out alive, but I think Marty will be one of the few.