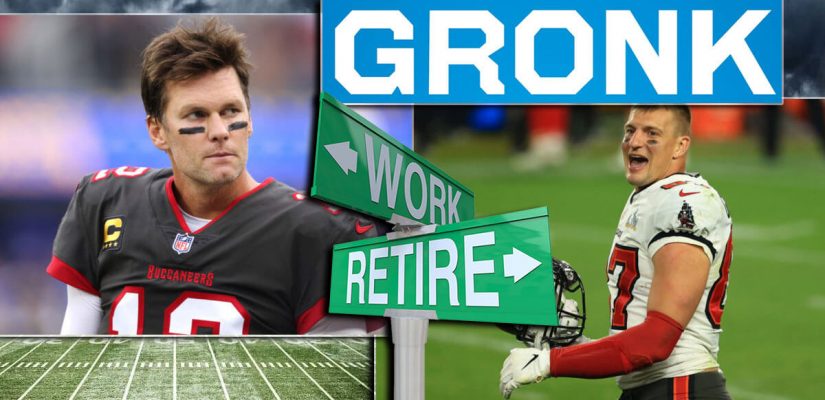 Picked as a preseason favorite to return to the Super Bowl, the Tampa Buccaneers fell short of those lofty goals when they lost to the Los Angeles Rams in the NFC Divisional Round of the Playoffs.
The loss didn't just end with that game. On February 1st, The GOAT Tom Brady announced that he was retiring from the NFL. It was a bittersweet conclusion to the season for the Bucs. Brady's running mate Rob Gronkowski is also contemplating retiring for a second time. The future HOF tight end is a free agent and considering hanging up his cleats for good.
NFL betting sites have jumped on the future of Gronk with a prop bet handicapping whether or not he will be playing next season and where.
Let's huddle up to examine this NFL futures bet and see if we can make a winning prediction.
Year 11 in the books ? What a ride it's been. Grateful to the Bucs for giving me an opportunity to play another year. To my teammates, thank you for giving everything you had. The sweat we shed & memories made will never be forgotten. Thanks to the #Krewe too ?‍☠️

Year 12??? ?

— Rob Gronkowski (@RobGronkowski) January 25, 2022
Rob Gronkowski Betting Odds
Where Will Rob Gronkowski Play Game 1 Of The 2022/2023 NFL Season?
Tampa Bay Buccaneers:
+350
Odds are courtesy of Bovada
Is This the Last We've Seen of Gronk?
Rob Gronkowski just completed his 11th season and he's certainly left the door open for retiring once again, especially after the comments he made on twitter last week:
"What a ride it's been. Grateful to the Bucs for giving me an opportunity to play another year. To my teammates, thank you for giving everything you had. The sweat we shed & memories made will never be forgotten."
Gronk has never said he will play after this season, but many fans and pundits believed that if Brady came back then so would Gronk. Now that Brady has retired, public sentiment is shifting towards the belief that Gronkowski will retire as well.
His brother alluded to this last year.
Gronk's brother Chris told media during the beginning of the season that he doesn't see Rob playing with another quarterback:
"I just can't see him playing with another quarterback. It's tough to get that chemistry. It's tough to win once you lose that QB."
Bruce Arians:

"We're trading for Jimmy G. You coming back, Rob?"

Gronk: pic.twitter.com/HlbCmJOSkP

— MyBookie – Bet With The Best (@MyBookie) January 31, 2022
Will Gronk Return to Tampa Bay?
One person who doesn't believe that Gronk's future is tied to Brady's future is Tampa Bay Buccaneers GM Jason Licht who thinks that there's still a chance Gronkowski can return to the team. The Bucs are giving him space to figure out his future, but hoping for the best outcome:
"I don't think it was going to be (dependent) on whether Tom came back or not…. We would welcome Rob back with open arms but we're giving him the space to determine what he wants to do."
That's a very optimistic view by Licht, but I believe it's wishful thinking. The Buccaneers are going to freefall from being an elite team in the NFC to an average team this offseason.
Not only did they lose Tom Brady, but they're also in danger of losing a half dozen or more starters on both sides of the ball. And, they don't have the salary cap to keep everyone together. Making matters worse is the prospects of who will be the starting QB next season for Tampa Bay. Right now, it's a bunch of inexperienced players that didn't get much playing time behind Brady let by Kyle Trask.
There's also the rumor that the Buccaneers could make a move for Jimmy Garoppolo who most fans and pundits believe will be sent packing from the 49ers. Although he's better than what the Bucs have in-house…
Gronkowski could certainly do better elsewhere.
Will Gronkowski Play Elsewhere Next Season?
Speaking of elsewhere, there is one team that could potentially entice Gronk to play in 2022 and it's not the Buccaneers or the Patriots. But, it's a team that New England knows really well.
Yes, I'm talking about the Buffalo Bills.
Early rumors from One Bills Drive are that the team will be looking to add a tight end this offseason. Furthermore, Gronkowski actually considered playing for Buffalo last year, but a higher offer from the Bucs and a chance to play with Brady again were too good for Rob to pass up.
Now that Brady is gone, the 32-year-old tight end could look to return to his hometown region of Amherst and play for the Bills. Buffalo is clearly one of the best teams in the NFL and Gronk would have another chance to make a run at the Super Bowl.
Additionally, he could play for the team that he grew up watching.
Where Will Gronk Be Week 1 of the 2022-23 NFL Season?
I think that the betting option to play elsewhere deserves a small flier. There's smoke coming from the idea of a Bills and Gronkowski union. That could certainly lead to something.
But, if you insist on betting now:
The best option is that Gronk won't be playing in Week 1 next season.
With numerous Super Bowl rings and a spot already waiting for him in Canton, the smart play is on Gronkowski retiring and riding off into the sunset with his BFF Tom Brady.