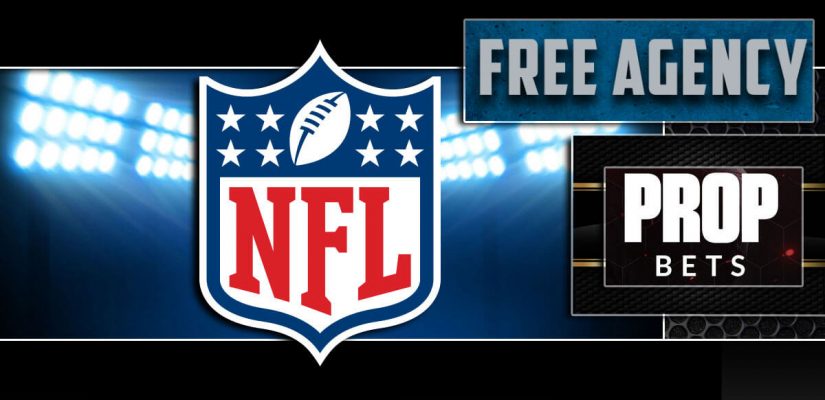 The NFL's free-agent frenzy has officially begun. While a few teams have already made some major moves, those moves can't become official until today. Since the clock struck noon ET on Monday, the transactions have been coming down the newswire at a breakneck pace.
Tom Brady once again sent the NFL Twitterverse into a tizzy with his announcement that he will return for his 23rd NFL season on Sunday. Just a couple of months after announcing his retirement, Brady shockingly revealed he will be returning for a third go-round in Tampa Bay. Not only did that announcement send shockwaves through the league, but it also sent notice to free agents everywhere that Tampa is still a top destination when it comes to attracting players looking to win a Super Bowl.
While a few big names have already found new homes, there are still quite a few marquee players available on the market. If you're looking for NFL free agency odds, you've come to the right place. BetOnline is currently accepting bets on where stars like Tyrann Mathieu, Odell Beckham Jr., and Juju Smith-Schuster will land this offseason. Here's how we're breaking down NFL free agency odds 2022.
Where Will Allen Robinson Land?
Note: Odds apply only if Robinson does not return to Bears.
New England Patriots
+600
Washington Commanders
+1000
Los Angeles Chargers
+1200
Jacksonville Jaguars
+1400
Allen Robinson has been one of the few bright spots in the Chicago Bears' offense in recent years. The Penn State product posted back-to-back 1,000-yard receiving seasons in 2019 and 2020, but he really struggled to gain much traction last year.
Robinson hauled in just 38 of his 66 targets for a measly 410 yards and one touchdown. He was limited to just 12 games due to injury, as well. Robinson's numbers certainly weren't aided by the Bears' mediocre offense. Cycling through Andy Dalton and rookie Justin Fields at Qb didn't help, either. Robinson is still only 28, though, and there's no reason to believe he suddenly lost all of his ability between 2020 and 2021. The Bears slapped the franchise tag on Robinson last year, but he'll hit free agency this offseason.
Chicago, a team bereft of much talent at the skill positions, would be silly to let him leave. However, given the relatively weak market for pass-catchers, Robinson can likely land a pretty sizable deal if he tests the waters. He should find plenty of viable suitors, as well.
Jets, Lions and Raiders among teams who could be "in the mix" to sign WR Allen Robinson (per @RapSheet). Browns are also a team to watch.https://t.co/hTezguskmk pic.twitter.com/mzP8K0BU9v

— Around The NFL (@AroundTheNFL) March 13, 2022
A return to his original team, the Jacksonville Jaguars, is a possibility. Jacksonville went out and plucked Marvin Jones Jr. off the free-agent market last year in an attempt to surround Trevor Lawrence with some established weaponry. The Jags still need as much talent as they can possibly get their hands on, and they're certainly quite familiar with what Robinson can do. Robinson spent four seasons with the team before leaving for Chicago in 2018. At fairly long +1400 odds, Jacksonville looks like a solid high-upside landing spot.
The betting favorites are the Colts with fairly short +250 odds.
Of course, if Robinson is looking to land somewhere with an established QB, Indianapolis isn't the place. The Colts are still looking for a solution at the position after sending Carson Wentz to the nation's capital last week. Indy needs to overhaul their passing attack, but I'm skeptical that Robinson would be too keen on going somewhere with uncertainty at QB.
Cleveland (+900) may need a replacement for Jarvis Landry after adding Amari Cooper. Robinson would be a nice WR2 to have. Miami (+800) and Detroit (+800) have money to spend, as well. Given the value, Robinson to wind up back in Jacksonville is too good to ignore at the +1400 odds.
Where Will Cordarrelle Patterson Land?
Note: Odds apply only if Patterson does not return to Falcons.
Los Angeles Chargers
+900
Jacksonville Jaguars
+1000
New England Patriots
+1000
Deebo Samuel garnered plenty of headlines after emerging as a do-everything threat in the 49ers' offense last season. However, he wasn't the only wideout to prove he can hack it as a running back at this level.
Cordarrelle Patterson, one of the most dangerous kick returners in NFL history, quietly made a near full-time transition from receiver to running back in Atlanta last term. Patterson wound up racking up a season-high 153 carries for 618 yards with six rushing touchdowns.
His average of four yards per carry won't jump off the page, but Patterson's incredible versatility will make him a hot commodity in free agency. The 30-year-old also caught 52 passes on 69 targets for another 548 yards and five more scores for the Falcons a season ago.
It is becoming "increasingly unlikely" RB Cordarrelle Patterson will remain with the Falcons, sources say. #Falcons pic.twitter.com/v2FNAxWi6z

— Jayson Williamson  (@JWilliamsonATH) March 14, 2022
Modern NFL offenses value versatility above just about everything else. Patterson had never come particularly close to matching the 1,166 yards from scrimmage he posted last year, but he also hadn't been given that big of a role at any of his previous stops. The Seahawks (+400) are the early favorites to attract his signature, but the Chiefs (+450), Raiders (+600), Giants (+700), and Cardinals (+700) could sniff around, too.
You know who's offense could use a dynamic threat like Patterson?
The Patriots'. New England was a much-improved team last season thanks in large part to a stellar defense, but Bill Belichick needs to find some upgrades on the other side of the football. Belichick is familiar with Patterson, who served primarily as a kick returner in his lone season with the Pats back in 2018. You can get New England at +1000 to bring Patterson back to Foxborough.
Don't be surprised if the Chiefs make a strong push, either. Kansas City is constantly looking to give Patrick Mahomes as many weapons as possible. Clyde Edwards-Helaire has been a bit injury-prone through his first couple of NFL seasons, and Patterson would be an upgrade over backup Darrel Williams. His ability to split out wide and catch passes could add a whole new wrinkle to the Chiefs' vaunted offense, too. If you want upside, look no further than New England at +1000. If you're looking for a slightly safer bet, Kansas City looks solid at +450.
Where Will Jadeveon Clowney Land?
Note: Odds only apply if Clowney does not return to Browns.
New England Patriots
+150
You won't find many former No. 1 overall picks as well-traveled as Jadeveon Clowney. Clowney is still only 29, yet he's already suited up for four different teams in his career. After five years in Houston, Clowney has traveled through Seattle, Tennessee, and Cleveland over the past three seasons.
He'll hit the market yet again this offseason after racking up nine sacks in 14 games with the Browns in 2021. Clowney hasn't lived up to the massive expectations laid before him when he came into the league from South Carolina way back in 2011, but he's still a capable pass-rusher at this level.
While he has never been able to find that lucrative long-term deal in free agency, perhaps Clowney can finally capitalize on his productive campaign this time around. Clowney's nine sacks a season ago were his most in any year since 2018.
Meanwhile, I'm told Jadeveon Clowney will take his time and look at every opportunity in free agency and that several team are interested, per league source.

— IG: JosinaAnderson (@JosinaAnderson) March 14, 2022
A return to Cleveland is logical considering Clowney thrived next to Myles Garrett along the Browns' defensive front. If he leaves, though, the Patriots (+150) look like very heavy early favorites. Kyle Van Noy was cut last week, which means the Pats could use some help in the pass-rushing department.
They're not alone, of course.
You can never have enough players capable of wreaking havoc on opposing backfields. The Broncos (+250) are clearly looking to return to contention after trading for Russell Wilson last week. Minnesota (+300) could also be in the mix. A return to Seattle (+600) isn't impossible, either.
The Patriots have a long track record of success when it comes to attracting established veterans on value contracts. Clowney may be looking for a bigger payday, but there's a reason New England is so heavily favored here.
Best Bet: New England Patriots (+150)
Where Will Juju Smith-Schuster Land?
Note: Odds only apply if Smith-Schuster does not return to Steelers.
Jacksonville Jaguars
+600
Los Angeles Chargers
+900
Washington Commanders
+1600
Juju Smith-Schuster was once hailed as the heir apparent to Antonio Brown in Pittsburgh, but that never really panned out. Smith-Schuster has never come particularly close to matching his career-high of 1,426 receiving yards set back in 2018. Injuries have been an issue, but he hasn't been all that productive when healthy, either.
However, he's still only just 25. Perhaps a change of scenery can do him some good. Most players don't hit free agency this young, which means the USC product could have his fair share of interested suitors this spring. The Titans (+350), Falcons (+550), and Ravens (+600) look like logical landing spots. However, a return to Los Angeles would make sense, too.
The Chargers recently re-signed Mike Williams to a long-term deal to return as Justin Herbert's primary deep threat. Keenan Allen is still taking care of things over the middle, but LA could use some additional depth at the position. Joshua Palmer and Jalen Guyton showed some promise a season ago, but neither is an established commodity at this level just yet. The Chargers stand out as a solid long-shot value (+900) to bring Smith-Schuster back to SoCal.
Do you want the Bears to sign JuJu Smith-Schuster? pic.twitter.com/6UIeUeEzt2

— BFR (@BFRMedia) March 13, 2022
Smith-Schuster turned down an offer from the Ravens last offseason, so perhaps he's against the idea of burning bridges with his former fans in Pittsburgh by joining a direct divisional rival.
The Titans look intriguing, however.
The Julio Jones experiment was an utter failure last season, and it's impossible to expect him to stay healthy at this stage of his career. AJ Brown is elite when healthy, but staying off the injured list hasn't been easy early in his career, either.
Smith-Schuster's ability to stretch the field would come in handy for any team, but the Titans look like a particularly strong fit.
Where Will Odell Beckham Jr. Land?
Note: Odds only apply if Beckham does not return to Rams.
Los Angeles Chargers
+375
Jacksonville Jaguars
+1000
Odell Beckham Jr. successfully resurrected his career after moving from Cleveland to Los Angeles midway through last season. After joining the Rams, OBJ grabbed 27 passes on 48 targets for 305 yards and five touchdowns. He added another 21 catches on 26 targets for 288 yards and two scores in the Rams' playoff run, as well.
Beckham tore his ACL in the Rams' win over the Bengals in Super Bowl 56. With free agency on the horizon, the long-term injury certainly complicates Beckham's market. While pro athletes are recovering better and quicker from torn ACLs than ever before, this is still an injury that takes lots of time to heal. Beckham indicated before the injury that he would be open to taking less money on his next contract in order to stay with Matthew Stafford and the Rams.
I'd assume the injury only makes it more likely that Beckham remains in LA. He's still only 29. If he returns to form and plays well after his return, he can likely still earn a decent contract in free agency next year. Some other teams may sniff around, but I think Beckham would prefer to stay where he is in light of his latest injury.
Where Will Tyrann Mathieu Land?
Note: Odds only apply if Mathieu does not return to Chiefs.
Los Angeles Chargers
+350
As is the case with Clowney, Tyrann Mathieu has bounced around a bit despite an excellent pro career. The ex-LSU safety played for three different teams between 2017 and 2019, but he's found a home in Kansas City over the past few years. Mathieu has become the Chiefs' vocal leader on defense and helped the team win Super Bowl 54 over the 49ers back in 2020.
Mathieu has played in four consecutive AFC Championship Games with the Chiefs, but it could be time to move on. The 29-year-old is capable of lining up anywhere on the field and covering receivers, running backs, and tight ends. Any team that signs Mathieu will be getting an upgrade both on and off the field.
A move to Los Angeles is a possibility. The Rams have shown over the past few years that they're interested in winning a Super Bowl at all costs. They finally achieved that goal earlier this year, but this team is still built to win in the immediate future. You can bet the Rams' front office will stop at nothing in an attempt to run it back in 2023.
My top outside 2022 free agents for the Ravens:

TE: Hayden Hurst
OT: Morgan Moses
DL: Akiem Hicks, Larry Ogunjobi
DE: Derek Barnett, Emmanuel Ogbah
OLB: Von Miller, Haason Reddick
ILB: Bobby Wagner
CB: J.C. Jackson, Donte Jackson
S: Tyrann Mathieu, Justin Reid, Marcus Maye

— Kevin Oestreicher (@koestreicher34) March 14, 2022
Adding Mathieu would make plenty of sense, especially given how downtrodden the team's safety group was during their Super Bowl run. LA had to convince Eric Weddle to come out of retirement and join the team. Jordan Fuller is expected to return to full strength by training camp, but Mathieu would represent a tremendous upgrade. The Rams have been an attractive destination for veteran stars over the past few years, which makes them an interesting long-suit suitor for the Honey Badger at +500.
The Ravens (+250) are the favorites, however.
Baltimore's secondary was an abject disaster in 2021, thanks in no small part to a rash of injuries. Mathieu won't come cheap, but the Ravens have money to spend. Addressing that secondary is an absolute must for the Ravens, and you can bet Mathieu is at the top of their wish list.
Making NFL free agency predictions is all about team need. You can argue Baltimore is the most safety-needy team in the league, which makes Mathieu a perfect fit. The Ravens are a fine bet at +250. The Rams are an appealing sleeper at +500, as well.