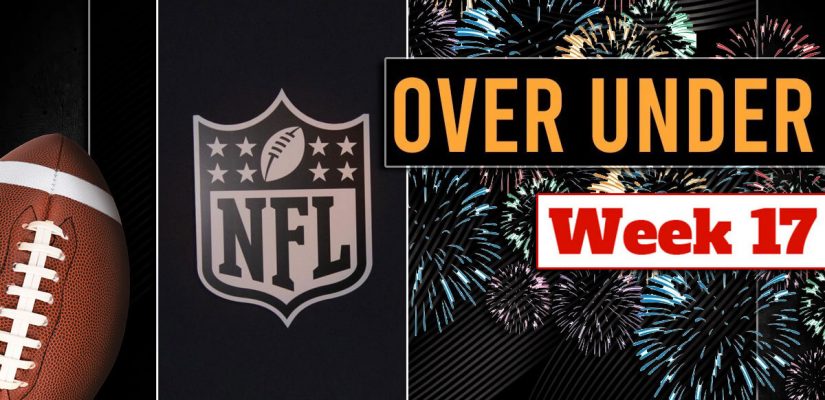 Rams look for Stafford to recoil vs. porous Ravens pass defense
Bengals-Chiefs should stage a solid setting for the OVER
49ers should see an impressive blowout vs. Texans
Seahawks look to regroup in the home finale against pesky Lions
Injured Cardinals, home-standing Cowboys should still produce points
Week 17 of the NFL is here and we are here as always to bring you those great predictions and picks! Check out our sportsbooks reviews page to find out all about the best NFL betting sites in 2021.
Los Angeles Rams (11-4)  at Baltimore Ravens (8-7)
Place: M&T Bank Stadium, Baltimore, Md.
Time: 10 am PST, 12 noon CST, 1 pm EST
TV: Fox
The Series:
The Ravens have won four in a row in fashioning a 5-2 all-time record vs. the Rams. Los Angeles is in a position to clinch the NFC West as they are hoping to win their fifth game in a row. Baltimore is trying to stay alive in the playoff race as they have been to the playoffs in nine of coach John Harbaugh's 13 seasons.
Last Time Out:
The Rams took a 30-23 win in Minnesota over the struggling Vikings although QB Matt Stafford threw three interceptions. Sony Michel picked the LA offense up as he rushed 27 times for 131 yards and a touchdown. Cooper Kupp didn't find the end zone, but he caught 10 balls for 109 yards.
New year. Same goal. pic.twitter.com/owLRdTxJ9k

— x – Los Angeles Rams (@RamsNFL) December 31, 2021
The Ravens lost their fourth game in a row as they had to turn to third-string QB Josh Johnson with Lamar Jackson still injured and backup Tyler Huntley on the COVID-19 list. Johnson threw for 304 yards, but Baltimore fell behind the Bengals, 24-7 midway through the second quarter and never recovered.
| Teams | Spread | Money Line | Total Points |
| --- | --- | --- | --- |
| Los Angeles Rams | -5½ (-110) | -235 | O 46½ (-110) |
| Baltimore Ravens | +5½ (-110) | +190 | U 46½ (-110) |
When the Rams Have the Ball:

Los Angeles needs consistency out of QB Matt Stafford if the Rams are going to go very far in the playoffs. He has three touchdown passes vs. four interceptions in the last two weeks which was preceded by six TD tosses and no interceptions in the first two games of the four-game winning streak.
Stafford will see a Ravens pass defense that is dead last in the NFL in allowing 280 yards per game through the air. Kupp, whose odds to win the NFL's Offensive Player of the Year are tied with Indy's Jonathan Taylor at (-110), needs 66 yards to become o only the fifth player, all-time, to eclipse 1,800 receiving yards in a single season.
When the Ravens Have the Ball:

Baltimore has been ravaged by injuries, potentially more than anyone in the NFL and at the present time, there's no telling if Lamar Jackson can play. He practiced on Wednesday and was held out of practice with the ankle injury again as he was limping noticeably. Huntley is likely a go which would be his third start in seven weeks.
The Rams allow only 96.9 yards rushing per game (6th/NFL) and will likely try to force Huntley to pass. Two weeks ago, he rushed for 73 yards while completing 70 percent of his passes with two touchdowns in the 31-30 loss to Green Bay.
Look for Stafford to get back under control and ravage the lowly Ravens pass defense as Kupp should go over 100 receiving yards and find a couple of TDs. Huntley is who can push this OVER 46 with his dual-threat abilities as he should eb a starting QB somewhere in the NFL next season. Take the Rams (-4.5) 31, Ravens 19 which pushes the total OVER the 46.5.
Kansas City Chiefs (11-4) at Cincinnati Bengals (9-6)
Place: Paul Brown Stadium, Cincinnati, Ohio
Time: 10 am PST, 12 Noon CST, 1 pm EST
TV: CBS
The Series:
Cincinnati holds a 15-14 lead in the series. Kansas City won the last meeting in 2018 when Patrick Mahomes threw for 358 yards and four touchdown passes. It was the 200th win of coach Andy Reid's career. Sunday's game is Reid's 400th of his career as he is 249-149-1 and the tie was against …. the Cincinnati Bengals. Cincy is 8-5 at home vs. Kansas City and has won the last four.
Last Time Out:
The Chiefs clinched their sixth consecutive AFC West title with last week's 36-10 win over the Pittsburgh Steelers. Mahomes based for 258 yards and three touchdowns as Kansas City bolted to a 30-0 lead midway through the third quarter. Byron Pringle had six catches for 75 yards and two scores.
The tough times didn't slow down this team, it just made them stronger ?

The guys broke down how we can win our 9th game in a row on the new episode of DTK!

— Kansas City Chiefs (@Chiefs) December 31, 2021
The Bengals took the upper hand in the AFC North as quarterback Joe Burrow passed for 525 yards and four touchdowns in a 41-21 blistering of the Baltimore Ravens. Burrow hit Tee Higgins with a pair of TD passes and also threw one to Joe Mixon and also to Tyler Boyd as Cincinnati broke to a 31-14 halftime lead and was not threatened.
Teams
Spread
Money Line
Total Points
Kansas City Chiefs
-4½ (-110)
-210
O 51 (-110)
Cincinnati Bengals
+4½ (-110)
+175
U 51
-110
When the Chiefs Have the Ball:

Patrick Mahomes takes the No. 3 offense in the NFL into Cincinnati where the Bengals are 29th vs. the pass in giving up 252 yards through the air. Tyreek Hill talked about being exhausted last week after testing positive for COVID-19 on Dec. 21 and then being able to play as he cleared protocols four days later.
Hill could be a major key in a game that is likely to yield high points. He looks for his third in a row on the road where he can score and go over 80 yards.
When the Bengals Have the Nall:

Burrow was on fire last week as his 525 yards were the fourth-most in NFL history.
The Bengals passing game yields 259 yards per game (8th/NFL) as Ja'Marr Chase and Tee Higgins are both now over 1,000 yards and have combined for 16 TD catches.
Attacking Kansas City's flourishing defense can be a tricky endeavor as the Chiefs continue to turn opponents over with consistency as they hit up Pittsburgh for three last week to run the season number to 28.
Both Mahomes and Burrow have the fire power to turn this into a shootout. However, Kansas City plays differently now in allowing its defense to dictate games while Mahomes proves his dynamics in often becoming a game manager. The Chiefs have won eight in a row and face a hot Cincinnati offense that generally thrives through the air although Mixon could be able to establish himself as Kansas City allows 116.5 yards per game (20th/NFL). Take the OVER and the Bengals (+4.5) to end the Chiefs' eight-game winning streak, 31-28.
Houston Texans (4-11) at San Francisco 49ers (8-7)
Place: Levi's Stadium, Santa Clara, Ca.
Time: 1:05 PST, 3:05 CST, 4:05 EST
TV: CBS
The Series:
The 49ers are 3-1 in the series as they have won the past two games. The 49ers' easiest playoff-clinching scenario is to win and the Saints to either lose to the Carolina Panthers or tie. San Francisco is 5-2 in its last seven games and has the potential to pull upsets if it gets into the second season. Houston is playing the string out as the Texans won back-to0back games for the first time this season with last week's win over the Chargers.
Last Time Out:
Houston ran up 189 yards on the ground as Rex Burkhead had 149 yards and two touchdowns and the Texans shocked the Chargers, 41-29. Houston took a 17-12 lead in the second quarter on a 41-yard touchdown pass from Davis Mills to Chris Conley and never trailed again. Tavierre Thomas returned an interception 48 yards late in the game to seal the deal for the Texans.
Trey Lance talks #HOUvsSF prep. pic.twitter.com/vFN72gjGRp

— San Francisco 49ers (@49ers) December 31, 2021
The 49ers dropped a 20-17 decision to the Tennessee Titans on Thursday Night Football. Deebo Samuel had another huge game with nine catches for 159 yards and then rushed five times for 32. San Francisco held Tennessee to 278 total yards but lost on a walk-off field goal by Randy Bullock of the Titans.
| Teams | Spread | Money Line | Total Points |
| --- | --- | --- | --- |
| Houston Texans | +1 (-110) | – | O 49 (-110) |
| San Francisco 49ers | -12 (-110) | -650 | U 43½ (-110) |
When the Texans Have the Ball:

Quarterback Davis Mills has played better these last two weeks in passing for 463 yards with four TD tosses and only one pick. He still quarterbacks the worst offense in the NFL as it only finds 276 total yards per game. San Francisco will be primed and motivated to get this game over by halftime with a defense that is fourth in the NFL in allowing only 318 yards per game.
The Niners have held six of their last seven opponents to 90 yards rushing or less. This will give the pass rush time to tee off on Mills and take advantage of his lack of mobility.
When the 49ers Have the Ball:

Jimmy Garoppolo suffered a sprained thumb on his throwing hand in the loss to the Titans, but he is likely to start this week anyway.
Deebo Samuel could have a career day against a Texans defense that gives up 380 yards per game (30th/NFL).
Samuel became the first player in NFL history last week with at least 1,200 yards receiving and 300 yards rushing in the same season.
The 49ers' defense will dictate this entire game and assuming there are no crippling turnovers out of the 49ers, this will not be much of a challenge. Garoppolo being potentially out or not 100 percent makes the likelihood of points go down for San Francisco as well. Take San Francisco (-12) 27, Houston 12.
Detroit Lions (2-12-1) at Seattle Seahawks (5-10)
Place: Lumen Field, Seattle, Wash.
Time: 1:25 PST, 3:25 CST, 4:25 EST
TV: FOX
The Series:
Clearly nothing at stake here except pride and that is what the Seattle Seahawks and soon-to-be Hall of Fame coach Pete Carroll definitely have. It has been a tough season with the injury to Russell Wilson spellbinding the Seahawks and banishing them to last place in the tough NFC West. Meanwhile, Detroit continues to fight and play hard for new head coach Dan Campbell as the Lions are 2-2 with wins over the Vikings and the Cardinals in the last two games. Seattle leads the series, 10-5 as they have won five out of the last six and two in a row.
Last Time Out:
The Lions were in position to beat Atlanta as the two teams were tied 13-13 going into the fourth quarter of the 20-16 Falcons win. Tim Boyle subbed for an injured quarterback Jared Goff and completed 70 percent of his passes. Jamal Williams led the Lions with 19 carries for 77 yards.
Although this year hasn't been exactly what I've dreamed of it to be… I'm Grateful! Grateful to do what I love with amazing teammates & men with high character & passion for the game. Another Opportunity this week! Grateful!#BlueFriday #GoHawks pic.twitter.com/XXeBvML1pn

— Russell Wilson (@DangeRussWilson) December 31, 2021
Seattle controlled the Chicago Bears all afternoon before falling, 25-24, on a 10-yard TD pass from Nick Foles to Jimmy Graham and then a two-point PAT to Damiere Byrd. Russell Wilson was 16-of-27 for 181 yards for Seattle as a healthy Rashaad Penny carried the ball 17 times for 135 yards and a touchdown.
| Teams | Spread | Money Line | Total Points |
| --- | --- | --- | --- |
| Detroit Lions | +7 (-110) | +270 | O 41½ (-110) |
| Seattle Seahawks | -1 (-110) | – | U 49 (-110) |
When the Lions Have the Ball:

Jared Goff is doubtful with the knee injury, so Tim Boyle is getting prepped to go for the second weekend in a row. He faces a Seattle pass defense that is 31st in the NFL in allowing 270.9 yard through the air. Amon-Ra St. Brown has been the go-to receive on this young Lions team as he has 74 catches for 692 yards on the season.
The Lions passing game has been in a flux whether Goff or Boyle is in the saddle as it yields only 202.1 yards (23rd/NFL). DeAndrew Swift should be back at running back as he and Williams give the Lions the best chance to win.
When the Seahawks Have the Ball:

Russell Wilson says the future for him in Seattle is uncertain as this type of scenario along with Wilson's injury has drug the Seahawks along all season. It's mind-boggling where all the 300-yards passing games have gone given the fact that he has two of the best wide receivers in football in DK Metcalf (64-686-9) and Tyler Lockett (65-1,053-5).
Wilson's best yardage since his injury on Oct.3 was 260 vs. Houston three weeks ago. The Lions have trouble against the run as they allow 127.3 yards per game and this is something that a healthy Rashaad Penny should be able to navigate/
The Seahawks had a win laying on their doorstep last week against the Bears and could not convert. The Lions have shown some progress in the past four weeks, but Seattle should be able to post points vs. this defense. Pete Carroll continues to try to be optimistic with this group as this is the most trying season of his 12 years in Seattle. The Seahawks are overall young and that positive mentality should play a roll at home with the Seahawks (-7.5)  posting a 27-17 win over the Lions.
Arizona Cardinals (10-5) at Dallas Cowboys (11-4)
Place: AT&T Stadium, Dallas, Tex.
Time: 1:25 PST, 3:25 CST, 4:25 EST
TV: FOX
The Series:
Former NFC East combatants matchup in a game that is a determiner of playoff positioning. The Cardinals have been battling injuries to Kyler Murray, James Conner and DeAndre Hopkins as Hopkins is of course out while Conner hasn't practiced this week with change-up back Chase Edmonds seeing limited participation. The Cards have lost five out of their last eight games and of course now the skeptics are coming after coach Kliff Kingsbury en masse. Dallas is healthy and looking for a landmark win as they haven't beaten a team with a winning record since Oct. 17 when they topped New England, 35-29 in overtime. Dallas leads the series 56-32-1, but the Cardinals have won five out of the last six games.
Last Time Out:
Arizona fell victim to kicker Matt Prater's two missed field goals and a missed extra points as the Cardinals lost to the Colts, 22-16. Kyler Murray threw for 245 yards and a touchdown, but the Cardinals defense couldn't limit Jonathan Taylor as he had 27 carries for 108 yards.
Reach for the sky ? pic.twitter.com/stGop39FK2

— Arizona Cardinals (@AZCardinals) January 1, 2022
The Cowboys won their fourth in a row when they ran up a 56-14 win over the Washington Football Team on Sunday Night Football. Dak Prescott threw for 330 yards and four touchdowns while DeMarcus Lawrence had a 40-yard interceptions return that helped Dallas take a 42-7 halftime lead.
| Teams | Spread | Money Line | Total Points |
| --- | --- | --- | --- |
| Arizona Cardinals | +6 (-110) | +215 | O 51½ (-110) |
| Dallas Cowboys | -6 (-110) | -265 | U 51½ (-110) |
When the Cardinals Have the Ball:

Murray should be able to consistently move the offense against a Dallas pass defense that allows 240.7 yards (19th/NFL). The Cowboys have 37 sacks over 15 games, led by 13 from rookie linebacker Micah Parsons. The Cardinals have to get Murray out of the pocket more and if his injured ankle allows him to accelerate, Arizona should be in business.
AJ Green must be more of a factor in the passing game as he only had one catch for 33 yards last week. The availability and health of running backs Chase Edmonds and/or James Conner is a determinant in this game as well.
When the Cowboys Have the Ball:

The Cardinals pass defense has been phenomenal all season with the pass rush of Marcus Golden and Chandler Jones as Golden has 11.5 sacks and Golden posts 9.5.
Byron Murphy leads the Arizona secondary with four interceptions and 11 passes defended.
This is a challenge for Dak Prescott in the passing game and Dallas needs a healthy Ezekiel Elliott, who has struggled with a knee injury.
The Cardinals when healthy feel like they would have little problem winning this game; however all of the injured Redbirds and their availability make this slide over to Dallas. Arizona could still put points on the board with Christian Kirk, Zach Ertz and AJ Green in the passing game, so this becomes tricky. The home field makes a difference, so the Cowboys take a 30-27 win over the Cardinals (+6.5) who cover as we get to OVER 52.