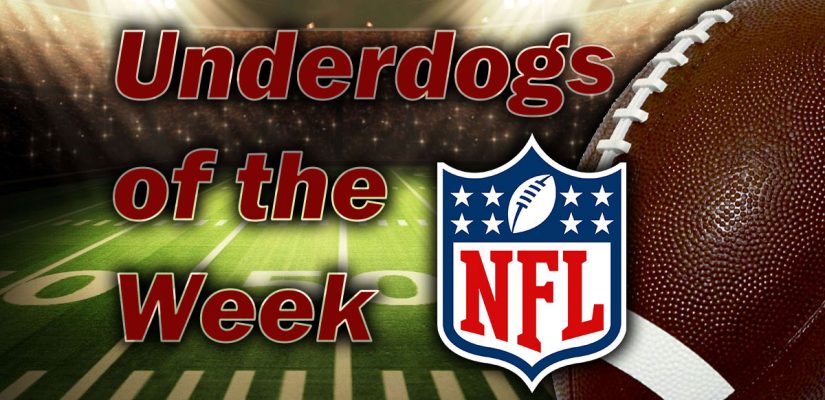 We are going down to the wire in the NFL with only two weeks remaining on the schedule. There is usually a pretty good idea of what the playoffs will look like by this point.
There are a lot of questions that will be answered over the next two weeks. Four teams have clinched their divisions. The Green Bay Packers, Dallas Cowboys, Tampa Bay Buccaneers, and Kansas City Chiefs have clinched.
This is an underdog article, and it's worth talking about what the Miami Dolphins have accomplished. Those four teams winning their divisions is not anything surprising. However, a team that started the season at 1-7 and is currently in the playoffs is a good comeback story.
The Dolphins have won seven in a row, including most recently over the New Orleans Saints on Monday Night Football. The Dolphins won as underdogs if you got the number early last week. That's what we did, and it was an easy cover for the Dolphins. It was still an easy cover as -3 favorites, too.
The Texans (+500) and #MillsMafia pull the MASSIVE upset pic.twitter.com/TmMOH5IthX

— BetOnline.ag (@betonline_ag) December 26, 2021
The biggest upset in Week 16 was the Houston Texans taking down the 13-point favorite Los Angeles Chargers. That smashed plenty of parlays and teasers, along with ending the bankroll for people that decided to go Chargers' moneyline. Never lay that much juice. I warned you.
Houston is heavy underdogs again in Week 17. They are 12.5-point underdogs, which isn't the biggest line. The Patriots are 15.5-point favorites at home over the Jaguars. There weren't many Houston tickets out there last week, and I don't expect much support for the Jags straight up this week.
Head below for our best NFL Week 17 underdog bets.
Kansas City Chiefs vs. Cincinnati Bengals
Date and Time: January 2, 1:00 p.m. EST
The following odds are courtesy of BetOnline:
| Teams | Spread | Moneyline | Total |
| --- | --- | --- | --- |
| KC Chiefs | -5.5 (-105) | -220 | Over 50.5 (-106) |
| Cincinnati Bengals | +5.5 (-115) | +190 | Under 50.5 (-114) |
The Kansas City Chiefs clinched the AFC West last week, but there's still something to play for at 11-4. They are a game ahead of the Tennessee Titans in the AFC.
The Chiefs are in the driver's seat and didn't need Travis Kelce to clear the Steelers easily last week. Kansas City was the better team for 4 quarters. They opened with a 14-0 lead at the end of the 1st quarter and cruised.
Pittsburgh scored a late touchdown in the 4th to find the end zone for a 36-10 final. The Chiefs have been rolling since beating the Green Bay Packers on November 7, 13-7.
They were coming off a 20-17 win over the New York Giants, which was criticized, but the Chiefs haven't lost after that win. The big turnaround for the Chiefs was the defense started playing.
KC was getting shredded on defense until a light went off. They've allowed 10 or fewer points in four of their last five attempts, with a hot Cincinnati offense awaiting them in Week 17 on the road.
The Bengals control the AFC North following their 41-21 win over the Baltimore Ravens. Joe Burrow passed for 525 yards and 4 touchdowns with no mistakes. He's heating up with 7 touchdowns and no interceptions in his last three outings.
Cincinnati is seventh in the NFL with 27.3 points per game. The Chiefs have a small edge with 28.1 points per game for fourth. Patrick Mahomes will make plays, and Burrow will as well. Laying 5.5 points on the road looks a bit too high.
Kansas City Chiefs vs. Cincinnati Bengals Betting Trends:
Chiefs
6-0 ATS in their previous six games
4-0 ATS in their previous four games versus a team with a winning record
4-1 ATS in thier previous five games on the road
5-0 ATS in their previous five games versus the AFC
4-9 ATS in their previous 13 games after scoring more than 30 points
Bengals
4-1 ATS in their previous five games versus the AFC
4-1 ATS in their previous five games versus a team with a winning record
7-2 ATS in their previous nine games after recording more than 350 yards
4-2 ATS in their previous six games
4-1 ATS in their previous five games in Week 17
Detroit Lions vs. Seattle Seahawks
Date and Time: January 2, 4:25 p.m. EST
The following odds are courtesy of BetOnline:
| Teams | Spread | Moneyline | Total |
| --- | --- | --- | --- |
| Detroit Lions | +7 (-110) | +275 | Over 42.5 (-110) |
| Seattle Seahawks | -7 (-110) | -330 | Under 42.5 (-110) |
The Seattle Seahawks were officially removed from the playoffs last week with a 25-24 loss at home. They were upset by the Chicago Bears as 7-point favorites. Just a sad loss for the Seahawks in a must-win situation.
That game summed up the Seahawks' season. They've had several bad losses this season where you think the Seahawks are going to do something. The Seahawks were coming off a tough 20-10 loss versus the Rams.
They were competitive in that game and might have come out on top if calls went their direction. After that kill shot, the Seahawks didn't have much in the tank for the Bears. What do they have to play for in Week 17?
Absolutely nothing. The Seahawks are playing for pride, but I don't think this team cares much. They've looked mentally exhausted this season, especially D.K. Metcalf, who hasn't been too thrilled with his situation.
The Lions are coming off their 12th loss of the season. They have two weeks and a tie. It doesn't look very promising, but at least Dan Campbell has them playing hard. The Lions haven't won many games. However, it doesn't matter when they're covering so many spreads.
Detroit is 10-5 ATS and has been one of the better bets against the spread in 2021. The Lions were a play away from beating the Falcons last week with backup Tim Boyle under center at quarterback. The Lions didn't win, but it was another cover.
Jared Goff is expected back for the Lions after clearing Covid protocol. If Goff started in Atlanta, the Lions are probably winning that one. I have no interest in laying a touchdown on the Seahawks in this spot. Give me 7 points with the team that will likely put out more effort.
Detroit Lions vs. Seattle Seahawks Betting Trends:
Lions
6-1 ATS in their previous seven games
5-1 ATS in their previous six games as an underdog
4-0 ATS in their previous four games versus the NFC
4-0 ATS in their previous four games after a loss
5-1 ATS in their previous six games on the road
Seahawks
1-5 ATS in their previous six games versus the NFC
1-4 ATS in their previous five games at Seattle
2-5 ATS in their previous seven games as a betting favorite
3-7 ATS in their previous ten games in January
0-5 ATS in their previous five gmaes in Week 17