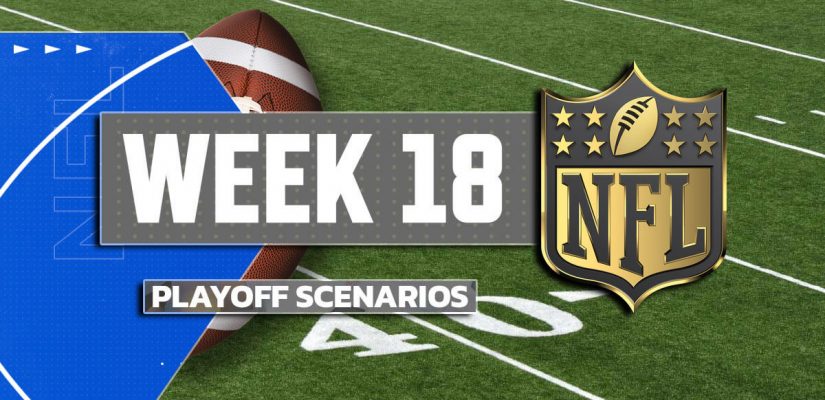 We are entering the conclusion of the NFL regular season. We've landed on Week 18 for the first time in NFL history.
The extra week of the regular season means an extra week of betting on NFL football. The first 17 weeks didn't do much to decide the fate of several teams.
Week 18. This is the #NFLSeasonFinale. pic.twitter.com/ymTNYM9OfE

— NFL (@NFL) January 3, 2022
There are three spots in the NFL that have yet to be decided for the playoffs. It's a crowded race for the final seeds, especially in the AFC, where five teams are vying for two positions.
The Indianapolis Colts, Los Angeles Chargers, Las Vegas Raiders, Pittsburgh Steelers, and Baltimore Ravens are still statistically alive.
The Colts and Jaguars game carries massive implications, while the Chargers and Raiders on Sunday Night Football are likely winner-take-all, or maybe not.
If the Colts beat the Jags, then the Chargers and Raiders will essentially have a play-in game for the playoffs. Crazily enough, if the Jags win, the Chargers and Raiders can tie to both clinch.
The NFC picture isn't as hectic. The 49ers and Saints are competing for one spot in the NFC playoffs. The LA Rams and Arizona Cardinals are playing for seeding.
We'll get into the NFL Week 18 playoff picture and scenarios that could play out going into Wild Card Weekend in more detail below. We'll make it nice and simple to follow at a time in the season where there can be confusion.
American Football Conference
Kansas City Chiefs Playoffs Scenario:
No. 1 seed in the AFC with a win over the Denver Broncos and a Tennessee Titans loss or tie
No. 1 seed in the AFC with a tie versus the Denver Broncos and Tennessee Titans loss
Tennessee Titans Playoffs Scenario:
No. 1 seed in the AFC with a win over the Houston Texans
No. 1 seed in the AFC with a tie versus the Houston Texans and a Chiefs loss or tie
No. 1 seed in the AFC if the Kansas City Chiefs lose versus the Denver Broncos and a loss or tie for the Cincinnati Bengals and New England Patriots
No. 1 seed in the AFC if the Kansas City Chiefs lose and the Buffalo Bills win or tie and the Bengals lose or tie
Buffalo Bills Playoffs Scenario:
Win the AFC East with a win over the New York Jets
Win the AFC East with a New England Patriots loss versus the Miami Dolphins
New England Patriots Playoffs Scenario:
No. 1 seed in the AFC with a win over the Miami Dolphins, the Bills win or tie, and the Chiefs and Titans lose
Win the AFC East with a win or tie and the Buffalo Bills lose
Cincinnati Bengals Playoffs Scenario:
No. 1 seed in the AFC with a win over the Cleveland Browns AND
Tennessee Titans, Kansas City Chiefs, and Patriots loss OR
No. 1 seed in the AFC a win over the Cleveland Browns AND
Tennessee Titans, Kansas City Chiefs loss, and Buffalo Bills win over the New York Jets
Indianapolis Colts Playoffs Scenario:
Clinch a playoff berth with a win over tie versus the Jacksonville Jaguars
Clinch a playoff berth if the LA Chargers lose and the Ravens-Steelers tie
Clinch a playoff berth if the LA Chargers, Pittsburgh Steelers, and New Endland Patriots lose
Los Angeles Chargers Playoffs Scenario:
Clinch a playoff berth with a win over the Las Vegas Raiders
Clinch a playoff berth with a tie versus the Las Vegas Raiders and an Indianapolis Colts loss
Las Vegas Raiders Playoffs Scenario:
Clinch a playoff berth with a win over the LA Chargers
Clinch a playoff berth with a tie versus the LA Chargers and an Indianapolis Colts loss
Clinch a playoff berth if the Indianapolis Colts and Pittsburgh Steelers lose
Baltimore Ravens Playoffs Scenario:
Clinch a playoff berth with a win over the Pittsburgh Steelers AND
LA Chargers, Indianapolis Colts, Miami Dolphins loss
Pittsburgh Steelers Playoffs Scenario:
Clinch a playoff berth with a win over the Baltimore Ravens AND
Indianapolis Colts loss and the Chargers-Raiders don't tie
National Football Conference
Los Angeles Rams Playoffs Scenario:
Win the NFC West with a win or tie over the San Francisco 49ers
Win the NFC West with an Arizona Cardinals loss or tie
Arizona Cardinals Playoffs Scenario:
Win the NFC West with a win over the Seattle Seahawks AND
LA Rams loss versus the San Francisco 49ers
San Francisco 49ers Playoffs Scenario:
Clinch a playoff berth with a win over the LA Rams
Clinch a playoff berth with a New Orleans Saints loss or tie versus the Atlanta Falcons
New Orleans Saints Playoffs Scenario:
Clinch a playoff berth with a win over the Atlanta Falcons AND
LA Rams beat the San Francisco 49ers