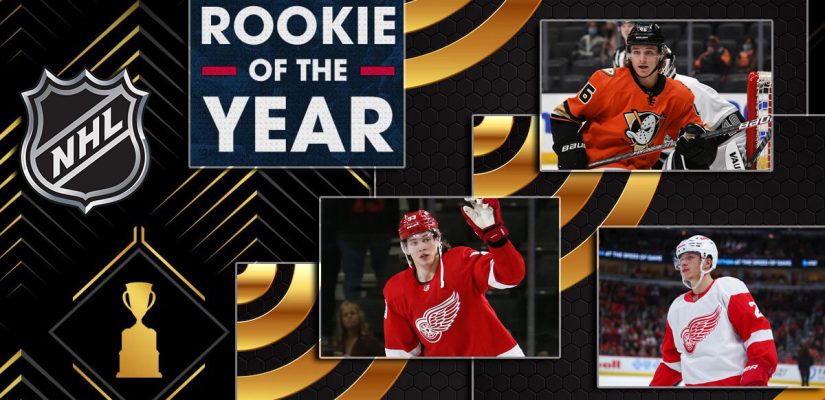 The second half of the NHL season is well underway as several clubs approach the 50-game mark of the season.
We're still aways away from items such as the NHL Trade Deadline and, for now, the playoff races don't exactly seem like races. That is, at least in terms of the eight teams looking to qualify from each conference.
Rather than look at the playoff push, I'm going to dive into more NHL player futures and check out some season-ending awards odds.
This is where the Calder Trophy odds come into play. Unlike every other individual award, the Calder is essentially guaranteed to come down to three players representing just two teams.
Let's dive into the odds and make a case for each of the three players before getting into the best value pick!
*Odds courtesy of Bovada
Trevor Zegras, Ducks (+150)
If you watched Zegras develop either as part of the U.S. National Development program, his lone season at Boston University or on the world stage at the World Juniors, you'd make a strong wager this kid would be a star at the NHL level. That's certainly been the case so far.
Zegras has tallied 12 goals and 33 points in 43 games on the season, sitting third in rookie scoring despite playing in just 43 games. He's blossomed into the No. 1 Ducks center in a hurry and surprisingly finds himself as part of the playoff race in the Pacific Division and Western Conference, although his Ducks have cooled since a surprisingly strong start.
On pure skill alone, Zegras is the cream of the rookie crop. Whether it be the game-changing "Michigan" assist from behind the net, the actual Michigan just a few weeks back or the dazzling performance he put on as a special invitee into the All-Star Skills competition, Zegras' skill set with the puck on his stick is already among the best in the NHL.
Gotta See It: TREVOR ZEGRAS MICHIGAN ALERT ? ?

Presented by @Charmin | #EnjoyTheGo pic.twitter.com/GcAO5Z99d7

— Sportsnet (@Sportsnet) January 28, 2022
Of course, Zegras will need to keep his foot on the pedal in this race. You don't win awards on skill alone, and unfortunately he's already missed six games which has set him back some in the rookie scoring race.
At the end of the day, there's zero doubt the 20-year-old has been as advertised in his rookie campaign on the heels of a 24-game audition a season ago.
Lucas Raymond, Red Wings (+200)
The legend of Steve Yzerman continues in the Motor City.
Holding the fourth overall pick of the 2020 draft, Yzerman went ahead and selected Swedish winger Lucas Raymond, not a terribly surprising pick but a good four-plus spots ahead of many public projections.
We knew the tip three pucks would be Alexis Lafreniere, Quinton Byfield and Tim Stutzle (in whichever order you'd like), but the real work came at No. 4 with names such as Raymond, Jack Sanderson, Jamie Drysdale, Cole Perfetti, Marco Rossi, Jack Quinn and Yaroslav Askarov looming. Any one of those players — and more — could have went at No. 4.
After spending another year developing in the Swedish Hockey League and collecting a solid yet unspectacular 18 points in 34 games, Raymond was no lock to crack the Red Wings' opening night roster. He went on to do so, but has blown away any and all expectations since.
In his first 50 career NHL games, the 19-year-old Raymond has tallied 13 goals and 39 points while skating on the team's top line and top power-play unit alongside Dylan Larkin who is in the midst of a career-year himself. Obviously, such a spot on the roster is favorable, but Raymond was earned it and more while proving he's worthy of the top right-wing spot on the roster.
Lucas Raymond gets his 13th. #LGRW pic.twitter.com/HSclSojIXa

— Detroit Red Wings (@DetroitRedWings) February 15, 2022
We knew Zegras would play and contribute in short order, but what Raymond has done in his first year has blown expectations and projections alike right out of the water.
Moritz Seider, Red Wings (+325)
It's not often you have to players on the same team so close in the Calder race (or any other major individual award for that matter) but that's indeed the case in Detroit as both Raymond and Seider are staking their claim as the top rookie in the league.
Taken in the first round, sixth overall one year before Raymond, Seider also spent last season in the SHL, posting an impressive seven goals and 28 points as a 19-year-old defenseman. He's a year older, but that's 10 more points than his current teammate from the back end, no less.
His move to the Red Wings wasn't set in stone, but unlike Raymond he was expected to make the full-time shift to the NHL level this season without much American Hockey League seasoning required. That's proven to be the case as Seider has also blown away expectations for his first season not only in the NHL, but in North America.
The 20-year-old rear guard has looked more than comfortable at this level. He's collected five goals and 34 points in 50 games on the season while logging a hefty 22:48 of ice time per game, by far tops among rookie skaters, nearly two minutes per game clear of second-place Alexandre Carrier.
Additionally, Seider paces all first-year players in assists (29), power play points (15) and tied with teammate Raymond for the lead with 50 games played. Both have yet to miss a game this season.
The production is rather eye-popping, but Seider plays a very physical game as well, something that is more of an unknown among first-year followers. He controls the game when the puck on his stick, his decision-making is well, well beyond his years and he's not afraid to get his nose dirty. All while nearly leading all rookies in points.
Moritz Seider demolishes Michael Raffl.

One of the nicest hits I've seen. Kronwall would be proud. #LGRW pic.twitter.com/FgxfbzTefH

— Ryan Hana (@RyanHanaWWP) November 17, 2021
It appears the future of the Red Wings is in good hands as Yzerman has hit big-time with both of these first-round picks.
Best Value Pick
Moritz Seider (+325)
Honestly, I think this is an absolute steal with massive value.
No disrespect to Zegras who is enjoying a wonderful season. He's a big reason as to why to Ducks have out-performed and his skill set is clearly off the charts. He's bound for superstardom.
While Raymond is making a good case himself, what Seider is doing from the back end is something very, very special.
Defense is the toughest position on the ice for a rookie. Sure, being a rookie goaltender is no walk in the park, but that's why you see so few NHL goaltenders 20 years or younger.
Seider plays with confidence and poise, not to mention bone-crushing physicality. The 6-foot-4 blueliner has room to grow at 197 pounds, which is a scary thought for opponents.
Moritz Seider: One-Man Penalty Kill ? pic.twitter.com/8LxT4kR2pL

— NHL (@NHL) February 10, 2022
He's anchoring a top power-play unit without hesitation or fear. He's beyond his years across the board, and this is all before we factor in his 34 points in 50 games while pacing all rookies in assists and man-advantage points.
Honestly, he should be the favorite. The books are giving us a huge break here at +325 and third in the three-man race, so put your money on Seider right now before it's too late.