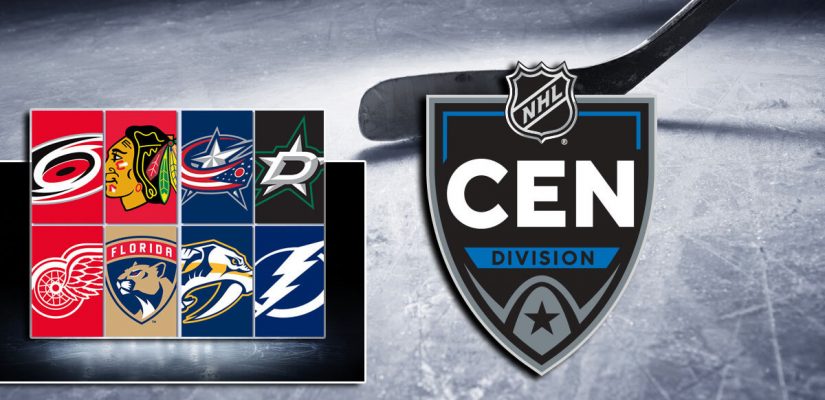 The NHL All-Star break has arrived, so it's time to dig into some futures!
We've already gone through the Atlantic, Metro and Pacific Divisions when it comes our tour through the divisional odds updates, and now it's time for the Central to shine.
We'll go through every club along with what we like and don't like about that team at this juncture before dishing out a best value pick to take down the division!
*Odds courtesy of BetOnline
Colorado Avalanche (-500)
Record: 32-8-4 (1st)
Points Percentage: .773 (1st)
What We Like
Unstoppable offense. The Avalanche share the NHL lead in overall offense alongside the Florida Panthers with 4.09 goals per game on the season while they sit in a share of eighth alongside the Carolina Hurricanes with an even 25% clip on the man advantage.
While the top-line trio of Gabriel Landeskog, Nathan MacKinnon and Mikko Rantanen continue to dominate, Nazem Kadri is one of the biggest stories of the NHL season so far.
The controversial pivot enters the break ranked fourth in NHL scoring with 60 points in 41 games but also tied for third in points per game with a 1.46 mark along with Connor McDavid while Nikita Kucherov (1.55) and Leon Draisaitl (1.50) are the only two to best Kadri's points rate this season.
Let's consider that the former Maple Leaf owned as career-high of 61 points while skating in all 82 games with the 2016-17 Leafs while he recorded just 32 points in 56 games last season. He's on pace to post 114 points in 78 games (he's missed three of the team's 44 games) and nearly double his previous career-high while his current 1.46 points per game is well more than double his clip from a season ago.
Nazem Kadri gets his 19th of the year, stealing the puck and patiently opening up the backhander!#GoAvsGo pic.twitter.com/9TlCoFvuTT

— Hockey Daily 365 (@HockeyDaily365) February 2, 2022
Kadri does get top power play reps with the big boys and skated between Landeskog and Rantanen early in the year when MacKinnon was sidelined, but he's largely produced gaudy numbers in a second-line center role. Not a bad way to enter free agency following the season.
As long as the Avs' offense hums along at this pace they are going to remain a top threat to not only cruise to a Central Division title but win the whole shebang.
What We Don't Like
Goaltending. If there's anything that can break this team's back it's between the pipes between mediocre performance and health concerns.
At 5v5, Avalanche goaltending has posted the NHL's 15th-ranked save percentage at .923. As a result, the Avs have received about league-average netminding at even strength this season, but there's a wealth of competitors ahead of them in this department. Goal support has been big for a club that sits 17th in overall defense despite solid underlying metrics.
Darcy Kuemper has shouldered the load in starting 31 of the team's 44 games and has worked to a solid enough 2.55 GAA and .915 Sv% with a quality 4.49 goals saved above average (GSAA) that ranks 16th among 71 qualified netminders, as per Hockey Reference.
The problem with Kuemper is that he's already exceeded his games played in each of the previous two seasons after appearing in 29 games two years back and 27 a season ago. While his on-ice performance has been strong, he's one of the more injury-prone netminders in the league. Injuries aren't to be forecasted, but if Kuemper continues to make this many starts the chances of him missing time increases.
No. 2 Pavel Francouz is also of the injury-prone variety after missing all of last season with a lower-body injury and starting just six games this season due to more injury trouble. Jonas Johansson and Justus Annunen have combined for nine starts — three more than Francouz.
In other words, if Kuemper goes down, the club isn't exactly stacked behind him to soften the blow, although Francouz does own a stout 2.29 GAA and .927 Sv% when healthy this season.
Kuemper will need some time off in the seasons' second half to preserve his health, so the club's alternative options will need to step up to maintain this Central-leading pace.
Minnesota Wild (+550)
Record: 28-10-3 (3rd)
Points Percentage: .720 (2nd)
What We Like
Balanced Attack. While a team like Colorado gets much of its production in the top-six (like just about every other club in hockey), the Wild are a rare team that feels confident in the offensive ability of all four lines.
Predictably, sophomore Kirill Kaprizov is leading the team in scoring with 53 points on the season while veteran Mats Zuccarello is having a big season himself with 42 points in 35 contests. It's down the list that the surprises comes.
For instance: Marcus Foligno has 17 goals on the season, on pace for 35 if he comes out of the break healthy. Ryan Hartman is no the team's top center with 18 goals and 33 points in 41 games, on pace for 36 tucks and 66 points. Rear guard Alex Goligoski has collected 25 points in 36 games with a +26 rating, on pace for 53 points which would mark a new career-high over the 46 he posted back in 2010-11, at age 36 nonetheless.
The list goes on. The Wild play fast and hard up and down the lineup. They not only get scoring from all four lines, but plenty of offense from the back end as Matt Dumba, Jonas Brodin and Jared Spurgeon are all humming along at more than a half point-per-game pace.
The club's balanced offense was on full display in a 5-0 dismantling of the Blackhawks in the final game before the break as they won their sixth in a row and are 9-0-1 in their last 10 thanks in large part to offense coming from all over the place.
What We Don't Like
Special teams… at home.
The Wild are a cool 14-3-1 on home ice this season, using their typical home-ice advantage to their benefit in one of the better atmospheres you'll find across the league. They sit second in the NHL in home offense with 4.50 goals per game at Xcel Energy Center, no thanks to their power play.
The Wild shockingly own the league's second-ranked home offense while sporting the second-worst home power play at just 12.7% on the season. At the same time, their man advantage sits sixth on the road at a healthy 25.8% clip, about twice as good as their work on home ice.
It's quite an anomaly, but the Wild might be in trouble if they can't get that home power play going. At 5v5 on home ice, they sit first with 4.29 goals/60, but also ninth with 2.65 expected goals for/60. That's a wide spread that clearly suggests their even-strength offense should cool off on home ice over the season's second half.
The penalty killing splits aren't as wide, but the theme remains. They rank seventh with an 82.1% mark on the road, but slip to 23rd with a 78% figure at home. They sit 19th in home defense as a result despite excellent metrics at 5v5.
It appears the Wild are bound for home-ice advantage in the first round of the playoffs, so getting their home special teams ironed out would be prudent over the next couple of months.
St. Louis Blues (+1200)
Record: 26-13-5 (4th)
Points Percentage: .648 (4th)
What We Like
Special teams.
Back to special teams we go, this time with the Blues who have leaned on them as one of the main reasons they remain in postseason contention within the Central.
Consider that the Blues rank 28th in both high-danger chances for and against/60, 31st in expected goals against/60 and 21st in expected goals for/60 at 5v5 this season. Those are some of the worst numbers in the league, yet the club sits sixth in overall offense and ninth in overall defense on the season.
Ville Husso has been a savior and something we very much should like as he is the main reason why the team has been so poor defensively yet own a top-10 defense while wrestling the starting gig away from Jordan Binnington. Another key difference is on special teams.
The Blues are tied with the Oilers for second in the league with a 28.5% clip on the man advantage and tied for fourth on the penalty kill at 84.3% alongside the Calgary Flames. The Toronto Maple Leafs are the only other club in the NHL with top-five figures on both ends of special teams and they're enjoying plenty of success as a result.
The club's elite special teams travel extremely well as they own the NHL's top-ranked road power play while once again sitting fifth on the PK. That makes the Blues the only NHL team with top-five figures on both ends of special teams. Should they get in, that could come in handy come playoff time.
They have issues to figure out, but special teams are not one.
What We Don't Like
Binnington. Once the story of the league in leading the Blues unbelievable run from 30th in the league on Jan. 1 to a Stanley Cup Championship months later, Binnington has been a major disappointment this season.
When the club handed him a six-year contract extension worth $6M annually, I certainly scratched my head. He hasn't been poor in the seasons since that epic second-half run in 2019, but posted a .912 Sv% and .910 mark in the two seasons since with GSAA figures narrowly on the positive side of the ledger.
This season has been a disaster. The American owns a 3.27 GAA and .901 Sv% on the season while his -6.01 GSAA ranks 61st of those 71 qualified netminders. He's allowed 13 goals over his last two starts. He's also a $6M cap hit for five seasons after this one. Yikes.
Jordan Binnington shot the puck at Darcy Kuemper then swung his stick at Nazem Kadri. ? pic.twitter.com/mL8LZhwooO

— Sportsnet (@Sportsnet) October 29, 2021
Thank goodness for Husso. After a tough rookie showing in posting a 3.21 GAA, .893 Sv% and -6.60 GSAA in 17 games last season, the 26-year-old owns a 1.90 GAA, .941 Sv% and 14.46 GSAA that ranks fifth in the league. He's not only eating Binnington's lunch as the preferred option in goal, but should be entering the Vezina conversation as his sample size increases.
The club's disastrous underlying metrics are also something we don't like, but the play of the team's possible former No. 1 netminder is a major disappointment.
Nashville Predators (+2000)
Record: 28-14-4 (2nd)
Points Percentage: .652 (3rd)
What We Like
Juuse Saros.
While the Predators sport some real nice underlying metrics on the back end in terms of expected goals against (4th) and dangerous chances against (3rd), the team would not be a pleasant surprise without the workhorse that is goaltender Juuse Saros.
I mean, it wasn't difficult to see this coming. At just 26 years of age, Saros has already posted a 2.46 GAA and .922 Sv% across 193 games of regular-season work. The long-time Pekka Rinne understudy, Saros is shining bright in his first season as a full-time No. 1 NHL goaltender.
The Finn has turned in a 2.35 GAA, .927 Sv% and 21.55 GSAA that ranks second in the NHL next to Igor Shesterkin's 25.65 mark. Since first qualifying for the statistic in 2016-17, Saros has accumulated more than 60 goals saved above average in his NHL career.
Not only are the numbers downright elite, but he's been in the net nearly every night for the team. Saros' 38 starts and appearances leads the league while he predictably has faced the most rubber with 1,210 shots against on the season.
The team has gotten just eight starts from goaltenders not named Saros this season, and the numbers aren't pretty. Backup David Rittich owns a 3.05 GAA and .882 Sv% in seven appearances (six starts) while third-stringer Connor Ingram posted a 3.02 GAA and .906 Sv% in his two appearances on the season.
It should be an interesting second-half for Saros. In already appearing in 38 games, he's just two shy of tying his career-high of 40 games in the 2019-20 season. In starting 38 of the team's 46 games this season, he's on pace to start 68 games this season. That's not exactly unheard of these days as Devan Dubnyk led the league with 66 in the last full, 82-game season in 2018-19, but it remains a monster workload for a goaltender that's never made more than 35 in a season.
What We Don't Like
If anything, I'd like to see the Predators add a top-six winger for some scoring depth.
I mean, this is perhaps the most difficult team to nitpick, believe it or not. They are 13th in the league or better in offense, defense, power play and penalty kill. They have excellent defensive peripherals (not the greatest on offense) and elite goaltending. They have a top line that's been dominant and one of the best defenseman in the entire league in Roman Josi.
However, with Nick Cousins and Luke Kunin serving as the club's second-line wingers on the flanks of a rejuvenated Ryan Johansen, general manager David Poile could probably use an upgrade on that line to ensure there's enough offense after the big boys up top.
Dallas Stars (+12500)
Record: 23-18-2 (5th)
Points Percentage: .558 (5th)
What We Like
The new big boys in town.
Thirty-seven year-old Joe Pavelski is leading the Stars with 48 points in 43 games as he continues to prove the club right for signing what appeared to be a declining former star. However, the club's future very much revolves around Roope Hintz and Jason Robertson as the 1-2 punch for many years to come.
Robertson is proving a surprisingly potent rookie season was no fluke. After bursting onto the scene with 45 points in 51 as as a rookie, the 2017 second-rounder has nearly matched that total this season with 41 points across just 35 contests. For his part, Hintz has tallied 37 points in 41 games.
While that duo has combined for 78 points in 76 games played, the former 1-2 punch in Dallas has managed just 43 points in 86 games as both Tyler Seguin and Jamie Benn look like shells of their former selves. Perhaps Seguin is still working back from hip surgery that cost him all but two games of last season, but the former 40-goal man has lost numerous steps across the board.
Team captain Jamie Benn is also struggling for output with just 20 points in 43 contests. The former Art Ross winner has seen a decline in production in each of the last three seasons, but his 0.47 points per game would be a career-worse by a country mile.
It's really too bad as the Stars could really use some offensive support and the players expected to lead the way are the ones costing them as they fade from the playoff race.
What We Don't Like
Road work. While the Stars have been very good in going 15-6-1 on home ice, they are struggling on the road to the tune of an 8-12-1 mark.
Now, the team has won each of its last four on the road, meaning they were actually 4-12-1 on the road before winning in Buffalo on Jan. 20 to kick off that winning stretch. On the road, they rank 23rd in defense, 27th on offense and 24th in penalty killing. Their lone bright spot on the road is a 24.6% power-play clip that is tied for eighth alongside the Tampa Bay Lightning.
Head coach Rick Bowness recently called out his club for having too many players as passengers on the road and his frustration is obvious, I'd say. While perhaps the message was received in winning four straight away from home, their work outside of American Airlines Center has put them in a hole.
It's safe to say that Rick Bowness is unimpressed with the Stars loss pic.twitter.com/jeQfa3SUSw

— TSN (@TSN_Sports) January 9, 2022
Winnipeg Jets (+25000)
Record: 18-7-7 (6th)
Points Percentage: .512 (6th)
What We Like
Kyle Connor.
Man what a disappointment the Jets have been after a hot start. They limped into the break going just 2-6-2 over their last 10 and are certainly staring at a major uphill climb to get back on the postseason periphery as a result. When a team is disappointing this much, it's tough to find positives, but Kyle Connor has certainly been a bright spot.
Is he the most underrated goal-scorer in the NHL? With 25 goals, Connor is tied for six in goals and only Alex Ovechkin has more shots (213) than the 190 Connor has piled up in just 42 games.
Like with Saros, it's not an eye-popping shocker. Since the 2017-18 season, Connor's 154 goals also sits sixth in the NHL. He's behind the game's elite in Ovechkin, Auston Matthews, Leon Draisaitl, Connor McDavid and David Pastrnak.
With his 25 tallies in 42 games, he's threatening a 50-goal season, but certainly does not get the notoriety of the names listed above. He's also not benefiting from any shooting-rate puck luck as his 13.2% clip this season is actually below his 15% career mark. Not many can sustain an elevated shooting rate when they shoot the puck that much, but Connor is in that category to be sure.
With veterans in Blake Wheeler and Mark Scheifele not enjoying banner seasons and Nikolaj Ehlers sitting on long-term injured reserve, it looks as if Connor's torrid goal-scoring pace will need to be sustained to give his team any hope of a postseason push.
What We Don't Like
This is a tough one as there's a laundry list here. Some skaters are scuffling, there have been injuries and Connor Hellebuyck is having a down year. That said, Hellebuyck is once again playing behind one of the worst defenses in the NHL, so we'll go with the Jets defense as the key issue here.
I like what they did in bringing in Brendan Dillon and Nate Schmidt in the offseason. Dillon is a reliable, top-four, stay-at-home defender, otherwise known as just what the team needed. While not cut from the same cloth, I figured Schmidt's elite skating would aid the team in terms of zone exits and advancing pucks to the team's talented forward group.
Neither have resolved anything. The blame needs to be shared, and just like the last couple of seasons, the team is once again sporting some of the game's worst defensive metrics. They sit 29th in high-danger chances against/60 and 28th in expected goals against/60 at 5v5. Their 2.37 goals against/60 at 5v5 is actually below their 2.67 expected mark, meaning they should actually be allowing more even-strength goals than they have. Translation: not Hellebuyck's fault. He has nothing to work with.
Despite those numbers that the fact their penalty kill sits 28th at 74%, the team still sits 18th in overall defense. If anything, Hellebuyck is bailed them out as he still owns a 1.13 GSAA on the season and easily in the top-half of the league in that department.
I figured the Jets would contend this year thanks to what seemingly looked like an improved blueline, but that just hasn't been the case at all.
Chicago Blackhawks (+250000)
Record: 16-23-7 (7th)
Points Percentage: .424 (7th)
What We Like
Alex DeBrincat. Like Connor in Winnipeg, DeBrincat has been a bright spot in another miserable season for the Blackhawks, both on and off the ice.
Marc-Andre Fleury has rebounded well above a disastrous start with his new club, but DeBrincat continues to do what he's paid to: put the puck in the net.
The second-round steal has notched 26 goals on the season, one more than Connor and just three less than Matthews and Ovechkin, good for fifth league wide. With one 40-goal season already under his belt, DeBrincat's 32 goals in 52 games from last season was actually a 50-goal pace across an 82-game season.
His 26 in 46 this season paces out to 46 in 82 contests, so he's once again threatening a 50-goal season which we've now come to expect from the American winger. Remember, this is a guy that scored 167 goals across 191 career games with the OHL's Erie Otters, and somehow managed to slide into the second round of the 2016 draft on the heels of a 65-goal season in 63 games to boot.
Goal ✅
Assist ✅
Fight ✅

Alex DeBrincat secured a Gordie Howe hat trick tonight for the @NHLBlackhawks ? pic.twitter.com/zGSZbK315Y

— SportsCenter (@SportsCenter) November 18, 2021
There's been very, very little to like about the Blackhawks' first half amidst increased expectations for the team following a series of bold offseason moves, but DeBrincat's elite goal-scoring ways have at least remained a constant.
What We Don't Like
Pick your poison here, but I'll go with a complete lack of offense.
Once the strong point of the rebuild, it's been a major step in the completely wrong direction this season. The Blackhawks enter the break ranked 29th with 2.37 goals per game on the season. It also appears they deserve that vastly subpar fate as they also sit dead last in high-danger chances for/60 and second-last in expected goals for/60 at 5v5 action.
A power play that includes DeBrincat, Patrick Kane and Seth Jones has also managed to underwhelm at 19th and 19% for the season. The Blackhawks finished last season ranked 11th at 21.7% for the season, so there's another area of regression for the club.
The metrics tell us that the team's defense has actually improved this season despite tough overall results, but they also tell us that they're one of the very worst offenses in the league, something the bottom-line results concur with.
Arizona Coyotes (+500000)
Record: 11-30-4 (8th)
Points Percentage: .289 (8th)
What We Like
Clayton Keller.
We saw this one coming. The Coyotes spent their offseason taking on bad veteran contracts in exchange for future assets, and the results are just about where we though they'd be. The team is the worst in the league in both sides of the puck, but one bright spot has been Keller whose production has been excellent on the worst offense in the NHL.
It's tough getting accustomed to the NHL as a youngster on this Coyotes team, but Keller's been pretty much as advertised in his NHL career, notching a healthy 231 points in 338 career games on a team that's annually one of the worst offenses in the sport. This season, he's collected 38 points in 45 games to lead the team by a mile ahead of second-place Phil Kessel with 29 points on the season.
Keller's 0.84 points per game puts him alongside names like Claude Giroux, Patrik Laine, Patrice Bergeron and Elias Lindholm, so he's certainly showed up to play on an ugly Coyotes roster.
You wonder how long it is before he's wanting out of the desert, but for now he's bar-none the best player on one of the worst teams in hockey.
What We Don't Like
Just about everything else.
I mean, we don't need to go on and on here. Their last on offense, tied for second-last on defense, last on the power play and second-last on the penalty kill. They have some of the worst underlying metrics in the league on offense and have been as bad at home (5-16-1) as they've been on the road (6-14-3).
Whatever Coyotes fans are left can look forward to things such as potential returns in trades for pending UFA Phil Kessel and highly sought-after blueliner Jacob Chychrun, but this franchise is lightyears away from contending at this rate.
Best Value Bet
Minnesota Wild (+500)
This is a division I suggest staying away from. Laying -500 juice on the heavily-favored Avs makes little sense from a value standpoint, but at the same time betting against them makes little sense considering an eight-point lead over second-place Nashville.
That said, third-place Minnesota sits nine points back, but with three games in hand. If they win all three of those games, it's just a three-point deficit and the Wild have exactly half their season to make up ground with 41 games to play.
It must be frustrating to win six in a row and go 9-0-1 into the break and look up at the Avs and realize they too went 9-0-1 over their last 10. Getting that hot and making up zero ground is a tough gig, but that's just how good this Avalanche team is.
I'll admit I wasn't overly high on the Wild entering the season with what seemed like a weakened defense and lack of scoring up front, but they have proved to be one of the game's elite and certainly a contender once the postseason rolls around.
For now, however, they are the only bet outside of Colorado worth making at this juncture.